How To Make a Fire Truck Cake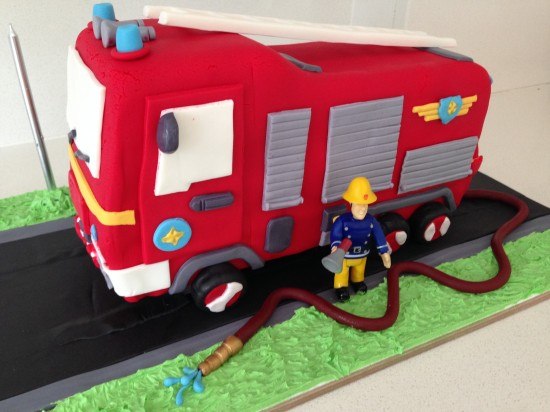 "Can I (excited gasp) have a firetruck cake for my birfday? With a ladder and, and (insert excited movements here) and a fire hose?" Big smiles. This request came as no surprise, fire trucks and fire engines take pride of place in every game whether it be in the house, sandpit, bath or the car. There must be some sort of rescue vehicle present. Preferably a firetruck with a ladder but at a pinch a yellow taxi can pass as a rescue car when back up is needed.
My baby boy is turning three! Which means this blog is also turning three. I posted the very first recipe when he was just one week old. It is amazing how little things can grow into big things in such a short space of time. While my now three year old is a big boy and wants to do everything himself, I am much the opposite. The bigger the website gets the more I am asking for help. Thus far I have programmed, coded and debugged everything on the website, but I have now reached the stage that I am going to need some help so hopefully within the next few months the website will have a bit of a makeover to make it run smoothly on all devices.
This cake serves 20, you can scale it up if you want to serve more.
To make the fire truck cake, you will need:
* The Fire Truck Template

* Fondant: Light Grey 111g (3.92 ounces), Dark Grey 70g (2.47 ounces), Red 1 kg (2.2 pounds), Black 200g (7.05 ounces), White 200g (7.05 ounces), Yellow 20g (0.71 ounces), Blue 20g (0.71 ounces)
* 6 mini oreos
* Fondant extruder to make the hose (optional)
* Gold luster dust for the end of the hose (optional)
* Green food colouring for grass
* Cake:  Double the sponge cake recipe baked either in trays or in a box 25cm (9.84 inches) x 25cm (9.84 inches) x 10cm (3.94 inches) deep. If baked in a large tin or box expect it to take at least 2 hours to bake. Only use boxes that do not use glue and do not have plastic laminated shiny pictures on them.
* Frosting double recipe of frosting of your choice, I used the french buttercream. See the recipes and taste tests for seven different frostings.
* Cake leveller or serrated knife to cut the cake
* Cake board to put the cake on, the one I used was 25cm (9.84 inches) x 38cm (14.96 inches)
* Firm cardboard to support the base of the firetruck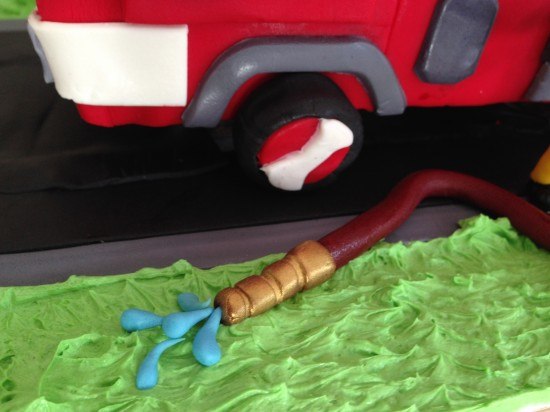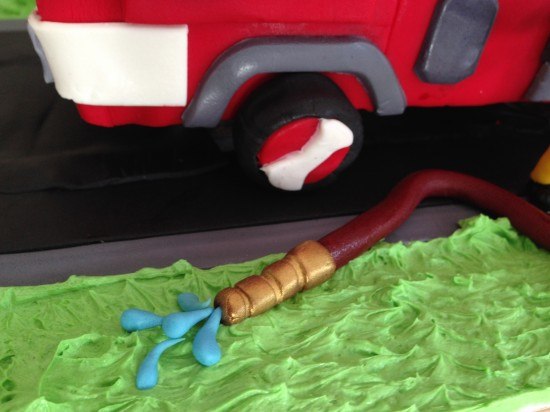 2014
by Ann Reardon How To Cook That