3D Donut Cake
Click here to check out the NEW Merch
To celebrate the launch of my new merch I have made a 3D standing up donut cake with donut flavored frosting. This week has been a bit of a stressful one for me, filled with many specialist doctors appointments. Our paeditrician was concerned about a valve in my sons heart. Thankfully an echocardiogram today showed that the valve is in fact working properly and that his heart is healthy. As a mum everything takes a backseat when your kids are sick, as a result I am only now sitting down to write this recipe post and I haven't even filmed this week. I'm not quite sure how I'll fix that problem but I am just so happy to be worrying about that rather than if my son can play basketball and run around without danger. Perspective is a wonderful thing.
If you happen to want to make a 3d standing up donut cake you will need:
Vanilla cake baked in three trays:
675g (23.81 ounces) margarine
675g (23.81 ounces) sugar
15 eggs
675g (23.81 ounces) flour
12 tsp baking powder
3 tsp gelatin (optional but makes for a softer cake by acting as an emulsifier)
Beat together the margarine and sugar until pale. Add in the eggs and beat to combine. Add in the flour, baking powder and gelatin and whisk on low speed until just combined. Split evenly into three trays and spread out.
Bake in the oven for 25 minutes or until golden then leave to cool.
Donut frosting: (between the layers)
600ml cream
4 cinnamon donuts
extra cinnamon to taste
4 tablespoons icing sugar
Simmer the creme and donuts together for a few minutes then remove from eh heat. Break up the donut into the cream until you have small pieces then leave to chill in the fridge. Once chilled whip with the icing sugar until it is smooth and fluffy.
Vanilla buttercream (around the outside of the cake)
240g (8.47 ounces) or 1 cup butter or margarine
630g (22.22 ounces) or 5 cups or icing sugar
vanilla essence
Beat all ingredients together until light and fluffy.
Fondant
50g (1.76 ounces) black
45g (1.59 ounces) red
30g (1.06 ounces) yellow fondant
30g (1.06 ounces) blue fondant
500g (17.64 ounces) tan donut colored fondant
Other supplies
donut cake template
base board preferably mdf or other wood so it has weight to stabilize the cake
2 custom shaped cake boards (see template)
central threaded rod and 2 nuts
plastic cake supports hollow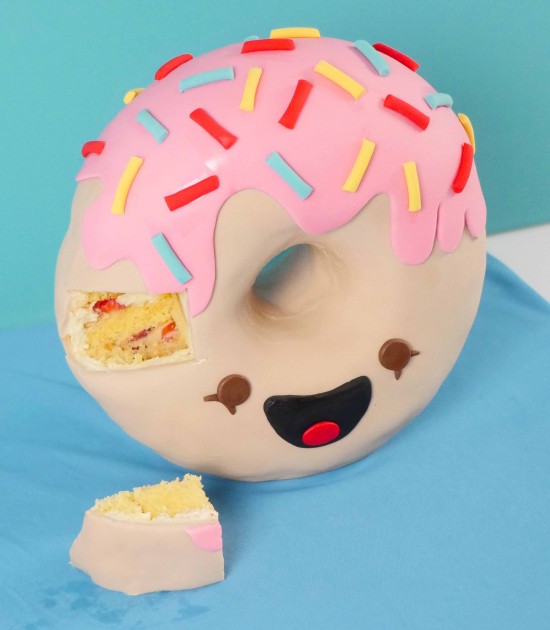 Copyright © 2017 Reardon Media Pty Ltd. All rights reserved. How To Cook That
My Cookbook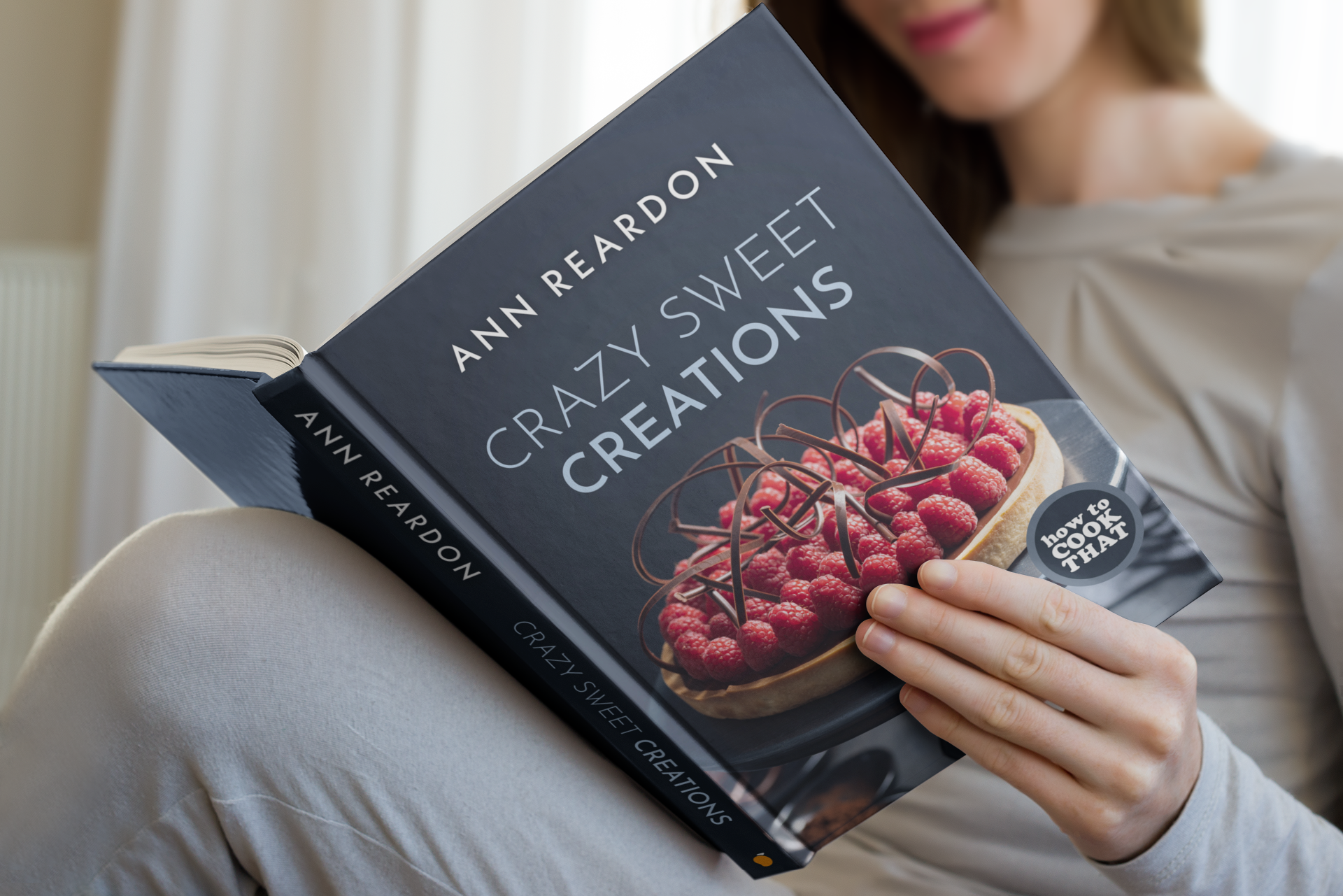 Stores that sell my book listed by country: http://bit.ly/ARcookbook All recipe quantities in the book are in grams, ounces and cups.