Best Vegan Chocolate Cake Recipe
src="https://www.howtocookthat.net/public_html/wp-content/uploads/2016/03/vegan-chocolate-cake-550×335.jpg" alt="Vegan chocolate cake recipe ann reardon howtocookthat" width="550″ height="335″ data-wp-pid="18877″ />
I tried many times to make a truly delicious vegan cake but every recipe seemed to promise much and deliver little. So a few months ago, I put on my food scientist hat and got to work developing my own recipe. Well, after LOTS of experimentation and a few flops along the way, here it is finally … a beautiful vegan chocolate cake that will really wow your friends and family. The main hurdle in a vegan cake is the lack of eggs. Eggs give structure to a cake, so without them it is hard to get the same texture but the two recipes below are really good. The first recipe is for the fudgey cake in the video and the second is for a cake that is more airy.
RECIPE 1. A fudgey vegan cake recipe
(as shown in the video, quite a dense but yummy cake)
Makes 2 round 8in (20.32 centimetres)ch (20.32 centimetres) cakes
3 cups or 648g (22.86 ounces) sugar
2 1/4 cups or 400g (14.11 ounces) flour
3/4 cup or 90g (3.17 ounces) cocoa powder
3 tsp baking powder
6 tablespoons flaxseed meal
3 tsp vanilla
300millilitres (10.14 fluid ounces) or 1 1/4 cups minus 1 Tbsp canola oil
600millilitres (20.29 fluid ounces) or 2 1/3 cups plus 1 Tbsp water
Pre-heat the oven to 180C (356 degrees Fahrenheit).
Place the sugar, flour, cocoa powder, baking soda and flaxseed meal into a bowl and whisk together to get rid of any lumps and aerate the mixture. Make a well in the centre and add the oil, water and vanilla. Mix together with electric mixers until just combined.
Pour into two lined and greased baking 8in (20.32 centimetres) round baking tins. Bake for 20-25 minutes. The cake is done when a knife inserted into the centre comes out clean.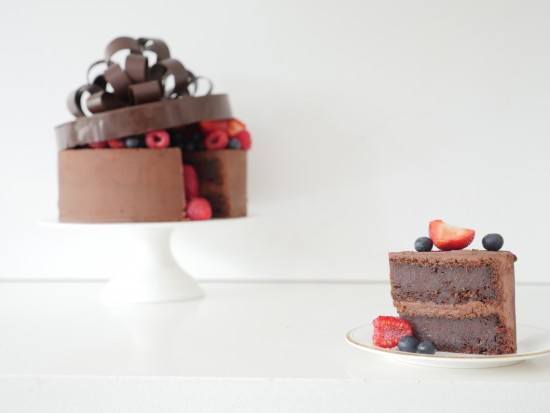 RECIPE 2. A more airy textured vegan cake recipe
(lighter and but not as chocolatey flavoured)
275g (9.7 ounces) or 1 3/4 cups plain or all purpose flour
1 tsp baking powder
175g (6.17 ounces) or 3/4 cup plus 1 Tbsp sugar
3 tsp cocoa powder
300millilitres (10.14 fluid ounces) or 1¼ cup minus 1 Tbsp almond milk
150millilitres (5.07 fluid ounces) or 3/4 cup plus 1 Tbsp vegetable oil
3 Tbsp or 57g (2.01 ounces) golden syrup
1/2 tsp vanilla
Preheat the oven to 180C (356 degrees Fahrenheit)
Grease and line two 8in (20.32 centimetres) round baking tins.
Sift together the dry ingredients. Make a well in the centre. Add the wet ingredients and then mix with electric beater until just smooth.
Bake for 25-30 minutes


Vegan frosting recipe
Vegan Ganache
70millilitres (2.37 fluid ounces) almond milk (or you could use soy milk / rice milk)
204g (7.2 ounces) vegan chocolate
Combine the almond milk and chocolate and heat in the microwave for 30 second increments, stirring each time. Once smooth leave to chill.
Vegan buttercream
630g (22.22 ounces) or 5 cups icing sugar
240g (8.47 ounces) or 1 cup plus 2 tbsp vegan margarine
Beat together the icing sugar and margarine until smooth.
Add the ganache to the butter cream and beat together well for a rich vegan chocolate frosting.
Decoration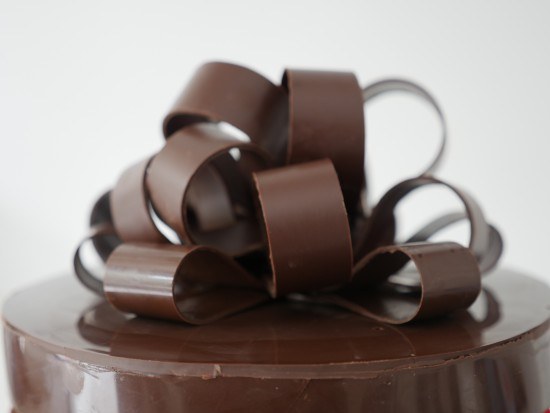 Tempered Chocolate (how to temper) for the bow and lid.
50g (1.76 ounces) or 1/2 cup almonds for the lid
350g (12.35 ounces) or 2 cups of assorted fresh fruit, washed and dried.
See the video for how to create the bow and the lid
Copyright 2016How To Cook That
My Cookbook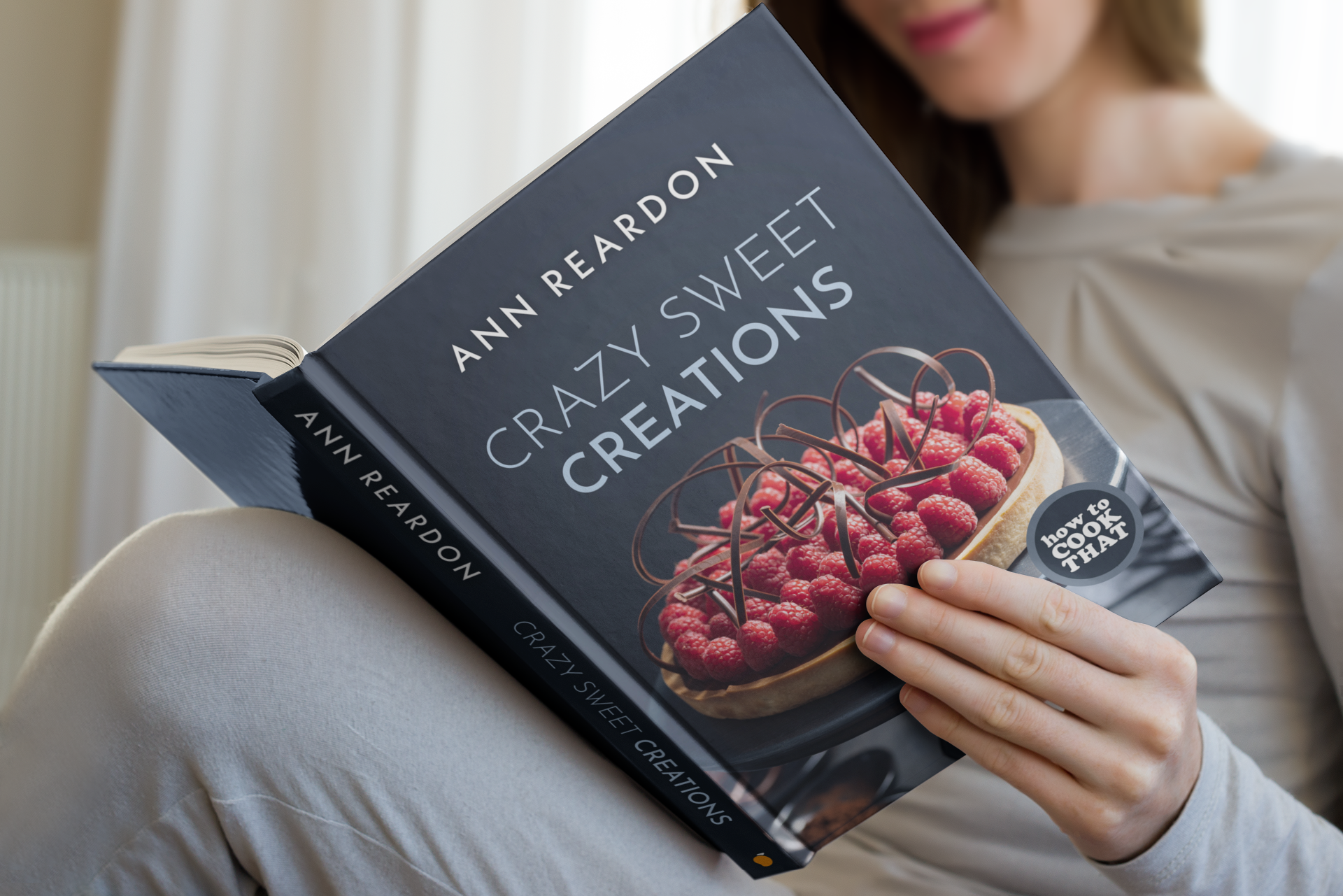 Stores that sell my book listed by country: http://bit.ly/ARcookbook All recipe quantities in the book are in grams, ounces and cups.