Chocolate Peanut Butter Cupcake Recipe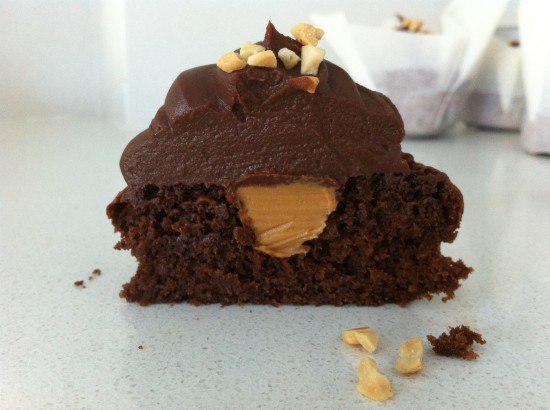 Snickers, reese's peanut butter cups, butterfingers, baby ruth, peanut m&m's and oh Henry, all make it to the Top Ten list of the worlds most popular chocolate bars.  How m&m's count as a chocolate bar I am not sure, but the point is they all contain the winning combination of chocolate and peanuts.  If you are a fan of these bars then decadent chocolate peanut butter cupcakes will not disappoint.
Chocolate Cupcake Recipe (makes 24)
200g (7.05 ounces) of 70% cocoa dark chocolate
315g (11.11 ounces) or 1 1/2 cups less 1 Tblsp margarine
2 1/4 cups or 486g (17.14 ounces) caster sugar
8 eggs
1 1/4 cups or 200g (7.05 ounces) plain flour (use GF flour if coeliac, this recipe has been tested with gluten free flour and works well)
1/4 cup 30g (1.06 ounces) cocoa powder (unsweetened)
1 1/2 tsp baking powder
Chocolate Ganache
200g (7.05 ounces) Chocolate (I use a mixture of dark and milk)
200 millilitres (6.76 fluid ounces) or 3/4 cup plus 1 Tbsp and 1 tsp cream
2 Tblsp or 26g (0.92 ounces) Butter
4 Tblsp or 60g (2.12 ounces) peanut butter.
Directions
To make the ganache, break the chocolate into pieces and place in a bowl.  Boil the cream and pour over the ganache.  Leave for a couple of minutes and then stir until swell combined.  Refrigerate.
To make the cupcake mixture, melt the chocolate and margarine together in the microwave or on the stovetop.  Remove from the heat and add the sugar.  Allow the mixture to cool and whisk through the eggs.  Then add the flour, cocoa powder and baking powder.
Pour into a jug and tip into cupcake cases.
Bake in the oven at 160°C (320 degrees Fahrenheit) (or 320°F (160 degrees Celsius)) for 20-30 minutes or until a knife inserted into the centre comes out clean.
Allow to cool completely, cut out a hole in the top of each cupcake and fill with peanut butter.  Pipe the cooled ganache over the top.
by Ann Reardon How To Cook That
My Cookbook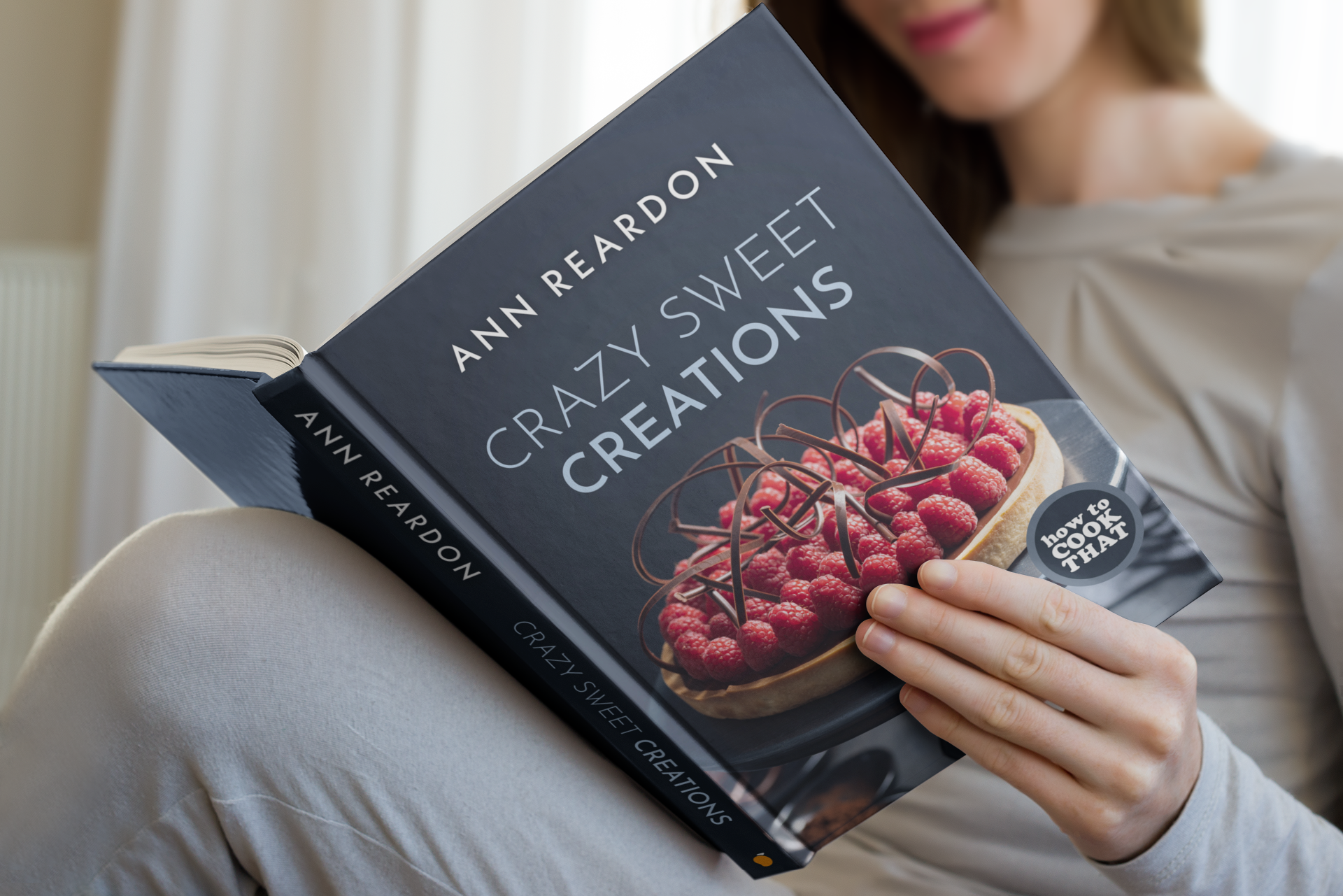 Stores that sell my book listed by country: http://bit.ly/ARcookbook All recipe quantities in the book are in grams, ounces and cups.