Coca-Cola Bottle Cake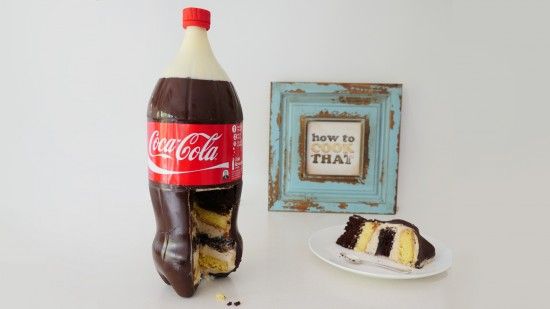 I can hear footsteps, the cute 5 year old kind, coming down the stairs. I love his cuddles in the morning. He is sneaking up behind me and I pretend not to notice. His breathing is loud and obvious but I do not spoil the game. He is getting closer now and I am trying not to laugh. Arms wrap around me and I am entangled in a loving cuddle and squeezed so tight. It's time for breakfast together while the rest of the house sleeps. The video will tell you all you need know about how to make a 3D coke bottle cake.
(The Poll on t-shirts is now closed. Thank you for all your responses. We'll let you know when they become available).
To make the Coke Cake you will need
Coke Jelly
5 tsp powdered gelatin
1 L (0.26 gallons) cocoa cola (I found the jelly tasted a little watery, if I was making it again I'd concentrate the coke by boiling down 2L (0.53 gallons) to make 1L (0.26 gallons))
Stir together the gelatin with approx 1/2 cup of coke.
Once it has thickened, microwave for about 30 seconds to melt the gelatin.
Add the rest of the coke, stir it well and let the bubbles subside. Pour it into a tray lined with plastic wrap and leave it in the fridge to set.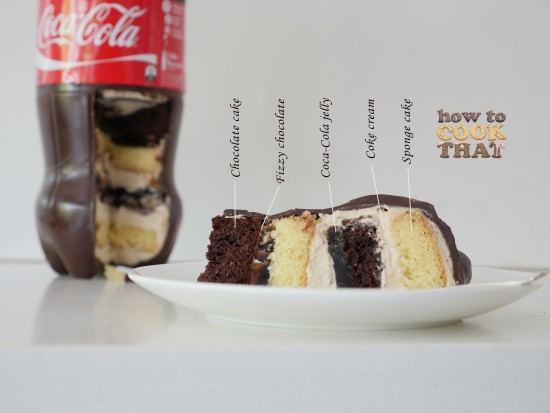 Chocolate Discs
25g (0.88 ounces) or 3 Tbsp sherbet (to make your own see recipe below)
190g (6.7 ounces) milk chocolate (no need to temper)
Next take some chocolate and some sherbet.
Melt the chocolate and stir in the sherbet.
Squash it flat between two sheets of baking paper so that it is really thin. Once it is setting cut circles a bit smaller than your coke bottle.
If you can't get sherbet you can make your own by mixing together:
2 tsp citric acid
1 tsp bicarbonate of soda (or baking soda)
2 Tablespoons of icing sugar
Coke Cream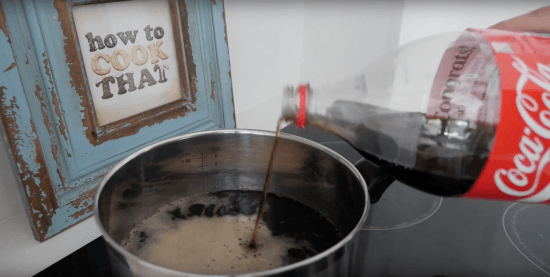 500millilitres (16.91 fluid ounces) coca cola
600millilitres (20.29 fluid ounces) cream (what type of cream should I use?)
Pour the coke into a pan. Heat it over high heat until the water evaporates off and you've got 50millilitres (1.69 fluid ounces) of coke flavored sugar syrup left. Caution it is very hot, keep an eye on it because you don't want it to burn. Leave that to cool.
Add the coke syrup to the cream and whip them together until you get soft peaks.
Cake
One 8inch (20.32 centimetres) round chocolate cake made using half of my chocolate cake recipe
One 8inch (20.32 centimetres) round sponge cake made using half of my sponge cake recipe
Cut each cake into two even layers then use a circle cutter to cut two circles from each layer. So you end up with 4 circles of sponge and 4 circles of chocolate cake.
Chocolate Bottle
2L (0.53 gallons) coke bottle washed a dried, make sure there is no water in it
160g (5.64 ounces) White chocolate
490g (17.28 ounces) Dark chocolate
Carefully remove the label from the coke bottle and keep it to one side. Draw a line where the coke comes to at the top.
Take a knife and cut the bottle in half at the level that the label covers.
If you are using real chocolate make sure you temper it, if you are not sure of the difference between real and compound chocolate and how to temper please watch the chocolate secrets video first.
Turn the top upside down and fill with tempered white chocolate up to the line.
Leave it for a minute then tip out the un-set chocolate, straighten up the edge using a spatula then let it set.
Pour some tempered dark chocolate into the base of the coke bottle and spin and turn it until it covers all of the sides. Tip the extra into the top and do the same with that one turning it until it is completely covered.
Then place them upside down to set.
Assembly of the Coca-Cola Cake
red fondant (optional)
To the base add some coke cream, a layer of sponge cake, coke jelly, more cream, chocolate cake and then a layer of fizzy chocolate.
Continue to layer it in this way right up to the top.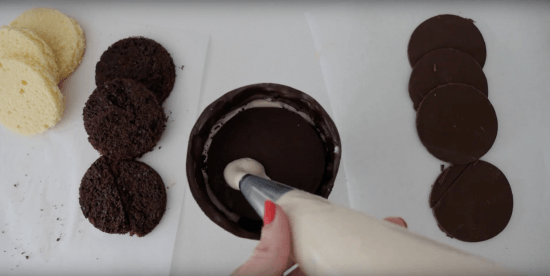 Place the top half in a glass to help it balance and layer it up in the same way as we did for the base.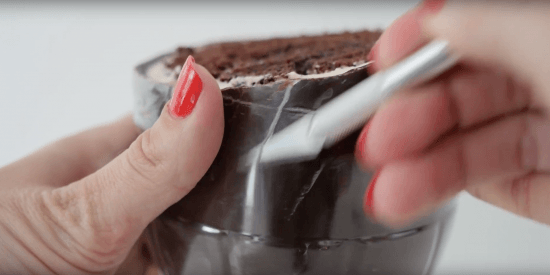 Remove the plastic from the cake.
Stand the base upright and add chocolate around the cut, then place the top half onto it.
Use a knife to smooth out the chocolate at the join and fill in any gaps.
Add the label back around the centre.
Either add the lid back into place or make one out of red fondant as shown in the video.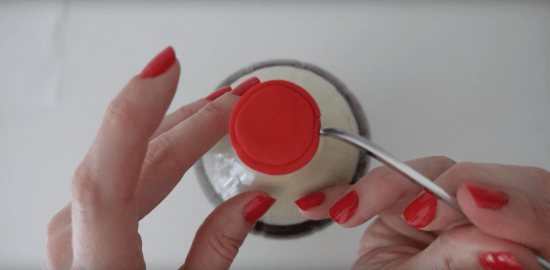 To serve:
Use a hot knife to cut through the chocolate and take a slice of layered coke cake.
credit to Marghi for using a coke bottle as a mold back in Sept 2015.
Copyright 2016How To Cook That
My Cookbook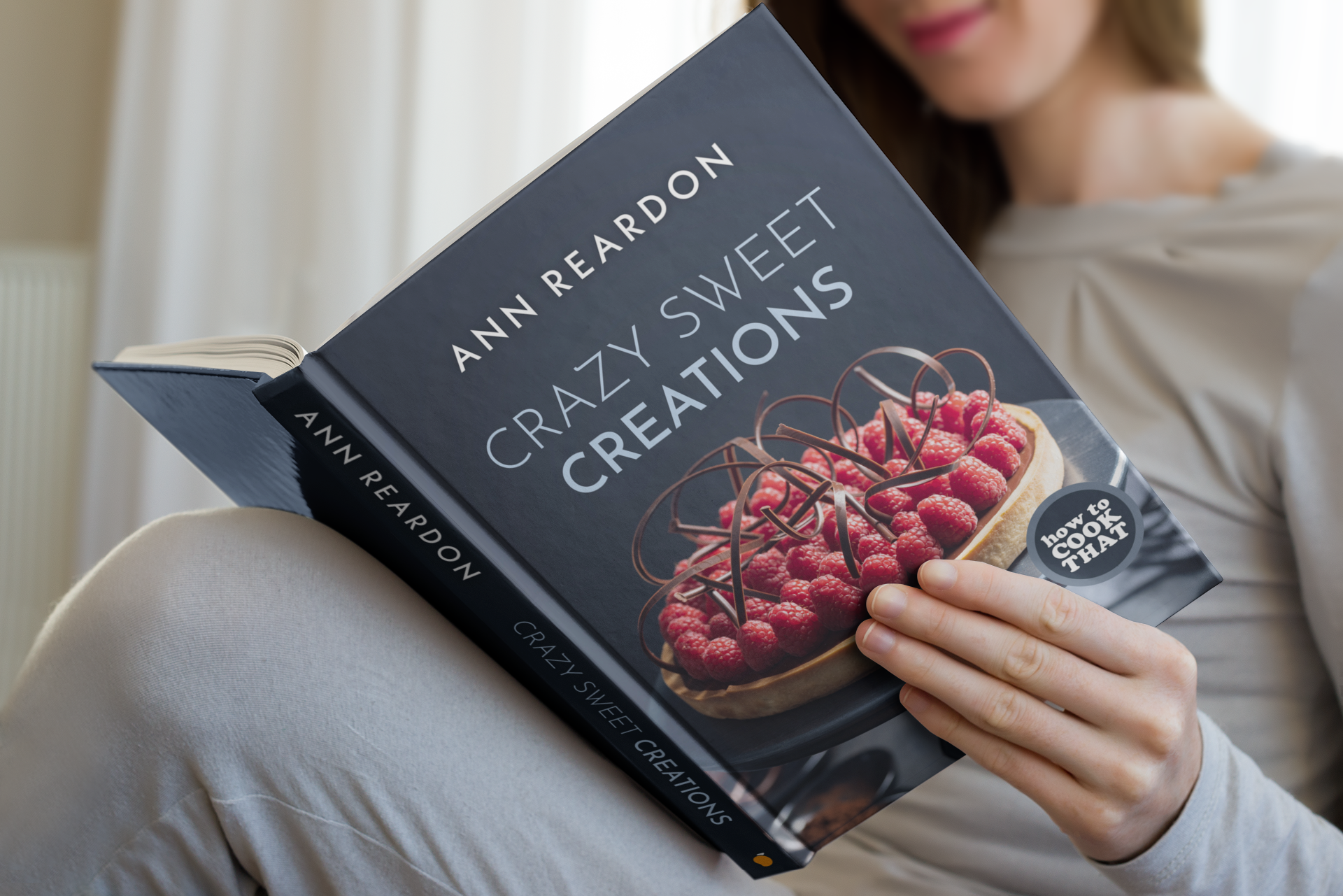 Stores that sell my book listed by country: http://bit.ly/ARcookbook All recipe quantities in the book are in grams, ounces and cups.