Are protein balls good for you?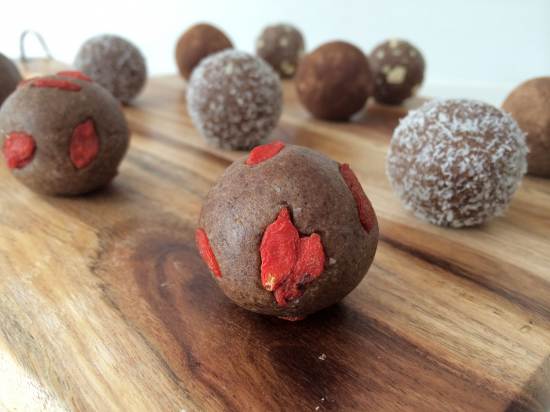 You feel as stuffed as the Christmas turkey! The scales register an increase and you decide to start your new year's health kick early.  Should you make some home-made healthy protein balls or bars?  Let's make some and check out how they stack up when compared with other snacks.
Healthy Protein Balls Recipe or you can make them into bars
Makes 14 Protein balls
3/4 cup or 115g (4.06 ounces) blanched almonds or nut butter
1 cup or 160g (5.64 ounces) raisins or other dried fruit
2 Tablespoons or 20g (0.71 ounces) cocoa nibs
1 Tablespoon or 15g (0.53 ounces) protein powder
1/2 cup or 85g (3 ounces) seed mix or trail mix
Optional goji berries, coconut, cocoa powder, chopped nuts for rolling the outside of the protein balls.
Two protein balls contain 8.8g (0.31 ounces) protein
Add all ingredients into a food processor and process until it forms a sticky ball. Portion into 14 balls and roll in coconut, chopped nuts, goji berries or cocoa powder.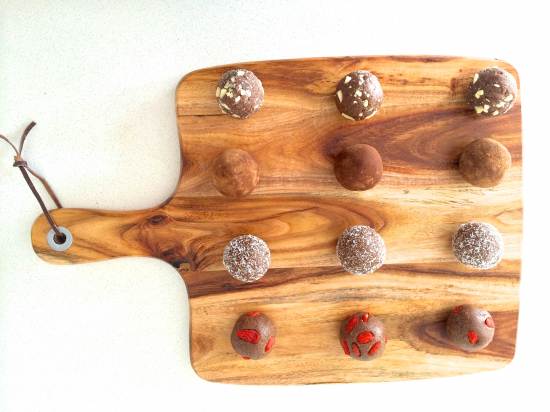 2015
BIG ANNOUNCEMENT
I have been busy over the last year planning, writing and overseeing the photography and layout for my first ever cookbook! There are heaps of my favourite dessert recipes in there with a chapter on pastries, ice-cream, yummy cakes, artistic desserts and of course chocolate desserts. Each chapter has its own intro explaining the food science that you'll need to know for success every time. Booksellers where you can purchase your very own copy: http://bit.ly/ARcookbook
All recipe quantities in the book are in grams, ounces and cups.