Minecraft slime balls, grass blocks and TNT cake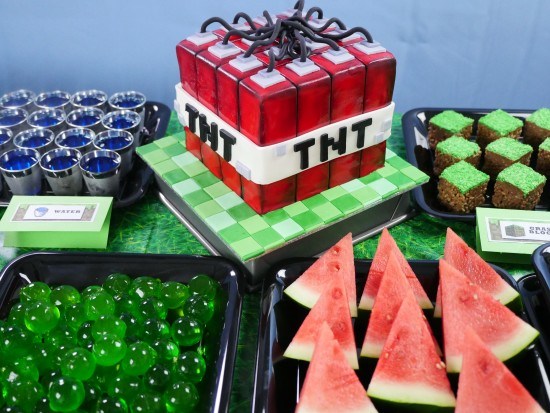 This week my baby turned six years old! He is at school, losing his baby teeth and learning to read. My how he has grown. The week he was born I wrote my very first recipe on this website, and I have not missed a Friday since then. Just as Jedd has changed, so too has How To Cook That. I used to take photos on my phone and type up the recipes during night feeds. Now I film a video for each recipe on a professional camera and spend a whole day editing it down for you into an easy to watch format. The How To Cook That youtube channel has 3.1M subscribers and over half a billion views! It is such blessing but certainly not what I envisioned or planned when I started.
To make the TNT cake you will need:
This size cake will serve 32 people if you give each person half a stick of dynamite which is quite a big serve of cake, kids will eat about 1/3 of a stick each.
Fondant
200g (7.05 ounces) green fondant
750g (26.46 ounces) red fondant
100g (3.53 ounces) black fondant
50g (1.76 ounces) grey fondant
100g (3.53 ounces) white
Cake
One a half times the rich chocolate cake recipe baked in two trays. My trays are 10″ x 15″
Ganache
525g (18.52 ounces) milk chocolate
180ml or 3/4 cup of cream
Pouring the cream over the chocolate. Microwave it in 30 second bursts stirring each time until it is smooth and there are no lumps of chocolate. Cover that in plastic wrap and leave to cool to room temperature.
Chocolate Buttercream
240g (8.47 ounces) or 1 cup butter
340g (11.99 ounces) or 2 3/4 cups icing sugar
100g (3.53 ounces) or 3/4 cup cocoa powder, unsweetened
Whip together on low speed until combined then mix on high speed until it is smooth and fluffy.
Strawberry Syrup
105g (3.7 ounces) or 1/3 cup Strawberry jam
2 tablespoons water
Place in a bowl and heat in the microwave for 1 minute. Leave to cool.
.
Once your cakes are completely cooled level them using the top of the tin as your guide.
Trim off the edge on two sides to make it straight and cut out two 15cm (5.91 inches) squares. Fold the square in half and cut two rectangles from the top of the cake. Repeat that with the other tray cake.
Place some buttercream onto the base board then add two of the rectangles to make a square. Smother that in the jam syrup followed by an even layer of buttercream. Stack up the remaining cake in the same way.
Add the ganache to the left over buttercream and mix together. Pourer the cake spreading it out. Then place in the fridge for an hour to from up. Add another thin layer of frosting over the top to smooth out any imperfections.
Place red fondant over the top of the cake and immediately press it to the cake around the top so that it doesn't stretch and crack.
Squeeze the fondant together at each corner together and use scissors to trim it off fairly close the where you want it, the scissors help seal the join shut. Use a knife to shave off a little extra if needed. If you have a fondant smoother use that to flatten the sides, if not put non-stick baking paper on two opposite sides and press gently with a book in each hand.
Trim the excess fondant off at the base. Then make sure your corners are sharp by gently pushing the top edge in towards the fondant smoother (see video).
Use a ruler to mark out 4 equal sections then push the ruler into the fondant to make an indent for the sticks of dynamite. Do the same on the top to join up with the lines that you have made on each side so you end up with 16 squares on top.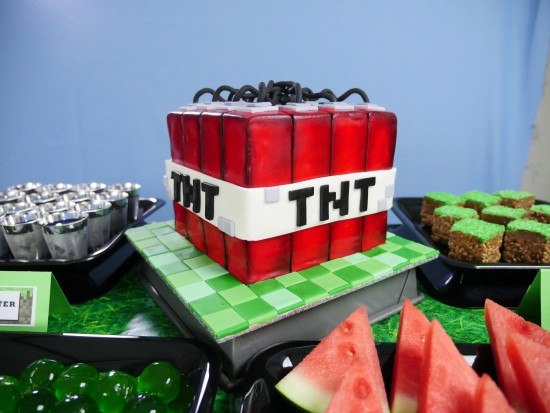 Take some black powdered food colour and a dry paint brush and paint in the indents. You could use black gel colour for this if you prefer.
Add a strip of white around the outside of the cake and use your ruler to straighten it up.
Print and cut out the TNT letters template and flip it over on some fondant on non-stick baking paper so it is backwards. Cut around the template, remove the excess black fondant, straighten up the letters, add a little bit of water to each letter, blot with paper towel and add to the cake. Repeat for each side.
Cut 16 squares of light grey. Add to each square on top of the cake right in the corner. Add darker grey squares across the top of the cake again right in the corner. Use a straw to cut a circle out of the top of each block.
Add some smaller squares of grey around the TNT letters.
Using a fondant extruder make a long snake of black.
Roll one end to a point and add it into the hole. Reach it across to the opposite corner and connect it.
To stop them sitting flat you can add some rolled up baking paper under the fondant. Leave overnight and then remove the baking paper.
Cover the board in green squares.
Take a photo with your birthday boy or girl before the party guest arrive so you can get a good one.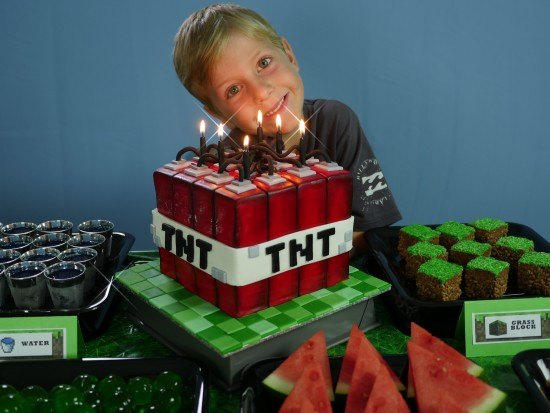 MINECRAFT SLIME BALLS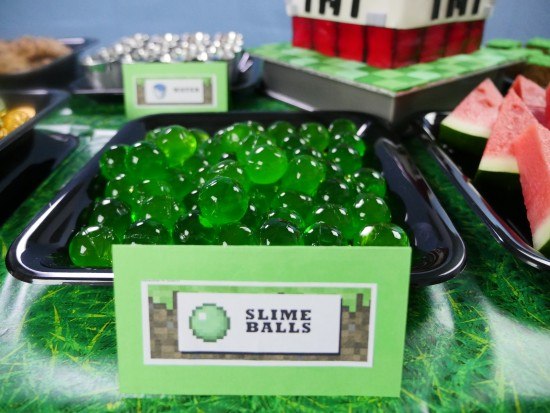 2 packets green jelly or jello made up using half the amount of water it says on the packet.
MINECRAFT GRASS BLOCKS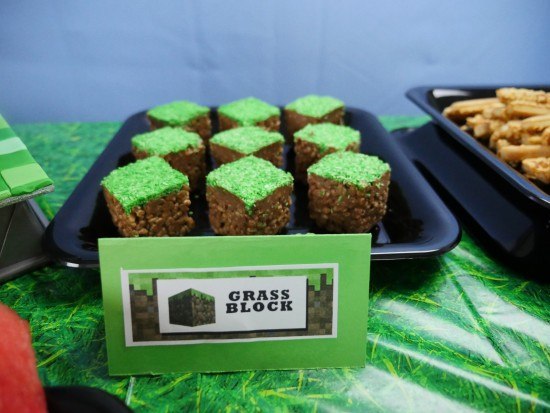 makes 48 blocks in the size shown
118g (4.16 ounces) rice bubbles
175g (6.17 ounces) milk chocolate
1 cup coconut mixed with liquid green food colouring
how to temper chocolate at home the chocolate and pour it over the rice bubbles.
Mix well and pour into a cube silicone mold and press down firmly. Sprinkle with coconut and press down on top. Leave to set in the fridge then push out of the mold.
WATERMELON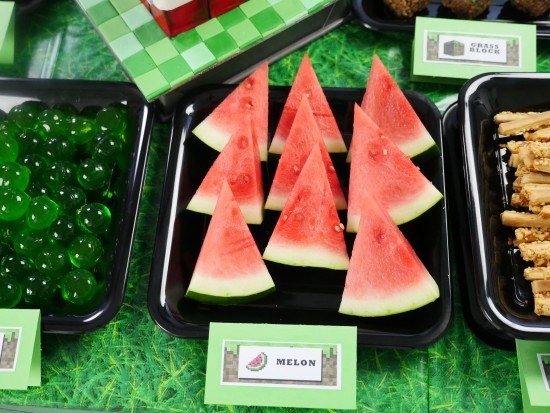 Copyright © 2017 Reardon Media Pty Ltd. All rights reserved. How To Cook That
My Cookbook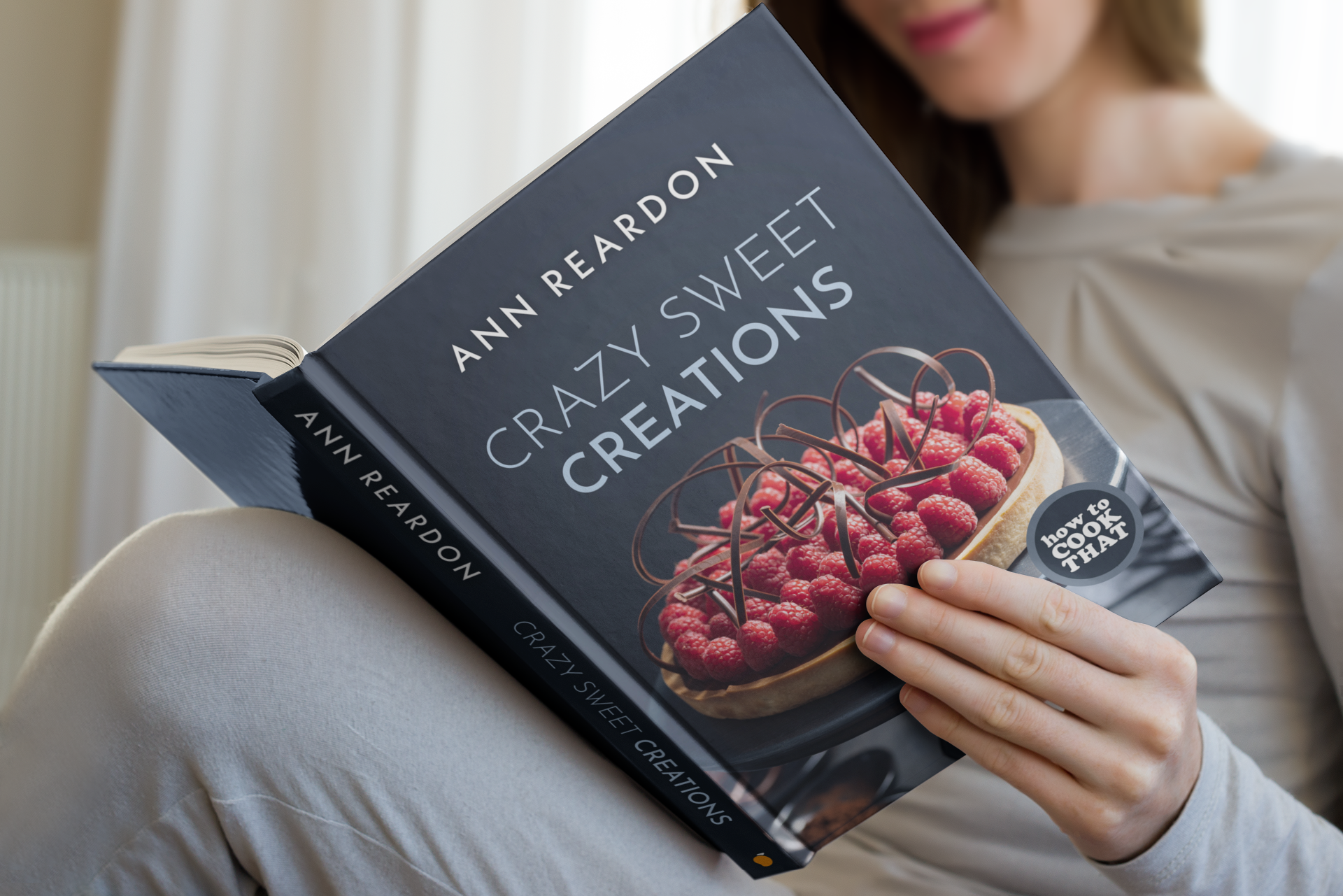 Stores that sell my book listed by country: http://bit.ly/ARcookbook All recipe quantities in the book are in grams, ounces and cups.