Nougat Recipe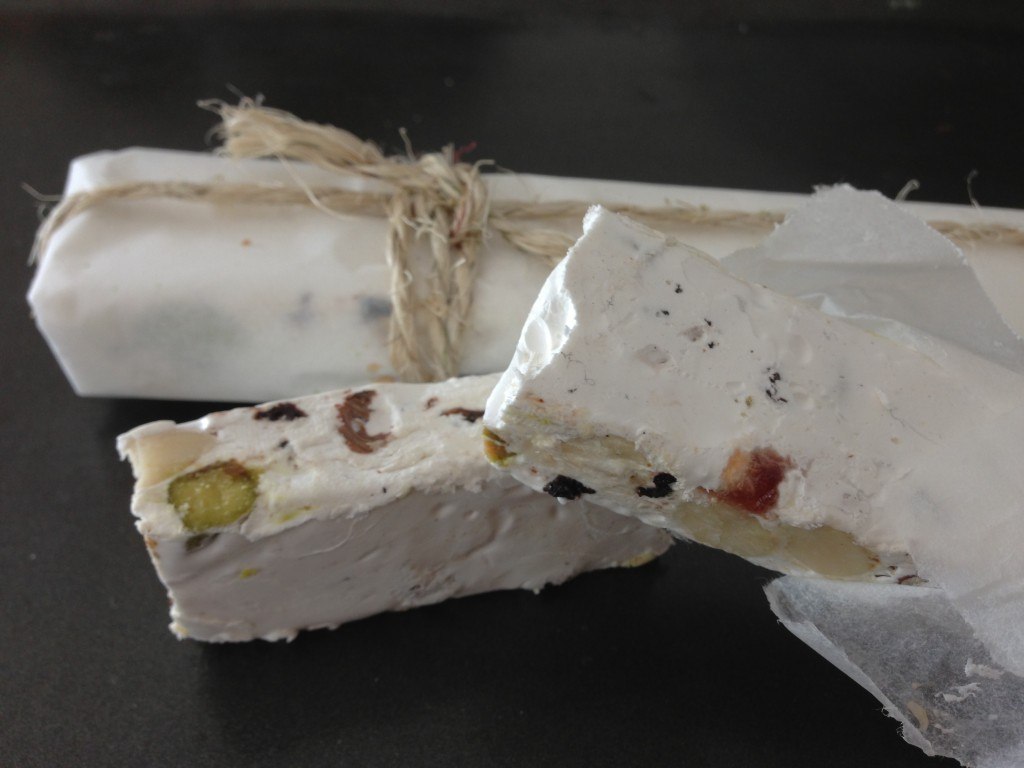 This nougat is the hard chewy variety, great for Christmas gifts. If you add lots of dried fruit and leave it a few days it will soften a little and not be such a jawbreaker. If you like hard nougat then just add nuts. You can dip it in chocolate or enjoy it just as it is.


Nougat Recipe Ingredients
2 cups or 432g (15.24 ounces) caster (superfine) sugar
1 1/2 cups or 528g (18.62 ounces) liquid glucose syrup (or corn syrup)
honey (optional – decrease the liquid glucose in equal amounts for the honey that you add, I add just 1 Tbsp this is just for flavour)
2 egg whites (72g (2.54 ounces))
1 1/2 cups or 195g (6.88 ounces) nuts of your choice – I like to use pistachios in the mix because of the colour
1 1/2 cups or 252g (8.89 ounces) mixed dried fruit (you can decrease the fruit and increase the nuts if you prefer)
Firstly get everything ready because once the sugar syrup is at the right temperature you need to be a ready to move quickly.
Place your egg whites into the bowl of an electric stand mixer (you can use a hand mixer but you will probably need someone to assist you). Line a tray with non-stick baking paper, put some water into a cup with your pastry brush and have your candy thermometer ready.
Place the sugar, glucose syrup and honey into a saucepan and stir until the sugar was dissolved. Wash down the sides of the pan using a pastry brush. Turn on the beater and whip the egg whites to soft peaks.
Using a candy thermometer monitor the sugar syrup temperature until it reaches 250ºF (120ºC). Remove from the heat, turn on the mixers and add three soup ladles full into the egg whites.
Leave the mixers running and return the pan to the heat. Continue to heat until it reaches 300ºF (150ºC) then immediately pour into the egg white mixture in a steady stream. It will start to get very thick, add the fruit and nuts and quickly pour onto the lined baking tray.
If you want flat bars place another sheet of non-stick baking paper over the top and use rolling pin to smooth out. Once it is cold, turn out and peel off the paper. Using a sharp knife and a lot of muscles push down and rock back and forth on the knife to force it through the candy.
Store in an airtight container with non-stick paper on the base and between the layers of nougat.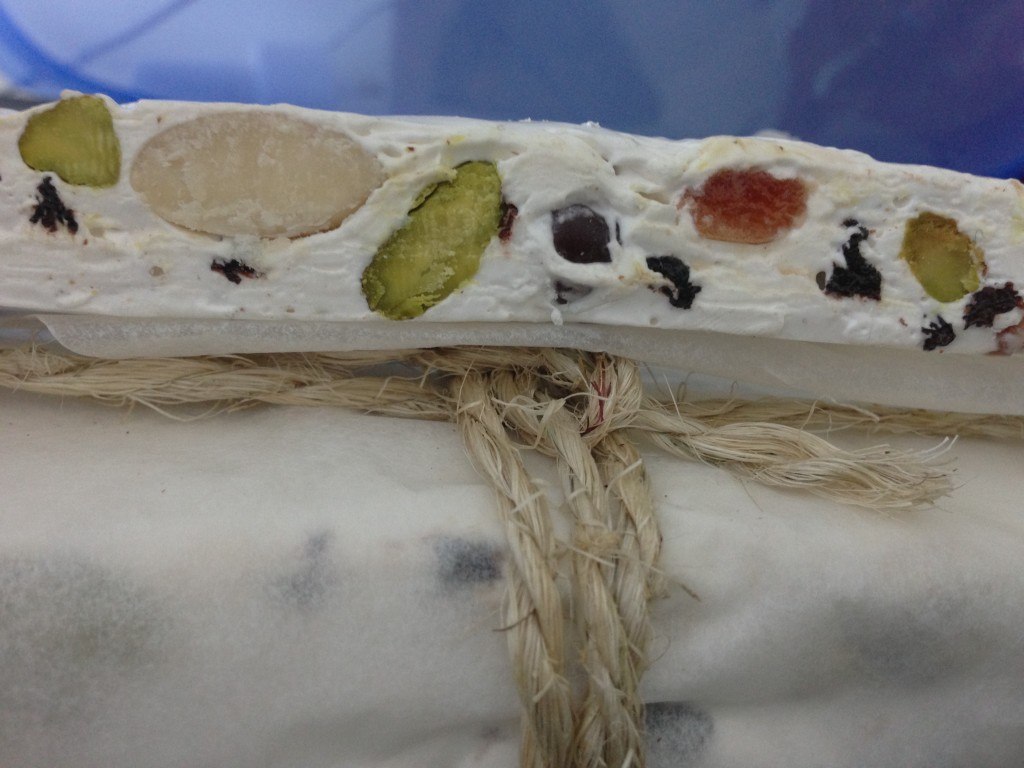 4.5352
My Cookbook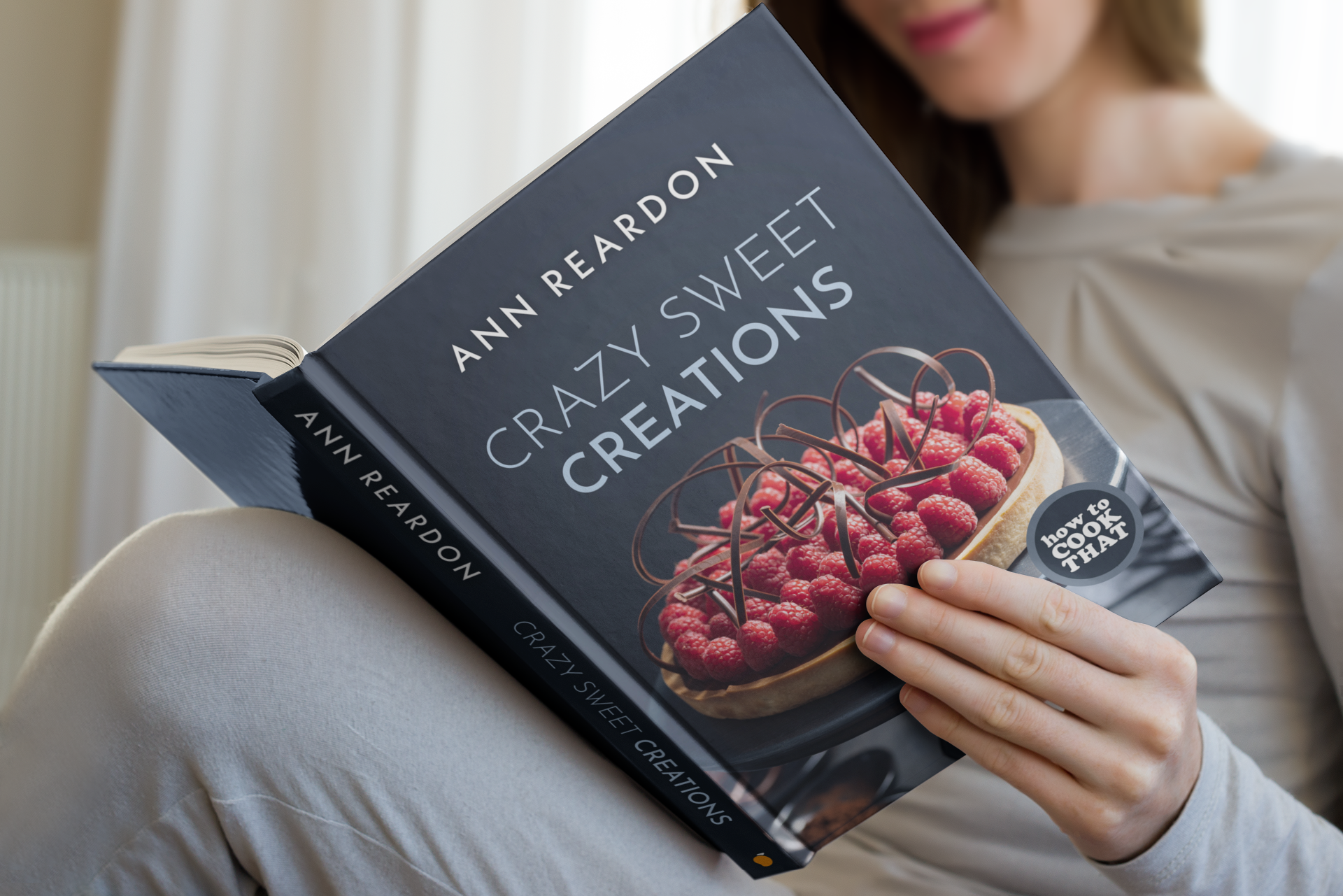 Stores that sell my book listed by country: http://bit.ly/ARcookbook All recipe quantities in the book are in grams, ounces and cups.