Ariel Little Mermaid Cake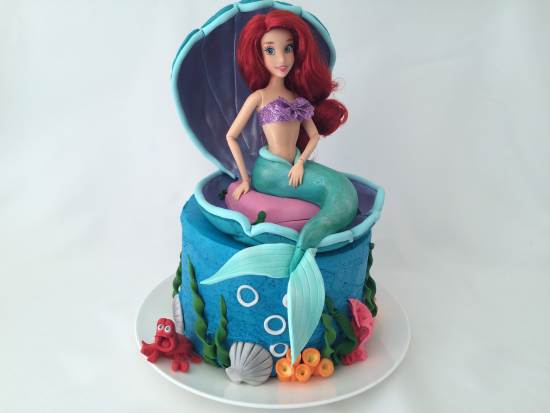 Being a mum of three boys I missed out on the whole Disney princess dress ups and excitement with my own kids. But I have seen the unmistakable joy on a little girls face when they see their favourite character sitting beautifully atop a cake. Big eyes, cute giggles, shy smiles and big nods when asked if they'd like to eat some.
To make this Ariel little mermaid cake you will need:
The cake
1 and 1/2 quantities of my fluffy sponge cake or chocolate cake recipe baked in three round 20cm (7.87 inches) tins
two quantities of buttercream coloured with blue gel colouring
The shell
200g (7.05 ounces) bluey green fondant
1 tsp tylose powder
100g (3.53 ounces) purple fondant
100g (3.53 ounces) pale blue fondant
white luster dust
One Ariel doll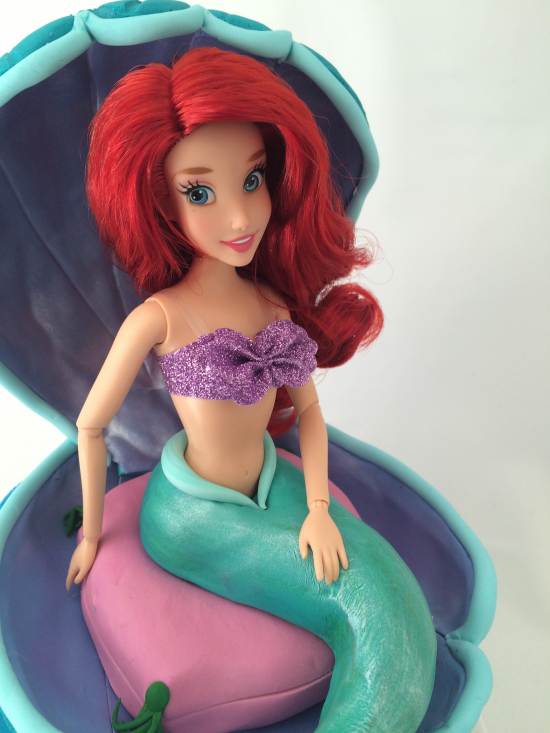 Side decorations
40g (1.41 ounces) Pink fondant for the coral
20g (0.71 ounces) x 2 shades of green fondant for the seaweed
40g (1.41 ounces) white fondant for some coral, bubbles and shells
silver luster dust for shells (optional)
40g (1.41 ounces) yellow and orange fondant for coral
Sebastian the crab
50g (1.76 ounces) red fondant
10g (0.35 ounces) white fondant
black food grade marker
1 stick of spaghetti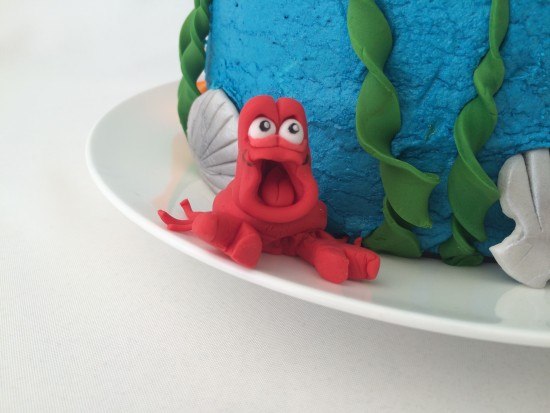 The pillow:
100g (3.53 ounces) Pink fondant
green fondant left over from seaweed.
The tail:
100g (3.53 ounces) Deep aqua fondant
1/2 tsp tylose powder
white luster dust
green gel food colouring
Make the fondant details ahead of time, you can make them a month before and leave them to dry out (do not put them in a sealed container or they will stay soft).
Stack the three cakes with your choice of filling between the layers (jam, buttercream, lemon curd…). Cover the whole cake in buttercream and smooth the sides and then the top. Arrange some coral and seaweed around the edge. And add Sebastian the crab to one side.
Place the shell on the top, placing it slightly forward.
Make the pillow following the directions in the video. Cut a rectangular shaped hole out of the centre of the cake being careful not to make it too big, you want it to hold the doll securely.
Add the cushion then wrap Princess Ariels legs in plastic wrap and place her into the centre of the cake. Make sure you can still see her hips and the top of her legs.
Make the tail and add it around Ariel then using a little water add the tail fins and support them. Brush the tail with diluted green gel colour. Then once that is dry brush on some luster dust to make it shimmery. Let this dry overnight. I would advise leaving the supports in place as long as possible. Keep the cake at room temperature so that the fondant tail has a chance to dry out.
Just before you are ready to serve the cake remove the supports.
Add the top half of the shell sitting it on top of the base one. Then add two cake support rods behind it to hold it in place. You can hide those with more seaweed if you like.
Take a photo with your birthday child before the party guests arrive to ensure that you get a good picture. You can post a photo of your Ariel cake for me to see in the comments below.
2015
by Ann Reardon How To Cook That
My Cookbook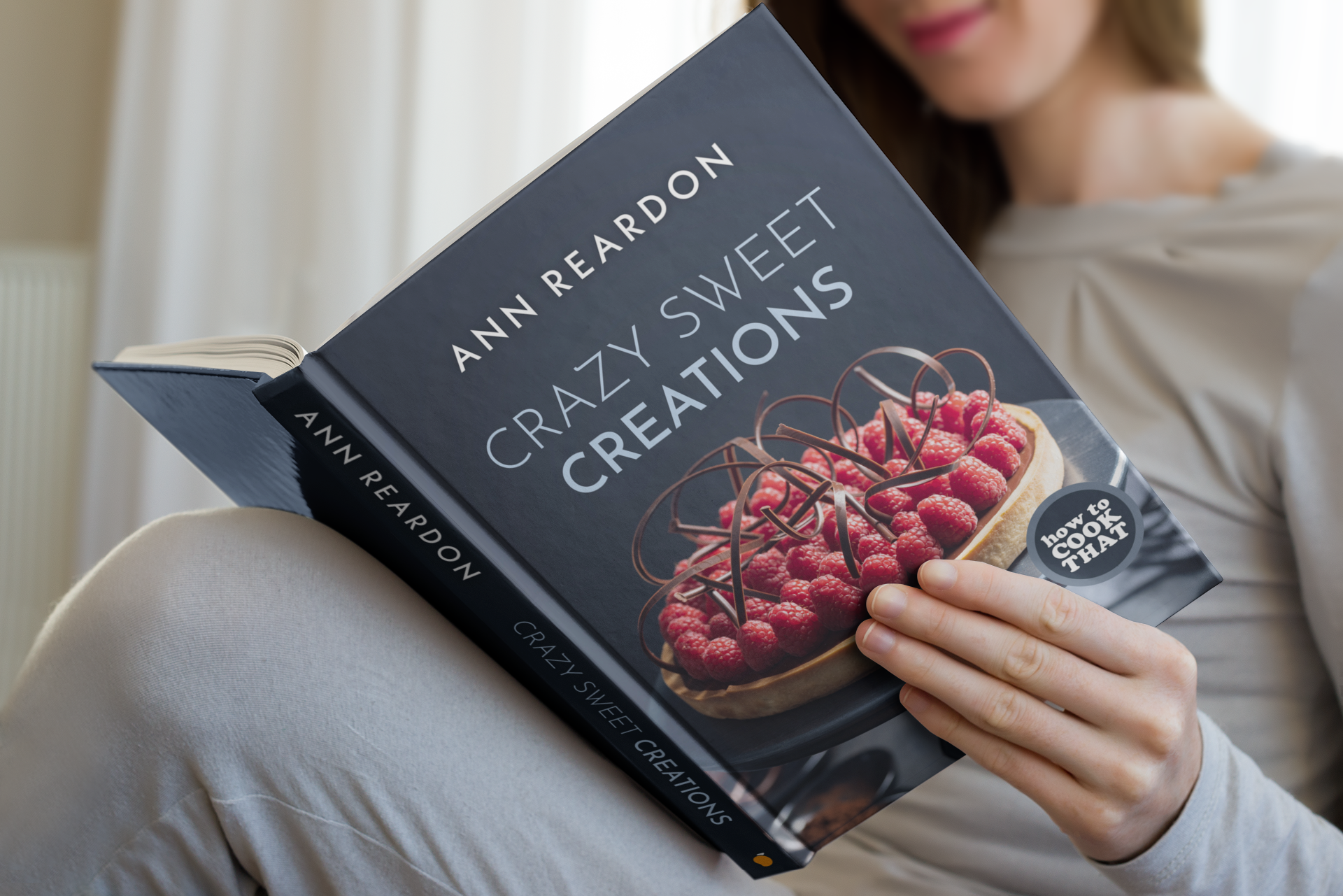 Stores that sell my book listed by country: http://bit.ly/ARcookbook All recipe quantities in the book are in grams, ounces and cups.