Valentine's Magic Heart Dessert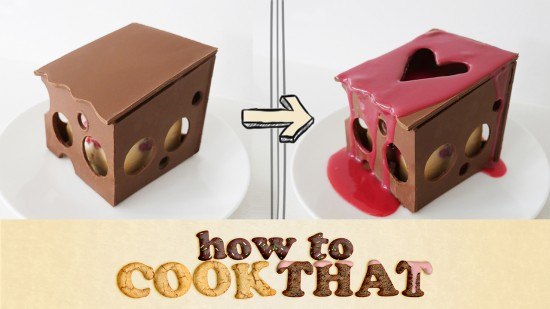 Desserts with a theatrical element are all the rage at the moment. So after dreaming up several different ideas I finally created this special one for Valentines Day. I know you're going to love it.
As many of you already know, my valentine Dave is a writer and his first novel is close to being released. Books take a LOT longer to make than recipes … It's been many months of hard work, with long hours of writing, editing and rewriting. I have actually already read it three times in my secret role (Dave calls me his 'personal proof-reader/plot tweaker') and it's such a GREAT story!
One of the coolest things about it was giving you a chance to have some input. Thanks so much to everyone who voted for the nationality of our hero, plus suggested super-creative names for villains, beautiful outfits for our heroine Micki and even the movie that was playing at the cinemas. The book is currently at the final proof-reading stage (by a professional this time) and the cover is with the artists. I'll let you know when it's ready, I can't wait for you to read it.
To the Valentines Day magic heart dessert you will need:
(makes 4 large serves, mine were big enough for two people to share, you can reduce the size if you want individual serves)
For the Ice-cream layer (or you can use store bough ice-cream and let it soften at room temp)
750millilitres (25.36 fluid ounces) whole or full cream milk (4% fat)
50g (1.76 ounces) or 3 Tbsp plus 1 tsp skim milk powder
1 tsp vanilla extract
8 egg yolks
1 cup or 218g (7.69 ounces) sugar
2 1/2 cups or 625millilitres (21.13 fluid ounces) cream
Heat the milk and skim milk powder until it is dissolved. Whisk together the egg yolks and sugar. Continue whisking and add in the hot milk. Return the saucepan to the heat until heated through. Then strain into a bowl. Add the remaining ingredients and then leave in the fridge to chill.
For the Pistachio Base
6 yolks
50g (1.76 ounces) or 1/3 cup plus 1 Tbsp powdered (icing) sugar
50g (1.76 ounces) or 1/3 cup plus 1 Tbsp pistachios or other nuts
2 Tbsp water
100g (3.53 ounces) or 2/3 cup flour
1/2 tsp baking powder
2 egg whites
Place the egg yolks, icing sugar and pistachios into a food processor and process until smooth.
Add the water, flour and baking powder and gently process to combine.
Whip the egg whites to soft peaks and fold into the pistachio mixture.
Spread onto baking paper on a tray and bake in the oven at 180C (356 degrees Fahrenheit)
for 7 minutes or until golden and firm
Strawberry White Chocolate Glaze
6g (0.21 ounces) or 1/2 Tbsp powdered gelatine
50g (1.76 ounces) or 2 Tbsp plus 1 tsp glucose syrup
50g (1.76 ounces) or 1/4 cup sugar
180g (6.35 ounces) or approx 1 1/4 cup fresh strawberries, washed, hulled and sliced
85millilitres (2.87 fluid ounces) cream
390g (13.76 ounces) white chocolate (use real chocolate continuing cocoa butter)
red food coloring (optional)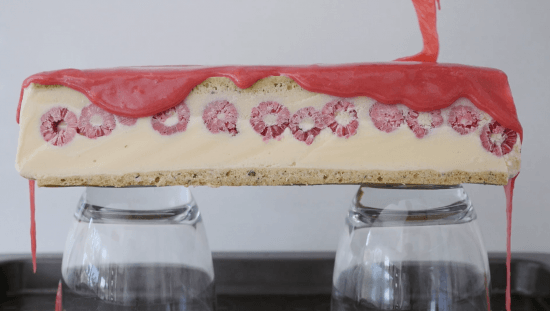 Mix together the gelatin and cream.
Place the glucose and sugar in a saucepan and heat until it becomes liquid.
Add in the fresh strawberries and stir over the heat until they are well softened.
Add in the gelatin mixture and stir to combine.
Pour over the white chocolate and leave for a minute to melt.
Stir together and add the red food coloring if desired.
Push through a fine sieve to remove the strawberry pips.
Chocolate Box
160g (5.64 ounces) tempered chocolate per finished box,
allow extra for cutting (how do I temper chocolate?)
Free Cutting Template: valentines box template
See the video for instructions on how to make the box.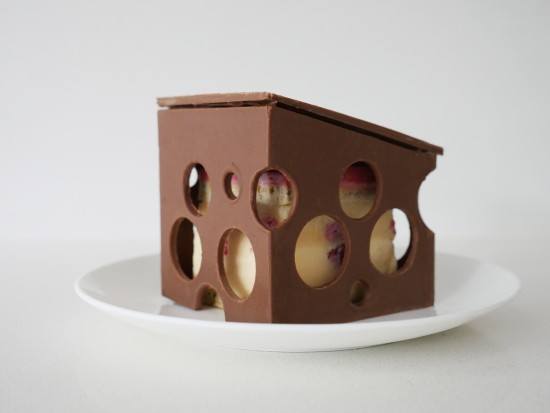 Assembly
150g (5.29 ounces) or 1 cup fresh or frozen raspberries
Cut the base to fit a long rectangle container (mine was 8cm (3.15 inches) x 26cm (10.24 inches) at the base). Churn the ice-cream and place a layer over the cake. Arrange the raspberries in straight rows then top with more ice-cream.
Finish with another layer of pistachio cake and place in the freezer overnight to firm up.
Remove the dessert from the container. If you don't have a silicone container put some warm water in the sink and
place the container in so the water goes on the sides – but not into the dessert. Once the edges are softened tip
out and freeze again. Place the dessert on cups over a tray and pour over the glaze. Return to the freezer.
Reserve excess glaze and all that falls into the tray to use for the sauce. Slice into desired portion sizes and
place in the centre of the plate, add a chocolate box over the top.
Take to the table then pour over the strawberry white chocolate sauce.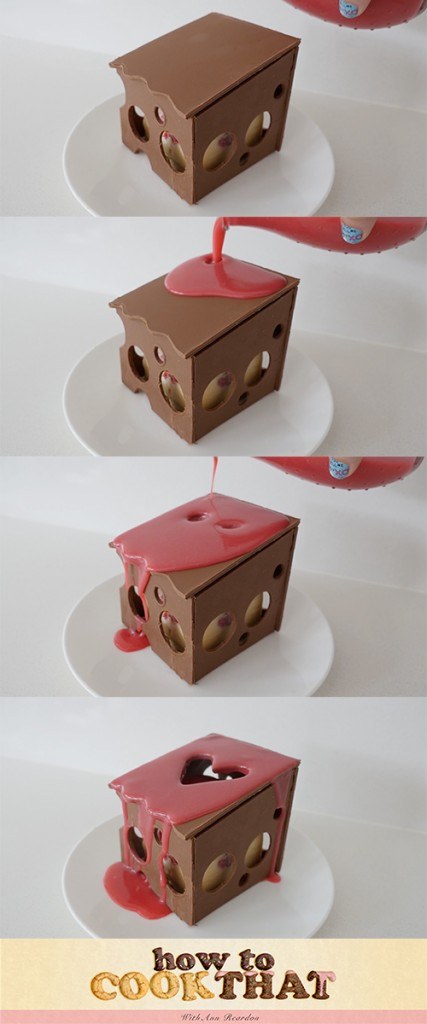 Copyright 2016How To Cook That
My Cookbook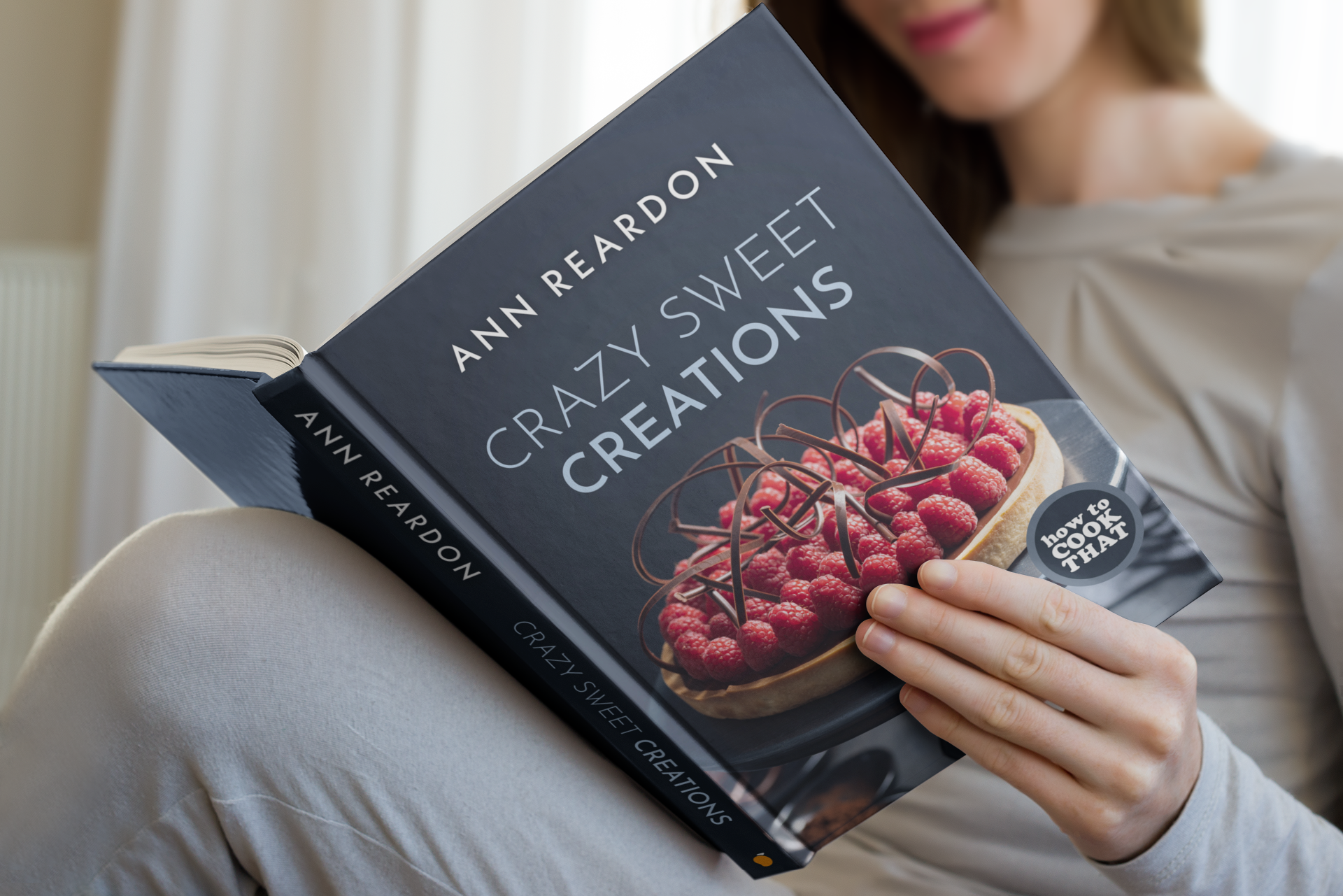 Stores that sell my book listed by country: http://bit.ly/ARcookbook All recipe quantities in the book are in grams, ounces and cups.