Giant Butterfinger Candy Bar Recipe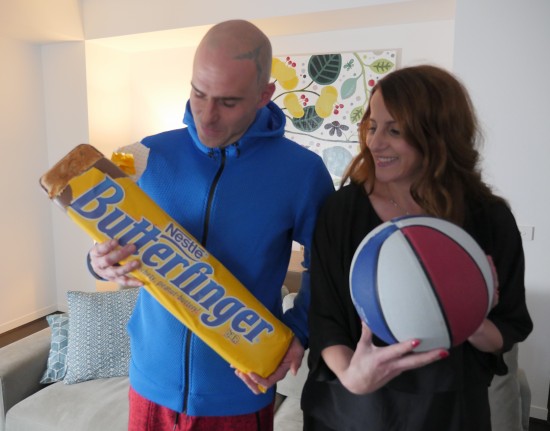 I love everything about this giant series.  From finding people to reward with a giant chocolate bar to developing recipes that taste like the real thing.  Then editing down the video so that you guys can share in those moments.  Great times.
The giant butterfinger recipe took quite a lot of experimenting with mini doses to get the texture and taste just right.   The ingredients on the packet say they contain flakes of freeze dried corn.  I couldn't get hold of any so I substituted cornflour and it worked just fine.  The next hurdle was getting this creation through airport security.  I feared that if I packed it in my main suitcase I'd be presenting Seth with a giant wrapper of butterfinger crumbs.  So I instead attempted to carry it in my hand luggage, despite being overweight.  I was stopped for explosives testing – apparently a giant wrapped lump carefully padded in foam looks suspicious on X-ray.  Once they gave us the all clear we were good to fly.
To make the giant butterfinger in the size shown you will need 6 batches of this mixture.
We are making it in sections so we can handle it before it sets. In total with all the batches together it makes a bar that is 13.5cm (5.31 inches) wide, 27cm (10.63 inches) long and 5cm (1.97 inches) high, weighing in at 8.7kg (19.18 pounds)!
125g (4.41 ounces) or 1/2 cup peanut butter
30g (1.06 ounces) or 1/4 cup cornflour or cornstarch
690g (24.34 ounces) or 3 cups plus 3 Tblsp sugar
1/4 teaspoon citric acid
200mL (6.76 fluid ounces) or 3/4 cup plus 1 Tblsp water
290g (10.23 ounces) or 3/4 cup plus 1 Tblsp glucose syrup or corn syrup
110g (3.88 ounces) or 1/3 cup plus 2 Tblsp peanut butter
Chocolate to cover, approx 1 kg (2.2 pounds)
Preheat your oven to 100C (212 degrees Fahrenheit)
Warm up the peanut butter in the microwave and then mix through the cornflour. Set aside.
Place the sugar, water and glucose syrup in a pan, stir until the sugar is dissolved. Use a wet pastry brush to wash down the sides of the pan. Stir in the citric acid and add a candy thermometer to the side of the pan. Leave it to boil unstirred until it goes golden and keep heating until it reaches 310F (154.44 degrees Celsius).
Remove it from the heat immediately and stir through the peanut butter that doesn't have the cornstarch in it.
Immediately pour onto a large baking silicone mat and spread it out evenly.
Let it cool slightly then spread some of the peanut butter cornflour mixture over the top of one half.
Using the mat fold the hot sugar over the peanut butter and press it down.
Spread more of the peanut butter mixture on one half and then fold it over again twice more trying to keep a rectangle shape. Roll slightly using a rolling pin.
Continue to roll and fold, if it gets too firm to work with. Pop it in the oven for about 30 seconds to warm it and try again.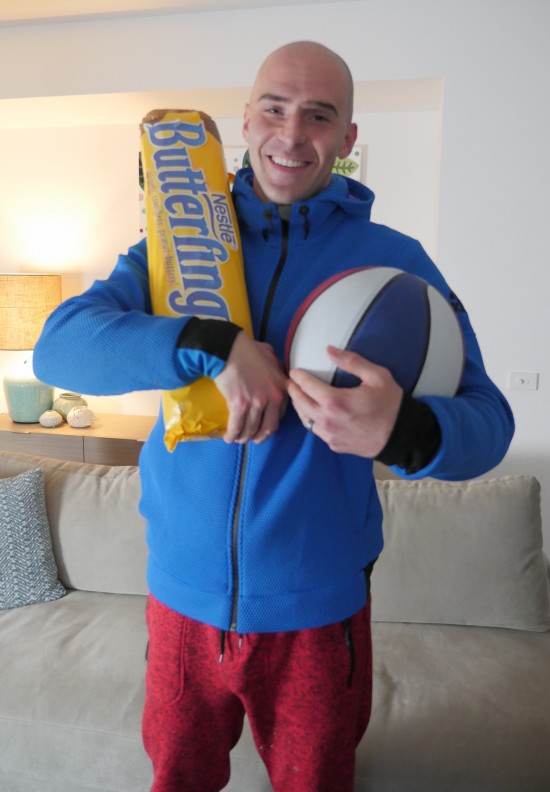 Shape into a rectangle the size of half the bar and allow to cool. Make more batches and stack them up, pressing the warm fresh batch onto the first batch.
Once you have made all your batches pour some tempered chocolate onto some baking paper and add the bar on top.
Once that chocolate is set take a knife and trim around the base to make it straight.
Balance the bar on two glasses and pour tempered chocolate over the top. If you've not tempered chocolate before I have a whole video explaining it with various ways to do it at home, it makes the chocolate set firm at room temperature.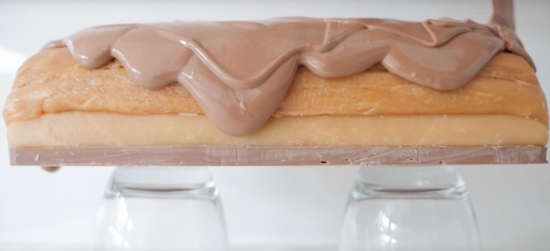 Once the drips have set run a knife along the base to cut them off. To wrap it place the two halves topside down onto some yellow contact. Obviously if you're not going on a plane you could make one long bar instead of two halves. Place a piece of corflute board over the top and wrap the contact around sticking it underneath.
At the ends peel off the backing and fold it over the end of the bar. Then pull out the ends of the contact and flatten the ends together. Cut off the excess using pinking sheers so you get the jagged edge. Then print out the words butterfingers logo pdf and stick them over the top.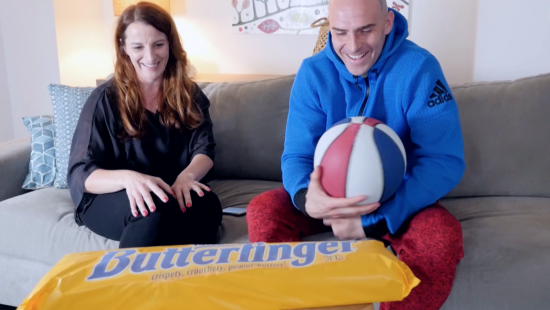 Copyright © 2016 Reardon Media Pty Ltd. All rights reserved. How To Cook That
My Cookbook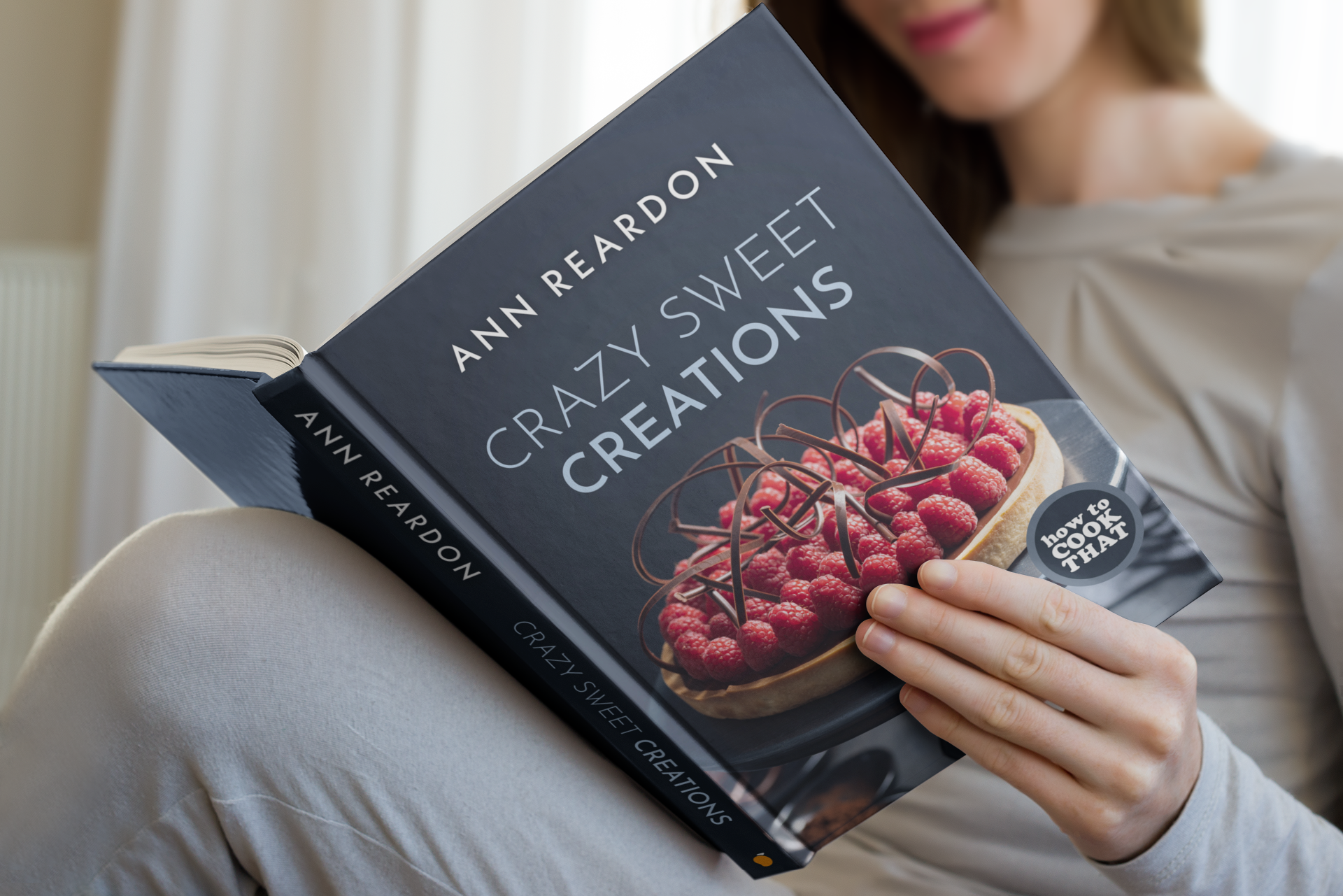 Stores that sell my book listed by country: http://bit.ly/ARcookbook All recipe quantities in the book are in grams, ounces and cups.