Chocolate Food Art Starry Night
This might be the yummiest painting ever! Edible chocolate paint in cute homemade silver paint tubes. Plus a solid chocolate palette and thin white chocolate paper. What masterpieces will your guests create and then eat?
After I posted the chocolate pencils recipe recently, I asked what artwork you would most like to see in chocolate. Amazingly, over 200 people requested 'Starry Night' by Van Gogh. While it looked deceptively simple at first, I quickly realised just how many brush strokes and beautiful colours went into this famous painting. Make sure you watch it being painted in time-lapse at the end of the video.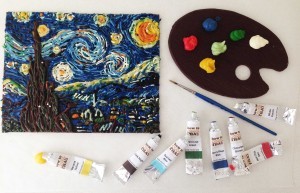 Edible Chocolate Paint Recipes
Each recipe makes 132g (4.66 ounces) of flavoured ganache or enough to fill 9 tubes in the size shown.
For other flavour ideas visit the chocolate truffles recipe post
Sea salt blue ganache recipe
100g (3.53 ounces) white chocolate
2 Tablespoons plus 1 tsp or 35g (1.23 ounces) cream
blue food colour
sea salt 2 granules
Berry blast blue ganache recipe
100g (3.53 ounces) white chocolate
2 Tablespoons plus 1 tsp or 35g (1.23 ounces) cream
blue food colour
1 Tablespoon berry blue lolly crushed
Hot Chilli Red ganache recipe
100g (3.53 ounces) white chocolate
2 Tablespoons plus 1 tsp or 35g (1.23 ounces) cream
red gel food colour
1 tsp dried chilli flakes
Banana Yellow ganache recipe
100g (3.53 ounces) white chocolate
2 Tablespoons plus 1 tsp or 35ml cream
yellow food colour
10g (0.35 ounces) freeze dried banana
Mint Leaf Green ganache recipe
100g (3.53 ounces) white chocolate
2 Tablespoons plus 1 tsp or 35ml cream
green food colour
3 mint leaves, torn
Chocolate Brown ganache recipe
100g (3.53 ounces) dark chocolate
3 Tablespoons or 45ml cream
Dark night black ganache recipe
100g (3.53 ounces) dark chocolate
3 Tablespoons or 45ml cream
black food colouring
Vanilla cream
100g (3.53 ounces) white chocolate
2 Tablespoons plus 1 tsp or 35ml cream
white food colour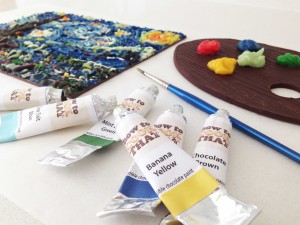 Paint Tubes
You will need:
aluminium foil
something round like a fat text
glue stick
clear sticky tape
chocolate paint labels click to download free pdf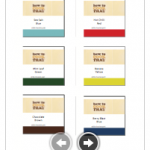 Paint Pallete
200g (7.05 ounces) chocolate, tempered
paint palette template click to download free pdf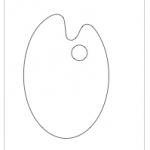 2013