Subway Cake
I've seen plenty of hamburger and subway cakes that have all the details made out of fondant. For me that's just a bit much. If it looks beautiful but doesn't taste beautiful, it isn't beautiful. What's on the inside really does matter. For this cake I used ingredients other than fondant wherever possible for the subway cake fillings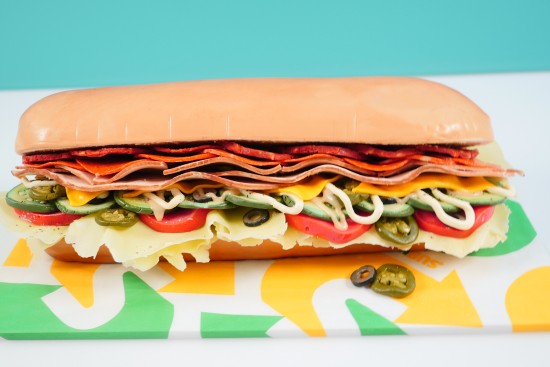 To make your very own subway sandwich cake you will need to make:
This makes one foot long subway which feeds 12 people. If you will have more people at your party you could make a longer sub or make several foot longs.
Chocolate Lettuce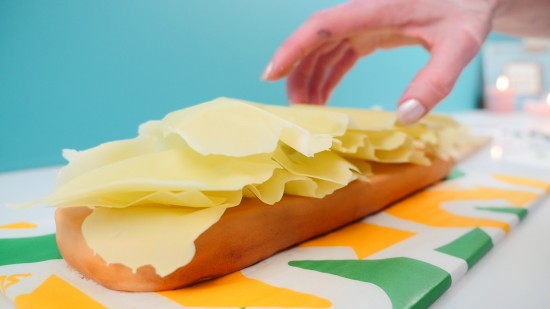 100g (3.53 ounces) compound white chocolate
green and yellow oil based food colouring
non-stick baking paper
Because the lettuce is so fine, compound chocolate works best because it has a higher melting point. Melt the chocolate and mix through the desired amount of colouring. Tip: if you mix the colouring through a small amount of the chocolate first then add it to the rest it is easier to get it to mix in.
Candy Salami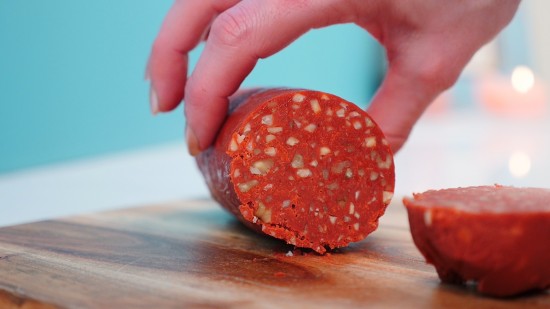 85g (3 ounces) butter85g (3 ounces) butter
270g (9.52 ounces) white chocolate
1 cup finely chopped nuts – I used walnuts and almonds
red and blue gel food colouring
Melt together the butter and chocolate. If you do this in the microwave do 30 seconds stir, 20 sec stir then repeat 10 sec stir until meted. Add in the desired amount of food colouring then mix in the nuts.
Tip onto some plastic wrap, roll up as shown in the video and place in the freezer for a few hours to firm up. If you're making this a day ahead the fridge will be fine. Hint: to stop it going flat at the bottom put some plastic wrap loosely over a rectangular baking tin to make like a hammock and rest the roll on that.
Candy Pepperoni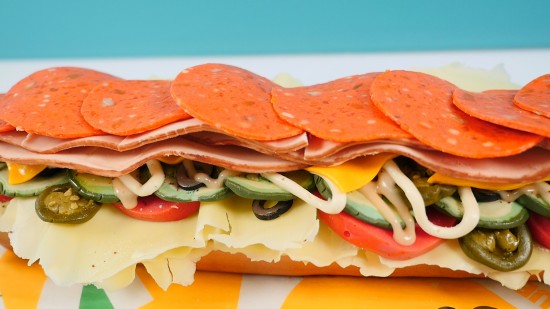 2 cups or 400g (14.11 ounces) marshmallows
100g (3.53 ounces) white chocolate
1/2 cup nuts
1/2 cup dried apricots
orange gel food colouring
Finely chop the nuts and dried apricots together.
Melt the marshmallows and chocolate in the microwave, stirring regularly. Mix in the desired amount of colouring. Then stir through the apricots and nuts. Place onto plastic wrap and roll as shown in the video. Refrigerate overnight or put in the freezer for several hours.
Candy Cheese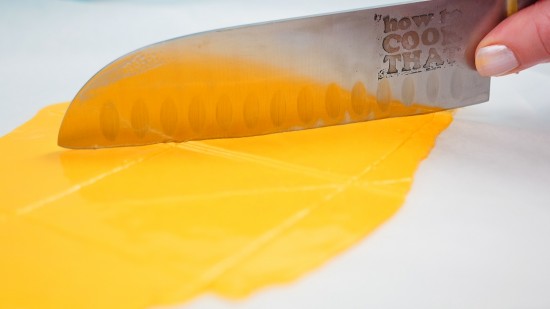 170g (6 ounces) banana lollies
1 Tablespoon of water
Place the banana lollies and water into bowl, microwave until melted. Stir well and pour onto non-stick baking paper. Place in the fridge until set enough to cut. Cut into triangles then store in an airtight container in the fridge. Note: at room temp this is sticky and soft so put onto the cake straight from the fridge while it is firmer.
Cucumber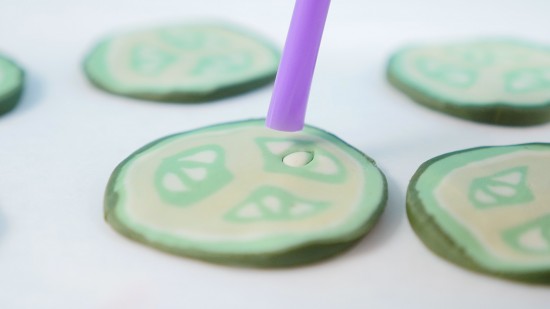 50g (1.76 ounces) Very Pale green fondant – almost white
50g (1.76 ounces) mid coloured green fondant
20g (0.71 ounces) deep cucumber skin green fondant
a plastic drinking straw
This one is easy to do but too hard to explain in writing, it will be much easier if you watch the video.
Jalapeños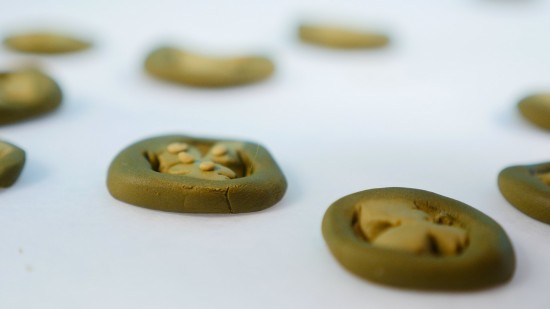 20g (0.71 ounces) Pale yellowy green fondant
20g (0.71 ounces) Deep Green fondant
A bubble tea plastic straw
Watch the video for a demonstration of how to make these realistic looking fondant jalapeños
Mayonnaise & Mustard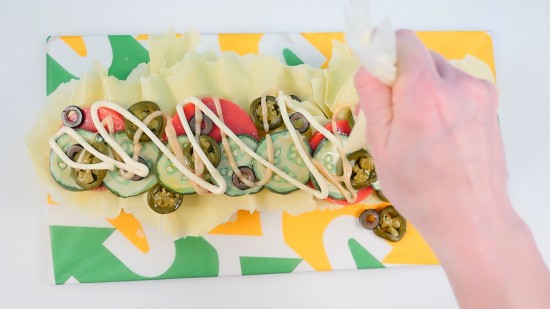 100g (3.53 ounces) real white chocolate (check this ingredients have cocoa butter not vegetable fat)
35mL (1.18 fluid ounces) cream
white food colouring
brown food colouring
Melt the chocolate and mix in the cream, use a whisk to combine it well. Split into two bowls and add a tiny bit of brown to the 'mustard' bowl and some white food colouring to the 'mayonnaise' bowl. Leave to cool and thicken up. Note: If you put it in the fridge it will be too solid to pipe. Leave it at room temperature.
Olives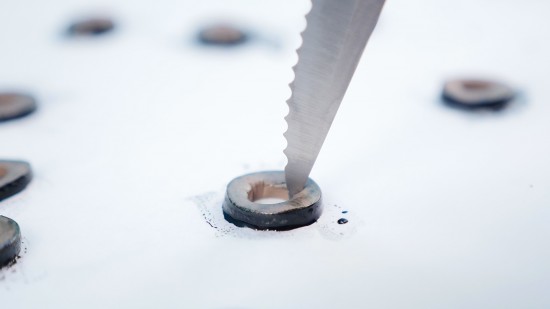 Grey fondant with a slight hint of green.
Black Gel food colouring
A bubble tea fat straw and a small cookie cutter.
Roll out the fondant and cut circles using the cookie cutter. Cut out the centres using the straw. Paint the outside black. Hint: if you get gel on the top, wash it off using a tiny bit of water on a paintbrush. Use a knife to add some indents around the centre hole.
Tomato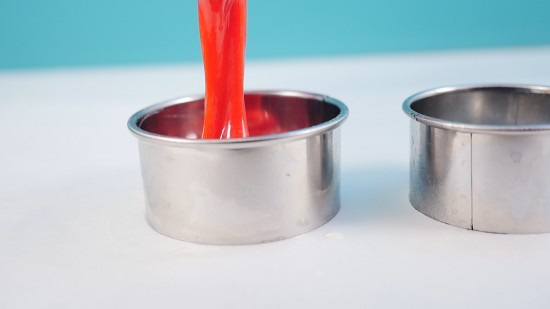 Red lolly snakes or similar type of red lolly.
yellow and white food colouring
greased circle cookie cutter
Melt the lollies in the microwave, 20 sec stir, 10 sec stir and repeat 10 sec stir until done. Mix in some yellow and white food colouring until you get the correct tomato colour. Pour enough for one tomato slice into a greased cookie cutter that is resting on a board covered in baking paper. Place in the fridge until firm then push out of the circle. Re-melt what is in the bowl and repeat. Note: These are yummy but hard to cut through when you're cutting the cake.
Chocolate Turkey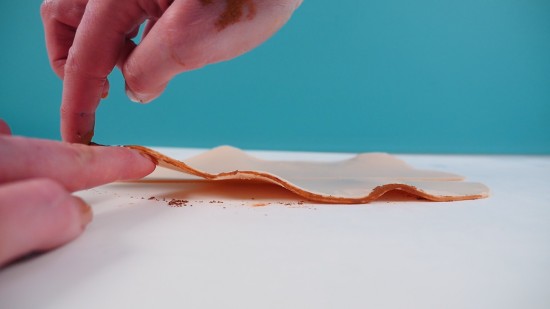 Real white chocolate
cocoa powder
A piece of marble / stone /corian bench top that is small enough to fit in your freezer. It needs to be really cold so put in the freezer overnight. Hint: If your 'turkey' sets before you have a chance to bend it move it onto some baking paper and let it soften a bit, bend and move back onto the cold. Once firm leave in the fridge for the chocolate to set properly.
Salt and Pepper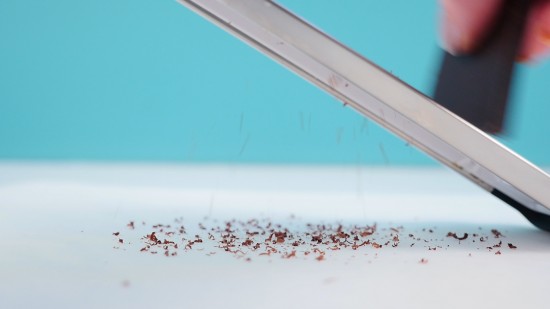 sugar for salt
90% cocoa dark chocolate grated for the pepper
Vanilla Cake for the 'Bread'
1 tray of my vanilla cake recipe
260g (9.17 ounces) margarine
210g (7.41 ounces) icing sugar
6 eggs
260g (9.17 ounces) almond meal
2 tsp vanilla essence
2 tsp baking powder
90g (3.17 ounces) flour
Preheat the oven to 180C (356 degrees Fahrenheit). Place all the ingredients except the baking powder and flour into a mixing bowl and mix until smooth and really well mixed. Add the flour and baking powder and mix until just combined. Spread evenly into baking tray lined with non-stick baking paper. My tray is 15″ x 10″. Bake for approximately 23 minutes.
Once cooled cut out two rectangles that are 30cm (11.81 inches) x 8.5 cm (3.35 inches) and round out the corners. You'll be left with a strip that is 30cm (11.81 inches) x 5cm (1.97 inches) and you'll need that for the top of the bun.
Vanilla buttercream
120g (4.23 ounces) butter or margarine
2 1/2 cups or 315g (11.11 ounces) icing sugar
1 tsp vanilla essence
Combine all ingredients and mix for 4 minutes with electric beaters.
To cover the 'bread'
400g (14.11 ounces) pale tan fondant
cocoa powder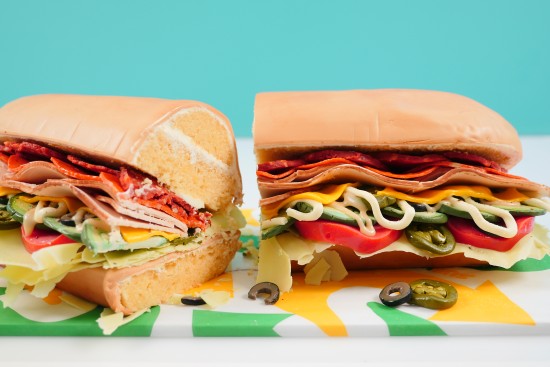 Thanks to James from the odd1sout for being in this video here's one of his Sooubway videos for you…

Copyright © 2018 Reardon Media Pty Ltd. All rights reserved. How To Cook That
My Cookbook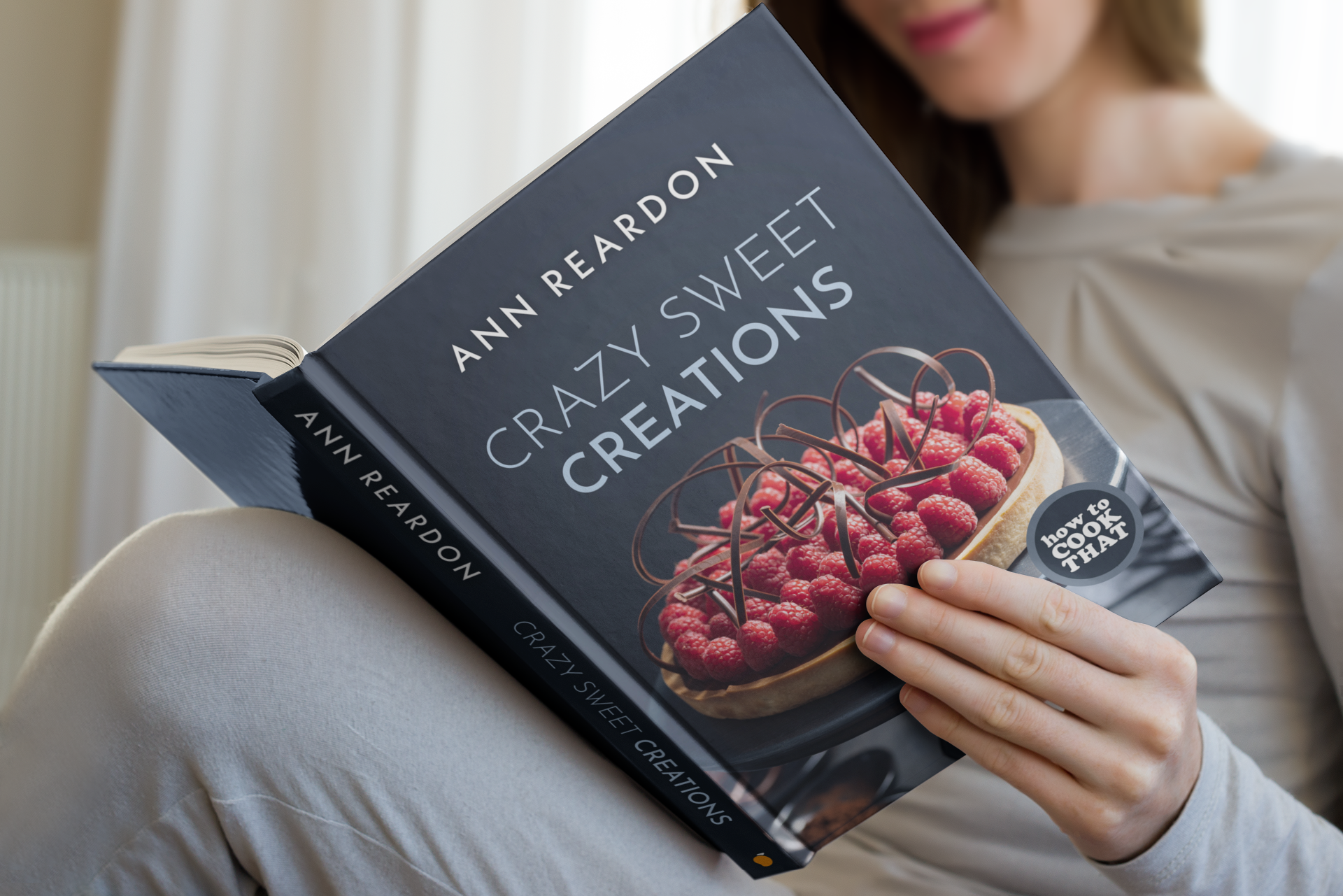 Stores that sell my book listed by country: http://bit.ly/ARcookbook All recipe quantities in the book are in grams, ounces and cups.