200 year old marshmallow recipe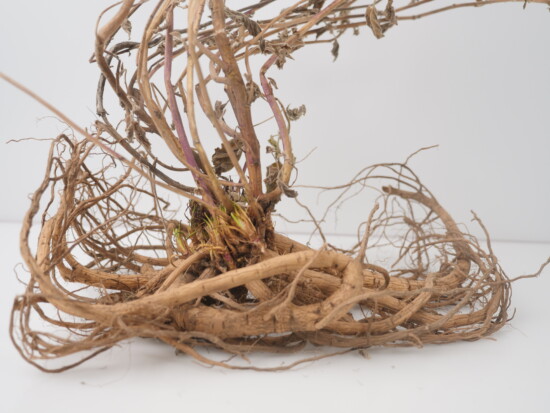 Above: A marshmallow plant
210 year old cough lozenges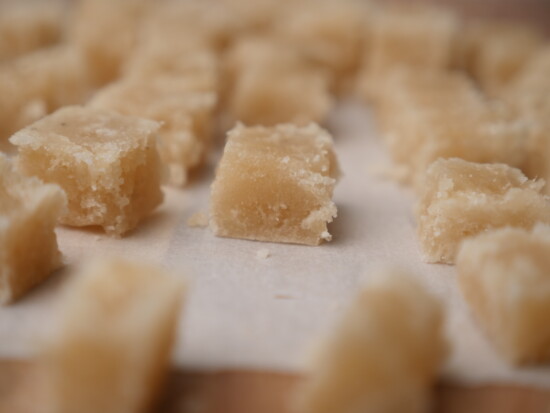 Excerpt from The Family Receipt-book, or, Universal Repository of Useful Knowledge and Experience in All the Various Branches of Economy
1810
Famous Tablets de Guimauve, or French Lozenges of Marshmallows, being their grand Remedies for all Sorts of Coughs.
These Lozenges are considered throughout France, as among the very best remedies for coughs of almost every description. They are undoubtedly, excellent; and the article long sold in England, under the name lozenges of Blois, is supposed to be little or nothing else than the common French marshmallow paste formed into lozenges, which are thus made.
Cleanse and scrape roots of marshmallow freshly taken out of the earth; and boiling them in pure water till they become quite soft, then take them out of their decoction, beat them in a marble mortar to the consistency of a fine smooth paste, and place on the top of an inverted sieve to obtain all the pulp which can be forced through the sieve with the assistance of a wooden spoon. Then boil a pound and a half of loaf sugar in six or seven ounces of rose water, to a good solid consistence; and whisk it up, off the fire, with a quarter of a pound of the marshmallow pulp: after which, place it over a gentle heat to dry up the humidity, stirring it all the time; and when a good paste is formed, empty it onto paper brushed over with oil of sweet almonds, roll it out with a straight rolling pin and cut it into lozenges with a proper tin lozenge cutter. These lozenges are adapted to seethe and soften the acrimony by which the cough is excited, to thicken the sororities which fall on the breast, and to promote expiration. For these purposes, a small lozenge must frequently be suffered to melt gradually in the mouth.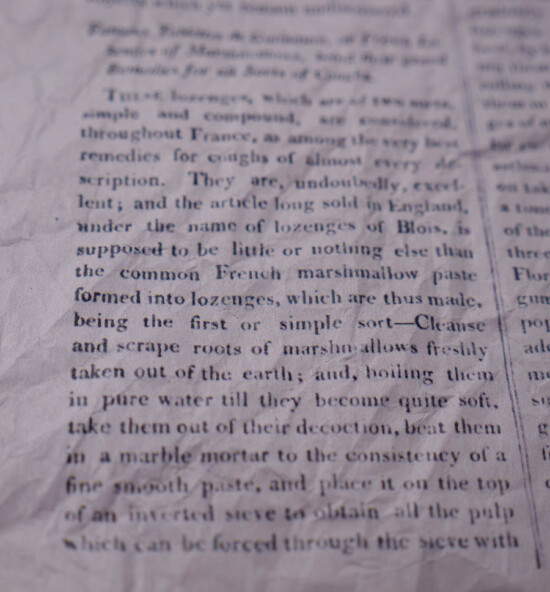 In todays language
340g (11.99 ounces) sugar
90g (3.17 ounces) water
60g (2.12 ounces) marshmallow pulp (made by peeling and boiling fresh marshmallow root, straining and pushing it through a sieve)
Heat the sugar and water, stirring until the sugar has dissolved. Wash down the sides of the pan using a wet pastry brush. Heat until when a spoonful is drizzled into cold water it sets hard. Stir in the marshmallow root puree and continue stirring until well combined and the mixture is thick. Pour onto non stick baking paper and when cool slice into squares.
200 year old Marshmallow Paste Recipes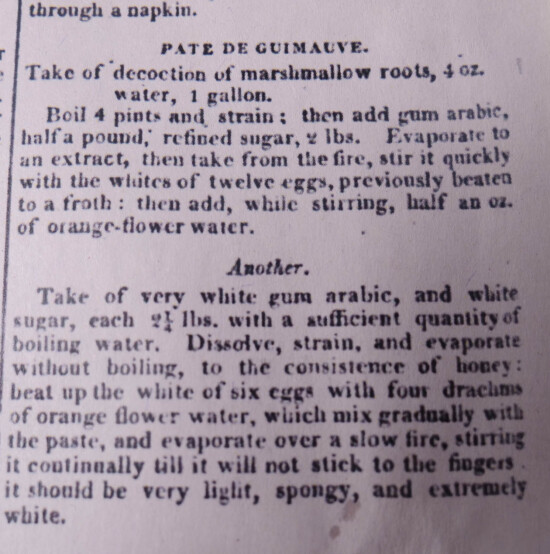 Excerpt from: "Five Thousand Receipts in All the Useful and Domestic Arts; Constituting a Complete and Universal Practical Library, and Operative Cyclopædia By Colin MACKENZIE
1823
Pate de Guimauve (marshmallow paste)
Take a decoction of marshmallow roots, 4oz (113.4 grams). water, 1 gallon (3.79 litres).
Boil 4 pints and strain; then add gum arabic half a pound, refined sugar, 2 lbs (0.91 kilograms). Evaporate to an extract, then take from the fire, stir it quickly with the whites of twelve eggs previously beaten to a froth: then add, while stirring half an oz of orange flower water.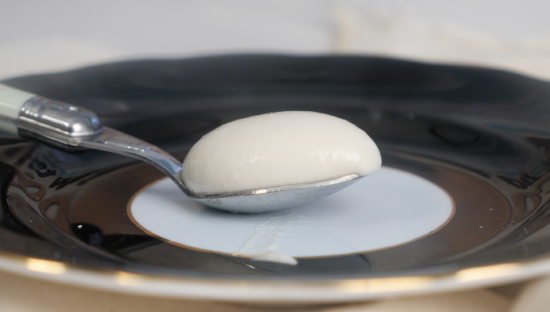 Excerpt from: "Five Thousand Receipts in All the Useful and Domestic Arts; Constituting a Complete and Universal Practical Library, and Operative Cyclopædia By Colin MACKENZIE
1823
Another
Take of very white gum arabic, and white sugar, each 2 1/4 lbs (1.81 kilograms). with a sufficient quantity of boiling water. Dissolve, strain and evaporate without boiling, to the consistency of honey: beat up the white of 6 eggs with four drachms of orange flower water, which mix gradually with the paste, and evaporate over a slow fire, stirring it continually till it will not stick to the fingers, it should be very light, spongy, and extremely white.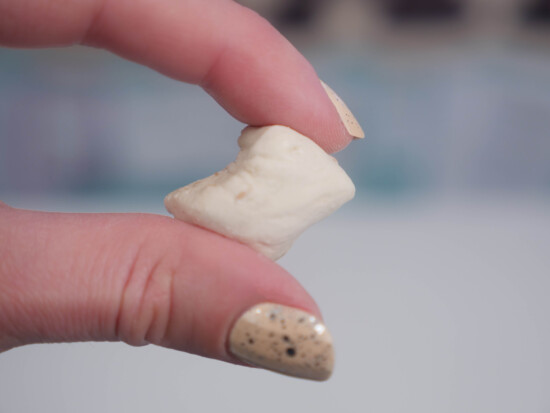 You'll notice the second recipe in this book does not contain marshmallow root – in the video I was used the mixture from the first recipe so mine still had the marshmallow root flavour in it. This 1823 recipe was the first marshmallow paste recipe that I could find in English and already they have an alternative for leaving out the marshmallow root. Possibly due to the disagreeable taste or lack of additional benefit for relieving coughs. Beyond this date the marshmallow recipes had no marshmallow root in them. Eventually the gum arabic was exchanged for gelatine, once clean tasting gelatin was available. Gelatine is cheaper and more effective at setting the marshmallows.
BIG ANNOUNCEMENT
I have been busy over the last year planning, writing and overseeing the photography and layout for my first ever cookbook! There are heaps of my favourite dessert recipes in there with a chapter on pastries, ice-cream, yummy cakes, artistic desserts and of course chocolate desserts. Each chapter has its own intro explaining the food science that you'll need to know for success every time. Booksellers where you can purchase your very own copy: http://bit.ly/ARcookbook
All recipe quantities in the book are in grams, ounces and cups.