Beautiful Strawberry Dessert
Meringue Cylinders
200g (7.05 ounces) egg whites (approximately 6)
200g (7.05 ounces) sugar
200g (7.05 ounces) icing sugar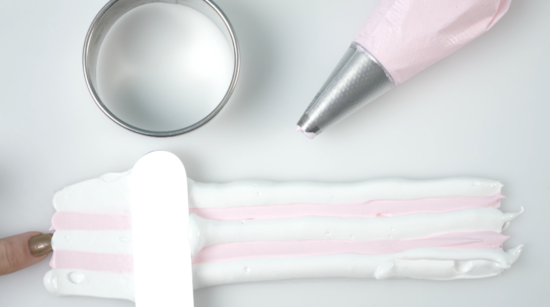 Place all the ingredients in a bowl and whip on high speed until you have stiff peaks. Take a small amount of mixture out and colour it using pink gel food colouring. Cut acetate strips that are 5 x 24cm (9.45 inches). Pipe two stripes of pink meringue along the acetate. Pipe white meringue in between the stripes and on either side. Spread out to make an even thin layer. Lift he acetate and place onto a baking tray. Dry the meringue out at 70C (158 degrees Fahrenheit) for 6 hours in a dehydrator. If you don't have a dehydrator then use your oven and use an oven thermometer to monitor the temperature.
Allow to cool and store in an airtight container until ready to plate.
Strawberry Juice
750g (26.46 ounces) of strawberries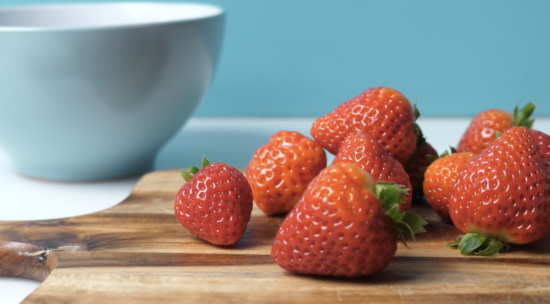 Wash and hull the strawberries. Place into a large bowl and microwave for 2 minutes, gently stir and pour off any juice into another container. Repeat this process until all the strawberries are softened and you have a good amount of beautiful clear strawberry juice.
Place the strawberries and the container of juice in the fridge.
Strawberry Tuile
100g (3.53 ounces) of cold cooked strawberries (see above step).
180g (6.35 ounces) icing sugar
120g (4.23 ounces) glucose syrup
105g (3.7 ounces) butter
165g (5.82 ounces) flour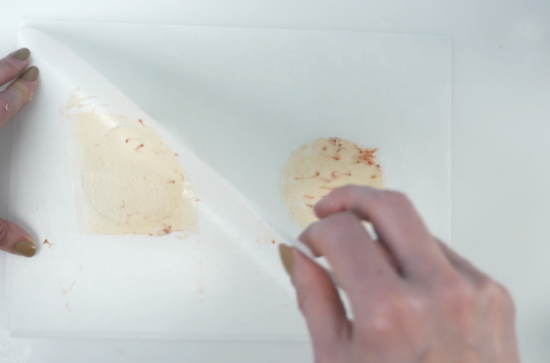 Whisk together the butter, icing sugar and strawberries. Add the glucose syrup and flour and mix util everything is really well incorporated and free of lumps.
Preheat the oven to 180C (356 degrees Fahrenheit). Cut two circles out of baking paper. The size should be about 3cm (1.18 inches) larger in diameter than your meringue cylinders. Place this on top of another sheet of baking paper. Put a small amount of mixture on one side of the circle and using an off-set spatula spread a really thin layer across the circle. Remove the top sheet and keep it to make more tuiles. Bake in the oven for 5-10 minutes until opaque. Let them cool before removing from the baking sheet.
Almond Biscuits
225g (7.94 ounces) butter
140g (4.94 ounces) icing sugar
45g (1.59 ounces) almond meal
2 eggs
375g (13.23 ounces) flour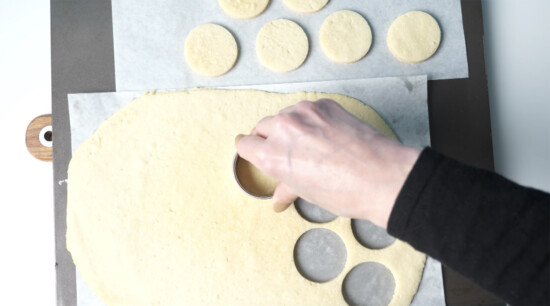 Preheat the oven to 180C (356 degrees Fahrenheit). Mix all the ingredients together until just combined. Roll out between two sheets of baking paper. Then peel off the top sheet. Bake for 10 minutes. Take out of the oven and cut circles in a size that will fit inside the dessert. Remove the excess from between the biscuits and return them to the oven for another 10 minutes or until golden.
Mascarpone Cream
3 egg yolks
75g (2.65 ounces) sugar or 1/3 cup
225g (7.94 ounces) mascarpone cheese
Dash of vanilla essence or liquor of your choice such as marsala
Whisk together the sugar and egg yolks. Microwave for 30 seconds and whisk again. Return to the microwave and watch it cook, as soon as it starts to bubble right up stop and whisk it again. Transfer into a room temperature bowl, cover and place in the fridge.
Once completely cold whisk with the mascarpone cheese. Add liquor or vanilla as desired.
Assembly
250g (8.82 ounces) fresh strawberries
Place an almond biscuit onto the plate. Remove the acetate from the meringue cylinder and place over the top of the biscuit. Pipe in some mascarpone cream, add a whole cooked strawberry and some diced fresh strawberries. Pipe in some more mascarpone and level off the top. Don't press down too hard or you will crack the meringue. Add a tuile on top. Pipe four dots of mascarpone in a circle, making sure there is a gap between them. Add 1/8th of a strawberry to bridge each gap.
Serve to the table and pour the strawberry sauce into the centre allowing it to flow down through the gaps onto the plate.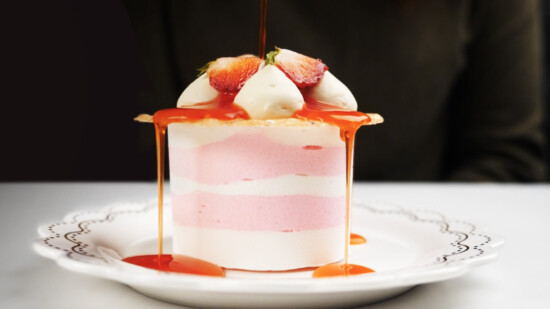 My Critique
When making this again I would leave out the almond biscuits, there is already enough crunch in the tuile and meringue. Overall it was a little too sweet so I would balance this by adding cubes of tart lemon gel or perhaps flavouring the macaroni with lemon.
My Cookbook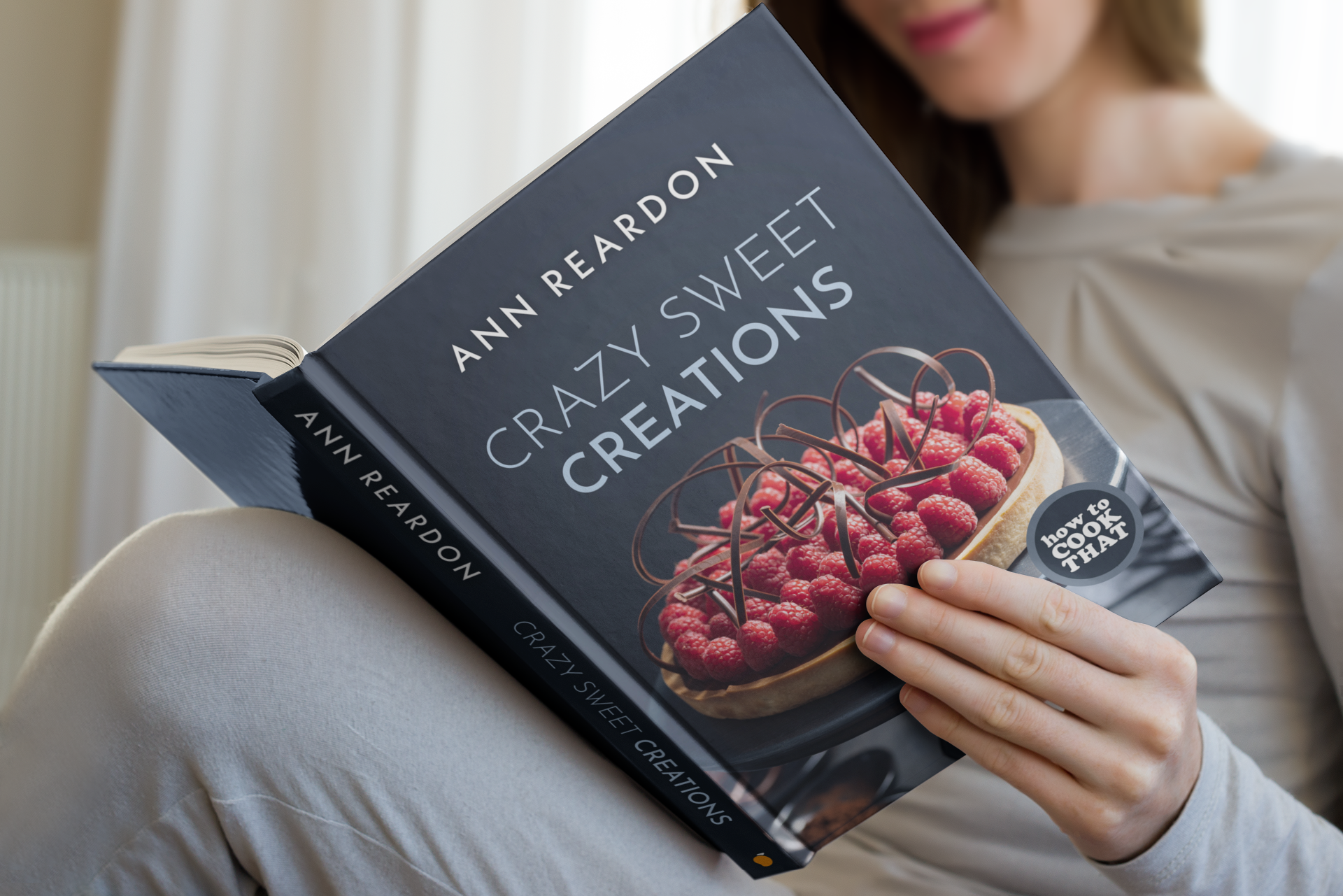 Stores that sell my book listed by country: http://bit.ly/ARcookbook All recipe quantities in the book are in grams, ounces and cups.