Did big companies ruin chocolate?
Buying Craft Chocolate
When comparing chocolate beans it is best to choose chocolate that is made from just cocoa beans and cane sugar. Other ingredients will effect the flavour profile.
Bars that say 70% cocoa have that 70% made up from wither just cocoa beans or a mixture of cocoa beans and cocoa butter. It is common practice to add a small amount of extra melted cocoa butter to assist in the grinding stage. You can tell what is in the bar you have by looking at the ingredients and also the nutrition information panel. As a rough guide the higher the fat percentage the more extra cocoa butter has been added. I said that this is only a rough guide, because some cocoa beans have a higher fat percentage than others.
Generally speaking the higher the cocoa fat percentage the creamer the chocolate will taste.
How To Taste Chocolate
Savour don't scoff. Take your time.
Firstly smell the chocolate. Place it in your mouth and let it slowly melt on your tongue. Alternatively, crunch it into smaller pieces and and then load them on top of your tongue and let them slowly melt. With your mouth closed breathe out through your nose to smell the aromas.
Note the initial flavour hit and any then any after tastes, good or bad. And most importantly decide if you liked it or not.
There are many chocolate tasting sheets that can help you put into words what you are tasting, below is a link to just one, try searching for 'chocolate tasting wheel' for more.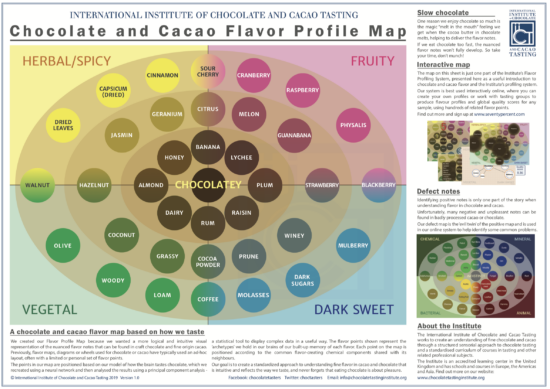 Cocoa Runners have a great tasting sheet and they sell a good selection of chocolate bars from around the world.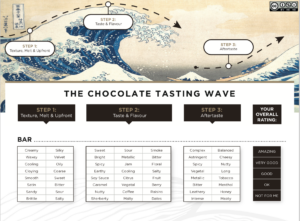 Chocolate Awards
When choosing craft bean to bar chocolate buying ones that have won awards can be a good place to start. They will have been tasted side by side with other chocolates so the judges get a good idea of which ones stand out as the best. However not all chocolates are entered into the award competitions, as there is a hefty £50+ fee per bar and per category entered. So limiting yourself to just the winners will mean you may miss out on some great bars from some smaller makers.
When buying from smaller chocolate shops if you want bean to bar chocolate do ask to see if they are making the chocolate from cocoa beans. Some chocolate shops buy in already processed cocoa mass or chocolate from one of the large processors and simply mold and label it themselves.
The International Chocolate Awards was founded in 2012 and is run by 'the international institute of chocolate and cocoa tasting' and they choose judges from people who have paid to do their tasting courses. This seems limiting as there are surely some very experienced chocoaltiers who would make great judges. Competitions are held in countries and regions around the world and then winners are judged at the world final. Typically for each category there is only one gold winner, but about 15 silver winners and roughly 25 bronze winners. You can see the winners and the score each bar received on their website chocolateawards.com
The Academy of Chocolate Awards. Founded in 2005 in (5092.7 centimetres) Britain to promote a greater awareness of the difference between fine chocolate and the mass-produced chocolate confectionery. They give a large number of silver and bronze awards out each year over many categories. It seems that a gold award is difficult to achieve, for some categories there is no gold award given. You can see the winners on their website academyofchocolate.org.uk
Local Chocolate Awards such as the New Zealand chocolate awards are a great idea for each country to run but obviously require some local initiative to organise.
The chocolate bars tasted for this video are listed below (not all were included in the video due to not wanting to make the video too long). Like most of us, my tasters have no prior experience or expensive qualifications in chocolate tasting, so you get to see if what they liked lines up with what official judges decided. I purchased all chocolates myself, this is not a sponsored post.
My favourite

Brand:Argencove (tree to bar maker)
Ingredients: cocoa, sugar
Percent fat: not specified
From the label: Several years ago three Australian families embarked on a journey of taste through Central America. Fascinated with great food we became enthralled with the idea of artisan chocolate, leading us to our new home in Nicuragua. Amongst the fertile soils, favourable climate and welcoming local people we produce cocoa and handcraft our chocolate from the source.
Awards: International Chocolate Awards Americas 2019 Bronze
More Info: After the video went up Argencove contacted to say:
We would like to extend our thanks for showing our Cocibolca 70% dark chocolate bar in the last few days. We get a lot of pleasure when people enjoy our chocolate. Your presentation on the influences on chocolate flavour was one of the most accurate and wholistic explanations we have seen, and we collaborate with key scientific universities.
I especially liked the focus on terroir, genetics, fermentation and drying. Here in our orchard in Nicaragua we have a heavy focus on bringing out the different characteristic in each bean via:
Genetic selection, Soil characteristics, Level of drip irrigation, Level of natural fertiliser, Numbers of days of fermentation and how insulated we keep the box, Drying protocol on the tray, hours/intensity in the first few days and number of day and local weather.
We experiment with scenarios whereby cacao and chocolate is treated like pinot, specifically that this grape is left on the vine without irrigation in the last few weeks to intensify the flavour before going into the fermentation box which we also use to influence flavour outcomes. What we have learnt over time is that we have opportunity at each step of the cacao growing, fermenting and drying, roasting, grinding process steps. We find the trials really exciting.
All the best, Sally McFadyen, Chocolate and Cacao Manager Argen Cove Chocolate
What my tasters said: M: tasted like a raisin, not bitter, fruity, sweet, creamy, little bit floral, nice J: overripe mango aroma D: different, fruity flavour that I can sense in my nose when I breathe out, F: This is lovely, delicious, touch of citrus, fruity, berries, T: rich, light, sultanas, good.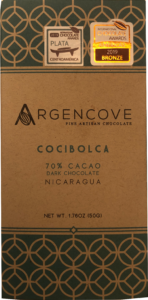 Different types of Beans
Chuncho
Brand: Labooko
Ingredients: cocoa mass, raw cane sugar, cocoa butter
Percent fat: 43%
From the label: Chuncho, the rare cocoa from Peru. Chuncho is a primal cocoa whose origins go centuries back in the Cusco region. This cocoa variety still grows today, in unusual, altitudes from 400 to 1,400 meters (1312.34 feet). This rare fine flavour cocoa has an elegant complex origin. The flavour profile is very mild with notes of salty biscuits, sweet cream, mango, banana and watermelon.
What my tasters said: little J: Sweet, creamy, M: subtle flavours, little bit sour citrus, J: acidic, leafy bitterness, D: different, acidic, F: bit of spice, little bit bitter but not too bitter, T: smooth, slightly alcoholic.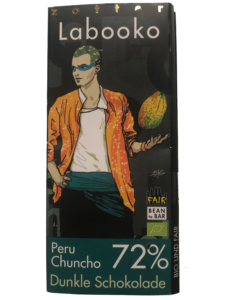 Ruguso
Brand: Friis Holm
Ingredients: cocoa beans, sugar, cocoa butter
Percent fat: 36%
From the label: Ruguso is a phenotype special to Nicaragua. IN this style of fermentation, it breaks all the old rules – very low grade of fermentation- but flavourful, tannic and with notes of unrip plum and green banana. Like a good red wine this one wins with age. It will reach maturity 18 months from production date with ripe plums and pleasant spiciness.
Awards: International Chocolate Awards European 2017 Silver
What my tasters said: little J: Didn't have much taste at first but had a bitter after-taste, M: creamy but toffee, burnt sugar, dark but sweet, J: chocolatey but a bit of a mouldy, coffee flavour, D: sultana, rum and raisin without the rum, F: didn't really taste of anything T: light in flavour and texture, sweet and milky, C: hint of mint or something.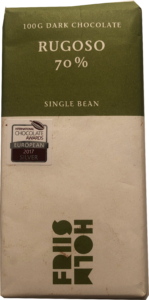 Chuao
Brand: Chocolate Tree
Ingredients: cocoa beans, cane sugar, cocoa butter
Percent fat: 35.8%
From the label: Growing in a valley isolated from the world, only accessible by small fishing boats called 'penners' authentic CHUAO from Venezuela is renowned as one of the worlds best cacoas for over 400 years. Notes of dark cherries, plums and blackberries. Chuao is famous for sun drying cacao on the patio in front of the town church.
What my tasters said: little J: sweet fruity apricot flavour, M: I like that one, sweet sherbet, flowery, J: good, a bit more grainy, artificial cherry flavour, pretty nice, I like that, D: sultana, F: fruity, strong berry, T: fudgey texture, dried fruit overtone, sultanas, raisins C: earthy, intense.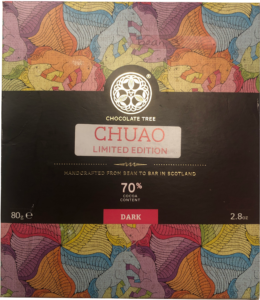 Cocoa beans grown in different countries
Mexico
Brand: Foundry
Ingredients: cocoa beans, organic cane sugar
Percent fat: 34.8%
From the label: In Soconusco, Southern Mexico there's a dedicated group of farmers rediscovering and rescuing near-forgotten heirloom varieties of cacao. Their exception al efforts result in a beautifully balanced chocolate that is simultaneously mysterious and comforting. While Soconusco Region, Chiapas, Mexico delivers a contrast of fruity tang and warm silky nuttiness, it's simply the cacaos origin talking.
Awards: Academy of Chocolate 2020 Silver Winner, New Zealand Chocolate Awards Gold 2020
What my tasters said: M: Little bit dark coffee almost, subtle, dark chocolate with no other flavours, J: I have nothing to say about that one, it was dark chocolate, D: I don't know what it tasted like, F: funny after taste, a little bit bitter, T: fudgey texture, fruity, not bad but thick in mouth, C: more sweet, slight fruity.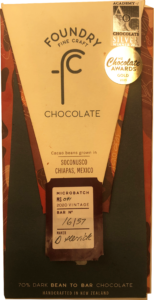 Peru
Brand: Ritual
Ingredients: cocoa, organic cane sugar
Percent fat: not specified
From the label: Made with pure Nacional cocoa beans from the remote Maranon River Valley in the Cajamarca Region of Peru. Maranon cocoa contains a high ratio of white beans, which contribute to a lighter hue and inviting subtle tannins.
What my tasters said: M: I don't really get any flavour from that one, a bit boring compared to the other ones. J: I like that one, a little bit earthy, a bit like the smells of a rainforest, maybe you could call it grassy but also creamier, D: a little bit bitter, not a fan of that one, F: hazelnut or almond type of taste, T: not really that different to a straight dark chocolate, C: a bit bland, not an intense flavour in that one.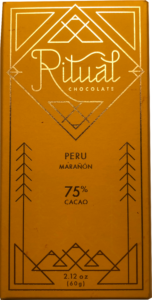 Dominican Republic
Brand: Hunted and Gathered
Ingredients: organic cocoa beans, organic coconut sugar, organic cocoa butter
Percent fat: 38.1%
From the label: Every Hunted and gathered chocoalte bar has been carefully crafted , extracting the richest flavours from thoughtfully sourced cacao beans. Paired with considered production methods, we focus on the details for those who value taste and quality. This bar features cacao from the Dominican Republic exhibiting notes of maple, peanut and malt to make a rich 70% dark chocolate.
What my tasters said: M: It tasted like an apple, J: It's all gone now and I still can't decide what it tastes like, it was fine D: that was interesting, sweet tobacco undertones, F: a funny unpleasant bitter aftertaste, T: really nice, bright lighter flavour, not as heavy fruit overtones, C: really earthy taste to it, I don't like that one.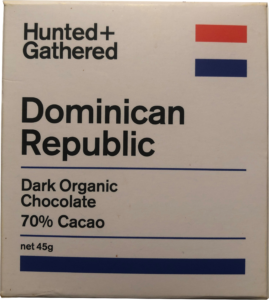 Bolivia
Brand: Zokoko
Ingredients: cocoa mass, sugar, cocoa butter, sunflower lethicin
Percent fat: 41.8%
From the label:Pure origin bean to bar chocolate 'cocodrilo Espcial' is a a wild harvested cocoa from the chocolates of Tranquilidad, near Baures, Bolivia. Notes of rich, dried fruit with balanced cocoa flavour and a luxurious delicate finish. Zokoko hand crafts chocolate from bean to bar. We source the finest cocoa beans and use traditional artisan methods to produce truly unique chocolate with flavour reflective of its origin.
What my tasters said: M: It just tastes like dark chocolate but a bit sweeter J: Good, very strong on the cherry flavour also a little bit buttery, D: unusual, almost a little bit waxy in texture, the flavour was fruity, didn't love it, F: rich and creamy, no bitter aftertaste, almost a little bit woody, lovely, my favourite so far beautiful, T: favourite so far, rich, not overpowering in any one particular flavour, fruity taste, C: little bit sweeter than the others, I like it.


Venezuela
Brand: Duffy's
Ingredients: cocoa beans, organic cane sugar, cocoa butter, sunflower lethicin
Percent fat: 43%
From the label: Single origin fine cocoa beans. Venezuela Ocumare. The Venezuelans have been grown the best fine flavour coca beans for many years and I particularly love these beans from he Ocumare valley. This is a classically chocolatey luxurious ark chocolate that melts in the mouth and leaves complex flavour behind.Taste profile: A velvet smooth mix of almonds, bananas and raspberry jam
Awards: International Chocolate Awards 2018 – European Silver
What my tasters said: M: I like that one, it was lemony without being sour, one of my favourites, J: I like that one that was interesting, very different, a bit nutty, it was nice, D: It's not for me, F: Creamy, not bitter, sweet, wouldn't of thought it was dark chocolate T: sultana and raisin flavour, thick texture C: sharp cocoa flavour, intense, hits you, not my favourite.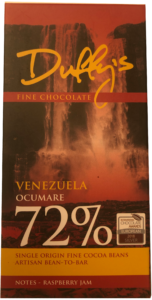 Uganda
Brand: Foundry
Ingredients: organic cocoa beans, organic cane sugar
Percent fat: 34.8%
From the label: In the heat and humidity of Western Uganda small holder farmers, of which 52% are women, are producing extraordinary organic cacao that results in this dreamy and delightfully playful chocolate.
While Semuliki Forest, Uganda evokes notes of fluffy marshmallow, berries and cream and toasted almonds, it's simply the cocoa's origin talking.
What my tasters said: M: Also a favourite, very fruity I don't know which sort fo fruit and also a little bit of hazelnut, J: really interesting I don't personally enjoy it ripe banana and butterscotch, D: I like it, F: A bit of a nothing, just chocolate T: Mild tasting dark chocolate, not my favourite, C: Floury starchy taste, a bit bland.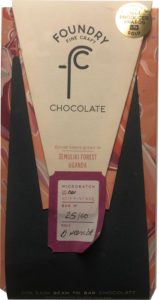 Madagascar
Brand: Birdsnake
Ingredients: cocoa beans, organic cane sugar, cocoa butter
Percent fat: 37.8%
From the label: Madagascar – Sambirano Valley. We roast our cocoa beans and then process them into chocolate in house as opposed to using pre-made liquor. Because of this we have more control over the flavour of the bars we produce, we know where the beans came from, who produced them, how they were processed and most importantly, how much the producer was paid for their hard work.
What my tasters said: M: Super flowery, a porcelain flower, J: I don't think I'd eat it again, tasted like dirt mixed with grass and bark, D: Woody, maybe a little bit nutty, not my favourite F: nice, creamy, sweet, no bitter taste T: certainly packs more of a punch, stronger flavour, slight smokiness C: fruity, possibly raisins.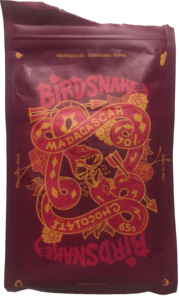 India
Brand: Foundry
Ingredients: cocoa beans, organic cane sugar
Percent fat: 34.8%
From the label: Nestled between the majestic coconut palms of Anamalai Estate in Southern India is cacao the demands attention with multiple layers of exuberant flavours, warm spices and an irresistibly vivacious personality. While Anamalai Estate, Tamil Nadu, India delivers intertwined layers of exotic spice, intoxicating night blossoms and lingering citrus tang, it's simply the cacao's origin talking.
Awards:Academy of Chocolate 2021 Silver, New Zealand Chocolate Awards 2020 Supreme Winner, New Zealand Chocolate Awards Gold 2020
What my tasters said: M:I didn't 't really like that one bland and then chemically at the end, J: Good tasted sweeter than the others, very artificial fruit flavours, nice, D: Fruity but bitter, unusual, F: A bit of a bitter aftertaste and I could taste a little bit spicy in there, I didn't like that one, T: brighter in. its flavour, lots of sultana fruit but lighter, brighter, C: Fruity after taste, more intense than other ones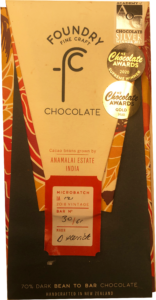 Indonesia
Brand: Metiisto
Ingredients: cocoa beans, sugar, cocoa butter
Percent fat: 39.5%
AwardsAOC gold 2021, AOC bronze 2022
From the label: Eat Kalimantan was once the leasing cacao growing region in Indonesia. Following an outbreak of the black pod disease in the 1990s however the government moved most of the bulk production to Sulawesi. The cooperative "Berau Cocoa" was founded in 1028 with the goal to rehabilitate the remaining tree stock and promote cocoa as alternative income source for the local farmers in an area which ha traditionally been known for its coal mining industry. Metiisto started life in the heart of Seden back in 2012. In 2018 we relocated to Toowoomba Australia and discovered the amazing cacao of the Pacific Islands. We use a lend of old world techniques and new world ideas to craft fine chocolate from the cocoa bean to the finished bar and beyond.
What my tasters said: M: That one was citrusy, like an orange rind, orange but not sweet, J: almost tasted spicy like the flavour of chillies without the heat, I liked that one, D: I don't love that, it's quite bitter and it's not for me, F: Really creamy and citrusy, mmmm, delicious, T: lovely, smooth, lighter like milk chocolate but definitely a good dark chocolate, C: Fruity, a bit of an earthy after taste.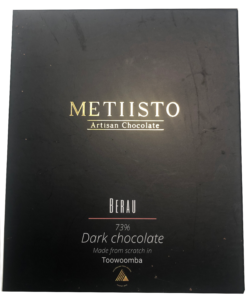 Phillipines
Brand: Bare Bones
Ingredients: cocoa beans, raw unrefined cane sugar, cocoa butter
Percent fat: 37.5%
From the label: This is a really special limited edition chocolate. Taste notes of pecan tart and creme brûlée. We are award winning micro-batch chocolate makers handcrafting from bean to bar.
What my tasters said: M: I really liked it but I'm struggling to figure out the flavour maybe cinnamon sugar, J: I really liked that one, it was creamy, it almost tastes like a chocolate biscuit, lots of tannins, dried out my mouth, it was good D: really different, quite amazing that it tastes so different, what's that flavour – coconut? vanilla? … hazelnut F: A little but plain, creamy, not bitter T: Nice but not as strong in that rich dark chocolate flavour it is quite mild C: favourite so far, a lot sweeter than the others, I really like that one.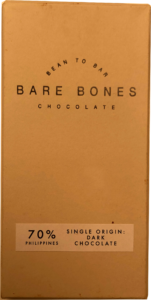 East Timor
Brand: Ratio
Ingredients: cocoa beans, raw cane sugar
Percent fat: 30.1%
From the label: The name ration reflects our commitment to traditional chocolate making. Our vegan certified dark chocolate is handmade, balancing a ratio of just two ingredients ethically sourced cocoa beans from around the world and raw organic Australian cane sugar.
Our East Timor organic beans are from Cooperative Cafe Timor, a 100% Timorese owned cooperative. This dark chocolate has notes of zesty fruit and toffee.
What my tasters said: M: Flavour was strong but it was nothing apart from the chocolate and the texture was almost gritty J: bitter creamy, that's about it, D: that one is close to what we call dark chocolate from the shops, slightly bitter and it was OK, F: a bit of a nothing, almost chalky texture T: Thick, paste like texture can feel grains of sugar, not a fan C: grainy, rough, dries out your mouth.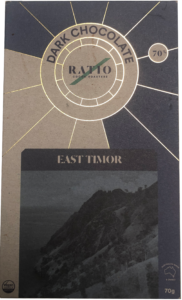 Vietnam
Brand: Marou Friseurs de Chocolat
Ingredients: cocoa and cocoa butter (70%), cane sugar
Percent fat: 31.6%
From the label: Single Origin Dark Chocolate. We craft all of our chocolate in Saigon using purely Vietnamese ingredients of the highest quality.
What my tasters said: M: Very dry, hard to get it to melt in my mouth, I didn't like it, J: Not good, I can't even describe it, it was an unpleasant sort of nothing, D: strange, that was not what I'd call chocolate, really crunchy, not flavoursome, tasted like cheap Easter egg chocolate F: a nothing taste, didn't taste a thing, T: not the best, thin and crunchy, no depth of flavour, C: no flavour at all, really bland, no cocoa taste to it.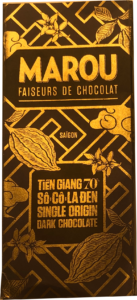 Papua New Guinea
Brand: Foundry
Ingredients: cocoa beans, organic cane sugar
Percent fat: 34.8%
From the label: There's a very good reason to grow cacao on the slopes of an active volcano. Simply because the cocoa grown at Kulkul Plantation, Karkar island, Papua New Guinea produces a silken chocolate bursting with tropical vibrancy and quirkiness. Intense flavours of lychee, pawpaw and cream.
Awards: New Zealand Chocolate Awards 2000 Gold, Outstanding New Zealand Food Producer Awards 2021 Silver
What my tasters said: M: Quite fruity almost like a berry, banana flavour J: Chocolate biscuit flavour, I wouldn't get it again, D: I have no idea F: Thick texture, almost a bit heavier taste, tobacco, woody T: smokier hit, heavier denser texture and flavour, not bad but not my favourite C: dry taste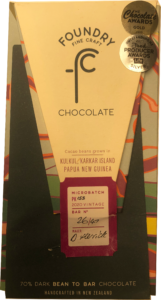 Solomon Islands
Brand: Two Lost Pilots
Ingredients: cocoa solids, sugar, cocoa butter
Percent fat: 39.9%
From the label: If rom-coms have taught us anything, it's that chocolate fixes everything. So when two pilots have their worlds turned upside down, what's their next move? Start making (and eating) chocolate, obviously.
We might be lost, but you've found our chocolate, so things are looking up. Made with cocoa beans from the Solomon Islands, this is one seriously fruity dark chocolate. Think Fruit and nut, but without the fruit and nut.
Our chocolate is made by us from bean to bar. We start by sourcing high quality cacao beans from small scale farmers around the world, making sure the farmers are paid and treated fairly. We roast the beans, crush and de-husk them, then combine them with raw Australian cane sugar and grind it all together for 3 days to make silky smooth delicious chocolate. This isn't nana's block of old gold.
What my tasters said: M: Quite sour fruity, sour raspberry, J: My favourite so far, grassy, cherry, citrus, undertone of bark, bold, acidic, I really liked that one D: interesting, quite fruity, not too bad, F: I could taste the berries in that, fruity taste, it was nice, yummy T: very strong almost an alcoholic hit in the back of your mouth, quite nice C: fruity, subtle apricot taste to it.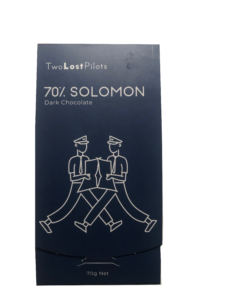 Cocoa beans fermented for 5 or 6 days

Brand: Krak
Ingredients: cocoa beans, organic cane sugar, cocoa butter
Percent fat: 41%
From the label 1: Mexico, Soconusco 6 days fermentation, 1 turn 70% cacao.
From the label 2: Mexico, Soconusco 5 days fermentation, 1 turn 70% cacao.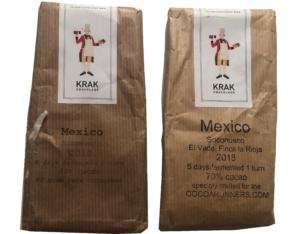 Interested in growing your own cocoa tree indoors? Ashley from practicalselfreliance.com has a detailed blog post on how to do just that.
If you want to deep dive more into political and economic world of cocoa I'd recommend the book 'Cocoa' by Kristy Leissle. She has been studying cocoa farming since 2004 and has done PhD on cocoa. It is a very interesting read on the cocoa-chocolate trade.
Living Cocoa sells small batches of roasted cocoa beans. This is a great activity with kids to hull them and grind with sugar in a mortar and pestle. Be aware that if you just use a mortar and pestle, like I did with my son, you will have a gritty chocolate, but it is still edible. If you want it smooth expect to pay a lot money for a melanger.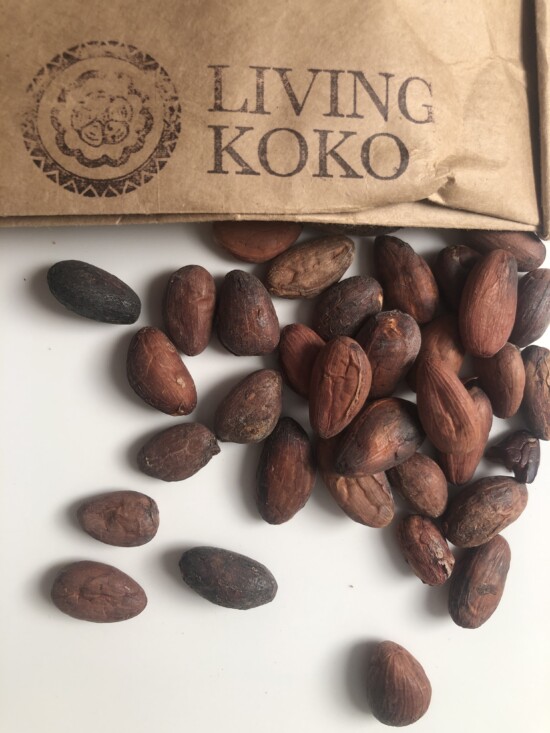 My Cookbook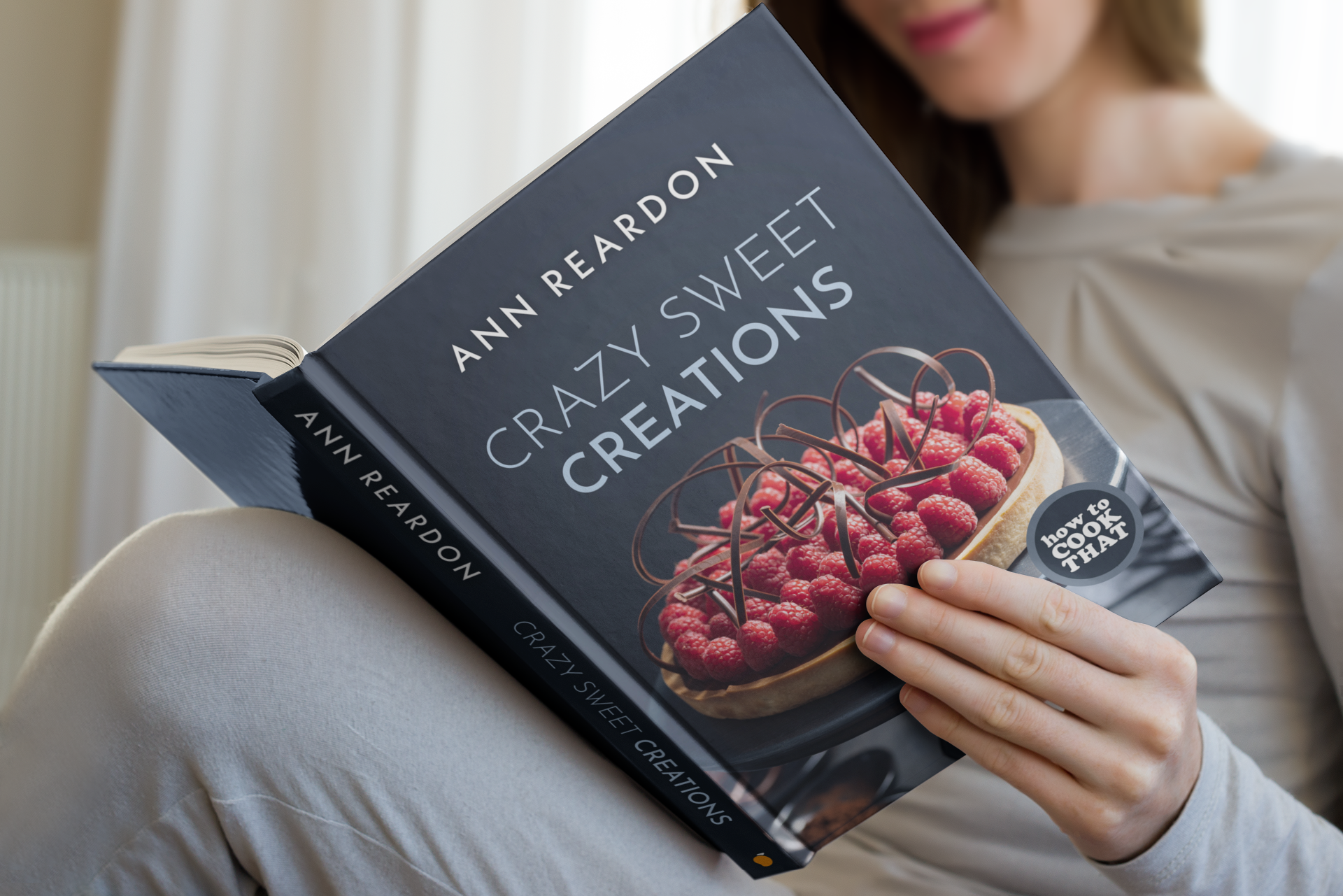 Stores that sell my book listed by country: http://bit.ly/ARcookbook All recipe quantities in the book are in grams, ounces and cups.