Blocks of chocolate stuffed with yummy fillings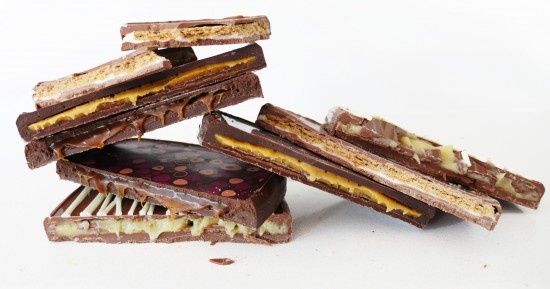 Artisan blocks of chocolate make great presents and the best part is you don't need to buy an expensive mold. Today we are making four different styles of filling. You can adapt these recipes to make new flavors that suit your own unique style. For my Australian followers remember it is Father's Day on Saturday. If your dad has a sweet tooth I'm sure he'd love some home made chocolate.
I am excited to launch my very own line of nail wraps, you can shop the collection [edit: SOLD OUT]. I have been keeping this under wraps (pun intended) for a while now. I worked with the team sending inspiration boards and refining designs to come up with some baking themed wraps just for you.
To make orange caramel chocolate blocks
Makes enough for one block in the size shown, plus a few extra spoons left over for indulging.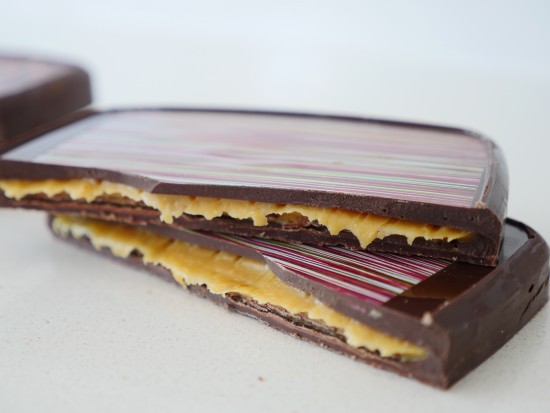 15g (0.53 ounces) or 2 tsp glucose syrup
60g (2.12 ounces) or 1/4 cup plus 1 tsp sugar
50g (1.76 ounces) or 3 Tbsp plus 1 tsp cream (35% fat)
zest of one orange
orange juice (from half the orange)
70g (2.47 ounces) white chocolate
Grate the rind from the orange. Add the rind into your cream, heat it until it nearly boils and then leave it for the flavour to infuse. In a pan heat the sugar and glucose syrup until it just starts to go brown. Strain the cream over the top to get rid of the rind and add in the juice from half the orange and stir well. Mix in your white chocolate stirring until it is melted. Then place some on the counter to check the consistency.
Coffee Caramel
Makes enough for one block in the size shown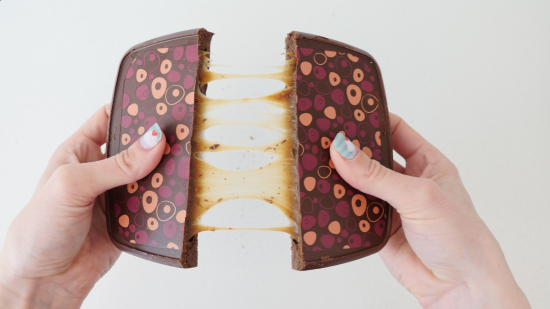 120g (4.23 ounces) or 1/2 cup plus 1 Tbsp sugar
20mL (0.68 fluid ounces) or 1 Tbsp plus 1 tsp water
30g (1.06 ounces) or 2 Tbsp plus 1 tsp butter
20g (0.71 ounces) or 1 Tbsp glucose syrup
40mL (1.35 fluid ounces) or 2 Tbsp plus 2 tsp cream (35% fat)
plus approx 40mL (1.35 fluid ounces) extra cream to adjust consistency to your liking)
15g (0.53 ounces) or 2 Tbsp ground coffee
Add the water to the sugar and the cream into the coffee. Tip in the glucose syrup into the coffee too, you can use corn syrup if you don't have glucose. Heat that in the microwave to make it hot.
Heat the sugar and water over high heat. Once it is boiling wash down the sides of the pan using a wet pastry brush to get any sugar crystals off. Once it is browned add in the butter, stir well and then remove from the heat.
Strain the coffee through a fine cloth squeezing it to get out lots of flavour. If you'd rather you can use instant coffee. This caramel is quite strong and a bit bitter but once it is in with the sweet chocolate it balances well.
Stir the coffee and sugar mixtures together and then test the thickness of your caramel by putting a small amount on a cold surface. This one is setting a bit firmer than I want so I am going to add a bit more (unheated) cream. Keep doing that until you get a consistency you are happy with.
Rosemary and Almond
(makes 1 1/4 cups of filling enough for 6 blocks in the size shown)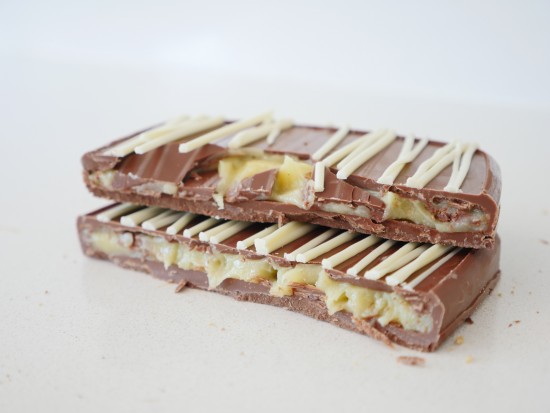 140g (4.94 ounces) or 3/4 cup vegetable oil
few sprigs of rosemary (The amount I used gave a subtle taste of Rosemary, if you'd like it strong add lots more).
20g (0.71 ounces) or 1Tbsp plus 1tsp water
pinch of salt
80g (2.82 ounces) 0r 1/3 cup cream (35%)
224g (7.9 ounces) white chocolate
50g (1.76 ounces) or 1/2 cup ground almonds
chocolate transfer sheet (optional)
Place the fresh rosemary in the oil and then heat the oil up to release the flavour. Give it a stir and leave it to infuse for around 15 minutes.
Tip the salt into the water and heat that in the microwave to dissolve the salt crystals.
Place the chocolate, salty water and cream into a bowl and heat that in the microwave for 30 seconds then stir it really well, because microwaves heat unevenly if you don't stir it will burn in one spot. Keep heating and stirring until it is completely melted.
Strain the rosemary oil through a sieve and add the almond meal on top. Stir it well and you'll see the amond meal gives it a bit of texture. If you want it smoother you can blitz it with a stick mixer and if you have one of those you can also add the sprigs of rosemary in for a stronger flavour.
Smores Chocolate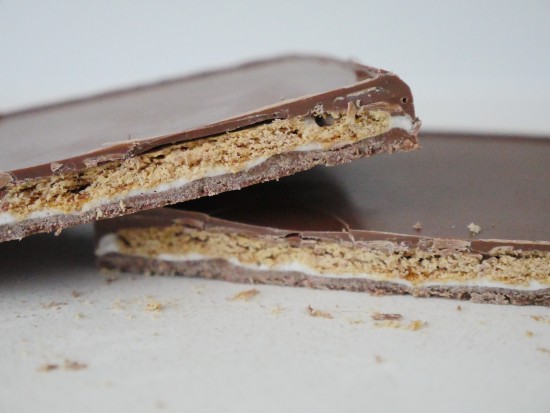 8 marshmallows
3 gram (0.11 ounces) crackers
See video for the method.
Chocolate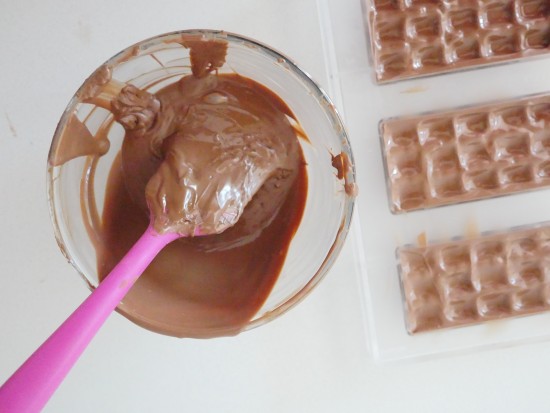 The amount of chocolate required will depend on the size of your molds. If your chocolate contains cocoa butter make sure you watch the video below to learn how to temper it.

Copyright © 2016 Reardon Media Pty Ltd. All rights reserved. How To Cook That
Subscribe (free) for VIP early access to my videos
My Cookbook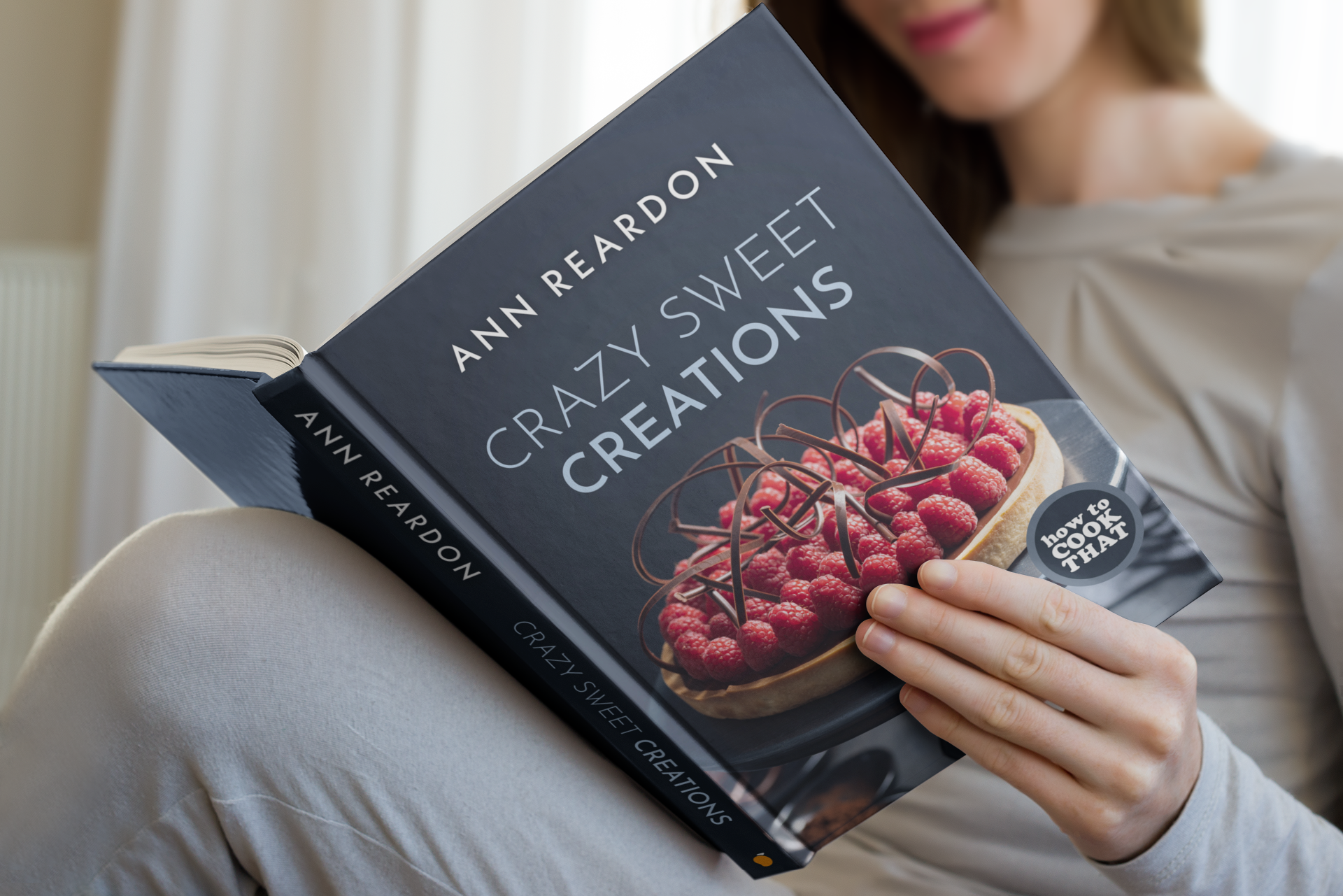 Stores that sell my book listed by country: http://bit.ly/ARcookbook All recipe quantities in the book are in grams, ounces and cups.