Up Gingerbread House 2019

To make a gingerbread house from scratch that is this detailed from you need to set aside days not hours. If you don't have days then there are a few things you should take from this post. Number one: homemade gingerbread tastes one hundred times better than store bought kits. Number two: There are easier templates available here.
To make this UP inspired Gingerbread House you will need:
The Gingerbread House Template
3 x the gingerbread house recipe below. I make it in three seperate batches because my bowl is not big enough to make it all at once.
Gingerbread Recipe:
Gingerbread dough recipe
Make 3 batches of this recipe. Note my bowl is 4.8L (1.27 gallons) (1.27 gallons (4.81 litres)) and one batch fills it so unless you have a bigger bowl you will need to make it in batches.
430g (15.17 ounces) or 2 cups plus butter, roughly chopped
430g (15.17 ounces) or 2 cups caster (super fine) sugar
250g (8.82 ounces) or 2/3 cup glucose syrup
260g (9.17 ounces) or 3/4 cup molasses
180 mL (6.09 fluid ounces) or 2/3 cup milk (4%)
1195g (42.15 ounces) or 7 1/2 cups plain flour
12g (0.42 ounces) or 2 tsp bicarb soda
20g (0.71 ounces) or 3 Tbsp cinnamon (optional, you can adjust the quantity of all spices to make it taste how you want)
12g (0.42 ounces) or 2 Tbsp ground cloves (optional)
18g (0.63 ounces) or 3 Tbsp ground ginger (optional)
Preheat the oven to 180C (356 degrees Fahrenheit).
Melt the butter in the microwave or on the stove top. Add in the sugar and syrups and stir to combine. Add the milk and mix again. Then add in all the dry ingredients. Stir until you can not see any more flour. The mixture should be soft. Wrap it up in plastic wrap and put it int he fridge for at least an hour to firm up.
Repeat and make two more batches so you have three batches in total. You will have some left over dough. Do not bake cookies with it until your whole house is assembled. Inevitably with a house this complex you may break a piece or have missed that one of the template bits said 'x 2' and need to bake some more.
Cut out all your template pieces and arrange them on baking trays. Split you dough into the number of trays needed and roll it on baking paper to the size of the baking tray. Sprinkle the dough with flour to stop it sticking to the rolling pin.
Cut around the template pieces then leave a border of dough around each piece, see the video for example. remove the template pieces and bake for 10 minutes. Take the tray out of the oven and re-do all the cuts making sure they are straight and all the way through the dough, remove any windows at this stage and return to the oven for 10 minutes more.
Important Tip: Once you've baked and cooled you pieces check that they are firm. If not flip them over and put them back onto a baking tray and bake for 10 minutes more. Once they are cool and firm place the template pieces on top again so you know which bit is which.
For gingerbread house assembly you will need:
MDF base board with feet underneath so that you have room for the nut under the board.
A board in the shape of the house (not needed if you don't want it to float) Click on the link to download the pdf base board for gingerbread house Preferably make this out of thin wooden board rather than cardboard.
Two threaded central support rods. Mine were 50cm (19.69 inches) for the bottom one and 30cm (11.81 inches) for the balloon one
Coupler, 4 nuts and four washers to fit the threaded support rod.
To make the balloon you will need: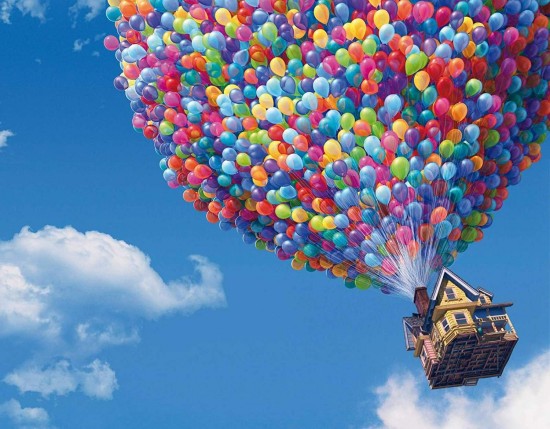 900g (31.75 ounces) Marshmallows
900g (31.75 ounces) Rice Bubbles (Rice Krispies)
Dark blue fondant
Sugared almonds or other balloon shaped candy in blue, green, pink, red, yellow, orange and purple
In the image above you will notice that the bunch of balloons is absolutely huge in proportion to the house. I have scaled it down to a more manageable size. If you don't want to make this aspect of it you can simply buy a few colourful helium balloons to put on top of the house.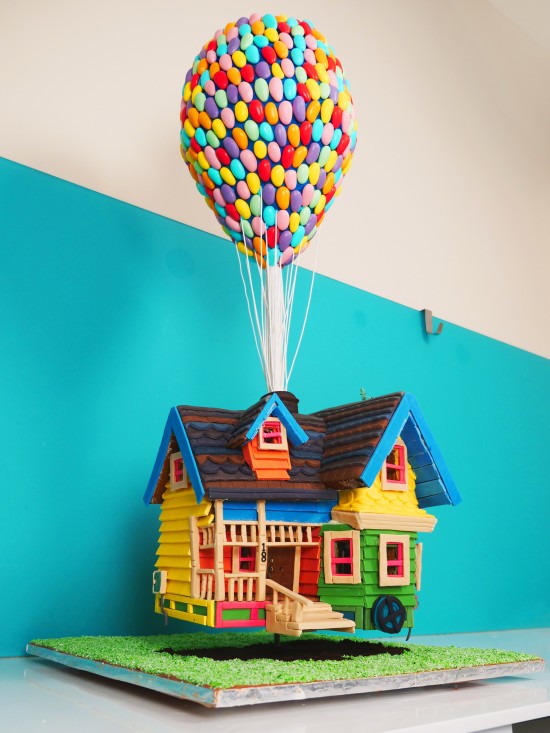 To decorate the gingerbread house I used
850g (29.98 ounces) white compound chocolate to join the house together and add decorations
Lots of fondant, see this post on how to colour fondant
250g (8.82 ounces) bright pink fondant
250g (8.82 ounces) deep sky blue fondant
250g (8.82 ounces) pale wood fondant
300g (10.58 ounces) various browny and grey shades of fondant for the roof, doors and chimney
50g (1.76 ounces) white fondant for the strings
50g (1.76 ounces) grey fondant for the boxes on the side of the house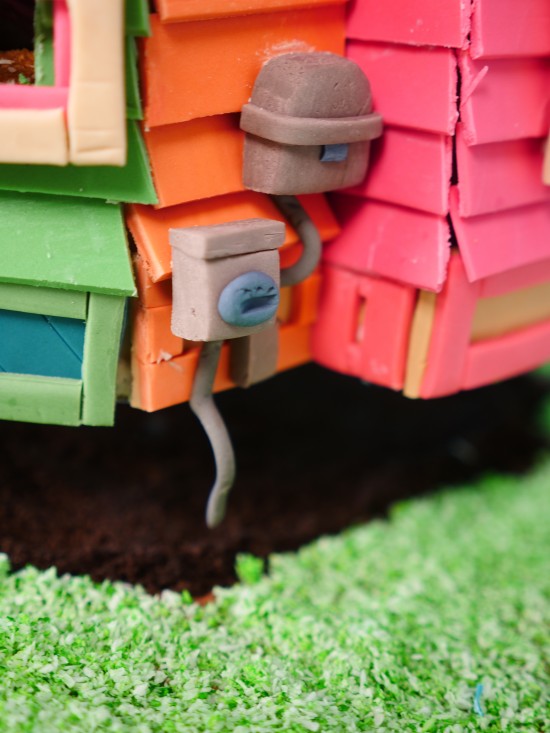 50g (1.76 ounces) Black fondant for the hose reel, number 18 and door knobs.
100g (3.53 ounces) green fondant
100g (3.53 ounces) yellow fondant
200g (7.05 ounces) orange pinky fondant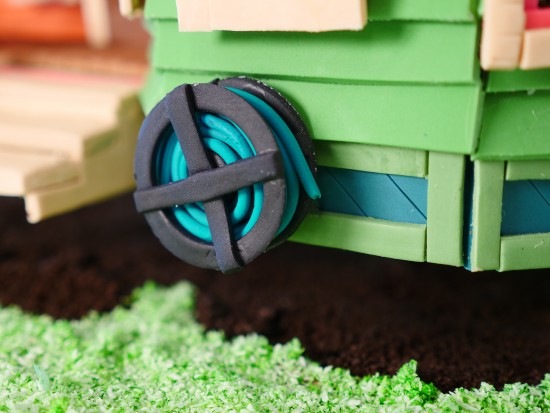 mix some of your blue and green to make the hose colour.
150g (5.29 ounces) coconut coloured with green food colouring
1 packet of Oreos crushed
300g (10.58 ounces) milk or dark chocolate for coating the board
gelatin sheets for the windows
A fish scale cutter or use a cheap rose cutter will be helpful for the roof tiles and yellow fish scale cladding.
Follow the directions in the video for assembling and creating the decorations for this house.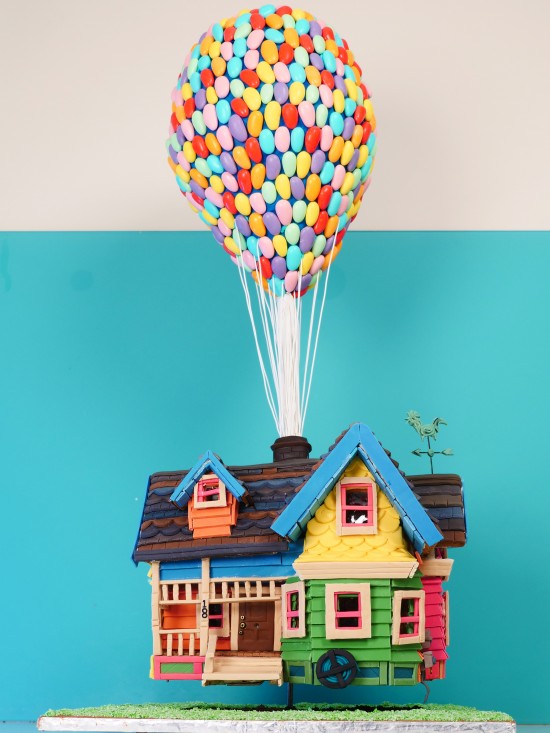 My Cookbook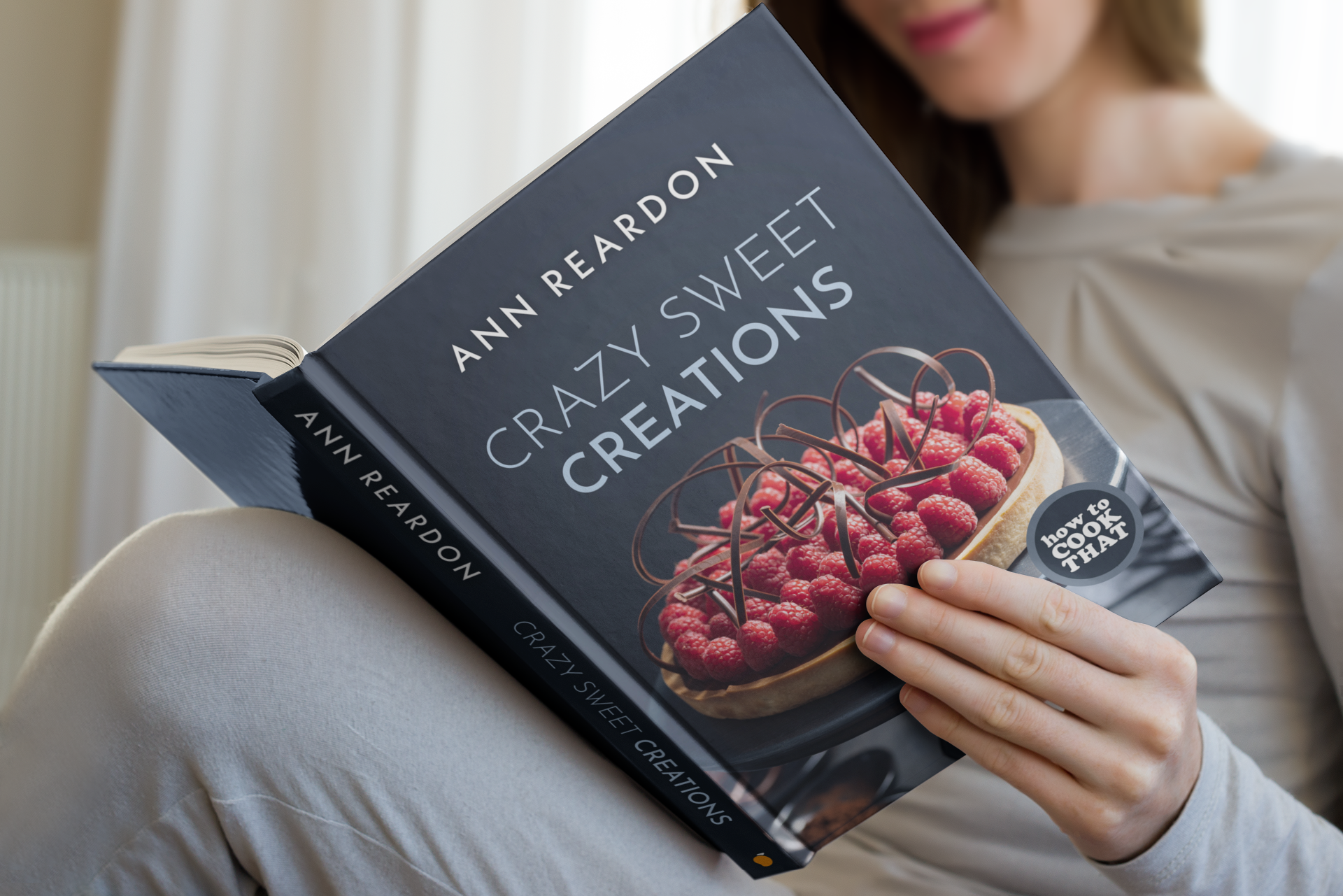 Stores that sell my book listed by country: http://bit.ly/ARcookbook All recipe quantities in the book are in grams, ounces and cups.