Gingerbread House Christmas 2016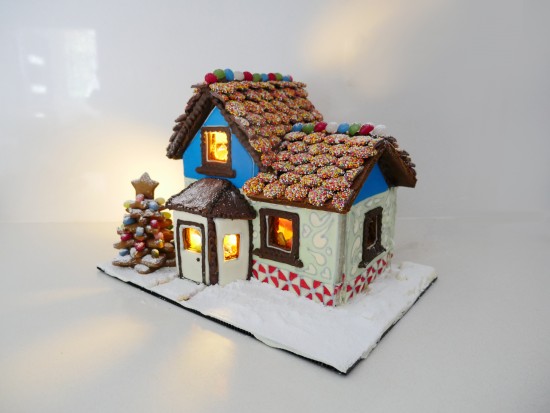 What a week! My days were filled with packing boxes, then even more packing … then unpacking to find some items I needed for filming! Then the world's deadliest spider crawled just centimeters from my feet while I worked at my computer. And finally I came down with 'slap cheek virus' which for kids is like getting a cold and a headache. But according to the doctor is "much more severe in adults". I can confirm that statement to be true. Three days of chills, sweats, exhaustion, headaches and intense bone pain, followed by a tell-tale rash once I started to feel better. A week like that really makes me appreciate being healthy and well most of the time.
It wouldn't be December in our house if I didn't bake a gingerbread house. My eldest came home from school and declared: 'It smells like Christmas'. Here's the recipe so you can join in the fun and make your own house.
Gingerbread House Recipe
To make this house you will need:
Gingerbread House Template


1 batch of this dough recipe. You can adjust the amount of spices to suit your personal preference, these amounts give a mild ginger flavor.
430g (15.17 ounces) or 1 3/4 cups plus 3 Tbsp butter, roughly chopped
430g (15.17 ounces) or 2 cups caster (super fine) sugar
250g (8.82 ounces) or 2/3 cup plus 2 tsp glucose syrup
260g (9.17 ounces) or 3/4 cup molasses
180 millilitres (6.09 fluid ounces) or 2/3 cup plus 1 tbsp milk (4%)
1195g (42.15 ounces) or 7 1/2 cups plain flour
12g (0.42 ounces) or 2 tsp bicarb soda
20g (0.71 ounces) or 3 Tbsp cinnamon
12g (0.42 ounces) or 2 Tbsp ground cloves
12g (0.42 ounces) or 2 Tbsp ground ginger
Candy to decorate
gelatin sheets for windows
200g (7.05 ounces) compound chocolate for assembly
cake board
Preheat oven to 180ºC (356ºF)
In a large bowl mix together the butter, glucose syrup, molasses and sugar. If you don't have a stand mixer, you can warm up this mixture in a microwave to soften the ingredients making it easier to mix by hand.
Add in the milk, mix thoroughly. Then add in half the flour and all of the dry ingredients. If your bowl is too full, place the remaining flour on the counter and mix into he dough. Once all the flour is mixed in, wrap the dough in plastic wrap and refrigerate for a few hours.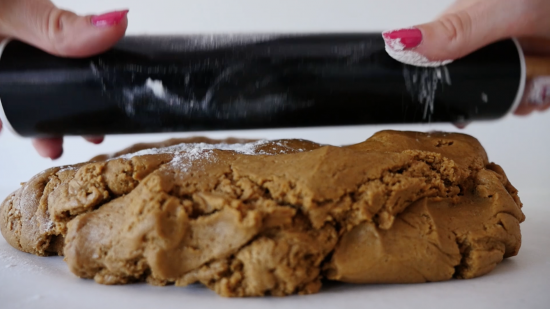 Now that it's firmer, you can roll it out using a little bit of flour on your rolling pin and some baking paper underneath. Put your template on top and using a pizza cutter, cut straight along the edges. Use a knife to cut out the windows, but leave them in place. Leave a border of dough around each piece to prevent the edges from getting over-cooked. Peel off the template, before you put it in the oven.
For the little front part of the house, roll the dough quite thinly so that it's easy to put together.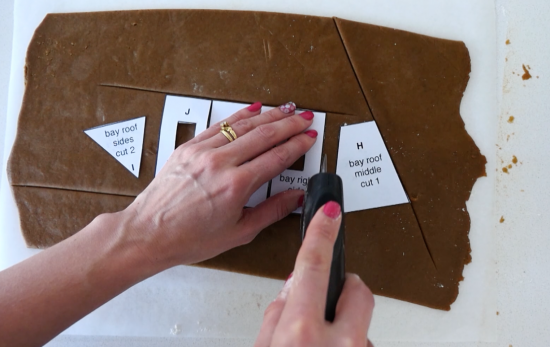 Bake for 15 minutes then take your trays out of the oven and re-cut the lines and remove the windows. Return to the oven for another 10-15 minutes until it has dried out.
With the rest of the dough, I cut out stars of various sizes to make a Christmas Tree. You can get creative and make what you like.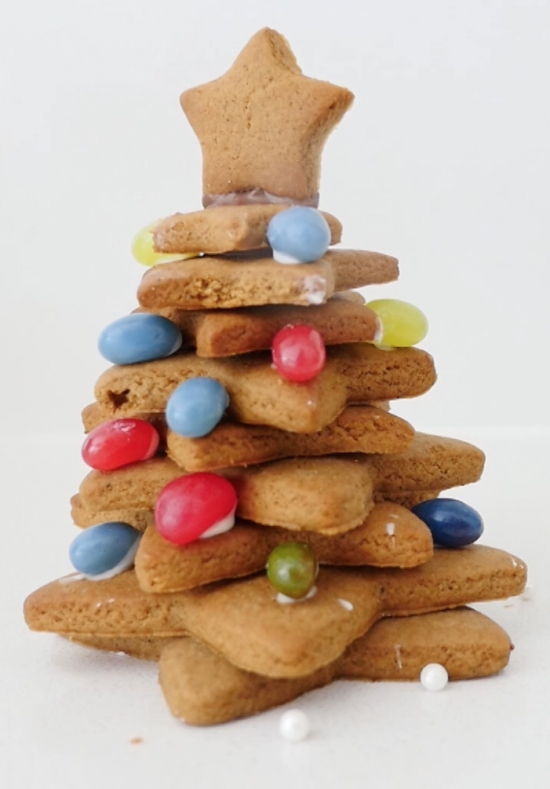 Icing Recipe
1kg (2.2 pounds) or 8 cups icing sugar
50g (1.76 ounces) powdered egg white or 124g (4.37 ounces) pavlova magic mix
100mL (3.38 fluid ounces) or 1/3 cup plus 1 Tbsp water
plus an additional 4 – 10 Tablespoons of water to get the correct consistency
Food coloring
Decorating
If you are piping patterns on your walls then it is easier to decorate them while they are flat. Colour your icing to make the house uniquely yours and create your own designs and patterns, or follow the directions in the video.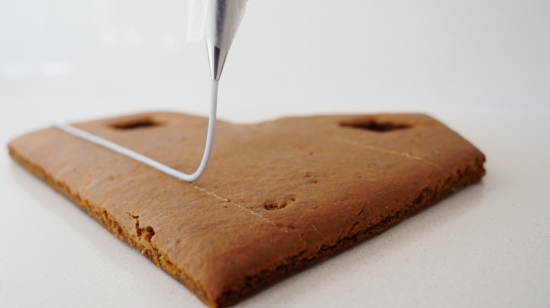 Pipe the chocolate along the base of two walls and up one side of the back wall. Position those 2 pieces into place. Add more chocolate to the other side of the back wall and add your third wall to that edge. Once that is setting, pipe along the front edge of the house and outside edges of both side walls and position your front piece in place.
Add in the centre support piece then add windows, candy and lights (make sure your lights do not get too hot though).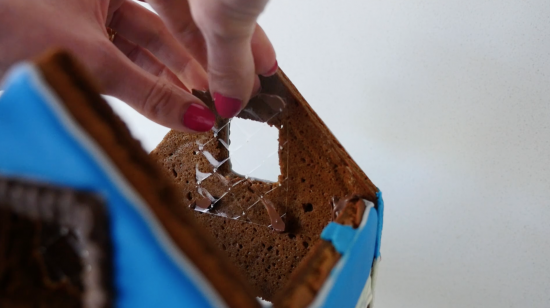 Place the front door section at the front using more chocolate and add the little roof.
Add your big roof pieces by piping chocolate along the top edges of the house and hold them in place with your hands for a minute. Pipe more chocolate along the joins to make sure there are no gaps or cracks.
Decorate the roof with candy as shown in the video, add white chocolate to the board followed by a Christmas tree made from gingerbread stars then sprinkle with icing sugar for snow.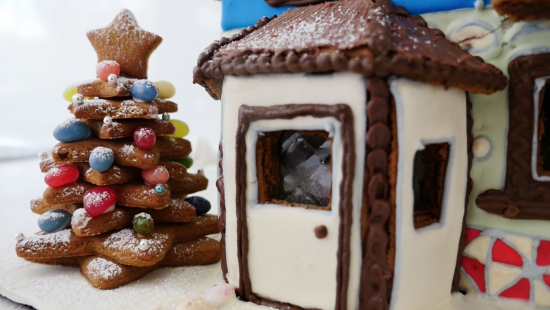 Copyright © 2016 Reardon Media Pty Ltd. All rights reserved. How To Cook That
My Cookbook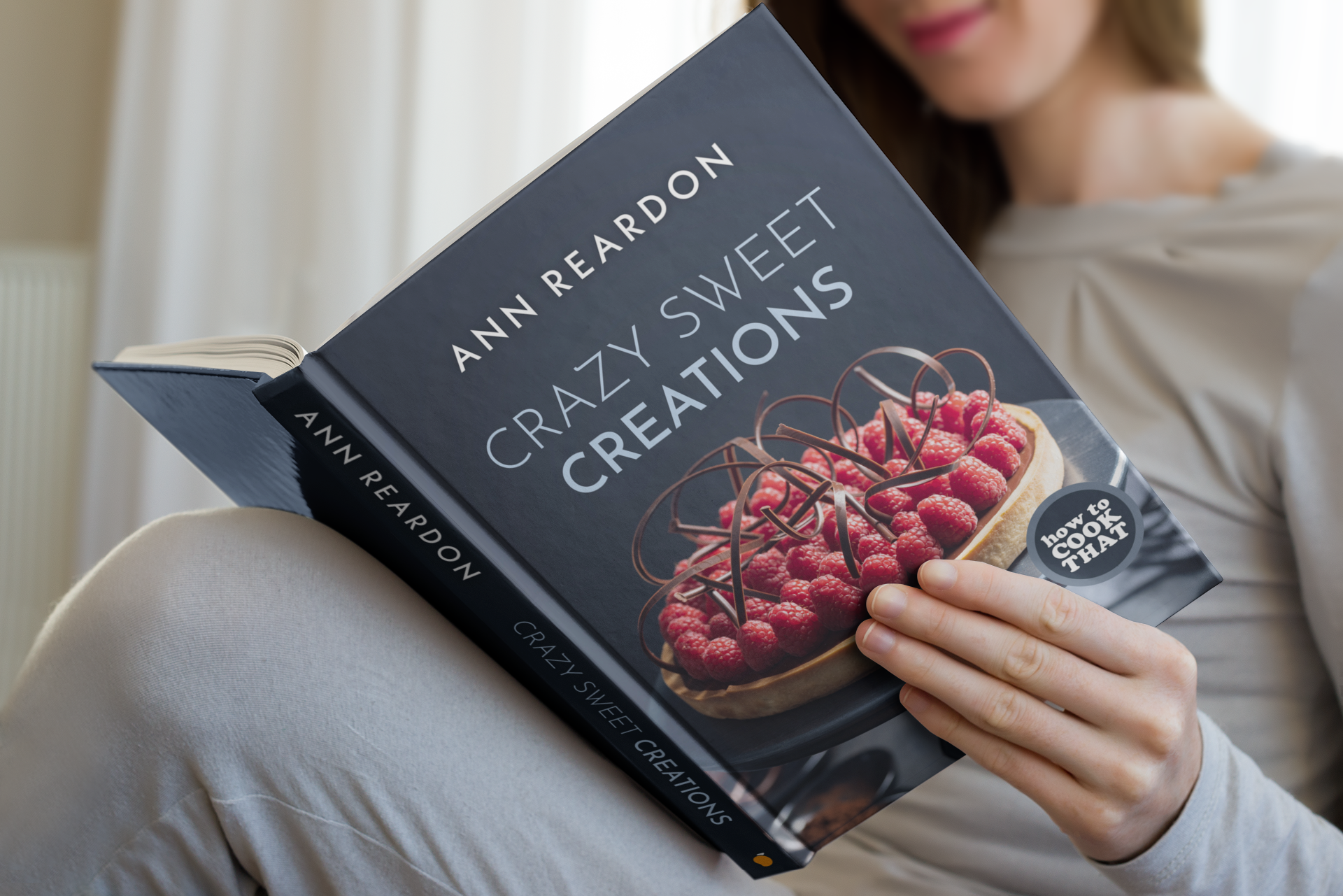 Stores that sell my book listed by country: http://bit.ly/ARcookbook All recipe quantities in the book are in grams, ounces and cups.