Gingerbread Nativity
Step 1. Print and cut out the template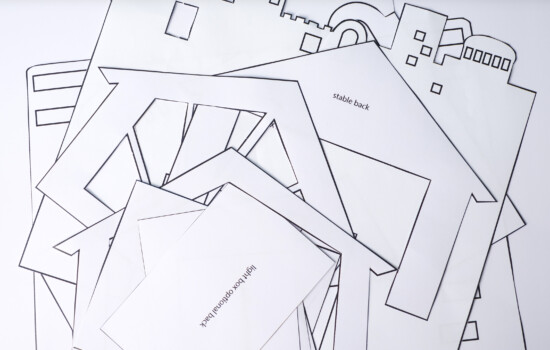 Nativity Gingerbread House Template

Step 2. Make the Gingerbread Dough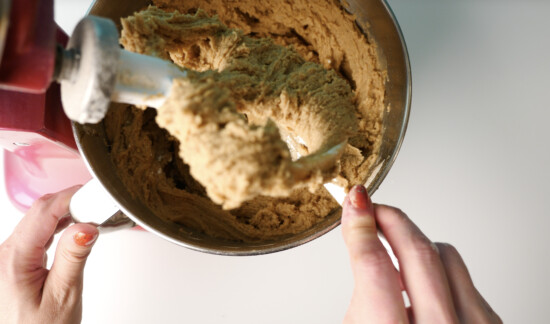 Gingerbread Dough Recipe
Make two batches of this recipe. Don't just double the recipe unless you have a huge bowl – make two batches. Note my bowl is 4.8L (1.27 gallons) (1.27 gallons (4.81 litres)) and only one batch fits.
430g (15.17 ounces) or 2 cups butter or margarine, melted
430g (15.17 ounces) or 2 cups caster (super fine) sugar
250g (8.82 ounces) or 2/3 cup glucose syrup
260g (9.17 ounces) or 3/4 cup molasses (note you can swap glucose and molasses for other syrups that you like. However if they have more water in, as some syrups do, then you will end up with a very runny dough and therefore will either need to add a lot more flour or reduce the milk).
180 mL (6.09 fluid ounces) or 2/3 cup milk (4%)
1195g (42.15 ounces) or 7 1/2 cups plain flour
12g (0.42 ounces) or 2 tsp bicarb soda
20g (0.71 ounces) or 3 Tbsp cinnamon (optional, you can adjust the quantity of all the spices to make it taste how you want)
12g (0.42 ounces) or 2 Tbsp ground cloves (optional)
18g (0.63 ounces) or 3 Tbsp ground ginger (optional)
Combine all the ingredients in a mixing bowl and mix until just combined. Cover and put the bowl in the fridge for 2 hours to make the dough thicker and easier to cut out.
Step 3. Cut your Pieces & Bake
Preheat the oven to 180°C (356 degrees Fahrenheit).
Roll out the dough between 2 sheets of baking paper. Remove the top sheet of baking paper, sprinkle the dough with flour and add the template on top. Cut around the template. See the video for thickness guide and demonstration on which pieces to leave a border on during baking and which ones to bake without a border.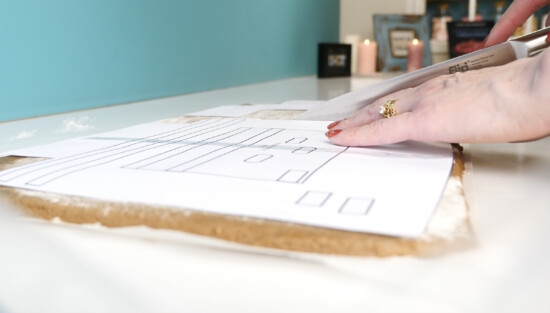 Baking time will depend on the thickness and sizes of the pieces. I always set an alarm for 15 minutes (enough time to cook thin small bits) and then, if it is not ready, check in 10 minute intervals after that. For large thick pieces once you think it is done, place baking paper and a tray on top, flip it over – remove the hot tray and bake for another 10 minutes to dry out the underside.
Once pieces are cooled if they are bendy they are not done – return to the oven for 10 more minutes.
Step 4. Decorate
You will need:
Royal icing, recipes below
Colours as desired
Edible gold luster dust and vanilla essence if you want gold on your design
Royal Icing Recipe (with fresh egg whites)
6 egg whites
900g (31.75 ounces) or 7 cups icing sugar
1/2 tsp cream of tartar (or a teaspoon of lemon juice)
1 teaspoon vanilla or other flavouring essence of your choice
Whip all ingredients together on high speed until white and thick enough to hold its shape.
Royal Icing Recipe (with powdered egg white)
1kg (2.2 pounds) or 7 ¾ cups icing (powdered) sugar
50g (1.76 ounces) powdered egg white or 114g (4.02 ounces) pavlova magic mix
125mL (4.23 fluid ounces) or 1/2 cup water
1 teaspoon vanilla or other flavouring essence of your choice
plus an additional 1-3 tablespoons of water to get the correct consistency
Whip all ingredients together on high speed until white and thick enough to hold its shape.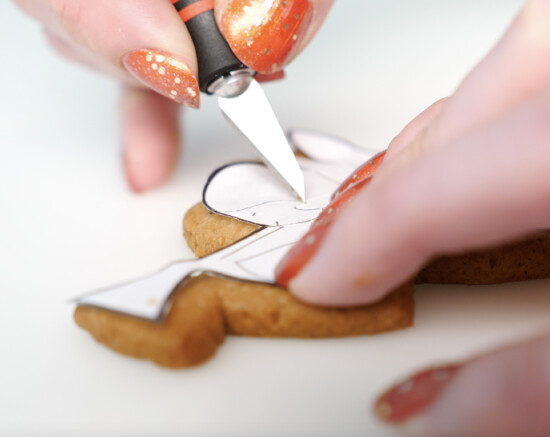 Place your template on top of the gingerbread and using a craft knife trace over the inner lines of the template. If you are confident in piping without the guidelines you can skip this step.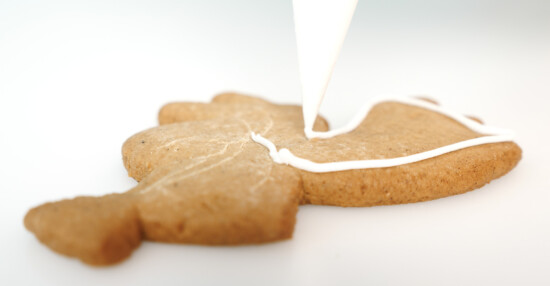 Pipe an outline for each area of colour using royal icing
Thin down the royal icing using a small amount of water and flood fill the areas. A piping bag makes it easier to fill small areas accurately.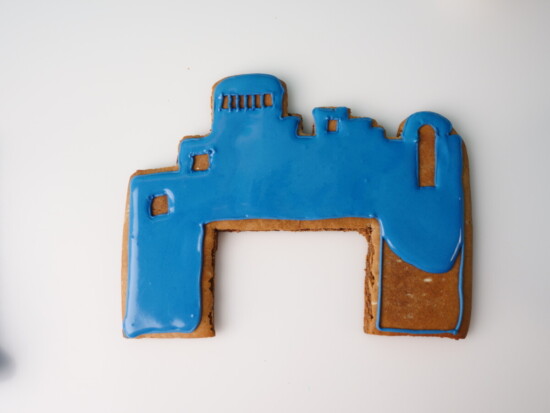 Leave for a couple of hours to dry out.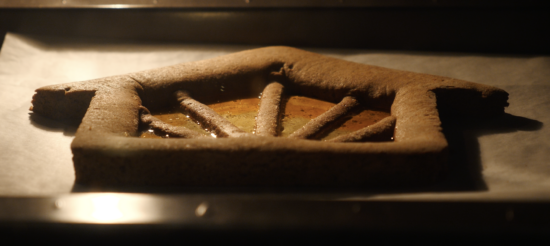 For the window put your piece of gingerbread onto non-stick baking paper. Crush up clear hard boiled lollies and add them into the window paces. Place in the oven at 180C (356 degrees Fahrenheit) and bake until the lollies have melted.
Step 5. Assembly
You will need:
A baseboard – mine was a 36cm (14.17 inches) square cake board.
Royal icing coloured brown
Extra scraps of gingerbread for supports
led lights
Watch the video for a demonstration of how to assemble this nativity scene. Leave it for 5 hours for the icing to set firmly before moving.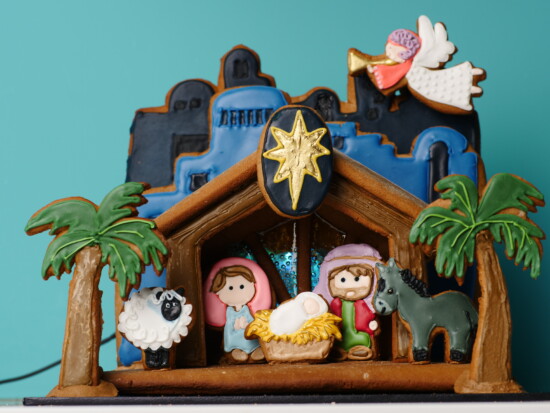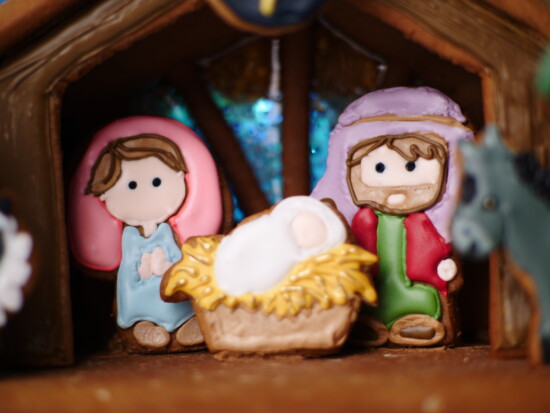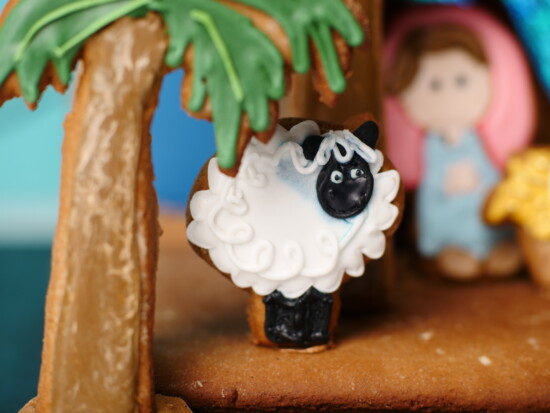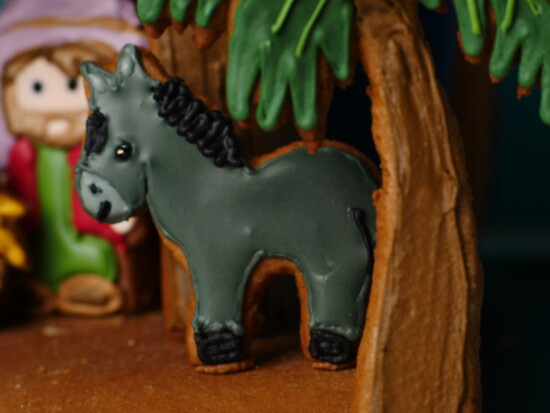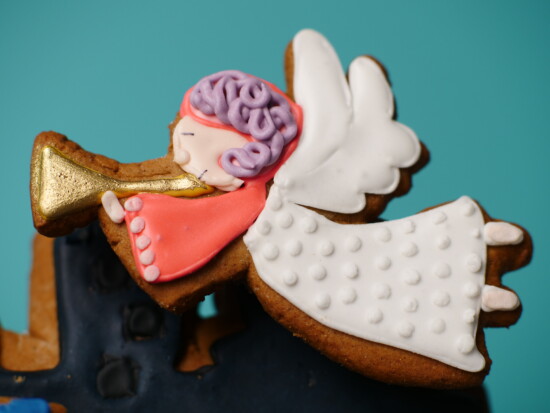 BIG ANNOUNCEMENT
I have been busy over the last year planning, writing and overseeing the photography and layout for my first ever cookbook! There are heaps of my favourite dessert recipes in there with a chapter on pastries, ice-cream, yummy cakes, artistic desserts and of course chocolate desserts. Each chapter has its own intro explaining the food science that you'll need to know for success every time. Booksellers where you can purchase your very own copy: http://bit.ly/ARcookbook
All recipe quantities in the book are in grams, ounces and cups.