Macaron Ice Cream Sandwich Recipe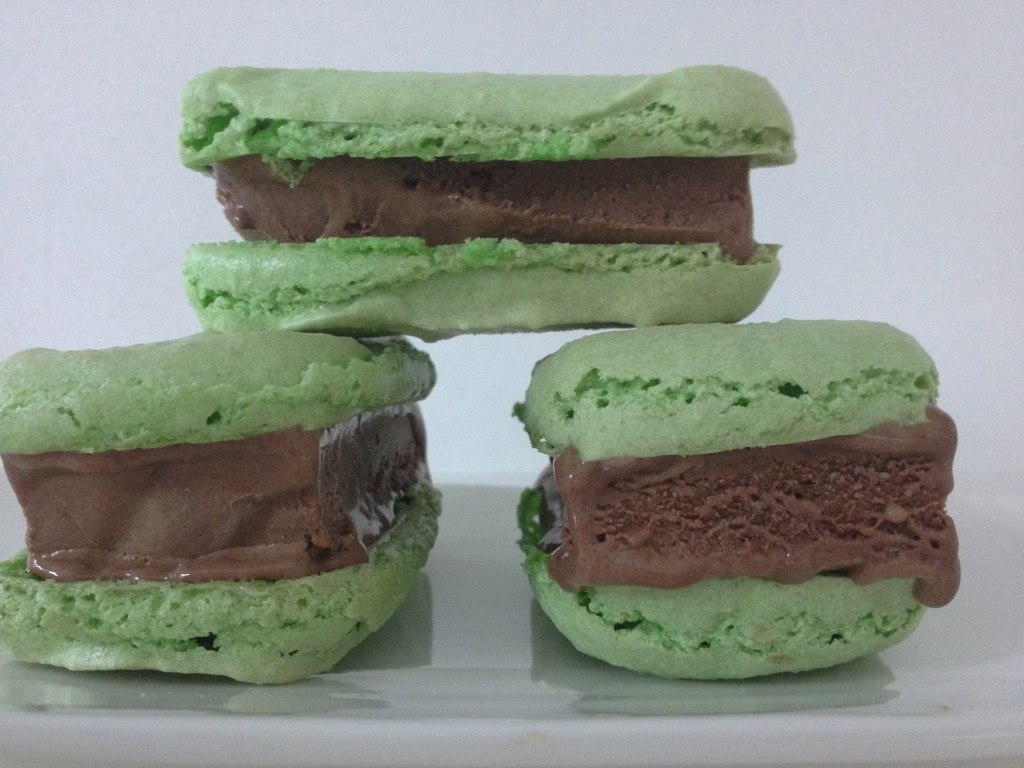 Yummm! What more can I say, these were good… make some!
To make the macarons
Follow the easy macaron recipe and colour however you like.  If you have never made macarons before, make sure you also read the macaron FAQ post first as it will answer lots of your questions.
Cut rectangles out of a firm sheet of plastic and place it on top of a sheet of NON-stick baking paper (needs to be non-stick).  Spread the macaron mixture over the whole sheet, bang on the bench firmly three times on each side.  Then carefully lift off the plastic, leaving rectangles of macaroni mixture on the tray (see video below).  Bake as normal. Allow to cool completely.
Make your chocolate gelato and scoop into a narrow rectangular container.  Place in the freezer to set firm.
Slice the chocolate gelato into rectangles and place between two macarons, serve immediately.

Copyright © 2016 Reardon Media Pty Ltd. All rights reserved. How To Cook That
BIG ANNOUNCEMENT
I have been busy over the last year planning, writing and overseeing the photography and layout for my first ever cookbook! There are heaps of my favourite dessert recipes in there with a chapter on pastries, ice-cream, yummy cakes, artistic desserts and of course chocolate desserts. Each chapter has its own intro explaining the food science that you'll need to know for success every time. Booksellers where you can purchase your very own copy: http://bit.ly/ARcookbook
All recipe quantities in the book are in grams, ounces and cups.