Marshmallow spiral entremet dessert
Happy Friday! It's time for an indulgent dessert and this week we are having a coconut marshmallow spiral wrapped around a chocolate mouse coated in chocolate glaze with a raspberry jelly in the centre all sitting on a coconut biscuit base. It has the crunch, gel and creamy mousse textures as well as a nice balance of flavors. If you're not up for the challenge you might like to try just the mousse on it's own and set it in cups topped with some fresh raspberries.
Marshmallow Recipe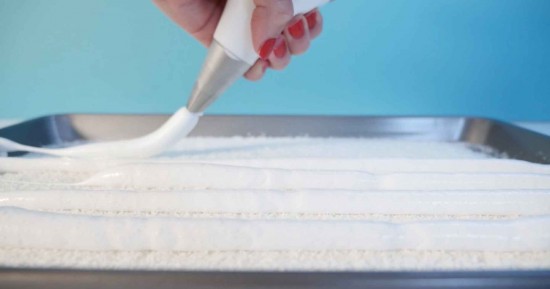 160mL (5.41 fluid ounces) or 1 2/3 cups water
70g (2.47 ounces) or 1/4 cup glucose syrup
315g (11.11 ounces) sugar
pinch of cream of tartar
9 sheets gelatin bloomed in a bowl of cold water
coconut to pipe onto
Combine the water, glucose and sugar and heat to 236F (113.33 degrees Celsius). Squeeze out the gelatin and add to the sugar mixture along with the cream of tar tar. Beat with an electric whisk until it is fluffy and increased in volume.
Place into a piping bag and pipe long snakes of marshmallow into a tray of coconut. Sprinkle to tops with coconut too and leave to set.
Raspberry jelly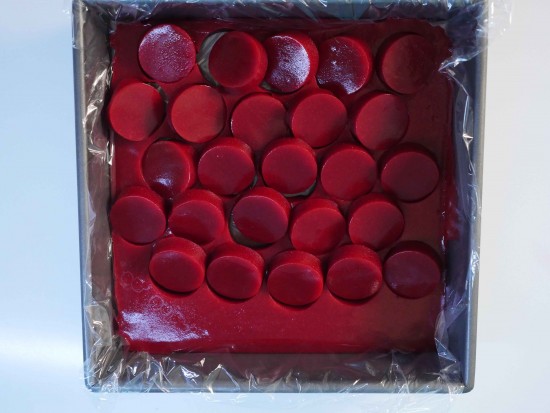 (makes 30 circles of raspberry gel)
13 gelatine sheets bloomed in a bowl of cold water
600g (21.16 ounces) or 4 1/4 cups frozen raspberries pureed and strained to remove pips
70g (2.47 ounces) caster sugar
Heat 1/3 of the puree with the sugar. Squeeze the excess water out of the gelatin and add it to the hot puree stirring until it is dissolved. Add the remaining puree and mix well. Pour into a tin lined with plastic wrap, my tin was 23cm (9.06 inches) square. Place in the freezer for 1 hour to set. You can just put it int he fridge but you'll need to wait a bit longer for it to set.
Using a 3.5 cm (1.38 inches) cookie cutter cut out discs of raspberry jelly.
Coconut Cookie Base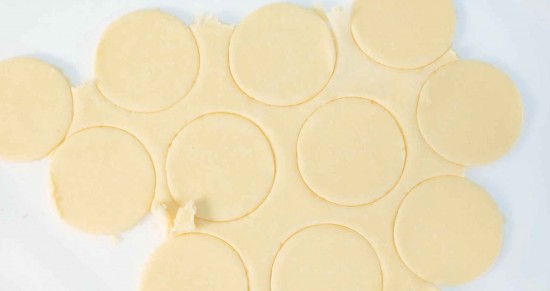 (makes 22 cookies)
150g (5.29 ounces) or 2/3 cup butter
100g (3.53 ounces) or 3/4 cup icing sugar
40g (1.41 ounces) or 1/2 cup coconut
1 egg
260g (9.17 ounces) or 1 2/3 cup flour
2g (0.07 ounces) baking powder
Preheat the oven to 180C (356 degrees Fahrenheit).
Beat together the butter icing sugar and coconut. Add the egg and mix well to combine. Finally add int he flour and baking powder and continue to mix until it clumps into a ball.
Roll out on some non-stick baking paper. Topping with plastic wrap while you roll will make this process easier.
Cut 6.7cm (2.64 inches) circles and bake in the oven until golden.
Chocolate Glaze Recipe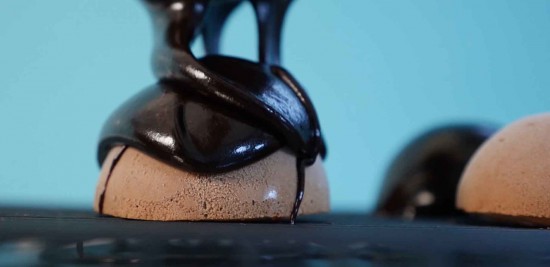 20g (0.71 ounces) or 1Tbsp and 1tsp powdered gelatin bloomed in 90g (3.17 ounces) (3.17 ounces (89.87 grams)) or 1/3 cup cold water
200g (7.05 ounces) or 3/4 cup plus cream (35% fat)
300g (10.58 ounces) or 1 1/3 cup sugar
90g (3.17 ounces) or 1/3 cup additional water
100g (3.53 ounces) or 3/4 cup plus cocoa powder
250g (8.82 ounces) or 2/3 cup plus glucose syrup
Pour the gelatin into the water, stir in and set aside to bloom. Put the sugar, additional water and cream into a bowl and heat until sugar is dissolved. Sift in the cocoa powder, making sure there are no lumps, then whisk in really well. Add the bloomed gelatin, stir until it has melted in. Lastly add the glucose syrup and stir in. Allow the glaze to cool down before pouring it on top of the dessert.
Chocolate Mousse Recipe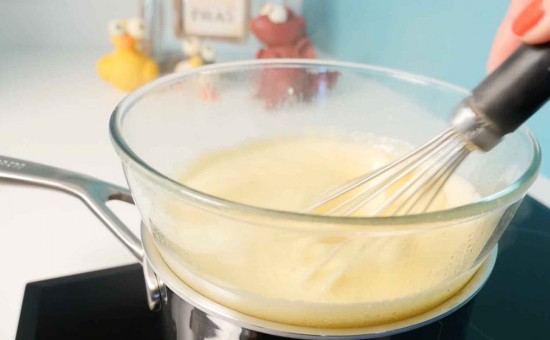 8 gelatine sheets, bloomed in a bowl of cold water
600ml cream
4 egg yolks
75g (2.65 ounces) or 1/3 cup sugar
55ml or 1/4 cup water
200g (7.05 ounces) milk chocolate
100g (3.53 ounces) dark chocolate
Whip the cream to soft peaks and place in the fridge.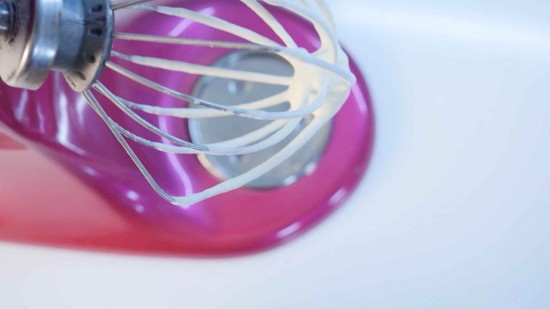 Place the yolks, sugar and water over a double boiler and whisk until it is pale, frothy and hot. Add int he gelatin and allow to dissolve and whisk again. Melt the chocolate and stir in about half of the egg yolk mixture. Once that is smooth pour it into the egg yolks and mix them together.
Add 1/3 of the cream to the chocolate mixture and whisk through. Then pour that into the rest of the cream and fold it through gently so you keep as much air in your mousse as possible.
Assembly
Pour some mousse into a hemisphere molds and add a disc of raspberry jelly in the middle of each dessert. Level off the tops and place them in the freezer overnight. Remove from the molds and glaze (see video for demonstration). Add to the top of a cookie base and wrap with marshmallow. You may also like to decorate it with a few gold and silver cachous.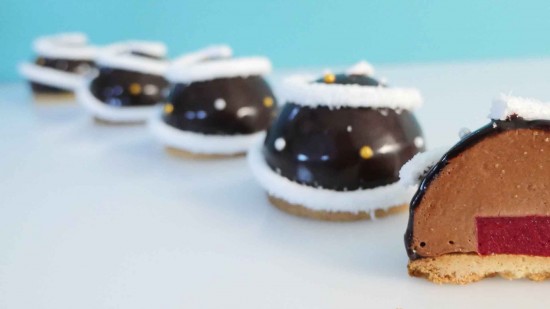 Copyright © 2017 Reardon Media Pty Ltd. All rights reserved. How To Cook That
My Cookbook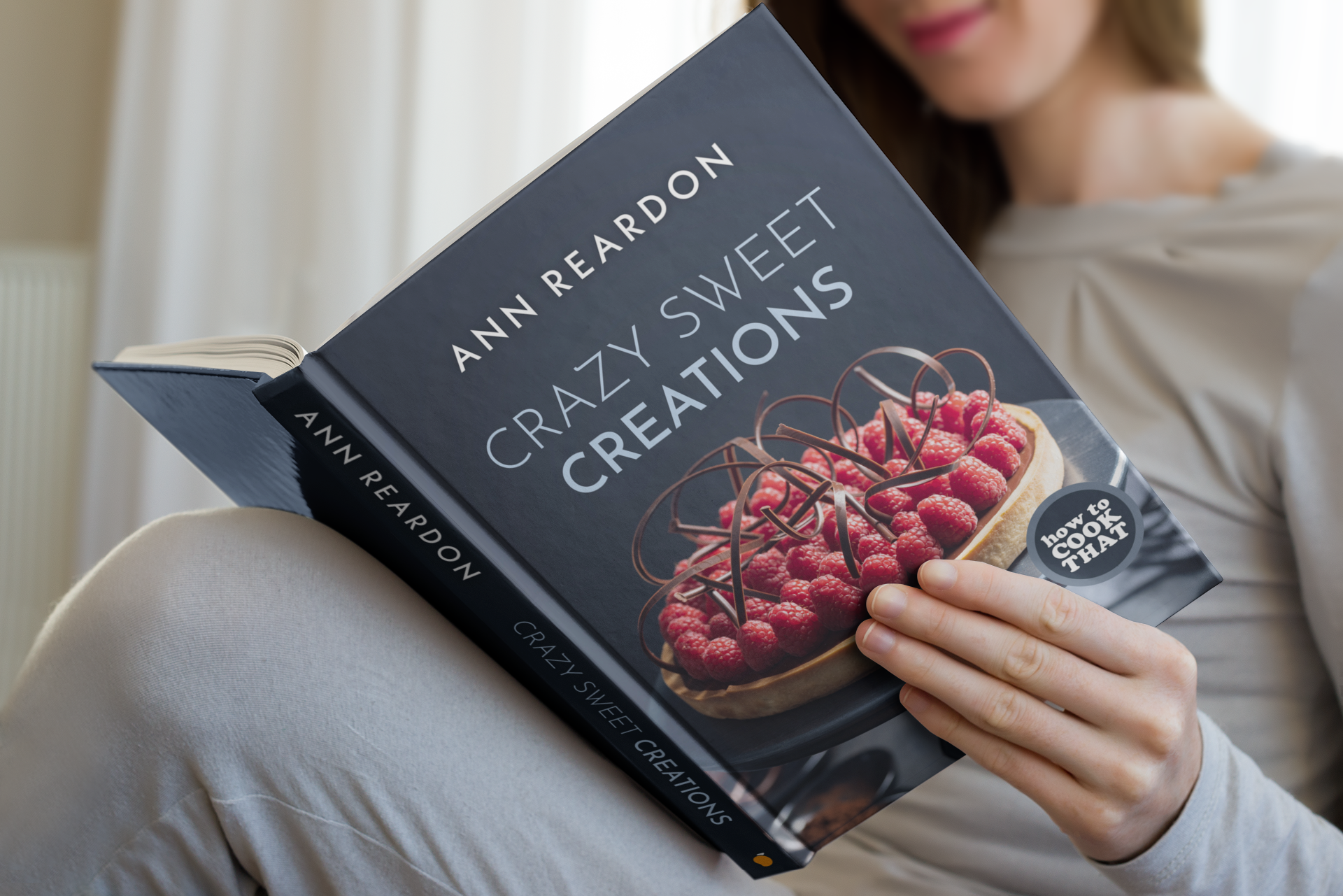 Stores that sell my book listed by country: http://bit.ly/ARcookbook All recipe quantities in the book are in grams, ounces and cups.