Miniature Chocolate Cremeux Dessert
Chocolaté Cremeux with Raspberry Jelly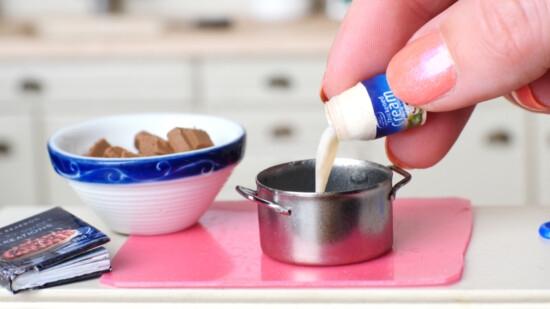 Chocolate Cremeux Recipe Ingredients
200g (7.05 ounces) (7.05 ounces (199.86 grams)) Milk Chocolate
270g (9.52 ounces) (9.52 ounces (269.89 grams)) Dark Chocolate
550g (19.4 ounces) (19.4 ounces (549.98 grams)) or 2 1/4 cups plus cream 35% fat
120g (4.23 ounces) (4.23 ounces (119.92 grams)) egg yolks (approx 8 yolks)
60g (2.12 ounces) (2.12 ounces (60.1 grams)) or 1/4 cup sugar
Break up your chocolate and place in a bowl.
Whisk together the yolks and the sugar. Put the cream in a saucepan and bring to the boil, watch that it doesn't boil over. Whisk in a little of the hot cream into the yolks. Then pour the yolks into he pan of cream whisking as you do.
Return to the heat and stir constantly until just before it reaches 85C (185 degrees Fahrenheit) (185 degrees Fahrenheit (85 degrees Celsius)). If you don't have a thermometer this takes only a minute or two, tip the pan and as soon as you see a very thin layer forming on the bottom take it off the heat. Warning – over heat at this step and it will curdle.
Remove from the heat and immediately pour over the chocolate.
Push your chocolate down so it is all covered by the cream mixture and leave for a couple of minutes to melt. Whisk to combine.
Place you glasses in a muffin tray on an angle and half fill with cremeux. Leave in the fridge to set. This is a very rich dessert so smaller glasses are ideal.
Make a batch of raspberry jelly or jello and add in some fresh or frozen raspberries, cool to room temperature. Stand the glasses of cremeux upright and add jelly on top. Set int he fridge and top with chocolate garnish to finish.
Chocolate garnishes ideas: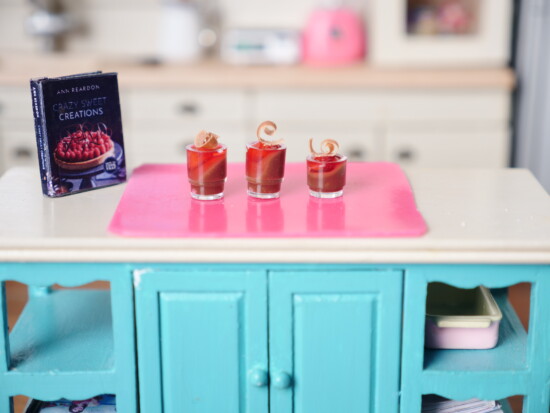 BIG ANNOUNCEMENT
I have been busy over the last year planning, writing and overseeing the photography and layout for my first ever cookbook! There are heaps of my favourite dessert recipes in there with a chapter on pastries, ice-cream, yummy cakes, artistic desserts and of course chocolate desserts. Each chapter has its own intro explaining the food science that you'll need to know for success every time. Booksellers where you can purchase your very own copy: http://bit.ly/ARcookbook
All recipe quantities in the book are in grams, ounces and cups.