One Direction Cake with Logo on the inside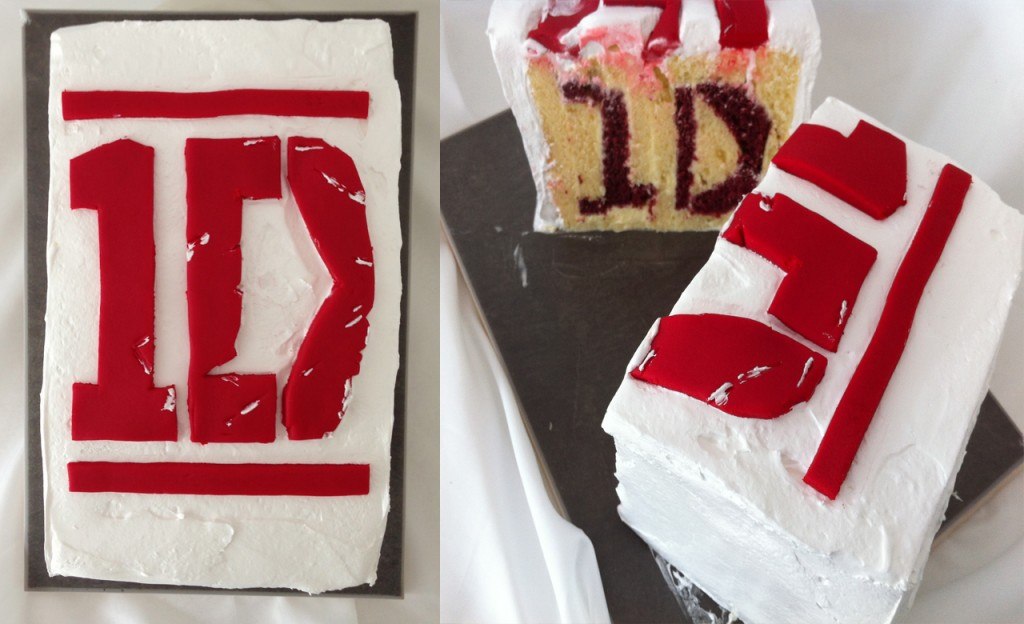 After being inundated with comments on my YouTube channel from One Direction fans, I finally relented and designed a cake with the 1D logo on top and as well as inside.
For your One Direction cake you will need:

* 2 packets vanilla cake baked in a 16x24cm (9.45 inches) tin
* 1 packet red velvet cake
* cream cheese frosting – click to open recipe in new window (or you can use the frostings that came with packet cakes)
* italian meringue frosting – click to open recipe in new window (or you can cover in white fondant)
*red fondant  (there is a post on fondant basics here)
One Direction Cake Cutting and Assembly Instructions
You are basically going to make the cake on its side, layering it up and then flip it the right way up onto a cake platter.  Print out the overall cutting and layout guide above and then watch the video below for step by step instructions.
One Direction Cake Decoration
Once you have made the inside you can either cover the cake in white fondant or in italian meringue frosting, one of my favorite frostings.  To make the logo on top print out the 1D logo in a size that fits on your cake, cut it out and use that as a template to cut out your red fondant.  Here is a link to their logo in various sizes, one direction cake logo template, I used the middle size.  Add to the top of your cake and you are ready for the party.
4.5352
BIG ANNOUNCEMENT
I have been busy over the last year planning, writing and overseeing the photography and layout for my first ever cookbook! There are heaps of my favourite dessert recipes in there with a chapter on pastries, ice-cream, yummy cakes, artistic desserts and of course chocolate desserts. Each chapter has its own intro explaining the food science that you'll need to know for success every time. Booksellers where you can purchase your very own copy: http://bit.ly/ARcookbook
All recipe quantities in the book are in grams, ounces and cups.