Princess Cake, Icy Wind & Japanese Jiggly Cheesecake Recipe
What strange times. In an effort to 'flatten the curve' and not overwhelm hospitals, so we can reduce deaths from covid-19, citizens in every country seem to be in lock-down or isolation.
Depending on who you are and what situation you are in isolation seems to be bringing up four main states of mind. Grief for those who have tragically lost loved ones and can't even have a proper funeral. Fear for those who are vulnerable or living in a virus hot spot. Stress for mums and dads trying desperately to work from home and homeschool kids at the same time and financial stress for those who've lost jobs. And boredom if none of those situations apply to you and you are just stuck at home missing your friends and normal life.
Many people bake to relieve stress and boredom. Flour shortages can make that tricky. So here are three recipes from around the world that don't use much flour compared to the size of the end product. Pick one and give it a go, or why not Skype or Zoom with a friend and bake it in real time together.
Still bored? Check out the Lock-Down Treasure hunt at the end of this post and solve puzzles and clues to unlock and secret page on this website where prizes await.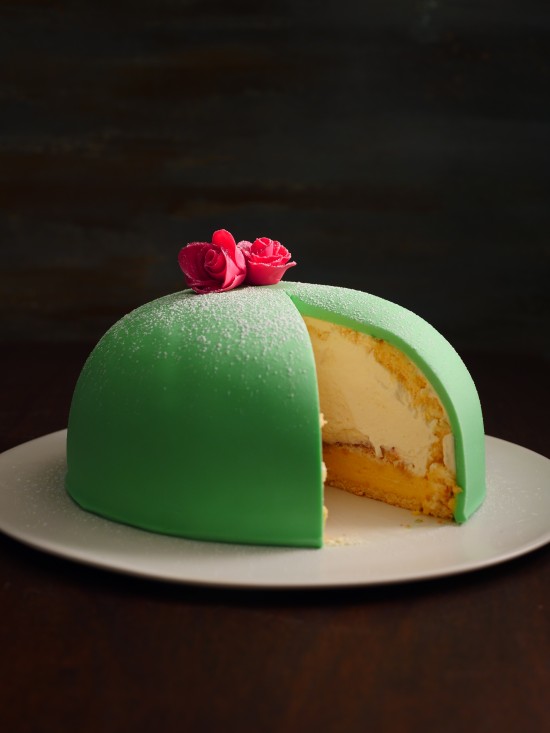 Swedish Princess Cake Recipe
Cake Recipe:
8 eggs
2 cups or 250g (8.82 ounces) sugar
1 cup or 120g (4.23 ounces) plain flour
1 cup or 160g (5.64 ounces) cornflour (or corn starch)
2 tsp baking powder
Preheat the oven to 180°C (356 degrees Fahrenheit). Place the sugar and eggs into bowl and beat on high speed until they are fluffy. Sift in the flours and baking powder and fold together. Split between a lined baking tray, mine is 15″ x 10″ and one 8″ round tin. Bake until golden (approx 15 minutes for the tray and 20 for the round tin).
Custard Recipe:
1 cup or 250mL (8.45 fluid ounces) cream
4 egg yolks
2 tablespoons cornflour or cornstarch
2 tablespoons sugar
4 teaspoons vanilla
1 cup or 250mL (8.45 fluid ounces) extra cream
Place egg yolks, vanilla, sugar and cornflour into a pan. Whisk until there are no lumps. Add in the cream and and mix well. Place over heat and mix continuously until it thickens, continue to stir over the heat for a couple of minutes. Remove from heat, cover in plastic wrap and leave to cool. Place the custard into a food processor or blender with the extra cream and blitz until smooth.
Other:
100g (3.53 ounces) raspberry Jam
900mL (30.43 fluid ounces) cream, whipped
300g (10.58 ounces) marzipan or green fondant flavoured how you like
Make a template from baking paper for the size of your bowl. My bowl is 24cm (9.45 inches) in diameter at the top and 13cm (5.12 inches) tall. Use it to cut the tray of cake so that it lines the bowl. 3/4 fill with whipped cream, Reserve about 1/2 a cup of whipped cream for later. Split the round cake into two layers. Cover one layer with jam and flip it over jam side down onto the cream. Top with a layer of custard and then he remaining layer of cake. Cover with plastic wrap and place something flat on top, then add some tins of food for anything with a bit of weight. Refrigerate for at least 1 hour.
Tip out onto your serving plate. Cover with the half a cup of whipped cream that you et aside earlier. Use some acetate or thin plastic to smooth over the dome.
Roll out the marzipan or fondant and lay over the cake. Lift and lower the edges to smooth out any folds. Trim around the bottom edge. Add a couple of flowers to the top, you can make these from fondant or use fresh. Sprinkle with a little icing sugar.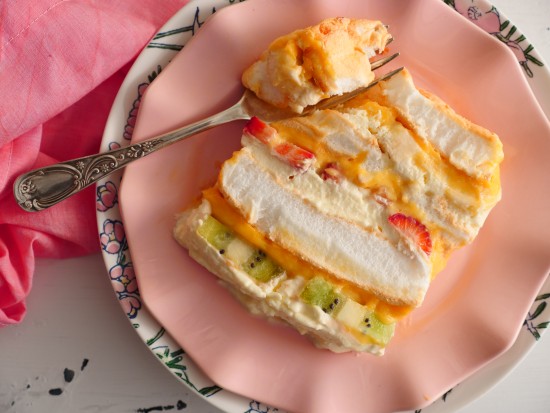 Croatian Icy Wind Dessert Recipe Ledenivjetar
Meringue
9 egg whites
150g (5.29 ounces) sugar
Preheat your oven to 150°C (302 degrees Fahrenheit).
Whip together the egg whites and sugar until you have stiff peaks. Spread into a lined baking tray and bake for 1 hour.
Custard
9 egg yolks
4 1/2 Tablespoons sugar
3 1/2 tablespoons flour
300mL (10.14 fluid ounces) milk
125g (4.41 ounces) butter or margarine
Mix together the egg yolks, sugar and flour until well combined. Add the milk and stir again. Place over the heat and stir until it thickens then continue to stir over the heat for 2 minutes more. Remove from the heat, add in the butter, allow it to melt and mix it through. Cover in plastic wrap and leave to cool. Once cool whip with electric beaters to make it smooth and spreadable.
For Assembly
Fresh Fruit (I used 2 bananas, 100g (3.53 ounces) strawberries and 3 kiwi fruits)
500mL (16.91 fluid ounces) cream
Cut the tray of meringue into three even pieces. Slightly oiling your knife will make this easier. Place the first layer onto a platter and spread with one third of the custard. Top with sliced banana and a thin layer of whipped cream. Continue to layer with meringue, custard, strawberries, cream, meringue, custard, kiwi and top with cream. Place in the fridge for 30 minutes to and hour then you are ready to slice and serve.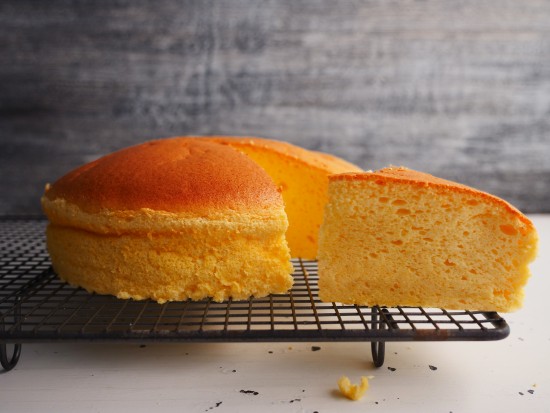 Japanese Jiggly Cheesecake Recipe
75g (2.65 ounces) sugar
6 eggs separated
60g (2.12 ounces) milk
50g (1.76 ounces) butter or margarine
160g (5.64 ounces) cream cheese
50g (1.76 ounces) flour
Place a deep tin of water in the oven at 160°C (320 degrees Fahrenheit). Make sure you os't overfill it, there needs to be room for the tin with the cheesecake.
Put the milk, butter and cream cheese into a bowl and microwave for about 60 seconds to soften. Using a whisk mix until it is smooth. Add the egg yolks and whisk on high speed for at least 3 minutes. This helps break the fat and water based liquids into tiny droplets, the egg yolks act as an emulsifier to keep them from separating. Sift in the flour and mix on low speed until just combined. Using clean beaters whip the egg whites to medium peaks. Fold into the cream cheese mixture in three batches using a spatula. Pour into a lined tin and place into the water-bath in the one for 1 hour.
Once baked run a knife around the edge and tip out onto a baking rack to cool.
Lock Down Treasure Hunt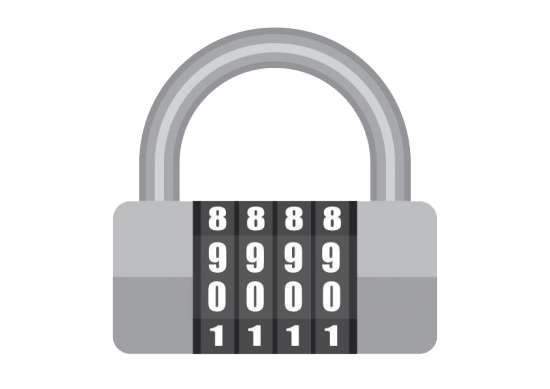 Print the pack, figure out what puzzles belong together and solve them to reveal the code. Be one of the first to type the four digit code in the form below to unlock the prizes.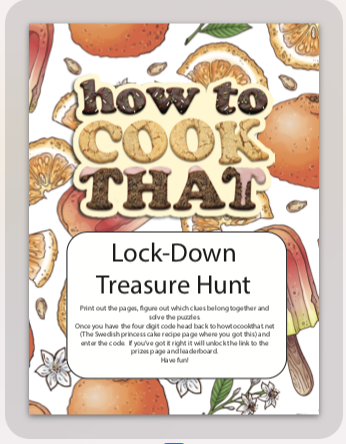 CLICK TO DOWNLOAD THE LOCKDOWN TREASURE HUNT PACK by Ann Reardon (free for everyone to play)
It's a large file so allow time for the page to open

The first ten people to find the page get prizes. Everyone else you can add you name to the leaderboard to show that you made it there too. First Prize AUD $50 amazon voucher (or other AUD $50 voucher if your country doesn't have amazon)
Second, Third, Fourth and Fifth Prize each get AUD $30 voucher for the How To Cook That Merch Store,
Sixth, seventh, eighth, ninth and tenth each get The Deep Enders by Dave Reardon ebook (ebook only available in some countries)


© All Rights Reserved Reardon Media PL 2019
My Cookbook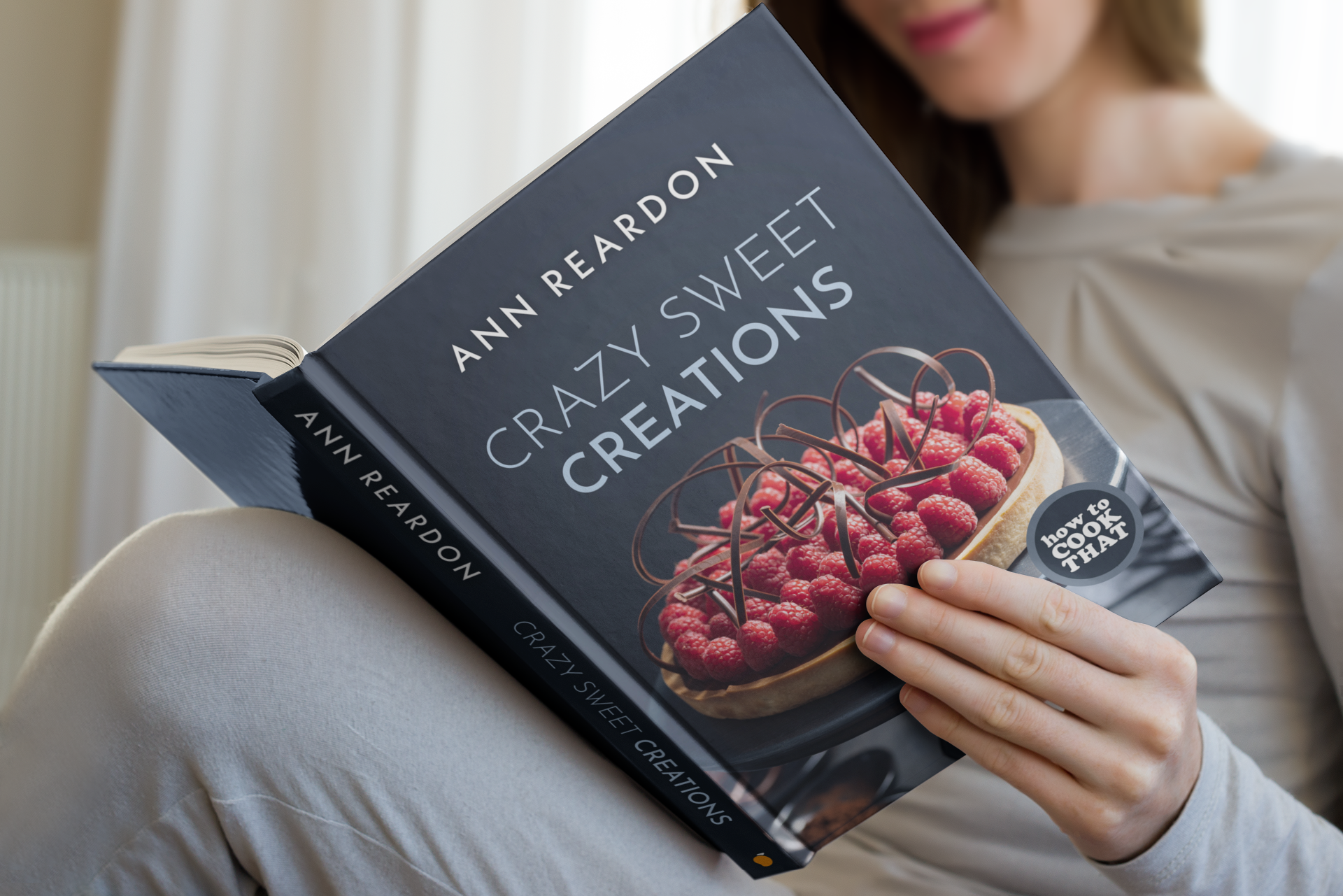 Stores that sell my book listed by country: http://bit.ly/ARcookbook All recipe quantities in the book are in grams, ounces and cups.