Strawberry Mousse Cake Recipe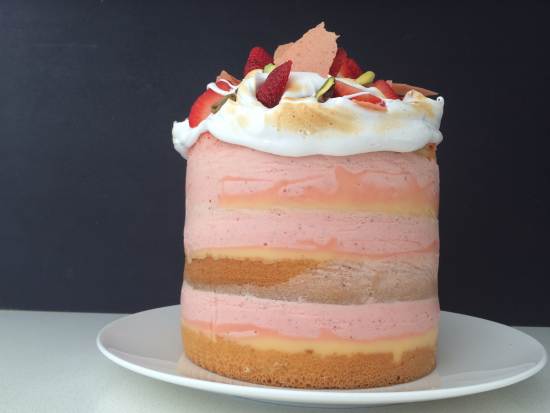 It's birthday season in our family.  If you're not after a themed cake then my favourite would have to be a layered mousse cake.  This one has strawberry mousse, lemon gel, sponge cake topped with italian meringue and fresh strawberries.  It is oh so yum!  You can't put fondant over a mousse cake directly as the moisture in the mousse would cause the fondant to dissolve on the inside leaving a gooey layer of sticky liquid in a pool around the cake and potentially causing the fondant to sag.

Watch strawburry17 make the mini cake
Strawberry mousse cake recipe
1 x sponge cake recipe baked in two 8″ round cake tins. Cool and level then cut each sponge cake into two layers.
For the topping – one quantitiy of italian meringue
Lemon Curd & Strawberry Mousse
200g (7.05 ounces) or 3/4 cup plus 3 Tbsp unsalted butter
250g (8.82 ounces) or 2 cups icing (powdered) sugar
1 cup or 250millilitres (8.45 fluid ounces) lemon juice
6 whole eggs
2 tsp cornflour
1½ Tbsp gelatin powder
2 punnets or 500g (17.64 ounces) or approx 3 1/3 cups of strawberries washed and hulled
300mL (10.14 fluid ounces) or 1 1/4 cups cream, whipped
Place one tablespoon of the gelatin into a bowl and mix with 2 tablespoons of the lemon juice. In another bowl mix the
remaining gelatin with 1 tablespoon of lemon juice. Set aside.
Place the rest of the juice, into a saucepan, then add the butter, powdered sugar, eggs and cornflour. Whisk it all together and then continue to whisk over the heat until it is thickened. Keep stirring over the heat for 30 seconds more.
Remove from the heat and split evenly between two bowls.
Add the smaller lump of gelatin to the first bowl and stir until all the gelatin is melted. Then set that to one side at room temperature.
Add the larger lump of gelatin to the second bowl of lemon curd and stir it through until it melts. Pour into a blender and add the strawberries. Blend until smooth. Leave at room temperature to cool.
In a seperate bowl, whip the cream. Fold in the cooled strawberry mixture.
Line an 8″ round container with non-stick baking paper or acetate. Layer the sponge followed by 1/2 cup of the lemon curd gel the 2 cups of strawberry mousse. Repeat finishing with a thin layer of mousse. Refrigerate for at least 3 hours.
Scrape the last bit of strawberry mousse onto a silpat and spread it super thin like paper. Place it in a slow oven for 40 minutes to dehydrate. Place in a sealed container.
Decorate as shown in the video. Slice generous portions and enjoy the moist fresh strawberry and lemon flavours.
Happy Birthday to my wonderful son, I love you so much!!
He requested a caramel version of this cake.  I know you'll want the recipe for that too but I'll have to leave that for another video.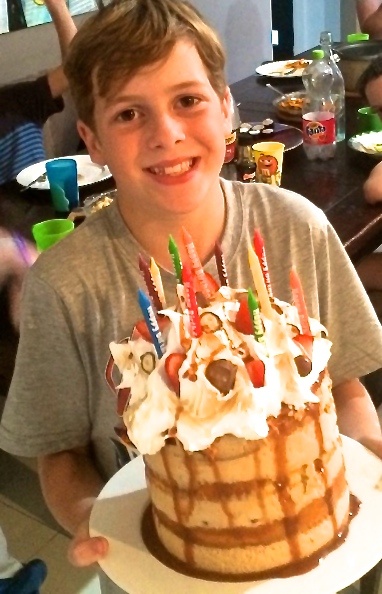 by Ann Reardon How To Cook That
2015
My Cookbook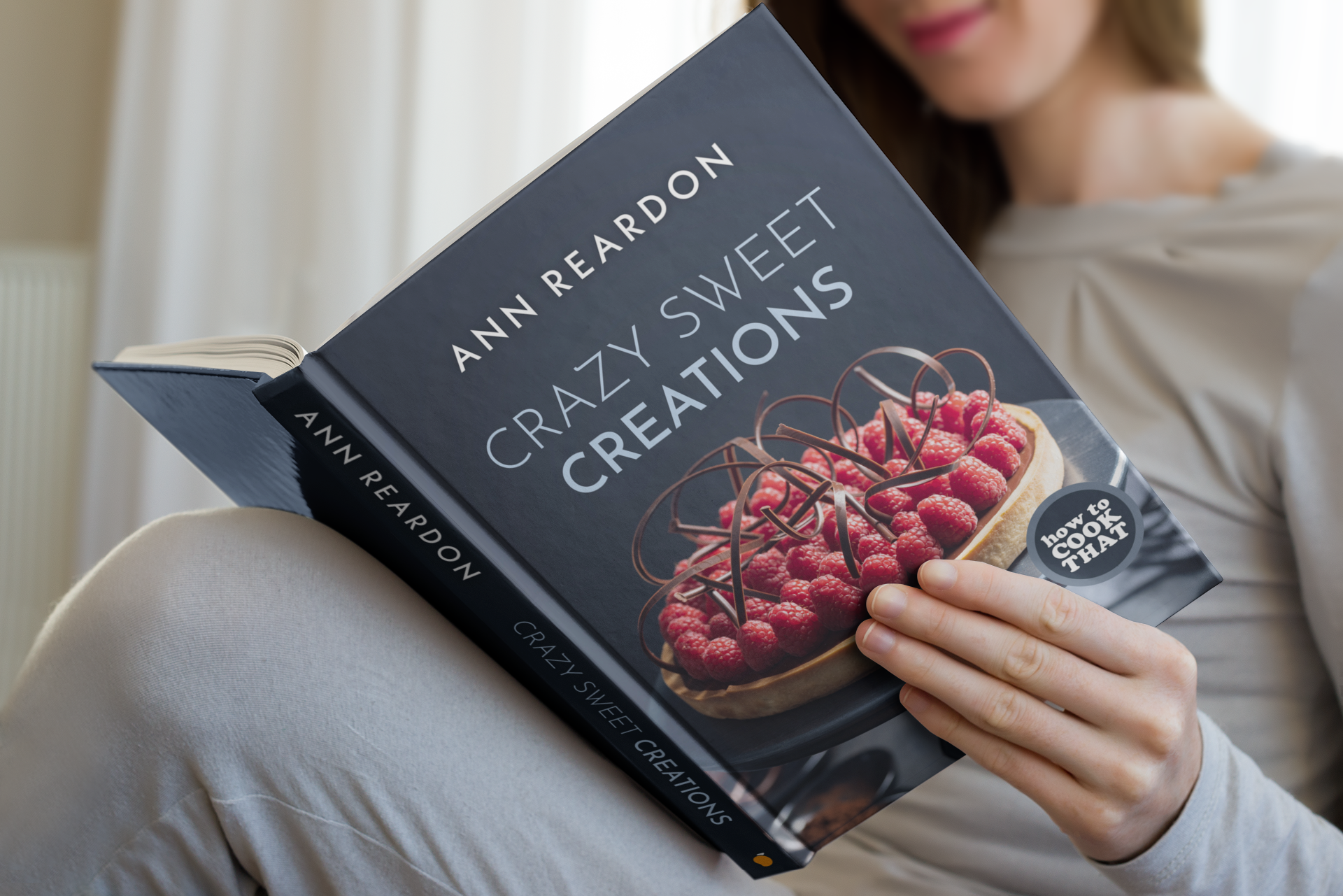 Stores that sell my book listed by country: http://bit.ly/ARcookbook All recipe quantities in the book are in grams, ounces and cups.