Thermomix TM6 v TOKIT omni cook
This video goes over each machine in detail, it shows the functions available and tests them against each other for the main functions. below is a brief summary.
Recipes used for testing are included below.
Cost
The tokit ($1320 AUD) is substantially cheaper than the thermomix ($2359 AUD), but can it do the same job?
Bench Space
Both take up a similar surface area however the tokit is wider and the thermomix is deeper. See the video for an overlay comparison.
Noise and Wobble
Both machines are more noisy that I was expecting. This is especially so in kneading mode and when on full speed grinding. The noise level from each was similar for each function.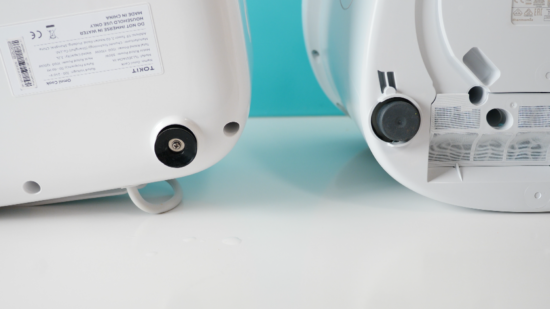 The most wobble was seen in kneading mode. The Tokit stayed put and the Thermomix moved about 2cm (0.79 inches) sideways.
Guided Recipes
Wifi is required to use guided recipes on both machines. They can be used in manual mode without wifi.
Tokit has thousands of guided recipes, you can access them for free online and on the machine itself. Most have photos or videos for each step along with the written instructions.
Thermomix has a paid yearly Cookidoo membership that gives you access to 70,000 recipes online or on the machine and you can enter your own recipes into Cookidoo. Most recipes have written instructions without photos for steps. Cookidoo also allows you to make collections of recipes and add the ingredients to a shopping list. Shopping lists can then be imported into online shopping apps if you have one available. I found that this added around 60% of items to my cart and 40% were 'out of stock' so I had to manually find substitutes. Some of the items added to the cart were the most expensive choice so I also changed those. Otherwise this was a useful feature.
Maximum Temperature
In manual mode Thermomix can only go to 120oC. It can go higher in some guided recipes (pecan brittle) but you can not write your own recipes to do so.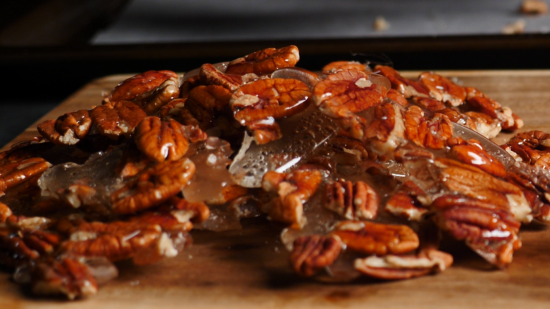 In manual mode the maximum temperature on the tokit is 180oC which allows you to make recipes like caramel and hard candies.
Pecan Brittle Recipe (thermomix could not do this recipe)
250g (8.82 ounces) pecans or other nuts
200g (7.05 ounces) sugar
1 tablespoon glucose syrup
150mL (5.07 fluid ounces) water
Place the pecans on a lined baking tray in the oven at 100C (212 degrees Fahrenheit).
Set to 155C (311 degrees Fahrenheit) for 1 minutes at speed 2. Stop and wash down the sides of the jug and the blades with a wet pastry brush to ensure that there are no sugar crystals left.
Set to 155C (311 degrees Fahrenheit), speed 0.5 for 10 minutes.
Pour onto over the warm pecans and leave to cool completely.
Precise Temperature Control
Both machines allow you to select the temperature to cook at. While this means the machine will not go above this temperature the tokit does not tell you what the current temperature is – so if you need to get there recipe over a certain temperature you will need to use a thermometer to check.
The Thermomix has a smaller number shown above the set heat to tell you the current temperature. Multiple tests showed this to be inaccurate when tested with liquids that contained egg yolks, cream and sugar. The reading said it had reached the set temperature when it was still 20oC below that temperature. UPDATE: I notified thermomix of this problem and they asked for the machine to be sent back for testing. So I boxed up the brand new machine and took it to the post office, I will update this post when I hear back from them.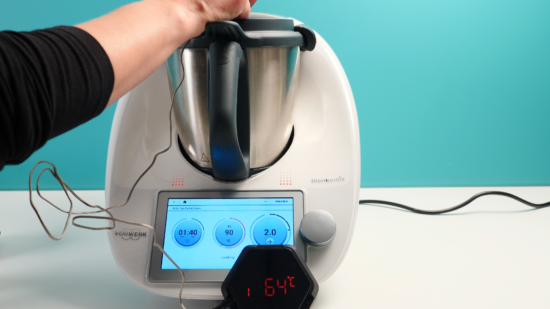 Cremeux Recipe (a single quantity of this recipe was used in each machine)
550g (19.4 ounces) or 2 1/4 cups cream 35% fat
120g (4.23 ounces) egg yolks (approx 5-8 yolks)
60g (2.12 ounces) or 1/4 cup sugar
200g (7.05 ounces) Milk Chocolate
270g (9.52 ounces) Dark Chocolate
Place the cream, egg yolks and sugar into he machine. Set to 85C (185 degrees Fahrenheit), speed 2, 12 minutes (please use a digital thermometer to check it goes above 75 degrees so that the eggs are safe to consume).
Add chocolates, temp 0, time 20 seconds, speed 10. Scrape down sides of the bowl using a spatula and turn on heat 0, speed 4 for 60 seconds.
Pour into glasses and set in the fridge.
If you do not have a thermomix or tokit follow instructions here for making cremeux on the stovetop.
Dough Function
The dough setting was used for 7 minutes to knead the bread mixture. Both machines did a great job of kneading this quantity of dough.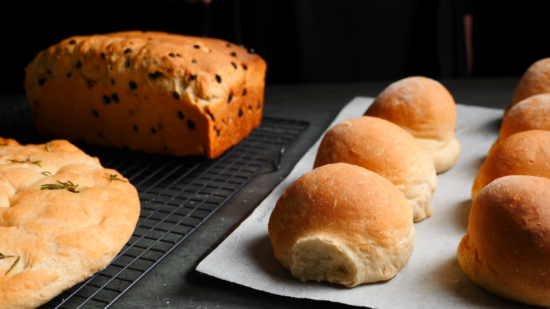 Bread Recipe (a single quantity of this recipe was used in each machine)
750g (26.46 ounces) Flour
60mL (2.03 fluid ounces) Oil
450mL (15.22 fluid ounces) Water
2 Tablespoons Sugar
1 teaspoon Bread Improver
2 Tablespoons Milk Powder
2 teaspoons active dried yeast
Place everything in the jug and knead 7 minutes using kneading function.
Tip into a large bowl and cover with plastic wrap. Place in a warm place (40C (104 degrees Fahrenheit)) until it has doubled in size. Push down them from into the shape you want (eg: rolls, foccacia, loaf tin). Allow to rise at 40C (104 degrees Fahrenheit) for a further 20 minutes then bake at 180C (356 degrees Fahrenheit) until it reaches 100C (212 degrees Fahrenheit) in the centre of the bread.
Yoghurt / Fermentation Function
The automatic setting for yoghurt / fermentation was selected on each machine and they both performed equally well not his task.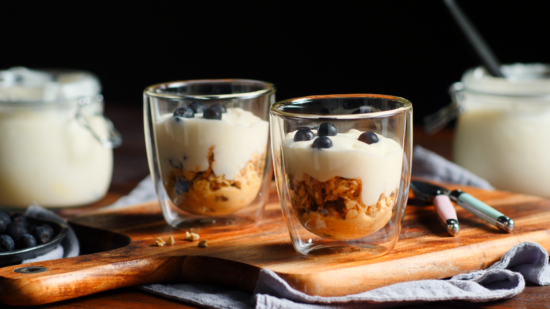 Yoghurt Recipe (a single quantity of this recipe was used in each machine)
1700mL (57.48 fluid ounces) full cream milk
100g (3.53 ounces) milk powder
50-80g (2.82 ounces) sugar
100mL (3.38 fluid ounces) cream (optional makes it a bit thicker and creamier)
100g (3.53 ounces) natural yoghurt (look for one that has live culture, I used Jalna Greek pot set yoghurt)
Place everything except the yoghurt into the jug. Heat at 20 minutes at 90C (194 degrees Fahrenheit), speed 2
Cool to 37C (98.6 degrees Fahrenheit)
Add the yoghurt and mix at speed 3 for 10 seconds.
Select the yoghurt or fermentation function for 8 hours.
Place in jars in the fridge.
Grinding
Each machine had 100g (3.53 ounces) of freekah weighed into it. It was then set to top speed for 1 minute. The result was the sifted until not more would go through the sieve. The Tokit produced slightly more flour and less coarse grain (what was left in the sieve) that the Thermomix. Similar results could be achieved by leaving the thermomix to run for a little longer.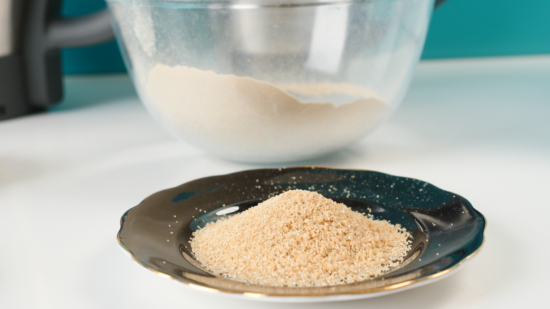 Tempering Chocolate
Both the Thermomix and Tokit do not go down to a low enough temperature to be used for tempering. They do melt chocolate nicely, but it is difficult to get the chocolate out due to the blades.
Slow Cooking
Thermomix will allow you to set times up to 8 hours in slow cooking mode. In this mode it stirs intermittently. The mode that is the most similar on the tokit is the stewing mode. However the tokit stewing mode will only let you set it for a maximum of 99 minutes. So to achieve the recipe below which required 6 hours of cooking time I had to turn it on again when the timer ran out – twice. If you purchase the tokit slow cook plug then you could do this on the sous video function, the plug would overcome the issue of it stirring constantly.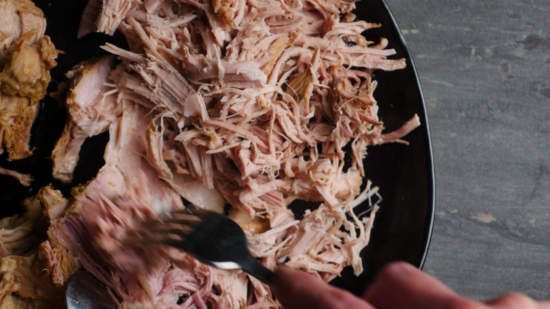 800g (28.22 ounces) pork, you'd struggle to fit more than that in
2 tablespoons oregano
120g (4.23 ounces) onion
3 red chilli
1/2 teaspoon pepper corns
20g (0.71 ounces) garlic
2 peeled oranges
1 L (0.26 gallons) of water or up to maximum fill line.
Cook 6 hours at 85C (185 degrees Fahrenheit).
Remove pork and shred using 2 forks.
Retain liquid, use some to make a space and the rest for a soup.
Boil Water
Both machines were filled to the maximum fill line of 2.2L (0.58 gallons), at 100C (212 degrees Fahrenheit), speed 1. The thermomix took 5 minutes longer to come to a boil than the tokit.
Rice Cooker
PLace 250g (8.82 ounces) of rice in the simmer basket and rinse it under the tap until it is wet and the water runs clear. Add 1L (0.26 gallons) of water into the jug then put the simmer basket in place. Cook at 100C (212 degrees Fahrenheit), speed 4, 29 minutes.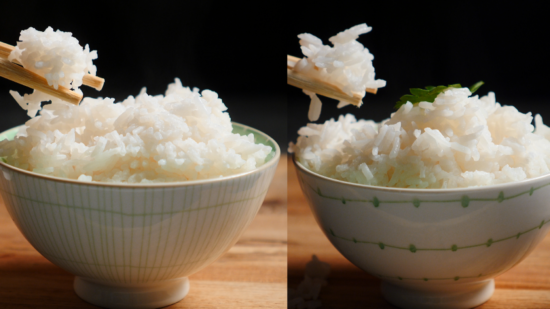 Both machines made lovely steamed rice.
Sous Vide
When using sous video function please so use a vacuum sealed bag. It is important that as much oxygen is eliminated as possible so that growth of bacteria that requires oxygen to grow is stunted.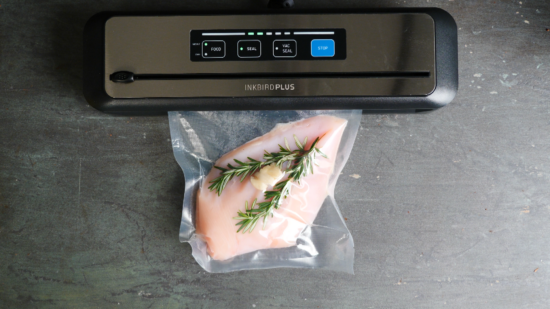 For this test one chicken breast was place in a vacuum sealed bag with rosemary, garlic, grated rock salt and a little olive oil. The blade cover was put in place and the jug filled with water. Then bag was added and pushed below water level. Machines were set to speed 1, 65C (149 degrees Fahrenheit) for 55 minutes.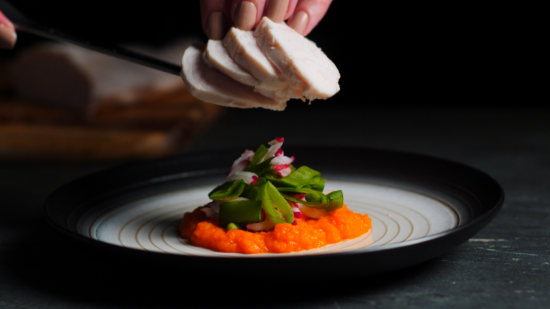 Both machines worked well on this function. The only thing to note tis the area is only small once you add in the blade cover.
Steaming
Both machines have an optional steamer that sits on top. You can fit more into the tokit one than thermomix (varoma). Apart from that they work in the same way.
Ice Cream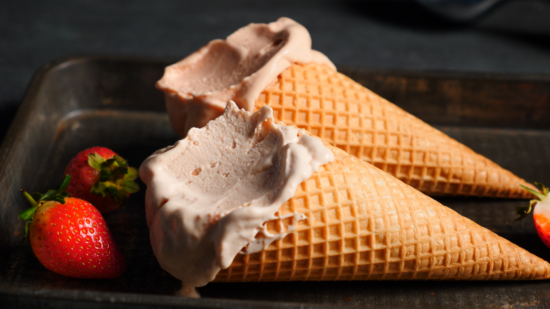 Neither machine functioned as well as an ice-cream machine in this test. Which is to be expected as their recipes do not churn as they freeze.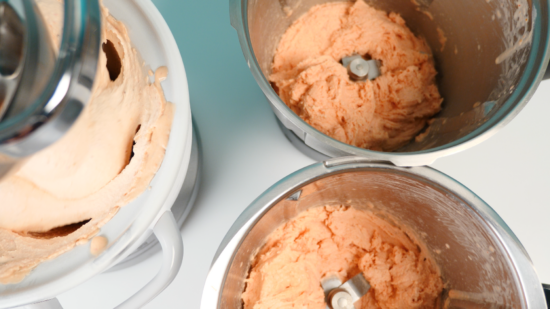 Crushed Ice
Both machines functioned in the same manner for crushing ice. Also note that, according to the instructions, if you regularly use it for this function you will need to replace the blades more often.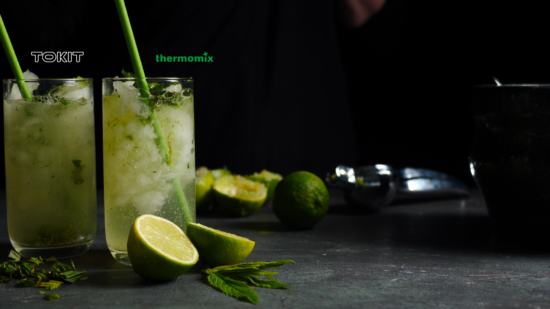 Safety
Both the thermomix will not switch on without the lid locked into place. The thermomix automatically locks into place when it is turned on, which creates a potential hazard if you catch you fingers or hair in the locking mechanism. The locking mechanism takes a a few seconds to unlock when you turn the cooking function off, which given the number of tests I was doing was a little frustrating. The thermomix will not heat if you set the speed above 6, although if your contents are already hot you can set the speed up to full speed.
The tokit will not operate without the lid locked into place. It is possible to lock the lid on at the front when it is not properly attached at the back. This is a safety concern as it will allow the contents to spill out if it is full and maximum speed is selected. If you have one of these machines please ensure you check it is locked in at the back before operating.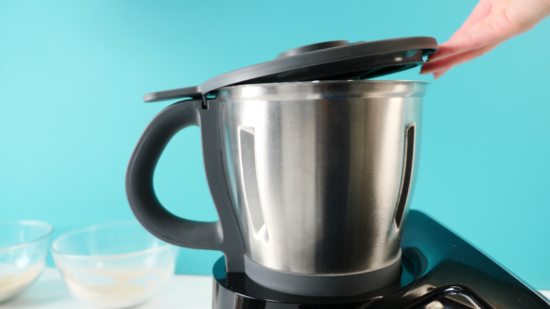 BIG ANNOUNCEMENT
I have been busy over the last year planning, writing and overseeing the photography and layout for my first ever cookbook! There are heaps of my favourite dessert recipes in there with a chapter on pastries, ice-cream, yummy cakes, artistic desserts and of course chocolate desserts. Each chapter has its own intro explaining the food science that you'll need to know for success every time. Booksellers where you can purchase your very own copy: http://bit.ly/ARcookbook
All recipe quantities in the book are in grams, ounces and cups.