10 Best Watermelon Recipes
A slice of cold watermelon on a hot day is hard to beat. But if you love watermelon as much as I do you might be curious as to what other desserts your an make. There are a great many recipes out there the look like watermelon but don't have any watermelon in them. Apart from one on this list they are all recipes that actually have watermelon as a main ingredient.
Watermelon Popsicles Recipe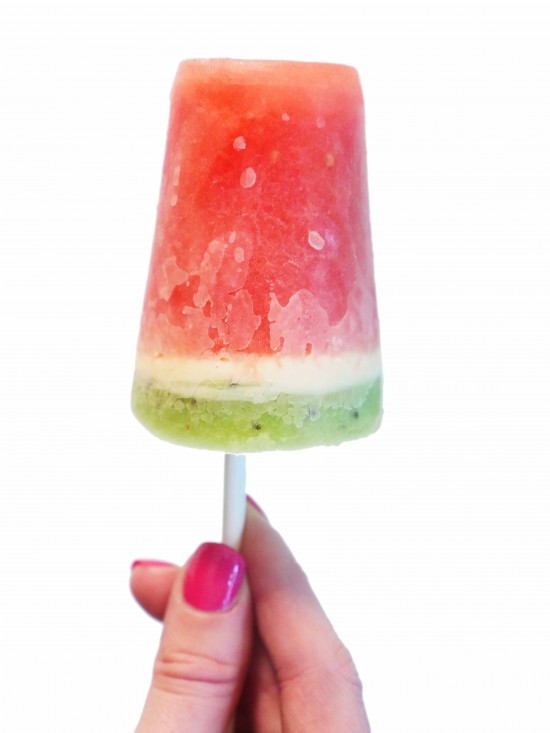 1/4 watermelon cut into chunks, no skin
100g (3.53 ounces) cream cheese
20g (0.71 ounces) Sugar
3 ripe sweet Kiwi Fruit
Processor and puree it until it is smooth. Pour the puree into cups to about 2/3 full. Using a piece of card push a stick through the centre and rest that over the top of each cup to hold the handle in place. Freeze.
In a bowl mix together the cream cheese, vanilla paste and sugar. Spread spoonfuls around the top of the frozen watermelon.
Peel and chop the kiwi fruit and puree or mash it and pour over the cream cheese. Freeze.
Run the cups under hot water to loosen the popsicles and save frozen.
Ombre Watermelon Dessert Recipe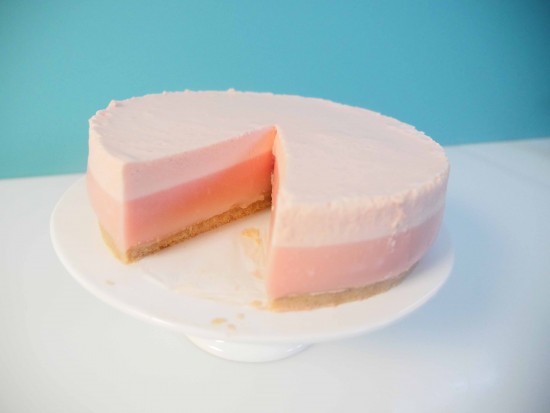 180g (6.35 ounces) biscuits/cookies
75g (2.65 ounces) butter
2 Tblspn gelatin
1 cup cream
1200mL (40.58 fluid ounces) watermelon juice, strained
1 Tblspn lime juice
2 egg whites
1 cup sugar
Crush the biscuits in a food processor or you can put them in a bag and bash them with a rolling pin. Mix in the melted butter. Tip into the base of a lined loose based tin and press the crumbs down tightly using the back of a spoon.
Pour some of the watermelon juice into the gelatin, stir and then leave the gelatin to absorb the water.
Place the egg whites in a bowl over a pan of simmering water, add about 1/2 of the sugar and whisk together over the heat until stiff peaks form then leave that to cool.
Tip the gelatin mixture into a large bowl and microwave it until it is liquid. Add in the rest of the juice and stir well together.
Put the cream and the rest of the sugar into a bowl and whisk until you get firm peaks.
Add about 1/3 of the cream to the juice and mix it in throughly. Add about a cup of this mixture into the whites. Fold together the watermelon juice, the whites and the rest of the cream. Pour into you tin and place it in the fridge to set overnight. While it is setting it separates out into the top moussey layer and the ombre jelly underneath.
Cut slices and serve cold.
Watermelon Fruit Leather Recipe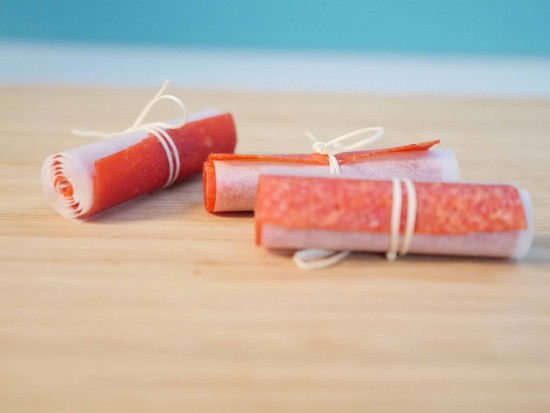 Makes 3 rollups in the size shown on the video
1/2 a watermelon
2 tablespoons of sugar if desired
Puree some watermelon in a food processor and strain through a sieve. Reserve the juice for another recipe and use the pulp for this one.
Place the pulp in a nut milk bag and hang over a bowl for 30 minutes so the water can strain out.
Preheat the oven to 120C (248 degrees Fahrenheit).
Spread the remaining pulp onto a silpat on a baking tray for form a square. Do not make this too thin it needs to be around 1.5mm thick.
Bake it in the oven for 2 hours, until it dries out.
Once cooled, use a pizza cutter to cut strips and roll it up with some non-stick baking paper.
Watermelon Sorbet Recipe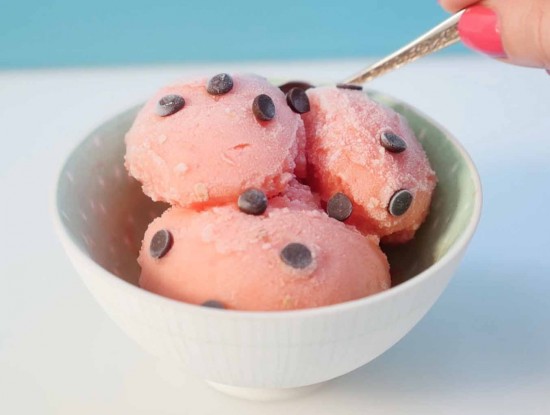 1/4 watermelon
(optional also freeze some banana or lime juice to add into your sorbet)
Cut up your watermelon into small pieces and put them on a lined tray and freeze.
Place the frozen pieces into a food processor and process until you get a fine sorbet. Serve scoops into small bowls and sprinkle with choc chips for the seeds if you like.
Watermelon Cookie Recipe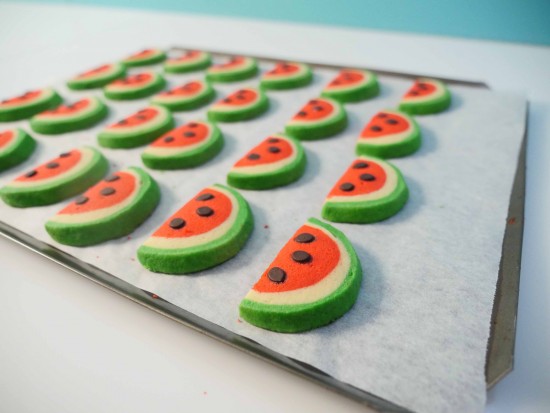 Makes 2 full trays of cute cookies
340g (11.99 ounces) butter
310g (10.93 ounces) icing sugar
2 tsp vanilla
pinch salt
6 egg yolks
600g (21.16 ounces) flour
20g (0.71 ounces) cornflour
green and red gel food colouring
Preheat the oven to 180C (356 degrees Fahrenheit)
Add the sugar to the butter, and mix until it is light and fluffy. Add in the egg yolks and vanilla and stir again. Then finally add in the flours and mix until they are just combined.
Split the mixture into three bowls. Leave one plain and colour the others green and red.
Take the red mixture and make a long snake. Wrap it tightly in plastic wrap and freeze.
Roll out the plain mixture between two sheets of plastic wrap to make a long rectangle. Remove the top plastic and place the frozen red in the centre. Wrap the plain mixture around the red and freeze again.
Roll out the green. Remove the plastic wrap from the top and add the roll from the freezer into the middle and wrap it around. Freeze again for about 30 minutes.
Slice the roll to get little watermelons you can leave them whole or cut them in half. Add some mini choc chips to each slice for the seeds.
Bake them for 15 minutes then leave to cool.
Watermelon Cake Recipe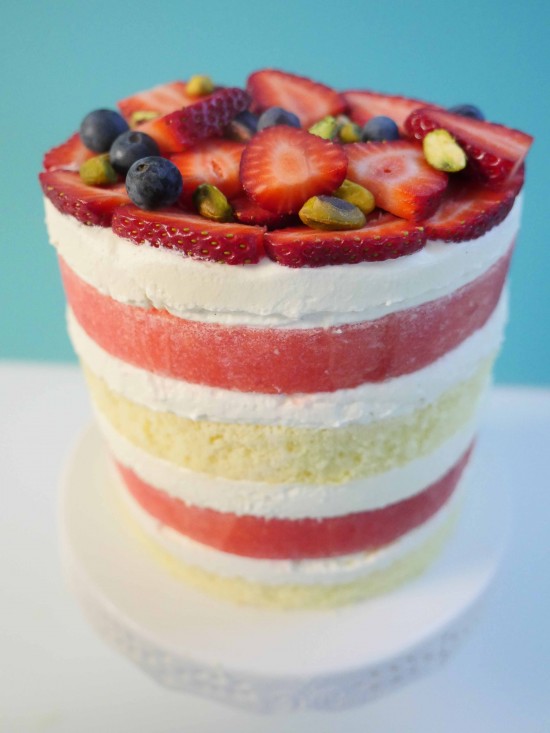 1 whole watermelon
1 sponge cake
600ml cream
100g (3.53 ounces) strawberries
100g (3.53 ounces) blueberries
50g (1.76 ounces) pistachios
Cut the rind off the watermelon. Then cut round slices of watermelon trying to make them as even as you can. Use a cake ring to cut a circle from each piece.
Cut layers of sponge cake and cut to the same circle shape.
Whip the cream and vanilla until you get stiff peaks.
Place the first layer of cake onto your stand or plate and add a ring of acetate around it and tape into place. Pipe a layer of cream then add a disc of watermelon on top.
Sprinkle on some almond meal this helps absorb any excess moisture sitting on top of the watermelon and pipe another layer of cream. Add in your next layer of cake pushing it down and continue to stack up the layers in this way finishing with cream.
Decorate with berries and pistachios.
Peel off the acetate just prior to serving.
Watermelon and yoghurt ice cream recipe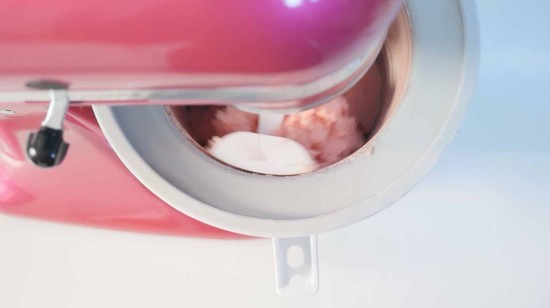 2 cups cold watermelon puree
1 cups vanilla yoghurt (for a creamier dessert increase to 2 cups yoghurt)
Churn in an ice-cream machine until firm and serve. This is such a refreshing dessert.
Watermelon pizza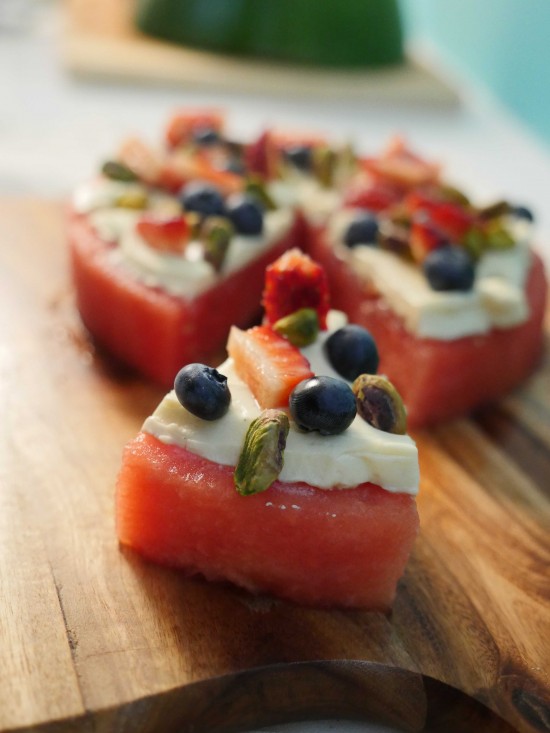 A whole watermelon, or half cut sideways so that you can get a round slice.
125g (4.41 ounces) cream cheese
1 tablespoon icing sugar
1 teaspoon vanilla
100g (3.53 ounces) blue berries
20g (0.71 ounces) pistachios
100g (3.53 ounces) chopped strawberries
Cut a round slice of watermelon either leave the rind on or cut a circle using a cake ring.
In a bowl mix together the cream cheese, icing sugar and vanilla. Spread that mixture in the centre of the watermelon. Sprinkle on blue berries, pistachios and chopped strawberries. Cut into pizza shaped slices and serve immediately. Or store in the fridge for several hours.
More watermelon recipes:
Watermelon carving
Watermelon cheesecake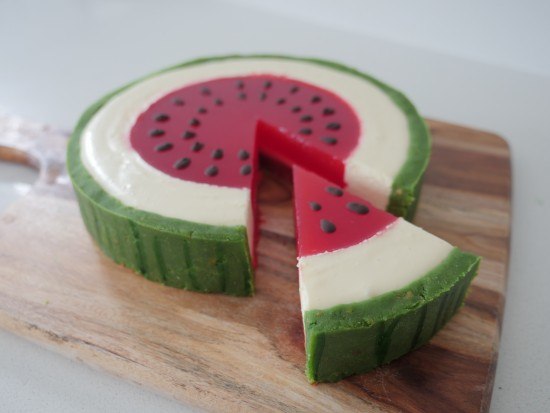 Fruit slushie drinks
Copyright © 2017 Reardon Media Pty Ltd. All rights reserved. How To Cook That

My Cookbook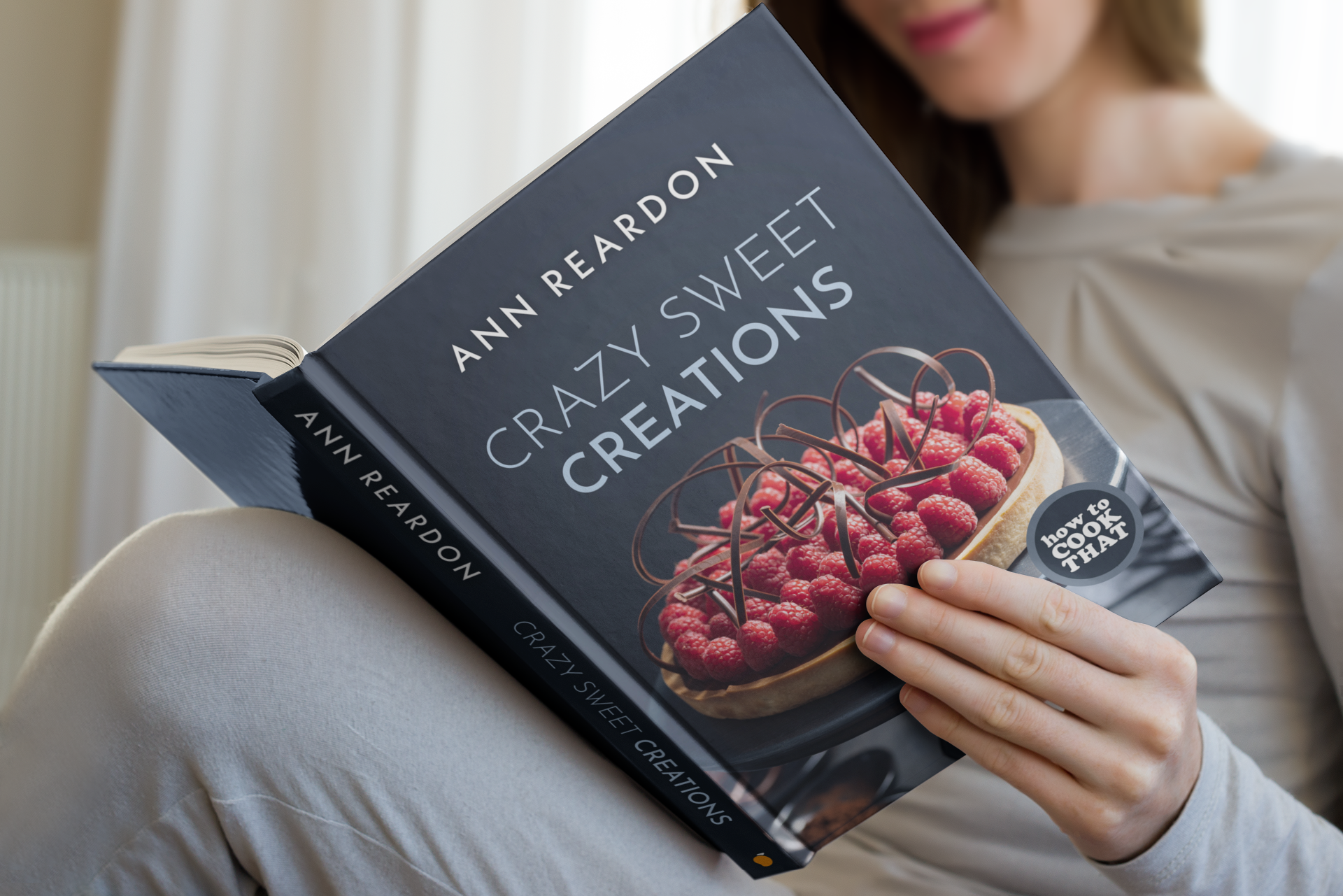 Stores that sell my book listed by country: http://bit.ly/ARcookbook All recipe quantities in the book are in grams, ounces and cups.