Angelina's Mont Blanc Dessert Recipe Paris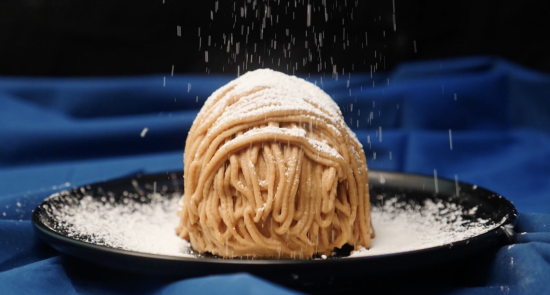 The origins of this dessert have been hotly debated for some time. Was it the chef at Angelina restaurant in Paris or an Italian chef 300 years earlier? Either way, you can make it for yourself and enjoy the chestnut cream, meringue and soft cake.
To make Angelina's Mont Blanc you will need:
Meringue Recipe:
3 egg whites
1/4 teaspoon cream of tartar or tartaric acid
175g white sugar
Preheat the oven to 130C.
Put the egg whites, sugar and a pinch of cream of tartar into a bowl and whip on high speed until it is thick.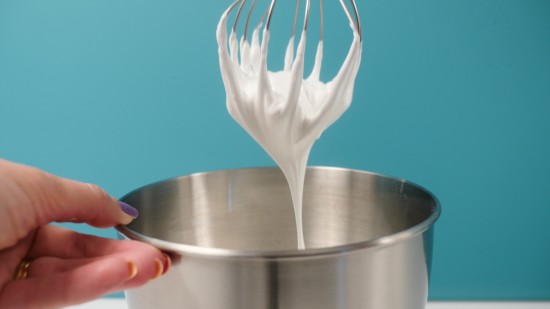 Pipe domes of meringue onto baking paper and using a wet finger push down the spiky top on each one.
Bake for 50 to 60 minutes. Once they are done, leave them in the oven but turn it off so they can cool down slowly.
Orange syrup recipe:
grated rind of 1 orange
80mL freshly squeezed orange juice (approx the juice of 1 medium orange)
70g sugar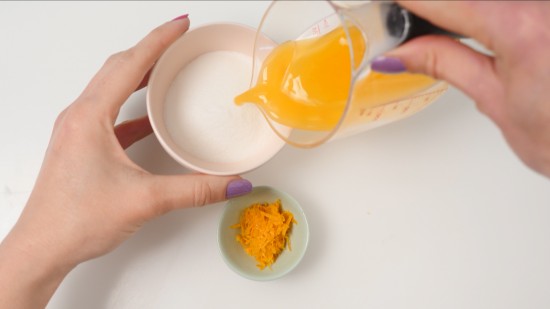 Combine all the ingredients and microwave until the sugar is melted. Set aside to cool.
Cake Recipe:
3 eggs
1/2 cup sugar
120g flour
1 tsp baking powder
5 tablespoons or 90g butter
zest or an orange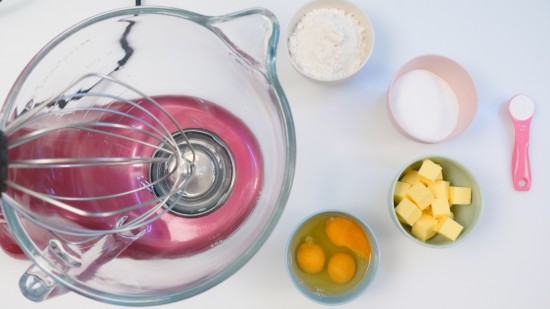 Preheat the oven to 180C.
Place the eggs and the sugar into the bowl of an electric mixer and beat them on high speed until they are pale and fluffy.
Sieve the flour and baking powder onto the mixture, pour int he melted butter and fold it altogether.
Pour it into a small brownie tin and bake until it is golden.
Chestnut Cream Recipe that I used:
425g chestnut puree
1/2 cup cream
1/2 cup sugar
1 yolk
2 Tablespoons Rum
90g butter, melted
Put the sugar, egg yolk and half the cream into a bowl and mix to make a paste.
Put the rest of the cream into a pan and wait until it just comes to the boil.
Pour it into the yolk mixture and whisk it together. Then pour it back into pan and heat until it slightly thickens.
Cool to room temperature. Add the rum, butter and chestnut puree and whip until smooth. Don't over whip or the mixture will split. (if that happens you can rescue it by heating slightly stirring well and leaving to cool again).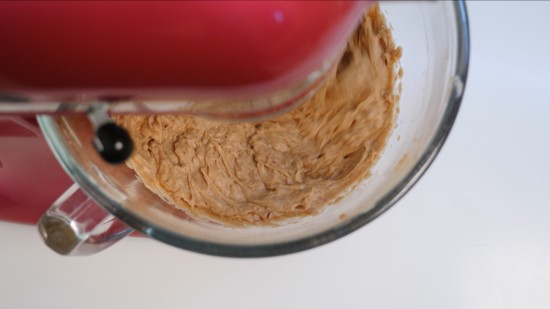 Put it through a sieve to get rid of any little bits that would get stuck in the piping tip, cover it in plastic wrap and put it in the fridge to chill.
OR Thicker chestnut cream (optional):
425g tin chestnut puree unsweetened
35g sugar,
1 tsp vanilla essence
Mix all ingredients together well.
This makes for a more cloying thick topping you can use this or the lighter one above, whichever you prefer.
Assembly
400mL additional cream, whipped
Cut circles of cake in the same size as your meringues. Add two teaspoons of orange syrup on top of each cake.
Add a dollop of cream followed by a meringue.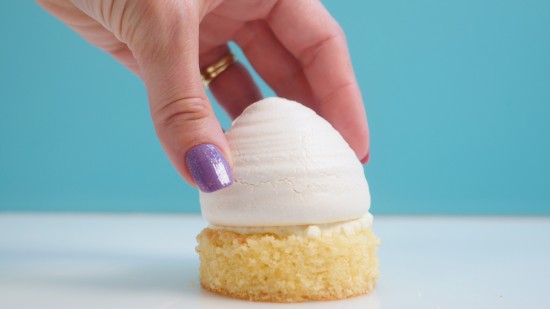 Cover the whole thing in a thin layer of whipped cream. Then spread some of the chestnut cream around the base.
Pipe the chestnut topping over the dessert, heated the base then transfer to a plate (see video for demonstration of how to pipe two ways).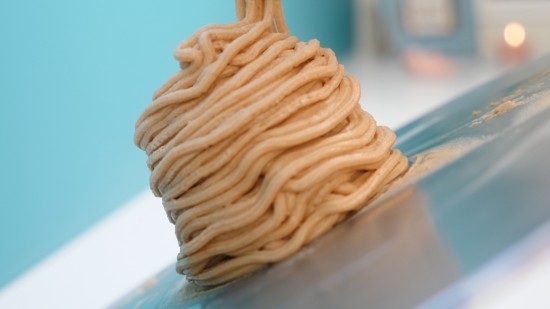 And sprinkle it with icing sugar so that it looks like a snowy Mont Blanc.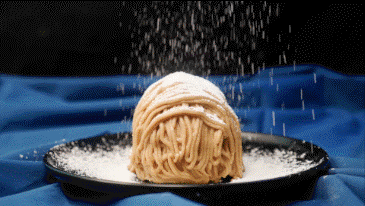 My Cookbook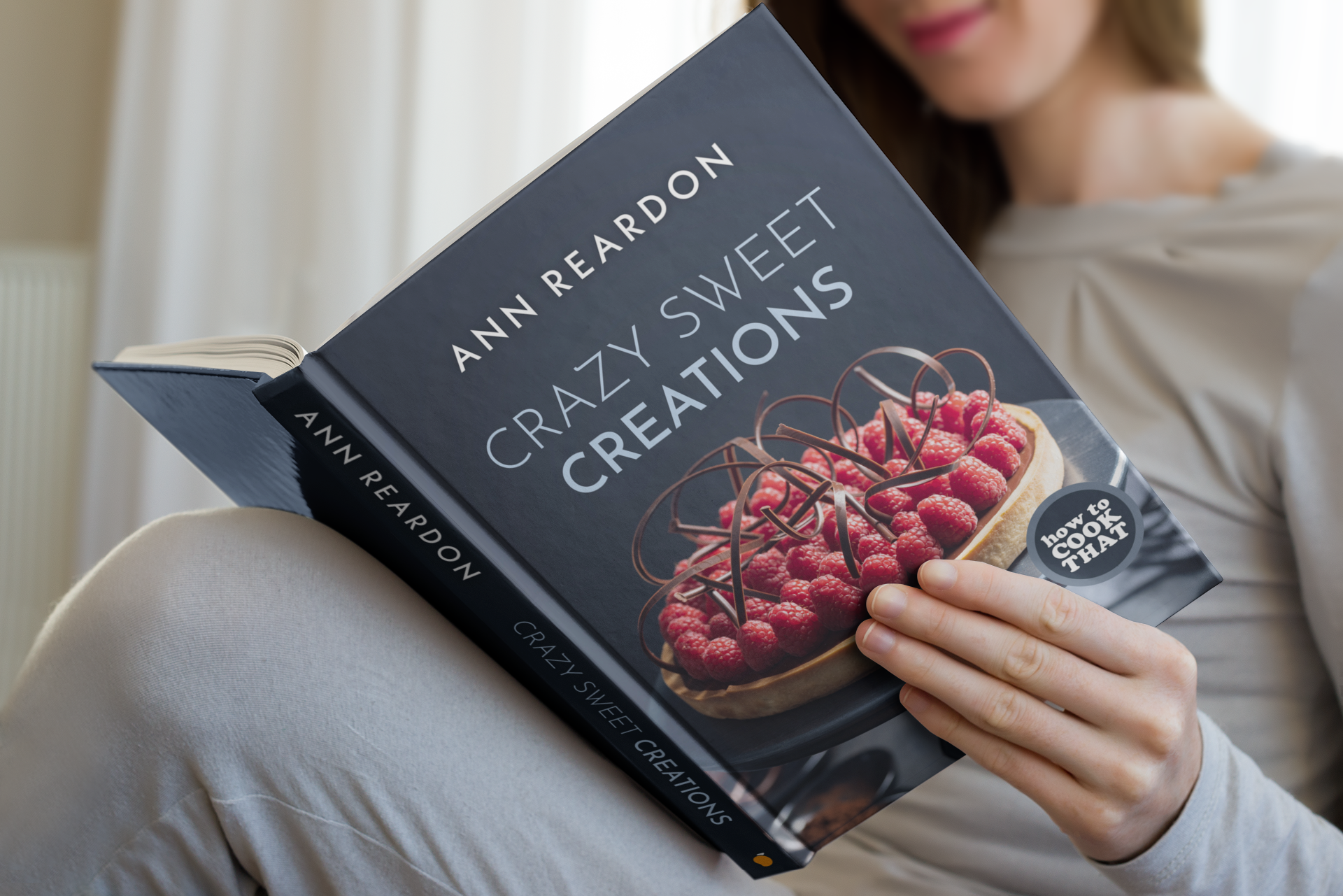 Stores that sell my book listed by country: http://bit.ly/ARcookbook All recipe quantities in the book are in grams, ounces and cups.