Billionaires Soft Serve Ice Cream Recipe
Is this soft serve worth £99? Does it really take four hours to make one? The Billionaires Soft Serve, sold at Selfridges in London has a price tag that is surely set to attract news stories from journalists getting a freebie rather than customers. But if you don't want to part-take without parting with your cash, you'd best get baking.
I've made the worlds most expensive ice cream sundae before and that came with a gold spoon and crystal goblet that you get to keep. There are no such trinkets or keepsakes with this sundae so it needs to pack a punch on the flavour. I'll get my boys to rate it for you at the end of the episode.
Dark Chocolate Sorbet
(makes 20 balls)
555mL (18.77 fluid ounces) water
200g (7.05 ounces) sugar
75g (2.65 ounces) cocoa powder
Heat all the ingredients ain a pan, stirring until combined and the sugar is dissolved. Refrigerate until chilled. Churn in an ice-cream machine then freeze. Use a melon baller to make balls of sorbet and store in the freezer.
Mango Passionfruit and Ginger Sorbet and Sauce in the pipettes
(makes enough for 15 balls)
2cm (0.79 inches) chunk of ginger finely grated
170g (6 ounces) tin of passionfruit
425g (14.99 ounces) tin of mango in syrup
Pour the passionfruit into a pan, add the ginger and bring to a boil. Switch off the heat and leave for the ginger flavour to infuse. strain through a fine sieve the remove the seeds and ginger. Put the passionfruit ginger sauce into a blender with the tin of mango. Blend until smooth. Refrigerate for several hours or place in a bag flat in the freezer to cool quickly (see video). Set aside a small amount to go into the pipettes and churn the rest in an ice-cream machine to make sorbet. Use a melon baller to make balls of sorbet and store in the freezer.
Macarons
220g (7.76 ounces) icing sugar
120g (4.23 ounces) almond meal
4 egg whites
80g (2.82 ounces) caster sugar
red oil based food colouring
Follow the directions for making macarons on this earlier post. Macaron trouble-shooting can be found here.
Salted Caramel
(use to fill white chocolate truffle shells and in the ice-cream)
1 1/2 cups sugar
1/4 cup water
1 cup glucose syrup
1 cup cream
1/2 c milk
salt to taste
Put the sugar, water and glucose syrup into a pan. Stir over high heat until the sugar is dissolved. Wash down the sides of the pan using a wet pastry brush. Boil unstirred until it starts to go golden (watch carefully as it can quickly go from golden to burnt). Add the cream and milk and stir until it reaches 107C (224.6 degrees Fahrenheit) on a candy thermometer. Pour into a heat proof bowl and add salt. Leave to cool.
Salted Caramel Gelato
4 egg yolks
1/2 cup salted caramel
500mL (16.91 fluid ounces) milk
200mL (6.76 fluid ounces) cream
Whisk together the egg yolks and salted caramel. Heat the milk in a pan and whisk in the egg yolk mixture. Heat to 75C (167 degrees Fahrenheit). Remove from the heat. Chill then churn in an ice-cream machine. Place into piping bag and pipe into cones.
Caramelised Pecans
150g (5.29 ounces) pecans
1 cup sugar
1/4 cup water
Preheat the oven to 120C (248 degrees Fahrenheit).
Put the sugar and water into a pan. Stir over high heat until the sugar is dissolved. Wash down the sides of the pan using a wet pastry brush. Boil unstirred.
While it is boiling place the pecans in the oven on a tray lined with non-stick baking paper.
Once the sugar is just starting to turn golden turn off the heat. Take the pecans out of the oven. Pour the hot sugar syrup over the pecans and stir slightly to make sure they are all covered. Leave to cool. Chop and store in an airtight container. If left exposed to the air it will go sticky.
Golden flake
1 flake per ice-cream
1 sheet of 100% food grade gold leaf
Use a little caramel to make the gold leaf stick to the flake. Wrap the flake and stick into the top of the ice-cream.
Chocolate Dipped Cones
240g (8.47 ounces) dark chocolate
5 Waffle Cones
Gold or silver edible pearls or cachous
Tweezers
Dip the top edge of the cones into the chocolate. Add a gold pearl into each square of the waffle cone that is chocolate coated. This is easiest if you hold the cone horizontally and drop them on.
Chocolate Spoons
chocolate spoon sold
chocolate transfer sheet
tempered dark chocolate – the exact amount will depend on the size of your mold. To give you an estimate 240g (8.47 ounces) of chocolate was enough to dip 5 cones and make 6 spoons.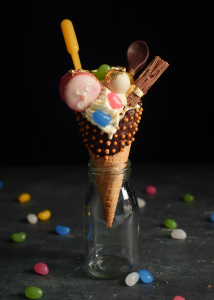 © All Rights Reserved Reardon Media PL 2020

BIG ANNOUNCEMENT
I have been busy over the last year planning, writing and overseeing the photography and layout for my first ever cookbook! There are heaps of my favourite dessert recipes in there with a chapter on pastries, ice-cream, yummy cakes, artistic desserts and of course chocolate desserts. Each chapter has its own intro explaining the food science that you'll need to know for success every time. Booksellers where you can purchase your very own copy: http://bit.ly/ARcookbook
All recipe quantities in the book are in grams, ounces and cups.