Black Forrest Cake Recipe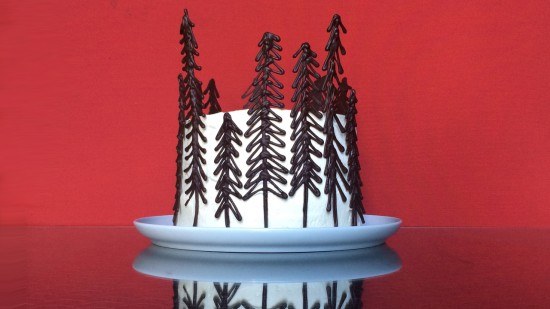 The advent calendar going up kicks off the official countdown to Christmas in our home. It's a lovely hand-made calendar, stuffed with lollies and nativity figurines in the pockets, providing a great source of post-dinner joy for the kids. With each passing day it grows lighter as the little wooden stable nearby fills up with characters (all standing by for the arrival of baby Jesus) and my 4-year-old knows that Christmas is one step closer! December is such a busy time of year for everybody. We've just flown in to Melbourne today, all ready for a meet-and-greet at Myer department store in the city tomorrow where (spoiler alert) they will be unveiling a GIANT replica of one of my gingerbread houses! Amazing, how did this happen?! But the best bit of these sort of events is of course meeting and chatting with all the people. It's actually a bit surreal meeting people face-to-face who I've been talking with in the comments on YouTube and here on my website. You're all so beautiful and encouraging and I really can't say a big enough thank you for all of your support.
For the black forrest cake recipe you will need
Rich Chocolate Cake Recipe (makes 3 x 8" round)
300g (10.58 ounces) of 70% cocoa dark chocolate
475g (16.76 ounces) or 2 cups plus 2 Tbsp and 2 tsp margarine
12 eggs
3 1/4 cups plus 2 tsp or 729g (25.71 ounces) caster (super fine) sugar
300g (10.58 ounces) or 1 3/4 cups plus 2 Tbsp plain (all purpose) flour
45g (1.59 ounces) or 1/3 cup plus 2 tsp cocoa powder
2 1/4 tsp baking powder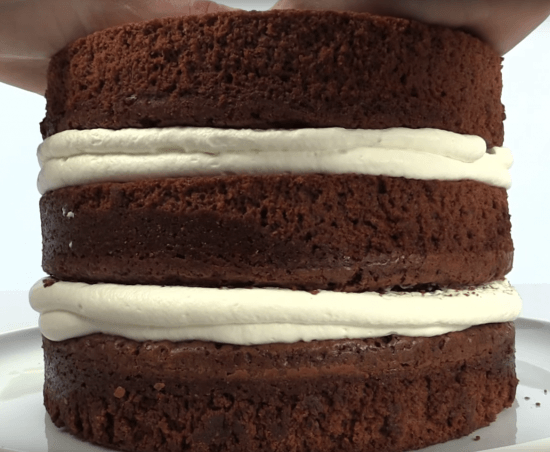 Place chocolate and margarine into a bowl.
Melt in the microwave (30seconds, stir, 30sec, stir…).
Whisk the eggs and sugar together
Combine egg and chocolate mixtures
Sift flour, cocoa powder and baking powder together and mix into cake mixture until well blended.
Pour into three 20cm (7.87 inches) round cake tins
Bake at 180C (356 degrees Fahrenheit)
If the cake is looking done on top but is not yet cooked through put an empty baking tray on the shelf above it in the oven. Insert a knife into the centre to check if it is done, if it is ready it will come out clean.
Syrup
½ cup or 125millilitres (4.23 fluid ounces) water
1/3 cup or 73g (2.57 ounces) sugar
3 Tbsp kirsch or cherry brandy (optional)
Cherry compote
1 can cherries, drain and reserve juice
2/3 cup or 167g (5.89 ounces) cherry juice from above
2 Tbsp kirsch (optional)
1 Tbsp cornstarch (cornflour)
Heat juice and cornstarch until thickens. Mix in kirsch and cherries. Cool
Chocolate tree decorations
200g (7.05 ounces) Compound dark chocolate or tempered real chocolate
Pipe trees onto non-stick baking paper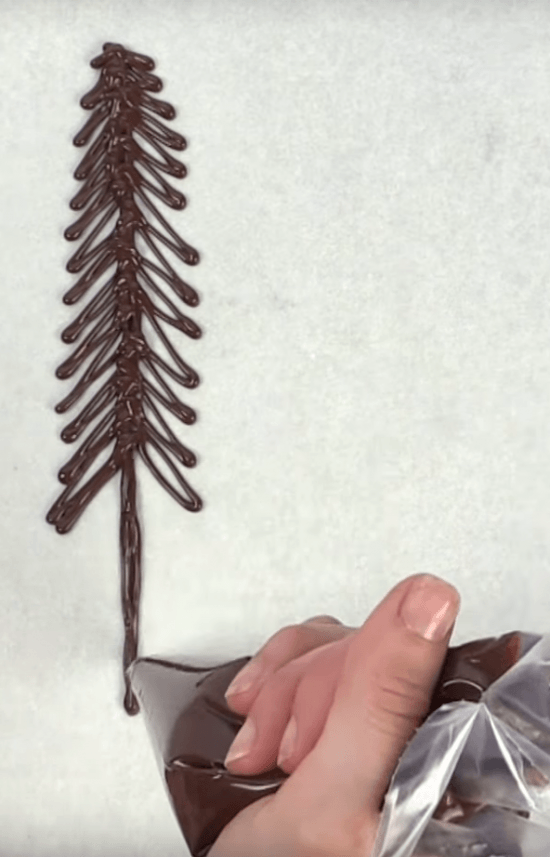 Cream
600millilitres (20.29 fluid ounces) cream
2 Tbsp (powdered) icing sugar
1 tsp vanilla essence
Whip cream with vanilla and a little icing sugar
Assemble cake using directions in the video.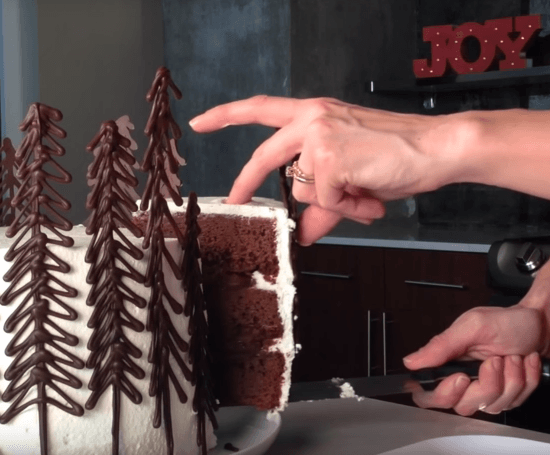 by Ann Reardon Copyright 2015 How To Cook That
My Cookbook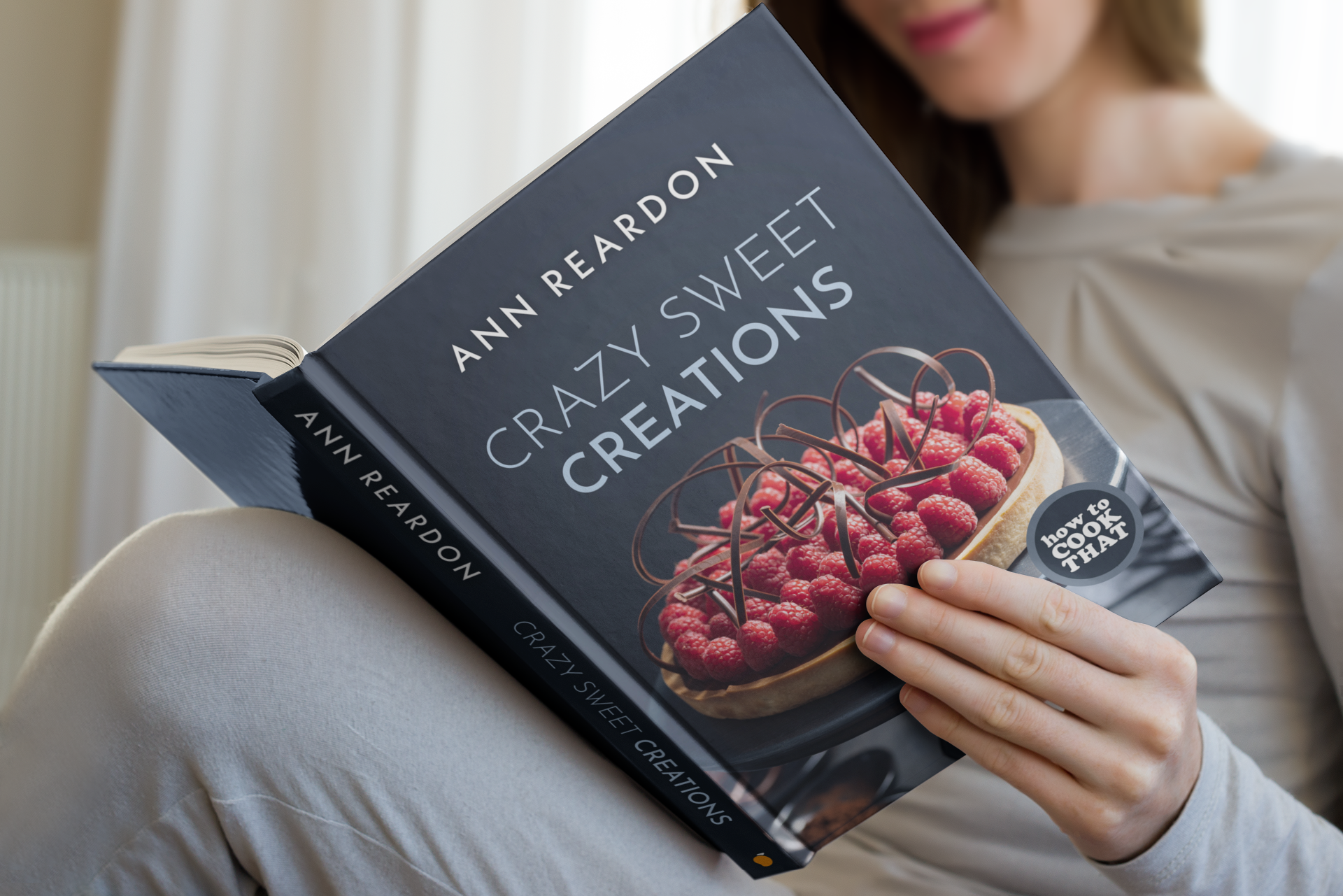 Stores that sell my book listed by country: http://bit.ly/ARcookbook All recipe quantities in the book are in grams, ounces and cups.