Cherry Chocolate Dessert
Happy New Year Everyone! Let's hope 2021 sees covid come under control in all countries. No more second and third and fourth waves, I think we've all had enough of lock-downs to last a life time. Below is a lovely simple cherry chocolate dessert for you using fresh cherries.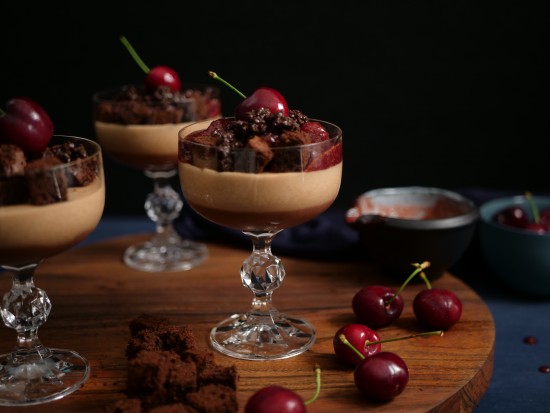 Cherry Sauce
150g (5.29 ounces) cherries, pitted and pureed
80g (2.82 ounces) cherries, pitted and chopped
2 tablespoons jam
1 tablespoon cherry liqueur (optional)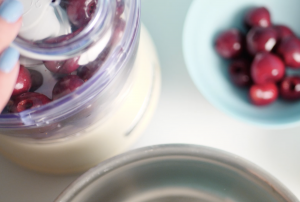 Heat the cherry puree, chopped cherries and jam in a pan. Simmer until the jam is melted and the cherries are soft. Add the liqeuer and leave to cool.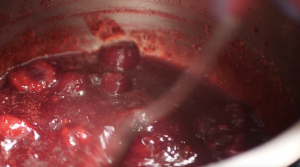 Cherry Ganache
70g (2.47 ounces) cherry puree
40g (1.41 ounces) glucose syrup or corn syrup
70g (2.47 ounces) dark or milk chocolate
15g (0.53 ounces) butter
1 tablespoon cherry liqueur (optional)
Heat the cherry puree and glucose in the microwave or stovetop until it just beings to bubble. Remove from the heat. Add the chocolate and butter, push it under the surface and leave for a couple of minutes to melt. Whisk together until the mixture is combined, set aside to cool.
Quick Chocolate Cake
100g (3.53 ounces) eggs
60g (2.12 ounces) sugar
15g (0.53 ounces) flour
30g (1.06 ounces) chocolate, melted
10g (0.35 ounces) cocoa powder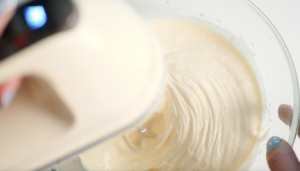 Preheat the oven to 180C (356 degrees Fahrenheit). Whisk together the eggs and sugar. Microwave for 20 seconds and whisk again. Sift in the dry ingredients, add the melted chocolate and fold until just combined. Pour into a lined round baking tin, this will make a thin layer of cake. Bake for 15 minutes. Allow to cool then cut into small cubes. Store in an airtight container until ready to use.
Chocolate Crunch
2g (0.07 ounces) butter or margarine, melted
7g (0.25 ounces) cocoa powder
13g (0.46 ounces) plain flour
13g (0.46 ounces) almond meal
15g (0.53 ounces) sugar
12g (0.42 ounces) nutella
25g (0.88 ounces) dark chocolate, melted
1 teaspoon oil
extra 25g (0.88 ounces) dark chocolate for coating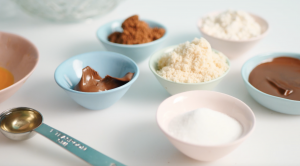 Preheat the oven to 180C (356 degrees Fahrenheit). Mix all the ingredients together (except the coating chocolate) into a stiff paste. Sprinkle small chunks onto a tray lined with baking paper. Bake for 15 minutes. Melt the extra chocolate and while the crumbs are still hot mix them through to finely coat. Spread out onto the baking tray to cool and set.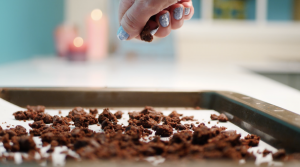 Chocolate Mousse
3 egg yolks
40g (1.41 ounces) sugar
5g (0.18 ounces) gelatin
130g (4.59 ounces) milk
110g (3.88 ounces) dark chocolate
160g (5.64 ounces) cream, lightly whipped
Whisk together the egg yolks, sugar and gelatin until pale. Heat the milk and whisk into the egg yolks, microwave the mixture for 20 seconds, stir and then another 20 seconds and stir. Add in the chocolate and leave for a few minutes so it can melt. Whisk until smooth and combined and leave to cool to room temperature. Fold in the whipped cream and pour into glasses.
Assembly
Pour some cherry ganache into the bottom of each serving glass then pour over the mousse. Place in the freezer for 10 minutes to allow it to start to set. Add cubes of cake and a generous amount of cherry sauce on top. Then spoon on some chocolate crunch. Store in the fridge until ready to serve.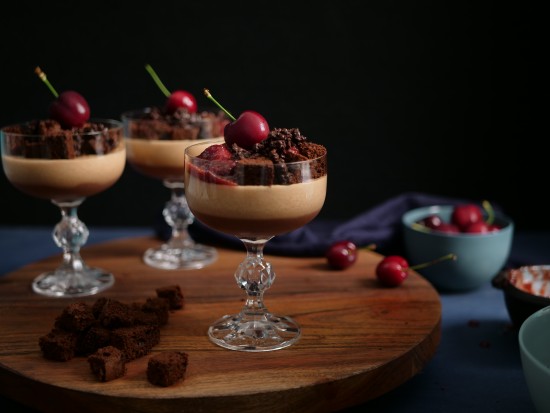 © All Rights Reserved Reardon Media PL 2021
BIG ANNOUNCEMENT
I have been busy over the last year planning, writing and overseeing the photography and layout for my first ever cookbook! There are heaps of my favourite dessert recipes in there with a chapter on pastries, ice-cream, yummy cakes, artistic desserts and of course chocolate desserts. Each chapter has its own intro explaining the food science that you'll need to know for success every time. Booksellers where you can purchase your very own copy: http://bit.ly/ARcookbook
All recipe quantities in the book are in grams, ounces and cups.