Best Chocolate Cream Cake Recipe
Best Chocolate Cream Cake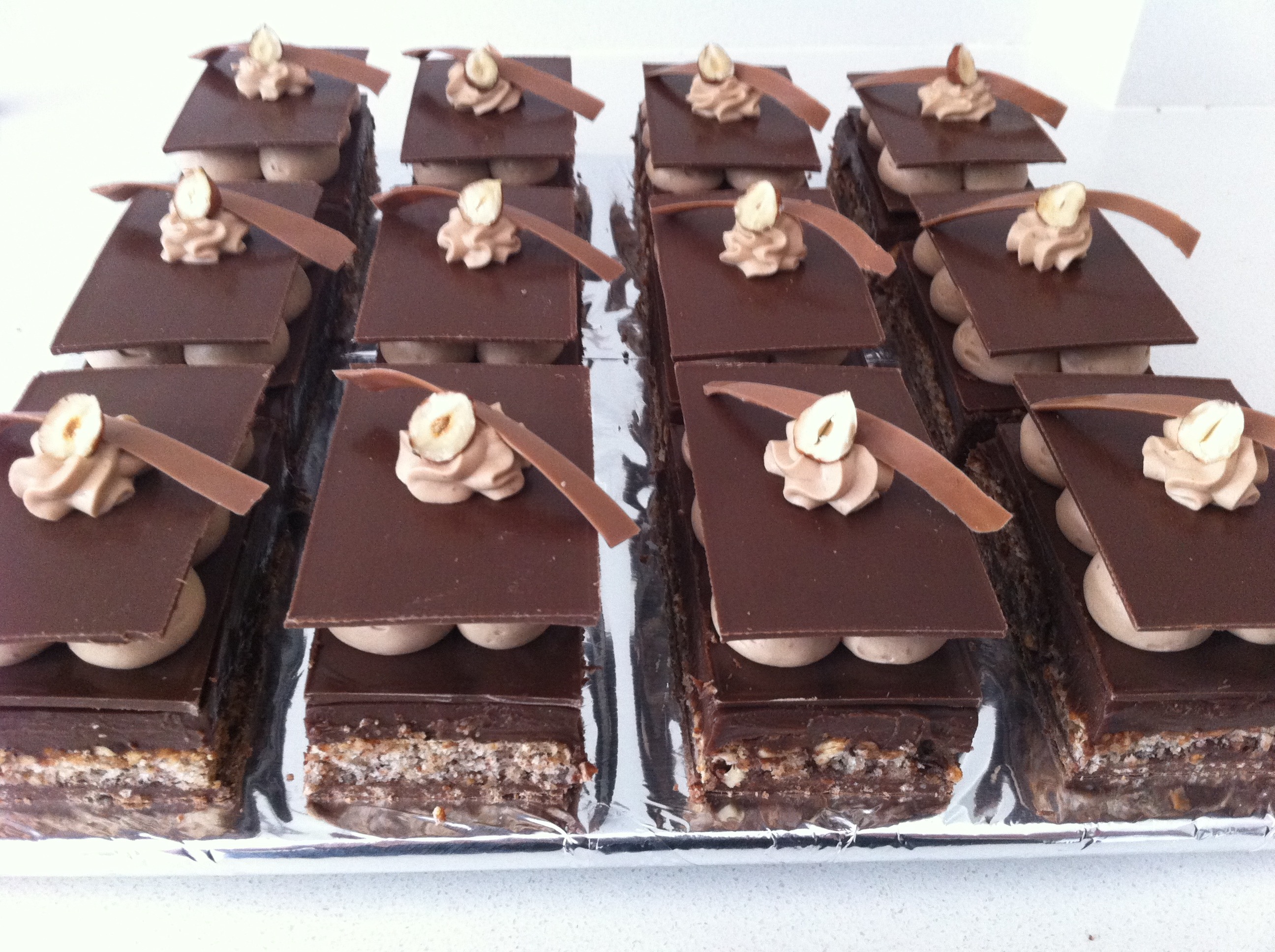 YUMMM! Crispy chocolate base topped with a hazelnut dacquoise, chocolate cremeux, chocolate rectangles and whipped milk chocolate.
Every now and then you find a dessert that is just perfect.  It looks amazing, tastes divine, has a variety of textures and of course the shopping list has to include chocolate!  Lots of chocolate!  Such a dessert does not tend to fall in the easy, quick to make category but on the upside you can make this well ahead of your planned event and freeze it, so it need not create any stress on the day. That reminds me there are still a couple of pieces in the outside freezer, would you like to try some?
… Mmmm, so good…
Sorry, I got distracted there.
Be warned this recipe makes 20 large serves. You could always halve the recipe but why would you want to do that when you can host a dessert evening for friends or failing that donate some to the church cafe or local old peoples home. After you have had a slice or two of course, and perhaps pop one in the freezer for later.
Chocolate Chantilly Recipe
500g (17.64 ounces) or 2 cups plus 1 Tbsp and 2 tsp cream 35% fat
180g (6.35 ounces) milk chocolate, chopped
Bring the cream to the boil and pour it over the chopped milk chocolate, leave to sit for a couple of minutes and then stir gently until smooth.  Place in the fridge overnight.Whisk with an electric mixer until a little lighter in colour and forms smooth peaks.
4.5352
by Ann Reardon How To Cook That
2012
Crispy Base Recipe
180g (6.35 ounces) or 1/2 cup plus 2 Tbsp Nutella
140g (4.94 ounces) Milk Chocolate
70g (2.47 ounces) Dark Chocolate
30g (1.06 ounces) or 1 cup rice bubbles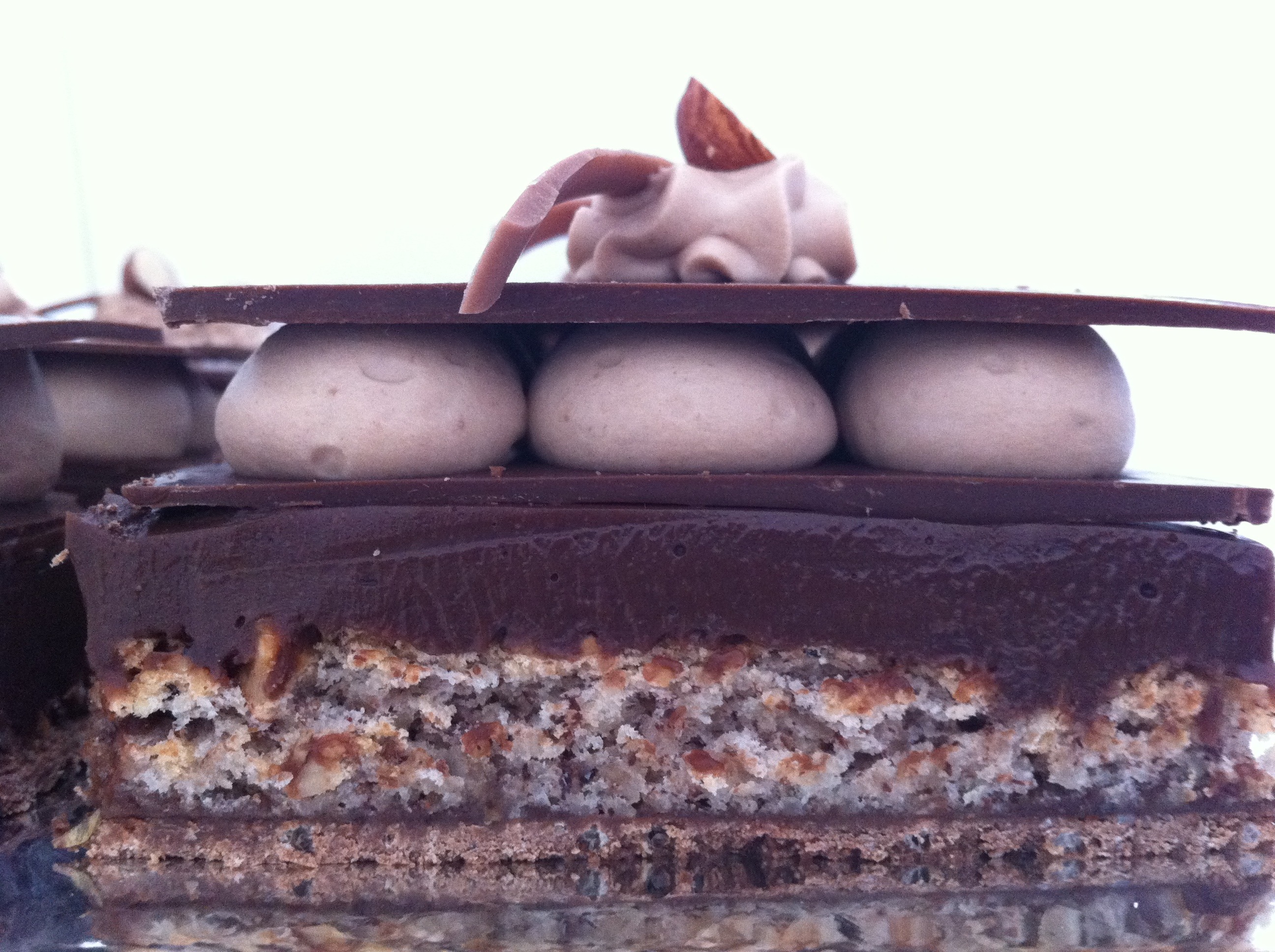 Melt the chocolates and mix with the nutella.  Add the rice bubbles and stir well.
Pour onto a baking tray lined with baking paper.  Place another sheet of baking paper over the top.  Using your hands flatten the mixture, then using a rolling pin roll to about 3 mm thick and the size of your frame or container.   Place in the freezer.
Hazelnut Dacquoise Recipe
200g (7.05 ounces) or 1 1/2 cups plus 1 Tbsp and 1 tsp icing (powdered) sugar
200g (7.05 ounces) or 1 3/4 cups plus 2 Tbsp and 2 tsp ground hazelnuts
250g (8.82 ounces) or 7 egg whites
2g (0.07 ounces) cream of tartar (a pinch)
60g (2.12 ounces) or 1/4 cup plus 1 tsp sugar
100g (3.53 ounces) or 3/4 cup hazelnuts, roughly chopped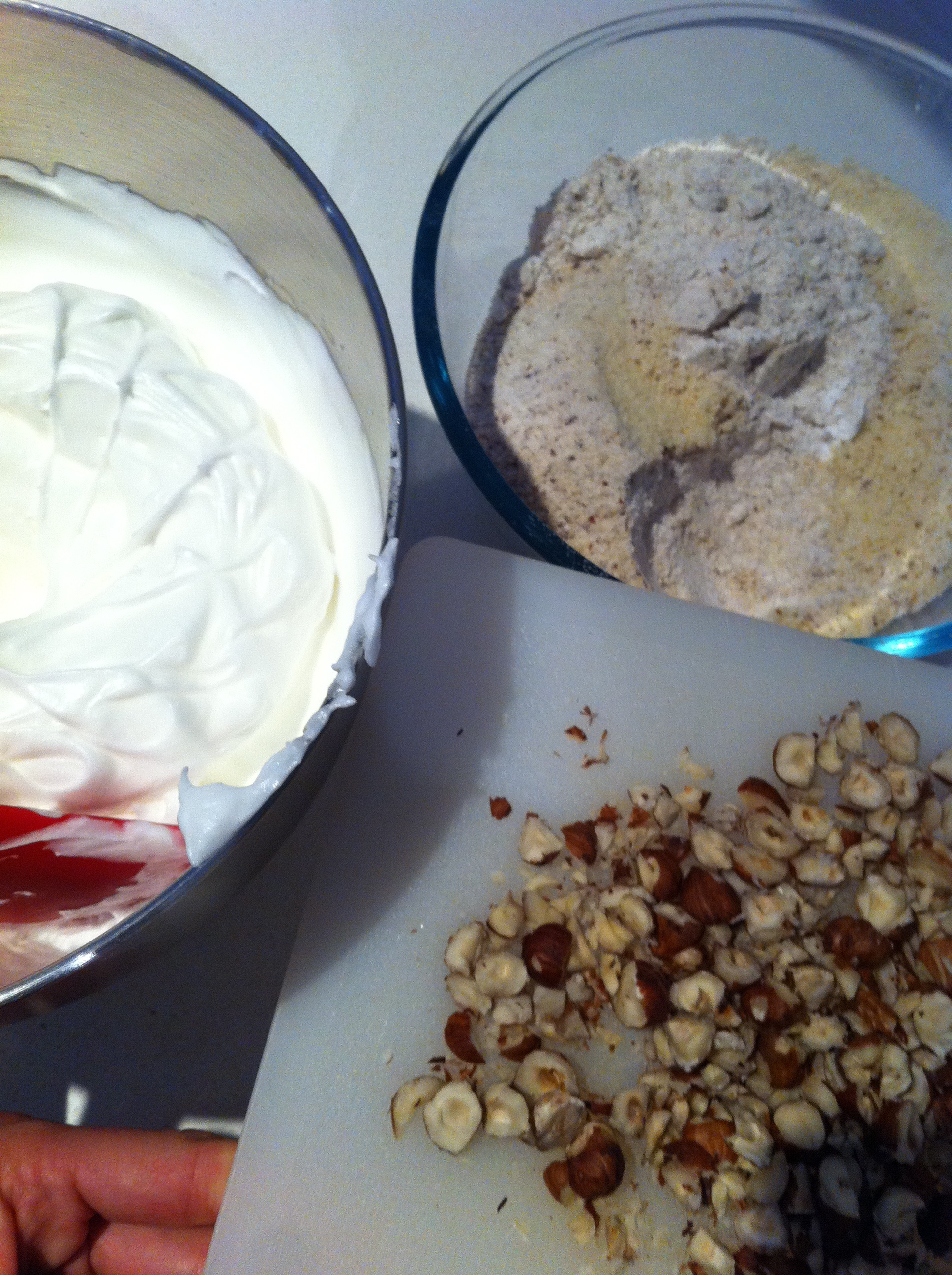 Sift together the icing sugar and the hazelnut meal.
In a separate bowl whisk together the egg whites, sugar and cream of tartar until stiff peaks form.
Gently fold the icing sugar and hazelnut meal into the egg whites.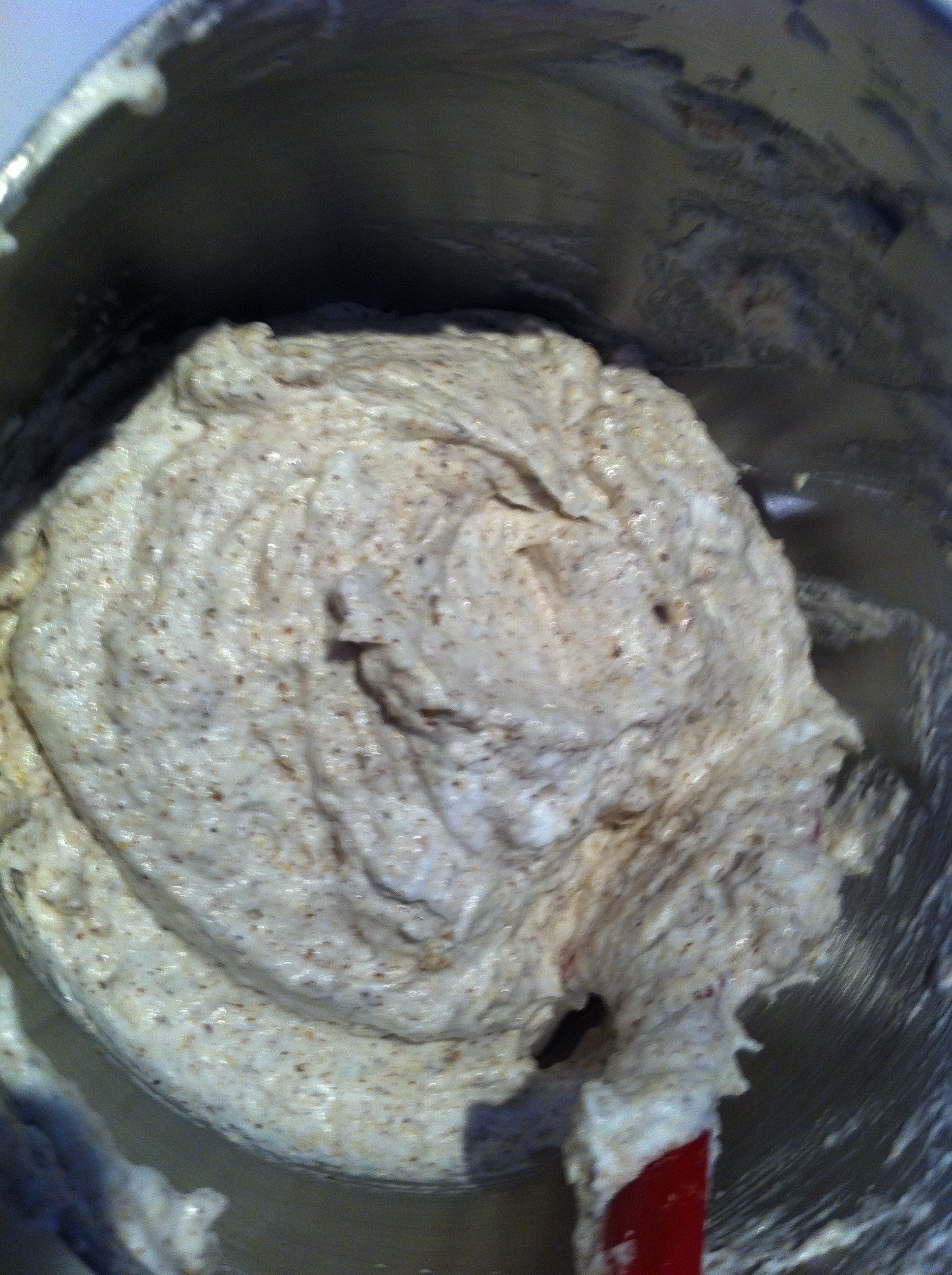 Spread the dacquoise to about 1cm (0.39 inches) thickness to the size of your frame or container, sprinkle with crushed hazelnuts.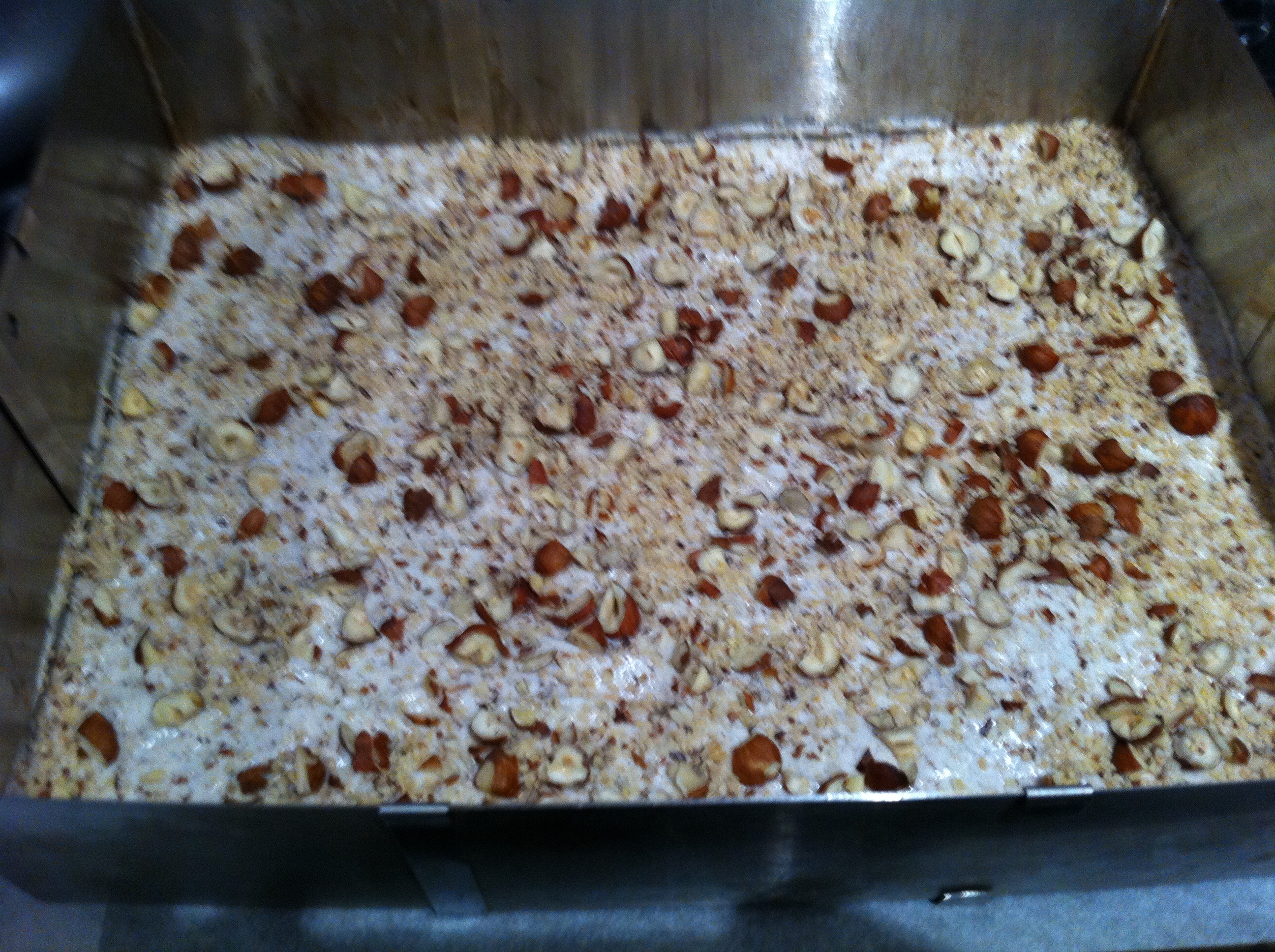 Sprinkle with a little icing sugar and bake at 170C (338 degrees Fahrenheit) for around 20 minutes or until golden.  Remove from oven and leave to cool.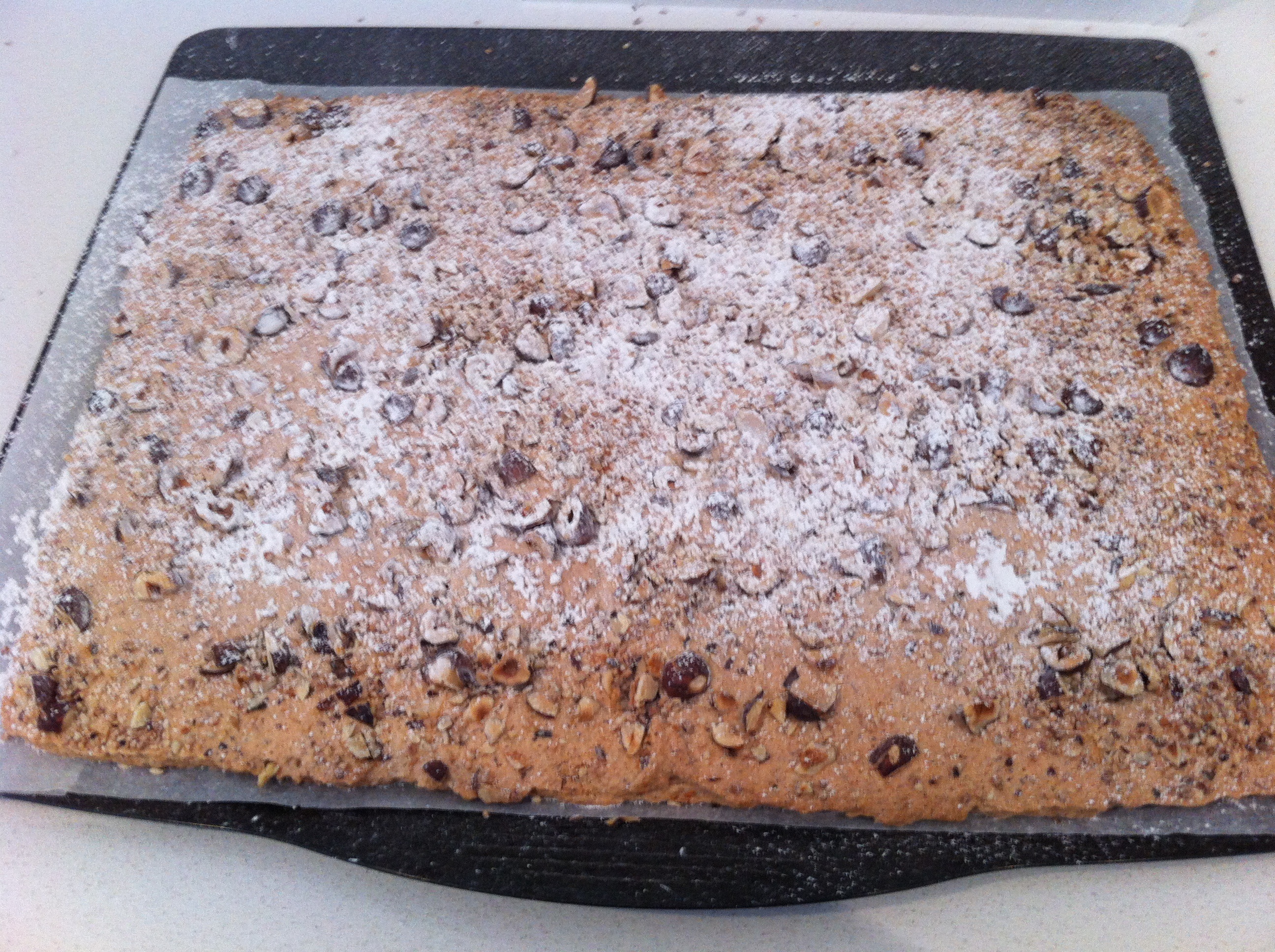 4.5352
by Ann Reardon How To Cook That
2012
Chocolate cremeux is like a rich creamy chocolatey custard, not as sickly as a layer of ganache but richer than a mousse. Click on the title for the link to the Cremeux recipe.

Assembly Part 1 –
If using a frame: Place frame on top of your crispy base.  Smooth a thin layer of chocolate cremeux over and then top with the dacquoise.  Pour the remaining chocolate cremeux over the dacquoise and jiggle slighlty to smooth and level.  Place in the freezer.
If using a rectangle container:  Trim the dacquoise and crisp base so that they will fit inside the container.  Line the container with plastic wrap along the bottom and sides lightly spray with oil.  Pour most of the chocolate cremeux into the container and jiggle to smooth.  Top with the dacquoise, hazelnut layer down, next a thin layer of the remaining cremeux and lastly the crispy base.  Freeze.
Chocolate Rectangles
400g (14.11 ounces) Milk Chocolate
Take two sheets of baking paper or aluminium foil and mark on them the size of your frame or container.  Next using a ruler divide into equal sized rectangles the size you want your portions to be.  There is not need to draw the lines through the middle of the baking sheet just draw cutting guide lines at the edges so once your chocolate is on it you know where to cut.
Temper your chocolate, follow the link to the post on how to temper chocolate if you are not sure what tempering is or how to temper.  Spread chocolate over your sheets of aluminum foil to the size of the frame. Leave on the bench
Once it is firm but not yet hard cut with a knife, use a ruler and the guidelines you drew earlier to make perfectly even rectangles.  Place in fridge until crisp.
Assembly Part 2
Take the base part out of the freezer, and remove from the frame or container.  Put a long sharp knife in a tall container of hot water. Place one row of chocolate rectangles along the top of one edge and cut this strip.  Cut between each rectangle and then repeat with the rest of the base.
Place the chantilly cream in a piping bag fitted with a round nozzle and pipe six dots onto each rectangle.  Top with another sheet of chocolate.  Pipe a swirl of  chantilly cream on top and add a roasted hazelnut and chocolate swirl.  For chocolate decoration tutorial see this earlier post.
My Cookbook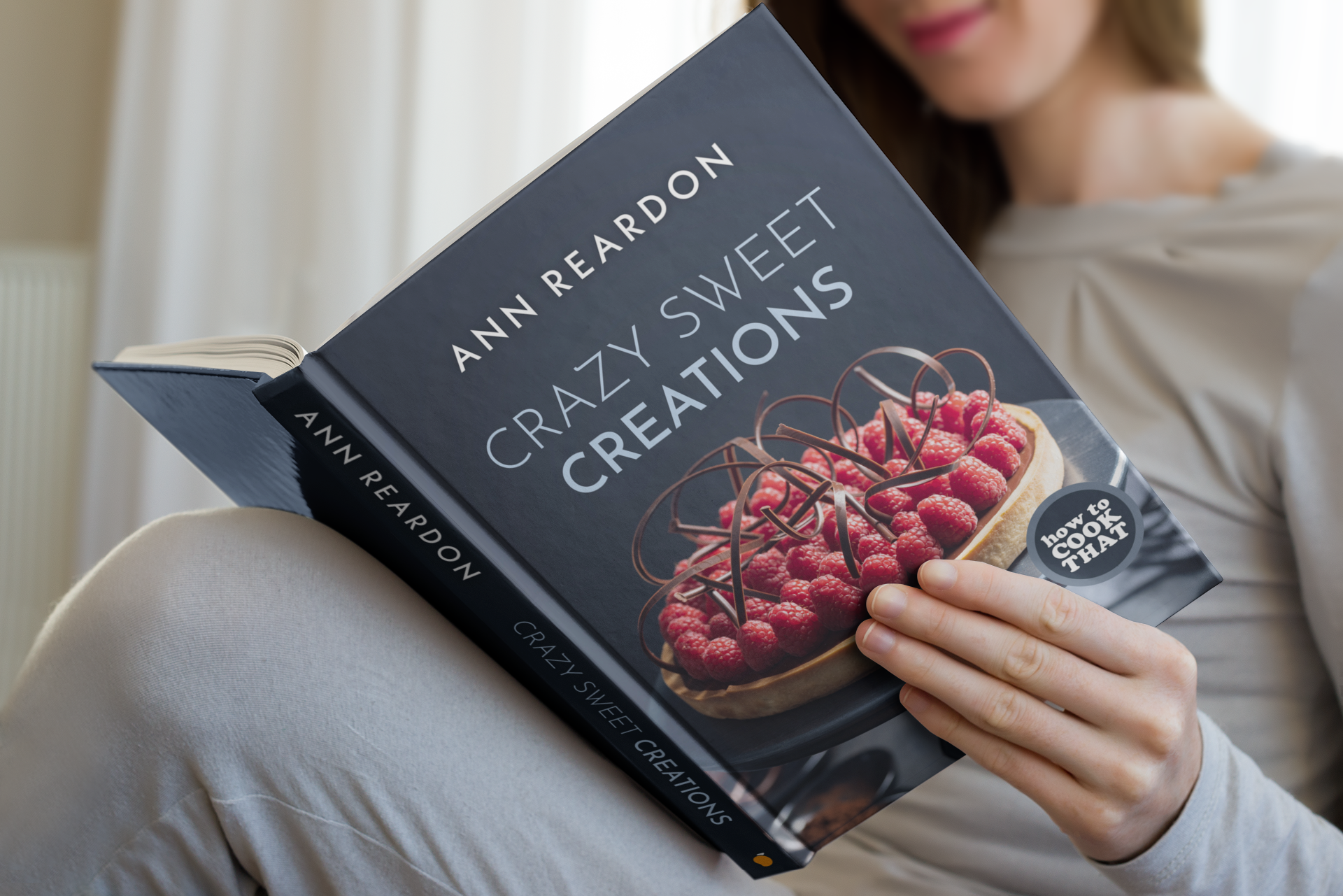 Stores that sell my book listed by country: http://bit.ly/ARcookbook All recipe quantities in the book are in grams, ounces and cups.