Chocolate Leather Mousse Dessert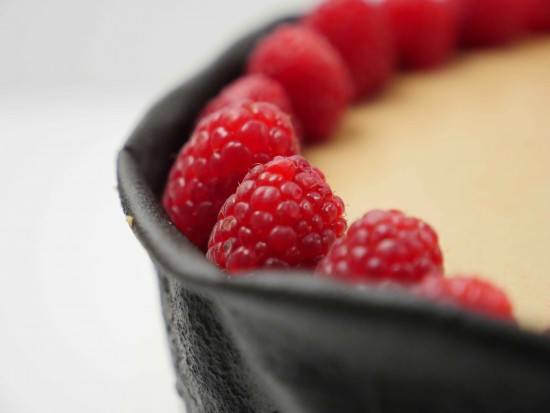 Today we are making an indulgent dessert wrapped in a dark chocolate leather. Inside is a crunchy chocolate hazelnut base topped with a raspberry gel, milk chocolate mousse and fresh raspberries.
Base
75g (2.65 ounces) butter
85g (3 ounces) brown sugar
unsweetened cocoa powder
75g (2.65 ounces) plain flour
75g (2.65 ounces) hazelnut meal.
18g (0.63 ounces) cocoa powder
pinch salt
Preheat the oven to 180C (356 degrees Fahrenheit)
Place the butter and the brown sugar into the bowl of an electric mixer and beat on high speed until it looks like wet sand. Turn the mixer to low and add the cocoa powder, flour and the hazelnut meal and mix that for a few minutes until it is crumbly.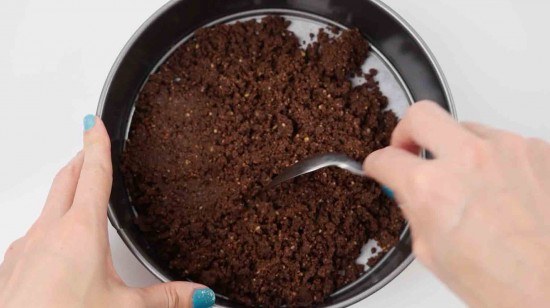 Pour the crumbs into the base of a lined 9″ springform tin and push it down to compact it. Bake for 15 minutes.
Raspberry gel
500g (17.64 ounces) raspberries
70g (2.47 ounces) sugar
10 gelatin sheets.
Place the gelatin sheets into the cold water and leave them to soak.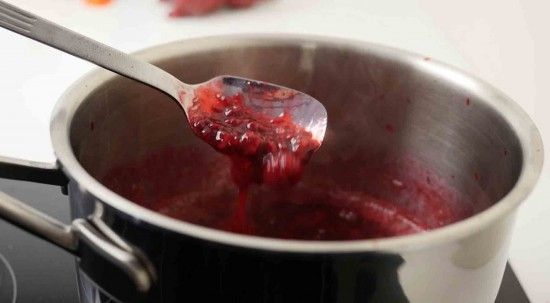 Add the sugar to the raspberries and heat over high heat until soft. Pour it into a fine sieve using a spoon to push the juices through, leaving the seeds behind.
Squeeze the gelatin to get as much water out of it as you can and add it to the hot raspberries and stir well.
Pour that the mixture into a silicone cake tin and place it in the freezer for about 1 hour so it sets.
Chocolate Leather
30g (1.06 ounces) cocoa powder
30g (1.06 ounces) rice flour
10g (0.35 ounces) vanilla
250ml water
50g (1.76 ounces) sugar
Add everything except the sugar into a saucepan and heat until it starts to boil. Add sugar to taste.
Tip half of the paste onto some baking paper and spread it in an even thin layer to the full length of your baking tray. Repeat that with the other half. Bake at 80C (176 degrees Fahrenheit) to dry out for about 25 minutes.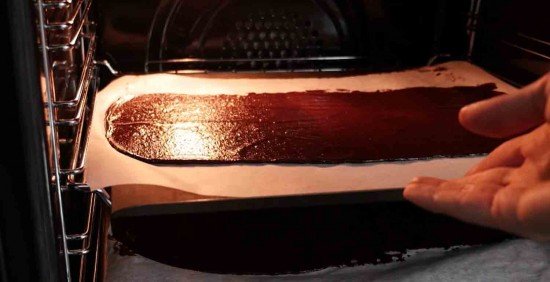 While it is still warm take you chocolate leather and add it on top the base around the outside edge of your tin. You want it to look creased and crumpled not totally smooth so give it some texture. It will cool quickly because it is so thin.
Remove the raspberry gel from the freezer, take it out of the mold and place it onto the base bending it up and pressing down to make it fit right to the edges.
Chocolate Mousse
300g (10.58 ounces) milk chocolate
600g (21.16 ounces) cream
75g (2.65 ounces) egg yolks
102g (3.6 ounces) sugar
40mL (1.35 fluid ounces) water
70mL (2.37 fluid ounces) cream
11 gelatin sheets
extra water to soak the gelatin.
Place the gelatin in the water and leave to bloom.
Whip the first quantity of cream to form soft peaks.
Add the water, sugar and egg yolks into a bowl resting over a pan of simmering water. Beat with electric mixers until the mixture is hot and airy. Remove from the heat.
Melt the chocolate and set aside.
Take the remaining cream and heat it to just boiling. Remove from the heat and add the squeezed gelatin sheets.
Pour the hot cream mixture into the melted chocolate and stir well to make sure it is well combined.
Add the egg yolk mixture and gently mix it through, keeping as much air as possible. Fold in the lightly whipped cream.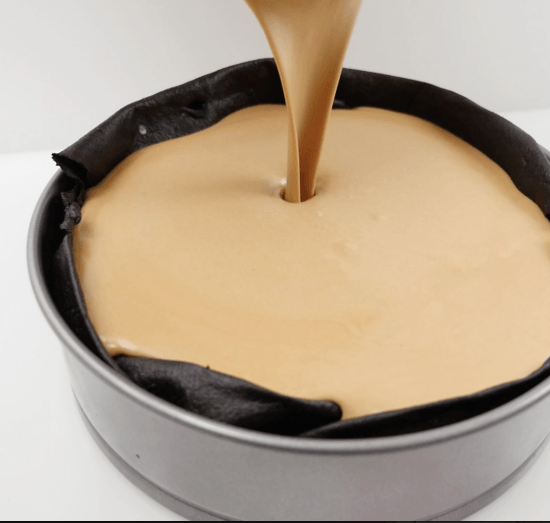 Pour into the tin and leave in the fridge to set. Add some fresh raspberries around the top edge.
Then slice and serve.
The chocolate leather gives this dessert a really modern look and the flavours combine really well to make it one of those desserts that you that you just don't want to stop eating after only one slice.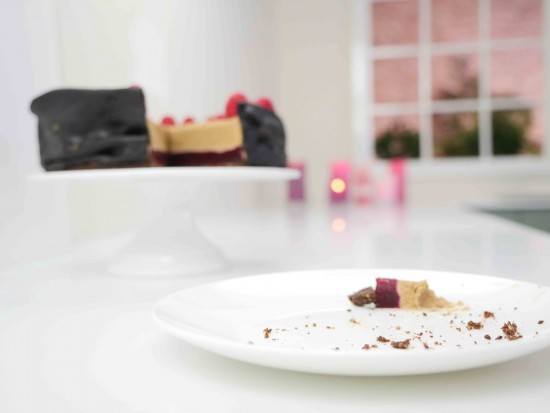 Copyright © 2017 Reardon Media Pty Ltd. All rights reserved. How To Cook That
My Cookbook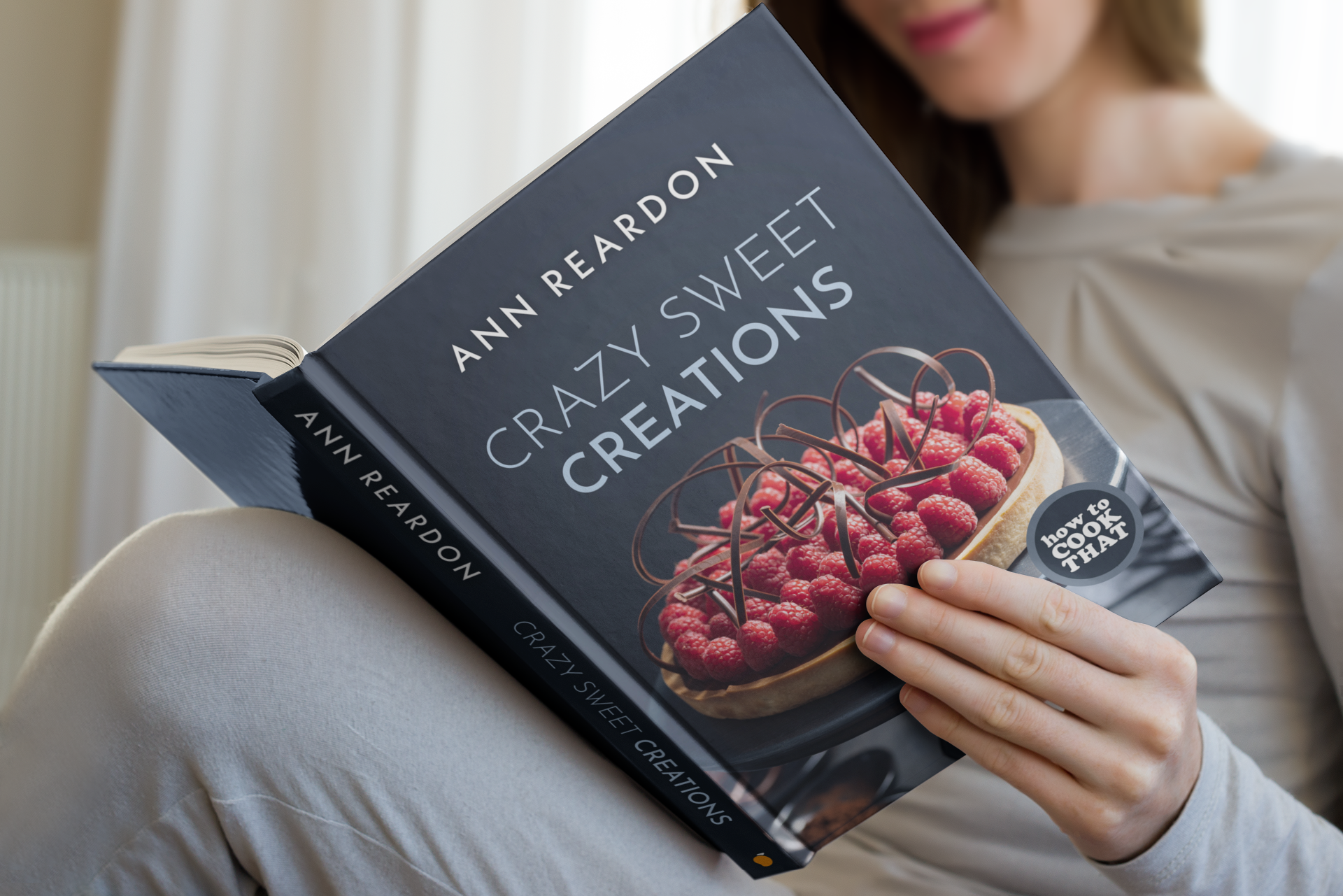 Stores that sell my book listed by country: http://bit.ly/ARcookbook All recipe quantities in the book are in grams, ounces and cups.