Christmas Sugar Snow Globe Desserts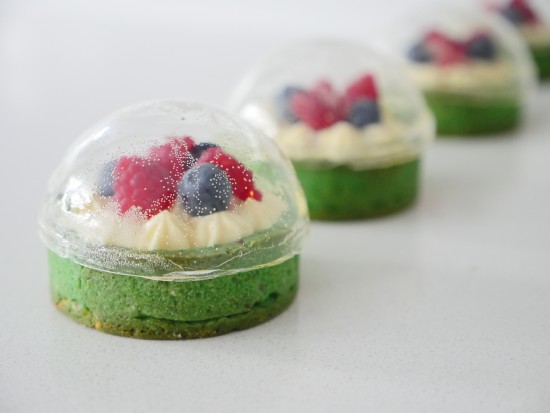 These delightful little desserts have a sugar snow globe over the top. If you wanted you could add some white sprinkles on the inside to make it even more snowy but I liked the subtle bubbles in the sugar.
Each dessert has a pistachio base, orange curd, diplomat cream, fresh fruit and is then topped with the thin sugar globe.
To make these Christmas sugar snow globe desserts you will need:
(makes 12 mini tarts)
Pistachio Base
250g (8.82 ounces) or 1 1/2 cups plain flour
125g (4.41 ounces) or 1/2 cup plus 1 tablespoon of sugar
125g (4.41 ounces) or 1/2 cup plus 1 tablespoon butter
35g (1.23 ounces) or 1/4 cup pistachios
30g (1.06 ounces) or 1/4 cup hazelnuts
1 egg
1 drop green gel food coloring
Cut the butter into the flour and then rub in until it resembles fine bread crumbs. Crush the pistachios and hazelnuts and add to the flour mixture along with the sugar. Stir well then add in the beaten egg. Mix until it forms a ball then tip and out knead lightly. Wrap in plastic wrap and refrigerate for 30 minutes.
Preheat the oven to 180C (356 degrees Fahrenheit) and follow the directions on the video for placing in the lined baking tins.
Orange Curd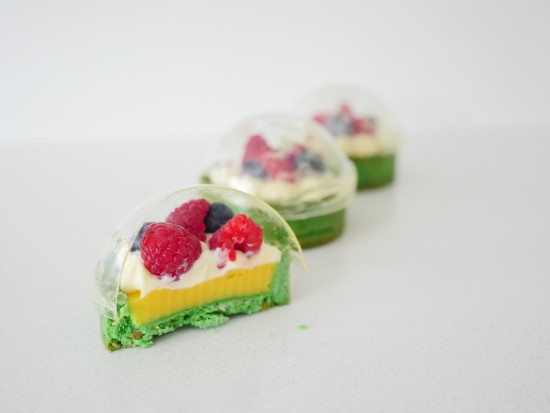 500mL (16.91 fluid ounces) or 2 cups of fresh orange juice
3/4 tablespoon of gelatine
rind of one orange
125g (4.41 ounces) or 1/2 cup plus 1 tablespoon of sugar
3 eggs
200g (7.05 ounces) or 3/4 cup plus 3 tablespoons of butter, cubed
Add a little of the juice to the gelatin and stir it through straight away then leave to absorb the liquid.
Place the rind, juice and sugar into a pan and boil down to 250mL (8.45 fluid ounces) or 1 cup.
Add in the gelatin and stir until melted.
Whisk in the eggs and stir for a few minutes over the heat until it thickens. Remove from the heat and stir through the butter.
Strain through a sieve to get rid of the bits of rind.
Diplomat Cream
60ml or 1/4 cup cream
60ml or 1/4 cup milk
1 egg yolk
40g (1.41 ounces) or 3 tablespoons of sugar
8g (0.28 ounces) or 1 tablespoon of cornflour or corn starch
plus an additional 125ml or 1/2 cup of of cream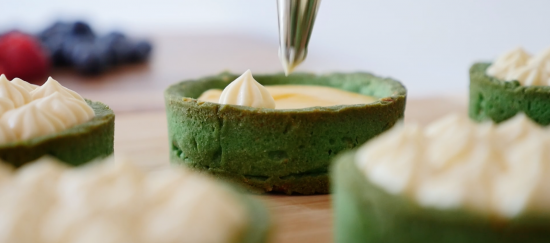 Pour the milk and cream into a saucepan.
In a bowl whisk together the cornflour, sugar and yolks. Add 2 tablespoons of the cream and whisk again to make a smooth paste.
Heat the milk and cream until it just starts to boil then add into he egg yolk mixture, whisking as you do.
Return the mixture to the pan and stir over the heat until it thickens.
Pour it into a flat dish and cover with plastic wrap to stop it forming a skin. Then place the in the fridge to cool down.
Once it is chilled whip the additional cream to form soft peaks. Take two spoonfuls of whipped cream and whisk it into the custard to lighten it. Now fold the custard into the cream.
Place into a piping bag with a star shaped tip.
Sugar Dome
300g (10.58 ounces) or 1 1/3 cups sugar
200g (7.05 ounces) or 1/2 cup glucose syrup
75mL (2.54 fluid ounces) water
silicone hemisphere mold
candy thermometer
Spray the mold with a little cooking oil and rub it over the surface so the sugar doesn't stick.
Place the sugar water and glucose syrup into a pan over high heat.
Once it starts to boil wash down the sides of the pan using a wet pastry brush.
Heat to 150C (302 degrees Fahrenheit) then immediately remove from the stovetop and cool to 130C (266 degrees Fahrenheit).
Prop you silicone mold up on a board on an angle so excess sugar syrup can run down.
Pour the hot sugar syrup over each mold.
As it is starting to thicken push down with a greased circle cookie cutter around the base of each mold.
Once it is completely cold peel away he mold then gently push up on each dome to loosen it from the base.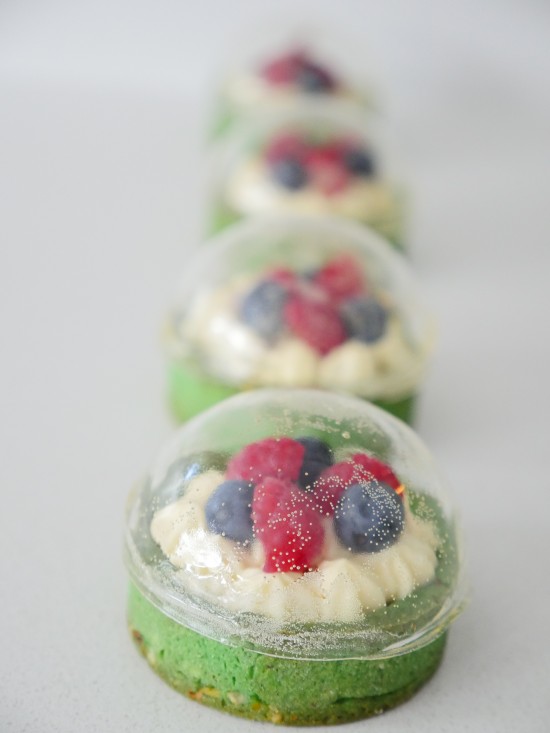 Assembly
Place a heaped tablespoon of orange curd into each tart.
Pipe little stars of diplomat cream over the curd.
Add fresh fruit and a sugar dome on top of each tart.
Copyright © 2016 Reardon Media Pty Ltd. All rights reserved. How To Cook That
My Cookbook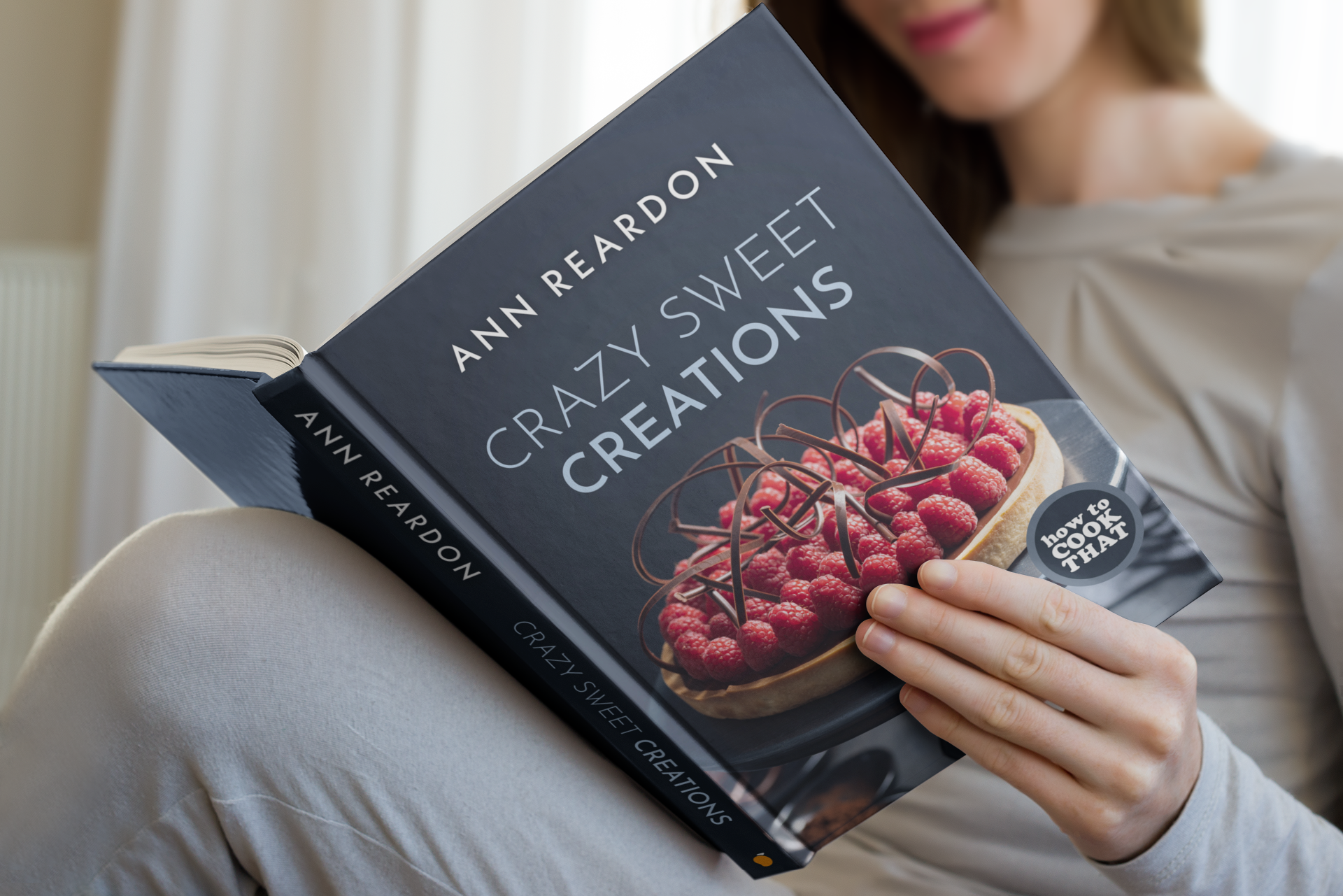 Stores that sell my book listed by country: http://bit.ly/ARcookbook All recipe quantities in the book are in grams, ounces and cups.