Debunking Fake Viral Banana Videos
In this episode we are going bananas! I read and researched so much about bananas and watched so many bananas hacks (that were all very similar to each other) that when I closed my eyes all I could see was bananas. I have collated just the most interesting of facts and conducted lots of experiments for you. Apart from the gardening ones, no bananas were wasted in the making of this video.
These questions will be answered in this weeks episode: Do bananas make plants grow better? Does banana peel protect you from UV? How should you store bananas? How do you keep bananas fresh? Can you eat banana peel? What is Panama banana disease? And asks the question should we genetically modify our food?
Want to keep reading more about bananas:
Keeping bananas green before they reach the store: https://www.nationalgeographic.com/environment/urban-expeditions/food/food-journeys-graphic/
Down the rabbit hole, how a myth starts:
Reddit post quoting life hacker
Wilgubeast makes a broad faulty generalization from sauter
http://www1.biologie.uni-hamburg.de/b-online/e31/31g (1.09 ounces).htm
wax tipped banana a marketing ploy
Factors effecting fruit ripening
Banana Peels used to dye fabric
Decreased ethylene production in banana treated with external ethylene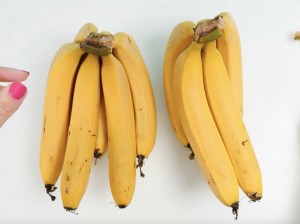 BIG ANNOUNCEMENT
I have been busy over the last year planning, writing and overseeing the photography and layout for my first ever cookbook! There are heaps of my favourite dessert recipes in there with a chapter on pastries, ice-cream, yummy cakes, artistic desserts and of course chocolate desserts. Each chapter has its own intro explaining the food science that you'll need to know for success every time. Booksellers where you can purchase your very own copy: http://bit.ly/ARcookbook
All recipe quantities in the book are in grams, ounces and cups.