DIY Dessert Candy Buffet Ideas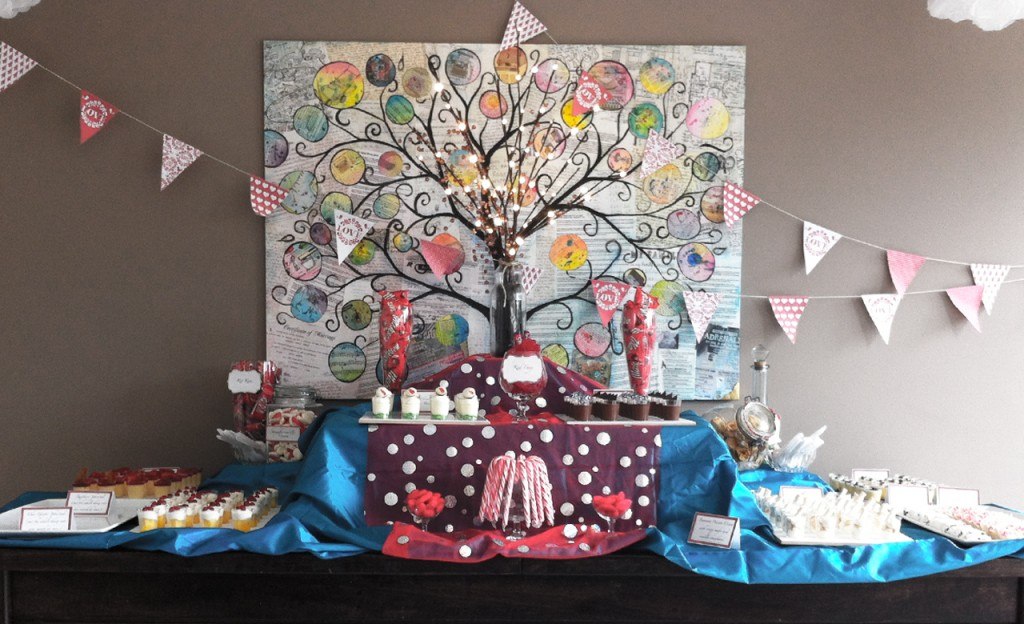 Dessert Candy Buffets can look impressive on a small budget or they can look cheap on a big budget.  Use these tips to get your table looking like it's out of a magazine.
1. Work out your budget – This is the best place to start because it effects everything else.  Think about the number of people you have coming and how much you can spend per head.  Just candy will generally be cheaper than candy and dessert, depending on the desserts that you choose.   If you can cook your own desserts you can get a lot more for your money.
2. Containers for the Candy – This can easily break your budget so you will need some wisdom.  First thing to do is have a look in your cupboard and that of family and see what glass containers or vases you already have.  Next head to the second hand store and see what you can pick up.  In the candy buffet above all of the glass jars, glasses and containers, including the white tiles for dessert platters, were bought from a second hand store for $40.  Look for pairs of glasses or containers, a couple of taller containers and some feature pieces – preferably all in plain glass.
The size and number of containers you need will depend on how many people you are catering for.  If you buy huge containers you will need to fill them to make it look good even though you might not need that much candy.  So figure out the volume of candy you need before you purchase containers (see further down in the post for help with this).
Platters for the desserts – Again check what you already have.  I used a pack of large white tiles for serving platters for the desserts in little plastic shot glasses.
3. How much candy should I buy for my candy buffet?
Take your glass container, fill it with pasta or rice and then tip it into a measuring jug to work out its volume in cups or litres.  Then follow this guide as to how much candy you will need to buy.
| | | |
| --- | --- | --- |
| Type of Candy | Amount needed to fill 1 cup (250ml) container | |
| rock candy | 160g (5.64 ounces) | |
| large round candies (like giant jaffas) | 190g (6.7 ounces) | |
| maltesers wrapped in mini share packets | 40g (1.41 ounces) | |
| maltesers unwrapped | 80g (2.82 ounces) | |
| Jellies (mint leaves/raspberries…) | 160g (5.64 ounces) | |
| m&m's | 300g (10.58 ounces) | |
| wrapped lollies/toffees | 125g (4.41 ounces) | |
| jelly beans | 240g (8.47 ounces) | |
But how much will people eat at a candy buffet?
How much people will eat depends on the type of people attending the event (kids v dieting women v the football team), how good the lollies are, the time of day, how long the event goes for and what other food you are serving.  Candy shops recommend from 110g (3.88 ounces)-225g (7.94 ounces) (1/4 – 1/2lb (0.91 kilograms)) per person
Here's an example for you.  At a christmas event we had 5.8 kg (12.79 pounds) of lollies, plus some macarons and 250ml of dessert per person with 30 people attending. The event was for desserts and coffee, there was only a very small selection of veggies and dips on another table.  The dessert bar was open for 3 hours and most people also took home a bag at the end.  There was approx 1/3 of the lollies left over.  So people ate / took home an average of 130g (4.59 ounces) (4.5oz (127.57 grams)) of lollies each.  If you do not have desserts then expect them to eat a little more.  If you are serving mains as well, or the candy bar is not open for as long they may eat a little less.  Remember there is a limit as to how much candy you can eat before you start to feel sick, so don't over-cater.
If your candy bar is purely for people to take home a bag then the amount you need depends on bag size.  Fill one of your bags to the top and weigh it and multiply by the number of guests then add some extra so the last few people still have a choice of candy.
4. Labels are one of the small details that bring the table to life and make it look professional.  Make sure they go with you colour scheme.  Use ribbons to attach to the jars.
There are loads of websites with free downloadable candy buffet labels here's a few to get you started, or you can make your own.
5. Fabrics & Color scheme for the candy buffet
Choose a colour scheme that fits with your theme.  Just having the candy in the colours is usually not enough, you need to choose your table to match or cover the table in fabrics that work.
You can use gift wrap that fits with your color scheme and cut it to fit the bottom of each platter, the top of each riser box and if you are having cupcakes cut it out to make cupcake wrappers.  This makes several of the things on the table match and has the effect of bringing the whole table together.
Try to choose two or even three colours for your candy buffet.  If everything is one colour it tends to look a little drab.  For example if you want a yellow candy buffet choose yellow and white to give a fresh look, yellow with hints of orange and red for a warm autumn or yellow white and black for a more formal feel.  Pink works well with lime green and white.  Red looks amazing with aqua and chocolate brown.
Examples of colour schemes that work:
6. Height – You need to add varying heights to your table.  Do not just sit all the jars on the same level.  To create height you can use boxes, cake stands, pieces of furniture such as hutches or bookcases or tall jars.  See some of the candy buffets above for examples of how they have varied the heights, particularly notice that items at the back are often elevated.
7. Symmetry is your friend.  Your table does not have to be identical on each side but it does need to be balanced.  The easiest way to do this is with pairs of containers or platters.  If you go back now and look at the candy buffet photos above you will notice that a lot of the use symmetry on the tables and it is very please to the eye.
8. Create depth.  To create depth have some items that repeat from the front to the back of the table like drink bottles or these desserts.
9. Centre Piece
Try to either have a central high point or two higher points – one on each side.  You can use elements other than just candy to create these high points.  Consider using flowers, a decorated cake, cake stands or decorations.  There are some examples below.
| | |
| --- | --- |
| | cupcake candelabra |
| | |
| | |

10. Tongs, scoops and bags for the candy buffet
You can get some interesting tongs with ice buckets at the second hand store or you can of course purchase them new.  Tongs work best for deeper jars, and scoops or spoons for shallow or front opening jars.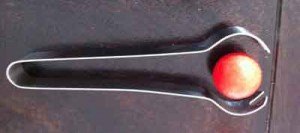 Bags are important so that people can take a selection and move away from the table, letting others in.  Dress them up with labels that match those on your jars.
11. The Back Drop When you take a photo of a person you pay attention to what is behind them so that you end up with a nice portrait.  It is the same for your candy buffet, a good backdrop can make it beautiful.  Where will it be positioned?  Is the wall behind it big and blank – if so it will the table look small.  Spend some of your budget on your back-drop.
| | |
| --- | --- |
| | |
| | |
| artwork as the backdrop | |
| | |
| | |
12. Copy something the works 
If you don't trust your own ability to style a buffet use ideas that you have seen that work.   Amy Atlas is a professional sweet stylist with a gift for beautiful table presentation you can check out some of her work here.

Copyright © 2016 Reardon Media Pty Ltd. All rights reserved. How To Cook That
My Cookbook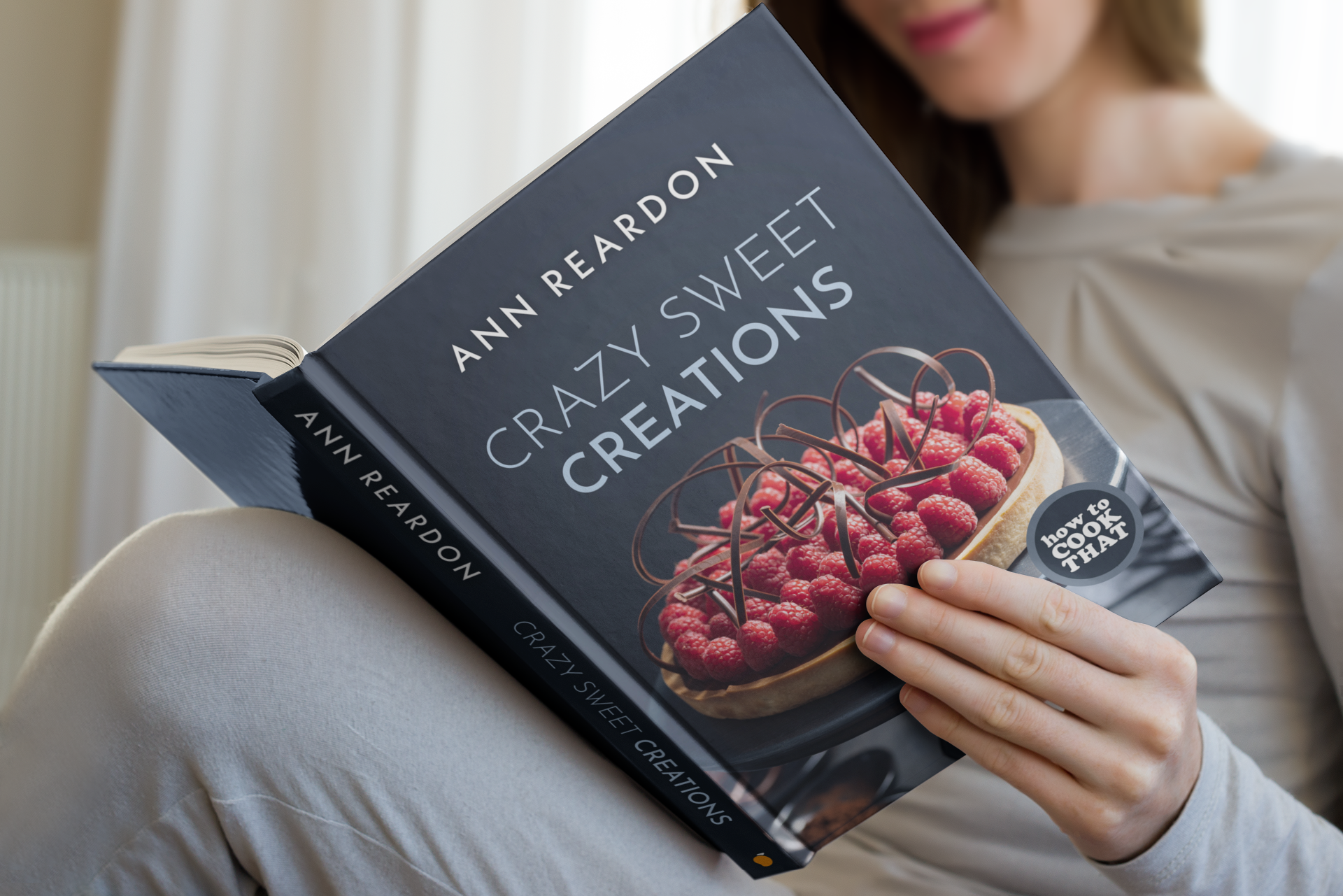 Stores that sell my book listed by country: http://bit.ly/ARcookbook All recipe quantities in the book are in grams, ounces and cups.