Make your own 'popin cookin' mini cake kit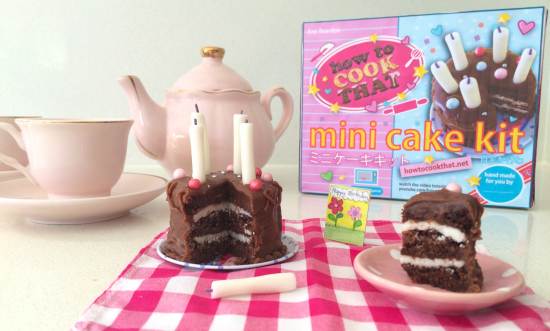 Now you can make your very own Popin Cookin style mini cake kit at home.  Give these as a cute gift for birthdays or use as a fun activity with the kids.
A few weeks ago I did a Popin Cookin video and had hundreds of requests for a mini version you can make yourself … and one that actually tastes good! So many people love these little Japanese kits but they're nervous about what is in the powders and also a bit turned off by the taste.
So I've been getting my food scientist on over the last few weeks, conducting experiments in my kitchen and designing some cute packaging. And now, it's finally ready…  see the video for a demonstration of how to make this super-cute mini cake using the kit.  And then how to make the powders for the kit itself.
Get the labels, box cover and sheet of instructions to go in the kit via the link below.
Making Your Cake
Add 6 scoops of water to the cake mix.  Make sure each of your scoops are full to the top.  Stir well.
Place that in the microwave on medium heat for 1 minute.  Then take it out and leave it to cool.
Add the fondant mix to a new case and add 1 scoop of water.  Mix well.  Microwave on high for 15 seconds and then stir it really well.  Tip it out onto some baking paper and knead it until it is smooth.  Use it straight away because it will set hard when it is cold.  Make into candles as shown in the video.
Roll the left over fondant into two balls and squash down to the size of the cake.
Remove the cake from the case and cut into three layers.  Then stack them up again with the fondant between each layer.
Using two hands gently roll the cake between you hands to smooth off the sides so that you have a nice neatly shaped cake.
Place that on top of the measuring cup.
For the chocolate frosting pour the powder into the last case and add four scoops of water.  Stir until it clumps together like wet sand.
Microwave on high for 10 seconds and then stir it to get out any lumps.  Pour the frosting over your mini cake. and use the spoon to make sure it covers all the sides.  Place the left over frosting into the piping bag and pipe a pattern around the top edge. 
Pipe some more frosting around the base of the cake to make it look neat.
Add your decorations to the top.  Then add the candles that you made to the top of the cake.
And you can really eat the whole cake without feeling guilty and the candles too.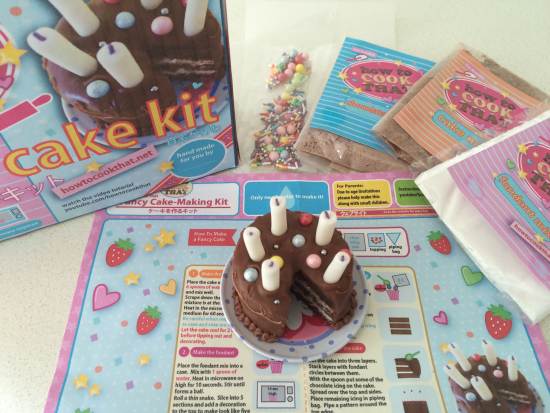 How to make your popin cookin style kit
In each kit you need to put:
– a mini piping bag
– a little medicine measuring cup
– three strong lined cupcake cases
– some decorations
– The three different powders a fondant mix, chocolate icing and cake mix. (recipes below)
– A 1/4 of a teaspoon measure (1.25millilitres (0.04 fluid ounces))
– a couple of mini sheets of baking paper
– and the instructions
Chocolate cake mix recipe, makes enough for 10 kits
100g (3.53 ounces) or 10 Tablespoons plain / all purpose flour NOTE: The tablespoon I used is a standard international one which is 15millilitres (0.51 fluid ounces)
114g (4.02 ounces) or 9 Tablespoons sugar
1 tsp baking powder
100g (3.53 ounces) dark chocolate
12g (0.42 ounces) or 1 Tbsp plus 2 tsp unsweetened cocoa powder
13g (0.46 ounces) or 1 1/2 Tablespoons powdered whole egg. I bought it at my local supermarket but you can get it online here.
Place everything into a blender and pulse.  Then blend for a few seconds until all the chocolate is powder.
For each kit place two tablespoons plus one teaspoon of cake mix powder into one bag.
'Fondant' Mix Recipe, makes enough for 10 kits
140g (4.94 ounces) or 13 tablespoons icing sugar or powdered sugar
30g (1.06 ounces) compound white chocolate.
Place them both into your blender.  And pulse and then blend until smooth.
For each kit add 1 tablespoon and two teaspoons of the 'fondant' powder into a bag.
Chocolate Frosting Mix, makes enough for 10 kits
270g (9.52 ounces) or 2 cups icing or powdered sugar
17g (0.6 ounces) or 2 tablespoons unsweetened cocoa powder
225g (7.94 ounces) white compound chocolate.
Blend it together in a blender until it is a powder.  
For each kit put three tablespoons of mixture into a bag.
For each one fold the top over several times, seal it with tape and then place a label on the front.
You can get the instruction sheet, labels and box cover here: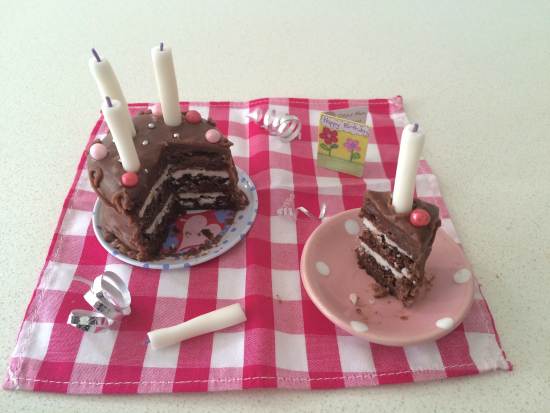 Watch Strawburry17 make the mini cake
My Cookbook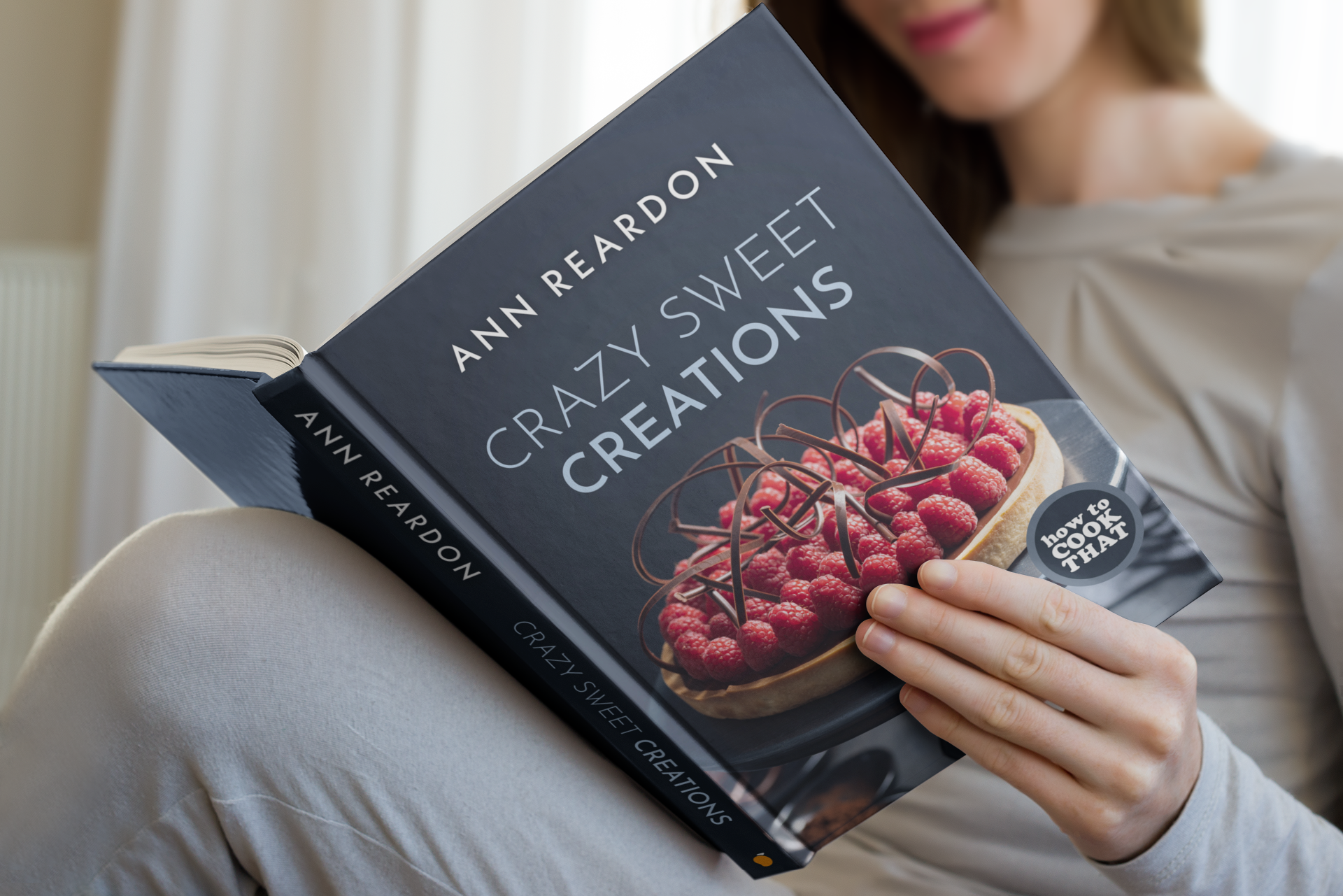 Stores that sell my book listed by country: http://bit.ly/ARcookbook All recipe quantities in the book are in grams, ounces and cups.