Easter Cake Recipe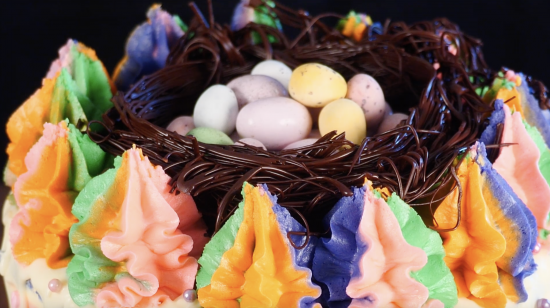 Happy Easter Everyone!
I love setting up Easter egg hunts for my boys, I try to make them harder each year the older they get. There are clues leading to each new location. The back of the clue says how many there are to be found there so they can keep hunting until they have them all. A tip for those of you who have older eagle eyed hunters and slightly slower little cute ones, get the different ages to hunt for different coloured eggs. For example the older kids can only get blue and gold eggs and the little ones can get any colour. That way you can make the blue and gold eggs harder to find and the others easier.
To decorate the cake:
1 packet mini eggs
200g (7.05 ounces) dark chocolate (real chocolate containing cocoa butter)
sprinkles
50g (1.76 ounces) compound white chocolate
A piece of marble or corona placed in the freezer for making the nest or alternatively you can make a nest this way
Sponge Cake Recipe:
You will need to make two quantities of the recipe below. I like to make them separately so it all fits in my mixing bowls and so the cakes are not sitting around waiting to be baked. Bake the first batch in two 8″ round cake tins, with the second batch colour half of it blue and leave the other half plain, bake in two 8″ cake tins. So overall you will have three plain sponge cakes and one blue one.
For each batch you need:
2 cups or 320g (11.29 ounces) plain or all purpose flour
1 1/2 cups or 327g (11.53 ounces) sugar
1 Tbsp or 3 tsp baking powder
1 1/2 tsp or 7.5g (0.26 ounces) powdered gelatin
1/2 cup or 125mL (4.23 fluid ounces) vegetable oil such as canola oil
7 egg yolks or 105g (3.7 ounces)
1 cup or 250mL (8.45 fluid ounces) cold water
250g (8.82 ounces) or 7 egg whites
1/2 tsp cream of tartar
Blue food colouring
Preheat the oven to 160C (320 degrees Fahrenheit).
Place the flour, sugar, baking powder and gelatine into a bowl and whisk to aerate and get rid of any lumps. Make well in the centre and pour in the oil, egg yolks and water. Set aside.
Add the cream of tartar to the egg whites and whip to soft peaks. Mix the flour mixture until just combined then fold in the egg whites, keeping as much air in the mixture as possible.
Pour into two 8″ round cake tins and bake for 45minutes at 160C (320 degrees Fahrenheit) or until a knife inserted into the centre comes out clean.
Buttercream (you may need to make this in two batches so that it fits in your mixing bowl)
600g (21.16 ounces) or 2 1/2 cup margarine
12 1/2 cups or 1575g (55.56 ounces) icing sugar
musk flavouring (optional, you could use a little lemon juice instead if you prefer)
Whisk together the margarine and icing sugar and flavouring on low speed until combined then whip on medium speed for a few minutes to aerate.
Cut a small circle out of the centre of the plain cakes. Cut a medium circle from one side of the blue layer. Then cut 4 small circles from the blue in the same size as you cut out of the plain cakes.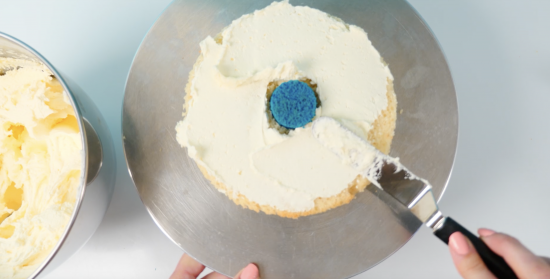 Layer up the cakes as shown in the video and cover the outside with buttercream. Smooth the sides and top of the cake. Place the cake in the fridge for a couple of hours. Using an icing comb run it around the cake (note you can buy similar combs in the hardware store as tile glue spreaders).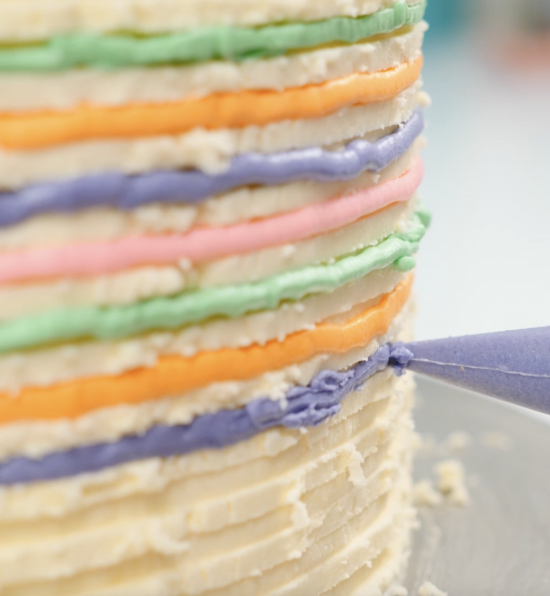 Pipe different colours into the missing lines then smooth it around using a flat metal cake scraper. Pipe a frill of purple and orange around the base.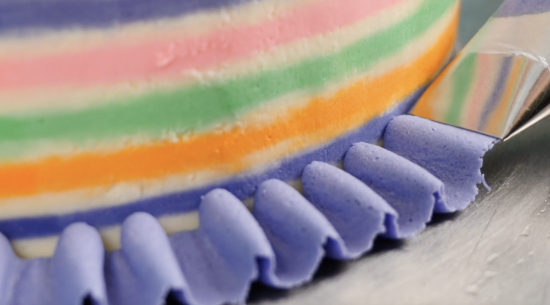 Put the remaining fronting into a plastic wrap as shown in the video and pipe swirls around the top of the cake. Melt the white chocolate and pipe it around the edge allowing it to drip down nd add sprinkles.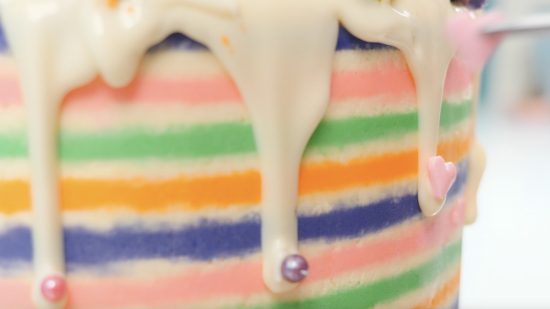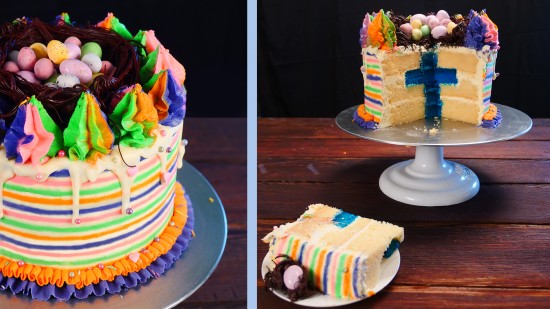 My Cookbook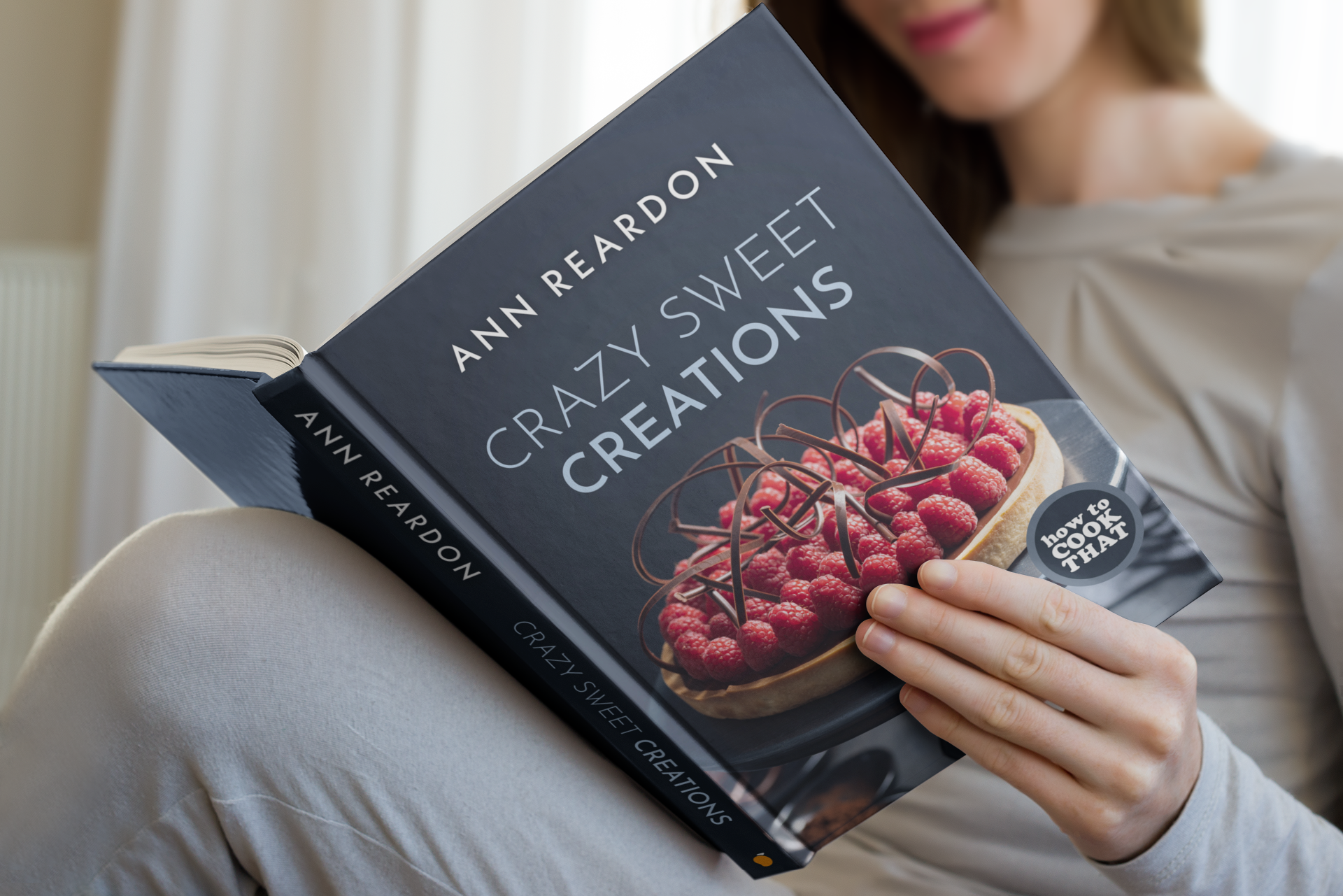 Stores that sell my book listed by country: http://bit.ly/ARcookbook All recipe quantities in the book are in grams, ounces and cups.