Easy Gingerbread House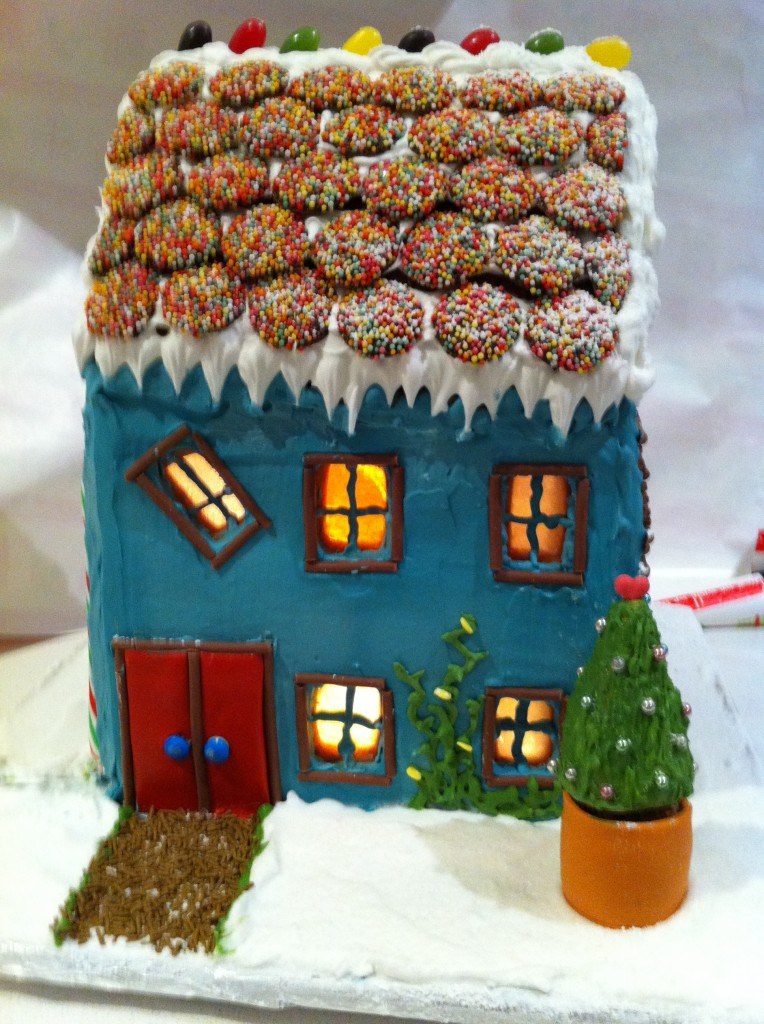 Do you want a gorgeous gingerbread house but don't have time to make the dough? Buy two cheap kits from Aldi and combine the pieces to make one bigger house. Check out the decorating ideas below to help you create a masterpiece.
It has become a tradition at our house to have a lolly laden gingerbread house at Christmas.  We usually make the dough and design a house – click here for help with that. This year we went for an easier version.
You will need:
2 Aldi gingerbread house kits
3 egg whites
450g (15.87 ounces) or 3 1/2 cup plus 1Tbsp icing sugar
1/2 tsp cream of tartar
A board to put the house on
Isomalt or clear hard boiled lollies for the windows
Pins
Your choice of lollies to decoarate
Piping bag or plastic bag for the icing.
Step 1. Ginger bread house windows
Use the two bases of the Aldi kits as the sides of the house – the holes become windows. You can do your window in one of three ways:
a) using hard boiled lollies for the gingerbread house windows
Place your gingerbread side with windows onto a sheet of baking paper.


Choose some hard boiled lollies, choose clear lollies if you want your windows to look semi-transparent. Place the hard boiled lollies in a plastic bag and smash with a rolling pin. Sprinkle onto baking paper and place in hot oven until just melted. Then holding up the sides of the baking paper pour into the window spaces. (With a kit house you need to do it this way, if you put the powdered lollies in the window holes and put the gingerbread in the oven by the time the lollies melt the gingerbread will be over-browned).
b) Using isomalt for the gingerbread house windows


Follow the steps as above substituting the isomalt powder for the hard boiled lollies. Isomalt melts at a much higher temperature so will take longer to melt in the oven. It will last longer in humid conditions than the lolly windows.  You can sprinkle with sugar to get a frosted look.
On the downside isomalt does not taste as nice as lollies and is a lot more expensive. You will have to melt a lot of powder to fill the windows.  However many sugar free lollies have isomalt as the main ingredient so check the hard sugar free lollies and smash them for the windows.
c) Using gelatin leaves for the windows
If you are after super fine windows that you can see through then the best option is gelatin leaves glued onto the inside with royal icing. They will not taste good at all so are just for aesthetics.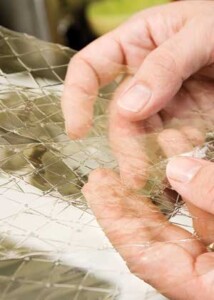 Step 2. Make the icing 'glue'
3 egg or 110g (3.88 ounces) whites
450g (15.87 ounces) or 3 1/2 cup plus 1Tbsp icing sugar
1/2 teaspoon cream of tartar
1 teaspoon vanilla essence/ lemon juice / mint flavouring (whichever you prefer)
Using electric beaters combine all ingredients and beat on high speed for about 7 minutes or until stiff. Put into a piping bag or ziplock plastic bag with the corner cut off.
Step 3. Pin the house together
Yes, you read that correctly, with soft gingerbread like this it is easiest to pin the house together.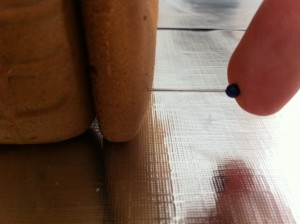 Count the number of pins that you use so you can be sure that you remove them all.
Step 4. Use the icing to glue it all in place as shown.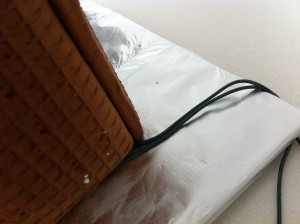 If you want lights in your house remember to put them in first, with the wire going under the wall.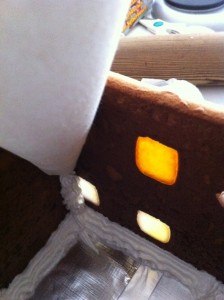 Pipe royal icing along the base and up the sides of the house.  (If using Aldi kits use two roof panels and two bases for the house walls).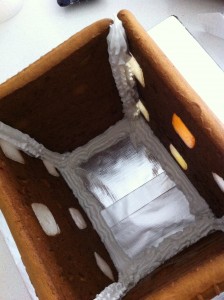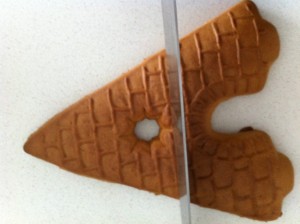 Cut the gingerbread triangles to fit as shown.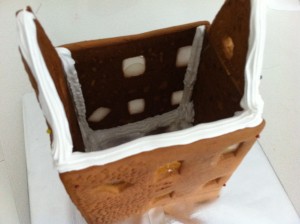 Then pin and ice in place.  If you want to fill your house with wrapped lollies do that now then finally add the roof.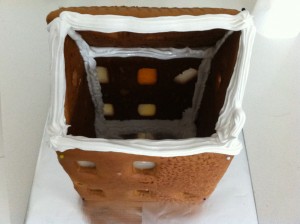 Step 5. Leave overnight to harden.
Leave the left over icing in the bag, wrap in plastic and put in an airtight container.
Step 6. Remove ALL the pins and decorate.
Here are a few different decorating ideas to get you started.
a) Using Chocolate to decorate the gingerbread house

Chocolate is not only delicious it can be made to look like wooden sticks – you can use this on the roof or sides of the house as shown here.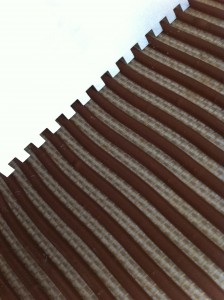 To make chocolate 'sticks' temper your chocolate, pour onto a baking sheet and run through it with an icing comb as shown above.  If you don't have one go to a hardware store and ask for a tile glue spreader it will do the same job.  Leave to set, then glue in place with royal icing.
b) Using fondant for details on gingerbread house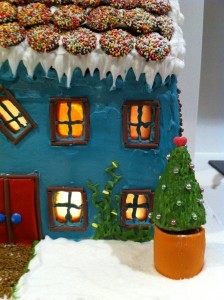 The red door and christmas tree above are made out of fondant.  The blue wall is coloured royal icing, Wood around windows is chocolate.  Fondant allows you to add more realistic details to your house and is used in most houses entered into competitions – for fondant basics see this post.
c) Using piped royal icing to decorate your gingerbread house.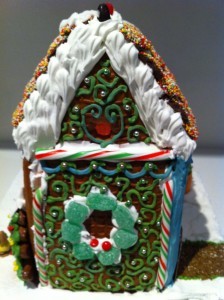 The royal icing can be coloured and piped onto your house, or spread over the whole thing. If you choose this option you may find it easier to decorate before assembling.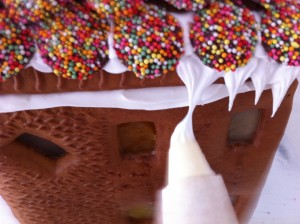 To make 'icicles' pipe a blob of icing and pull downwards.
d) Using lollies to decorate your gingerbread house.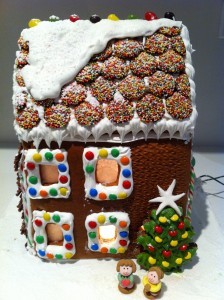 This is a favourite with the kids as it makes the house so yummy!!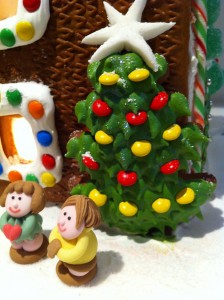 The little people pictured here came in the kit. The tree also came with the kit and has been covered in royal icing and decorated with mini m&m's, a fondant star and edible glitter.
Step 7. Dust with icing sugar 'snow' and wrap in celophane if not consuming immediately.
Gingerbread houses can be made up to a couple of months before christmas.  If you live somewhere with humid conditions the ginger bread may become soft causing the house to collapse.  Using lots of royal icing, which sets hard, can help with this.
For more gingerbread house images and ideas click here to go to: best of the web gingerbread houses.
Copyright © 2016 Reardon Media Pty Ltd. All rights reserved. How To Cook That
My Cookbook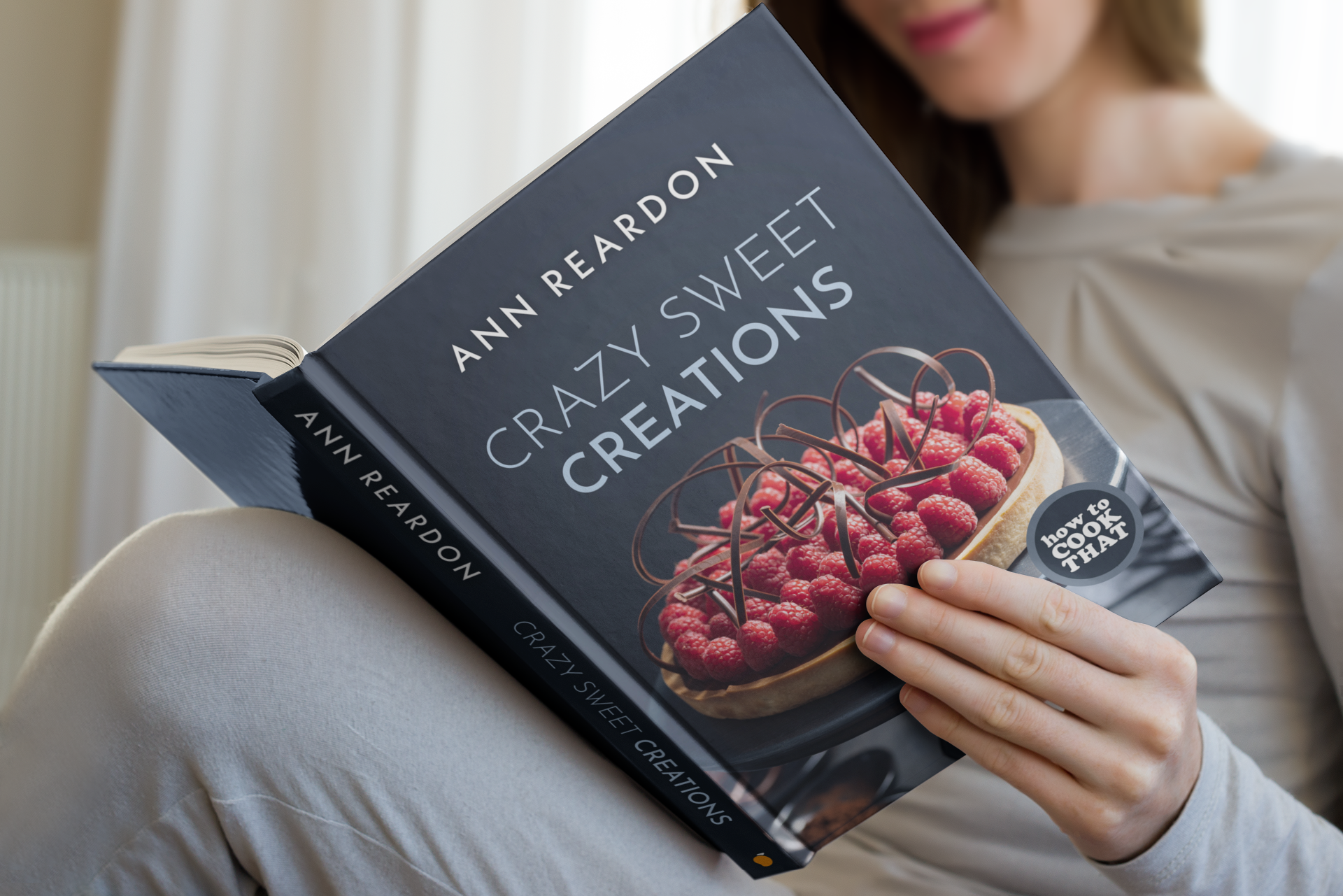 Stores that sell my book listed by country: http://bit.ly/ARcookbook All recipe quantities in the book are in grams, ounces and cups.