Gingerbread House 2022
Step 1. Print and cut out the template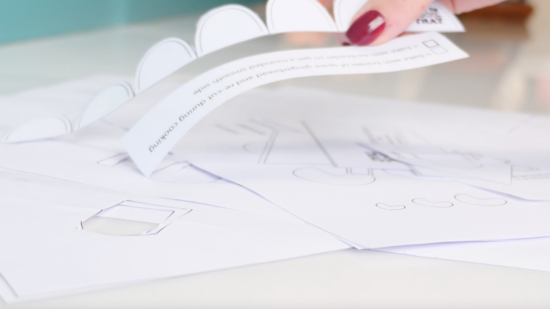 Spinning Tree Gingerbread House Template

This is a large house so it will take quite some time to cut out all the pieces, bake, decorate and assemble. As a guide allow yourself 2-3 days to make this house.
Step 2. Make the Gingerbread Dough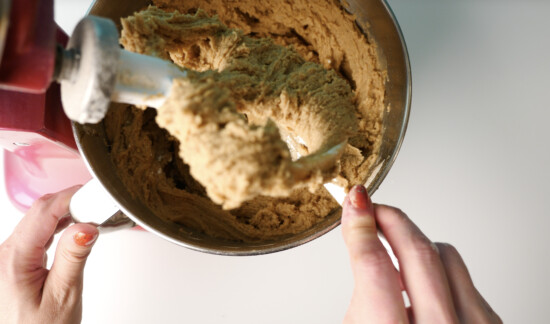 Gingerbread Dough Recipe
Make 3 batches of this recipe. Don't just triple the recipe unless you have a huge commercial mixing bowl – make three batches. Note my bowl is 4.8L (1.27 gallons) and only one batch fits.
430g (15.17 ounces) or 2 cups butter or margarine, melted
430g (15.17 ounces) or 2 cups caster (super fine) sugar
250g (8.82 ounces) or 2/3 cup glucose syrup
260g (9.17 ounces) or 3/4 cup molasses (note you can swap glucose and molasses for other syrups that you like. However if they have more water in, as some syrups do, then you will end up with a very runny dough and therefore will either need to add a lot more flour or reduce the milk).
180 mL (6.09 fluid ounces) or 2/3 cup milk (4%)
1195g (42.15 ounces) or 7 1/2 cups plain flour
12g (0.42 ounces) or 2 tsp bicarb soda
SPICES (optional, you can adjust the quantity of all the spices to make it taste how you want)
20g (0.71 ounces) or 3 Tbsp cinnamon
12g (0.42 ounces) or 2 Tbsp ground cloves
30g (1.06 ounces) or 5 Tbsp ground ginger
1/2 teaspoon ground mace (gives it a slight peppery kick)
Combine all the ingredients in a mixing bowl and mix until just combined. Cover and put the bowl in the fridge for 2 hours to make the dough thicker and easier to cut out.
Step 3. Cut your Pieces & Bake
Preheat the oven to 180°C (356 degrees Fahrenheit).
Roll out the dough on a sheet of baking paper. Sprinkle the dough with flour and add the template on top. Cut around the template. See the video for demonstration and pay attention on the template as to which pieces to leave a border on during baking and which ones to bake without a border. Also double check which pieces say cut 2 or cut 3.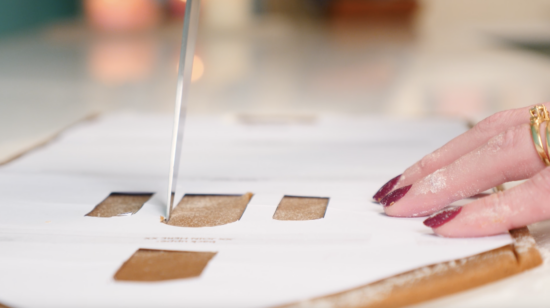 Baking time will depend on the thickness and sizes of the pieces. The larger parts took 30 minutes, then pull out of the oven and redo the cuts, remove the borders and windows and then bake for a further 10 minutes if needed. Smaller and thinner bits took 10-15 minutes. For large thick pieces once you think it is done, let it cool, if it still feels at all soft flip it over and bake for a further 10 minutes.
Step 4. Decorate
You will need:
Royal icing, recipe below
A spinner if you want your tree to spin, I used this 5.7″ one… white turntable. (affiliate link, which means I get a few cents if you buy it so please don't let that factor into your decision – buy whichever one you want).
Battery operated small string of warm white lights
Strong pdf or wooden base board (size on template) covered in foil
piping bags
400g (14.11 ounces) chocolate, temper your chocolate
A star shaped piping tip
A 98 shell piping tip (shape pictured below)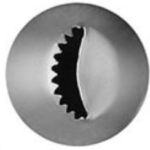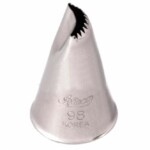 Royal Icing Recipe (with powdered egg white)
I used more than one batch of this icing but make it as you need it so you have it freshly mixed.
1kg (2.2 pounds) or 7 ¾ cups icing (powdered) sugar
50g (1.76 ounces) powdered egg white or 114g (4.02 ounces) pavlova magic mix
125mL (4.23 fluid ounces) or 1/2 cup water
1 teaspoon vanilla or other flavouring essence of your choice (vanilla will make it slightly cream coloured).
plus an additional 1-3 tablespoons of water to get the correct consistency
Whip all ingredients together on high speed until white and thick enough to hold its shape.
Using melted chocolate join together the upper and lower wall pieces.
Pipe details on the small pieces including the window ledges and stairs using royal icing.
Cover the inside of each wall with royal icing and around the inside of each window. Flatten the walls as best as you can. Leave to dry.
Using royal icing and some scraps of gingerbread assemble the large tree as shown in the video.
The next day flip the walls over so that you can see the outside of each wall. Pipe an outline around each of the walls and the windows not hat wall.
Take some of the royal icing in a bowl and thin it down slightly with water. You want it to still be as thick as possible. Just add a tiny bit of water at a time until the surface of the icing in the bowl will go flat when you tap the sides of the bowl.
Use this icing to flood fill the walls inside the lines that you have already piped. A piping bag makes it easier to fill small areas accurately.
Leave for at least a couple of hours to dry out.
Using a piping bag pipe patterns of royal icing onto the walls. I suggest starting with the back, then sides and finally the front. That way you will be doing your best work where it will be seen.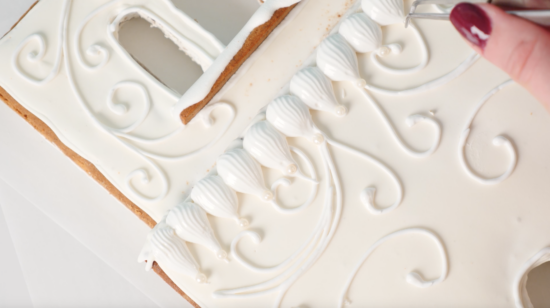 Join the three base rings that go around the spinner together on top of each other and cover the top one with icing. Be careful not to get icing in the middle because the spinner has to fit in there.
Using the star shaped tip and shell tip pipe alternating rows of icing around the Christmas tree.
Leave all of those pieces to dry.
Step 5. Assembly
Watch the video for a demonstration of how to assemble. Start with the spinner and the tree. Note I did not using frosting to attach the spinner to the baseboard but I recommend that you do this. Otherwise when you press the button to turn it on the spinner moves forward and then gets stuck. It is fixable by gently pushing it back again from the front, but would be easier if it was stuck in the right spot.
Add the walls. If you want lights position them so the cord and on off switch go out through the hole at the back.
Add the steps into place.
Using the ribbon trick shown in the video add the roof.
Cover the joins and pipe the roof.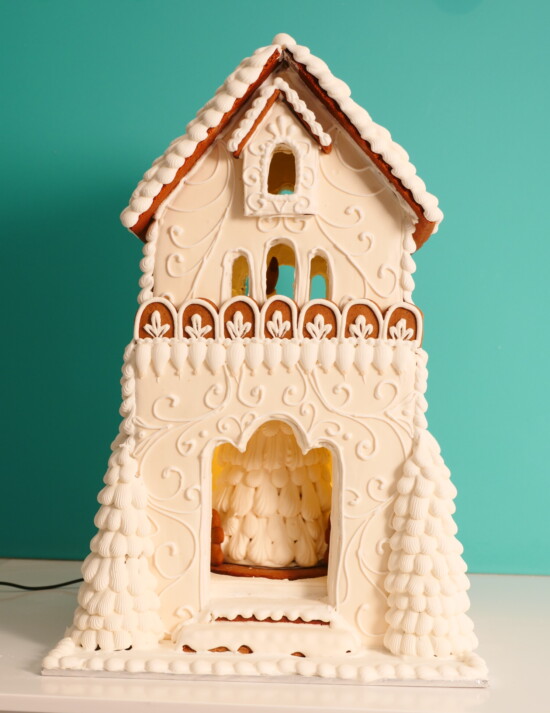 My Cookbook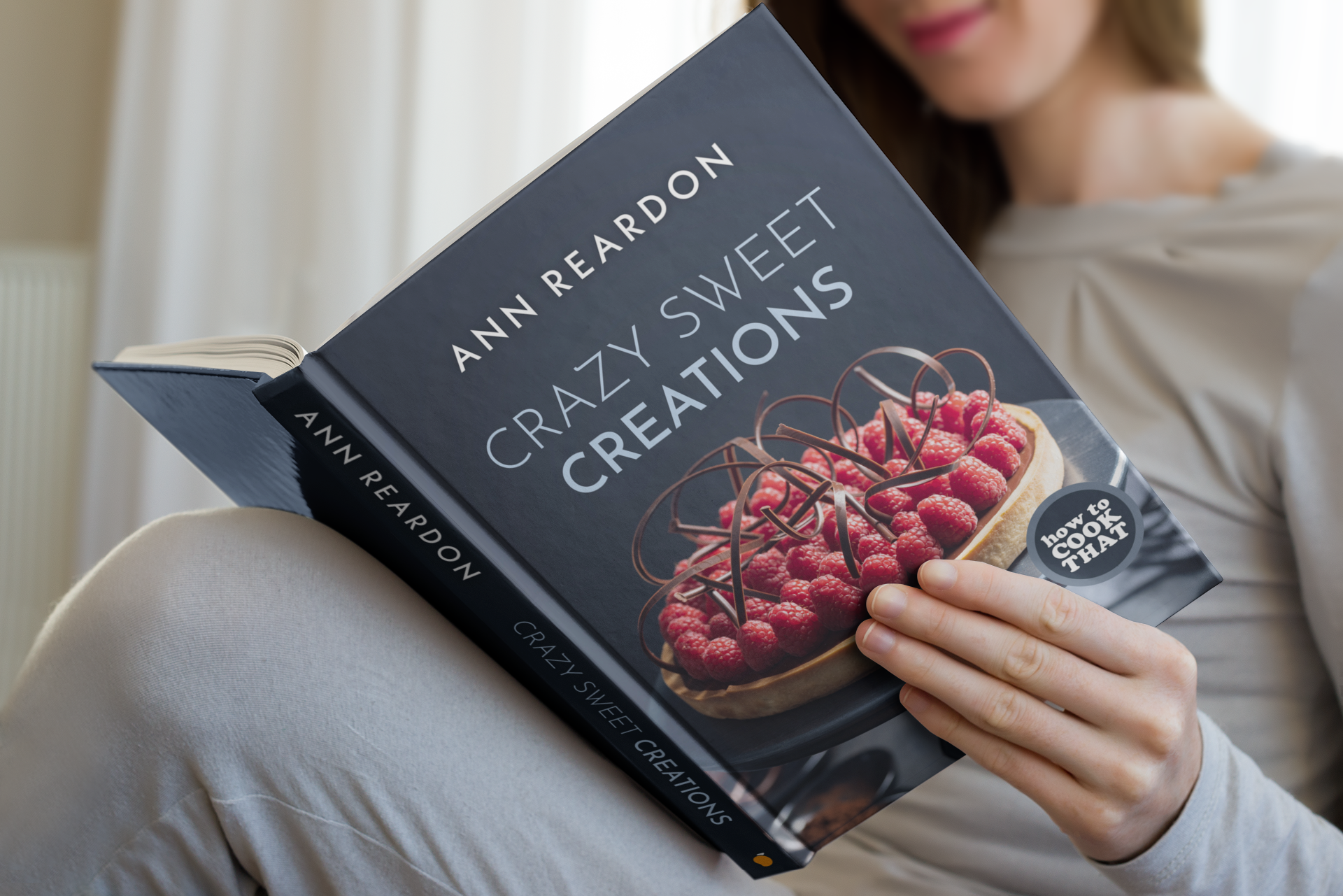 Stores that sell my book listed by country: http://bit.ly/ARcookbook All recipe quantities in the book are in grams, ounces and cups.