Grand Dish of Snowballs 200 year old recipe
A Grand Dish of Snowballs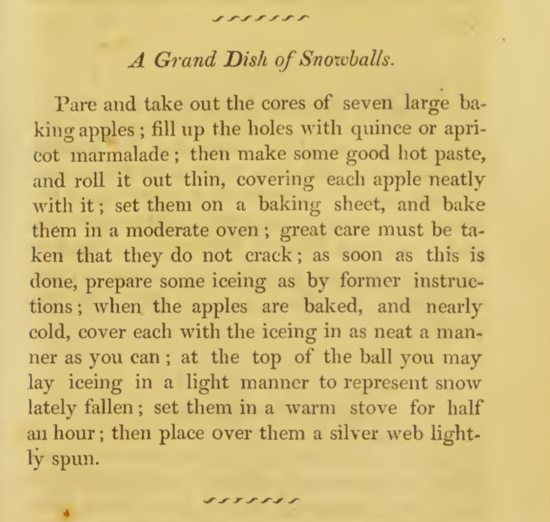 Pare and take out the cores of seven large baking apples ; fill up the holes with quince or apricot marmalade ; then make some good hot paste, and roll it out thin, covering each apple neatly with it ; set them on a baking sheet, and bake them in a moderate oven;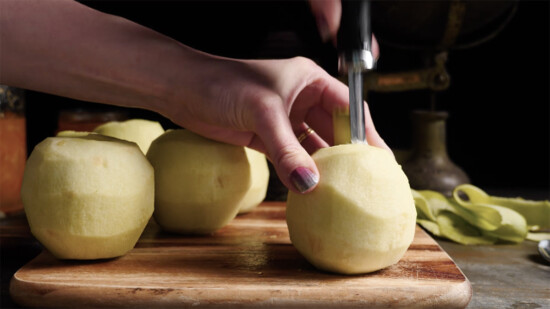 great care must be ta- ken that they do not crack ; as soon as this is done, prepare some iceing as by former instruc- tions ; when the apples are baked, and nearly
cold, cover each with the iceing in as neat a man- ner as you can; at the top of the ball you may lay iceing in a light manner to represent snow lately fallen ; set them in a warm stove for half
an hour ; then place over them a silver web lightly spun.
Crisp Tart Paste.
1lb (0.45 kilograms). butter and 2lb (0.91 kilograms). flour. Rub the butter and flour very finely together; then mix it with water into paste the stiffness of the butter. This is choice paste for tarts made of fresh fruit.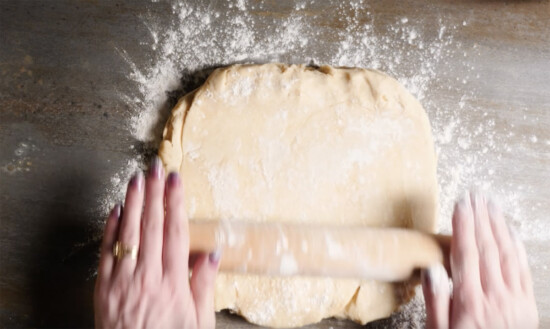 To make icing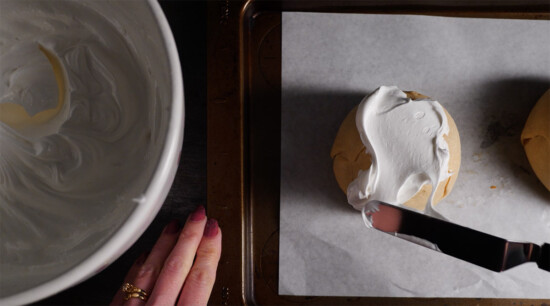 Take good double loaf sugar;
beat and sift it through a fine lawn ; then take any number of whites of eggs into a large pan or bason; and mix the sugar pretty stiff; add one table spoonful of soft gum dragon, prepared for the purpose beat;
all together with a spatter; adding a little lemon juice at intervals, which will assist the colour; keep beating it up until very light, which you may know by it rising to more than double the quantity ; this is a certain criterion to know the lightness of it. If you want iceing for cakes, you must attend to the stiffness of it, bytaking a little up with a scraper, and dropping it upon a tin plate; if it keep its shape, it is proper to lay on cakes; but if it runs, it must be stiffer.
N. B. Gum dragon, proper for ice, must be put in water two days at least before wanted; and must be nearly as thin as white of egg; when used, must be strained through a clean cloth.
To spin a silver web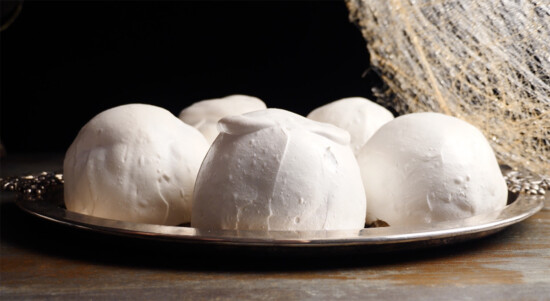 Take one pint of clarified sugar, and one tea spoonful of lemon juice; boil it in a small pan to the degree called carmelled; the moment the sugar is ready, take it off, and put the pan bottom in cold water; as soon as the water is warm, take the pan out, this precaution will keep the sugar from discolouring; as this sugar is to represent silver, you must be particularly careful you do not boil it too high; have ready a crocantli mould neatly oiled with sweet oil; then take a teaspoon, and dip the shank of it into the sugar on one side of the pan, take up a little sugar, and throw the spoon backwards and forwards in the mould, leav- ing as fine a thread as possible; continue to do so until the mould is quite full; threads must be as fine as hairs
take it out, and cover it over a custard or any other sweet; and may, if you please, raise it by spinning light threads of sugar on the top.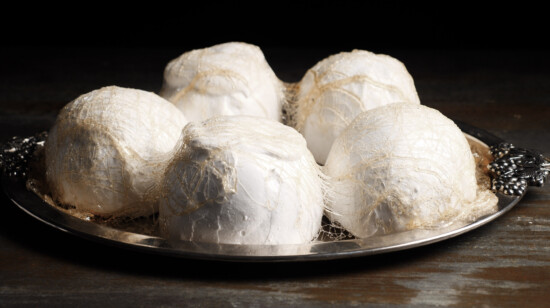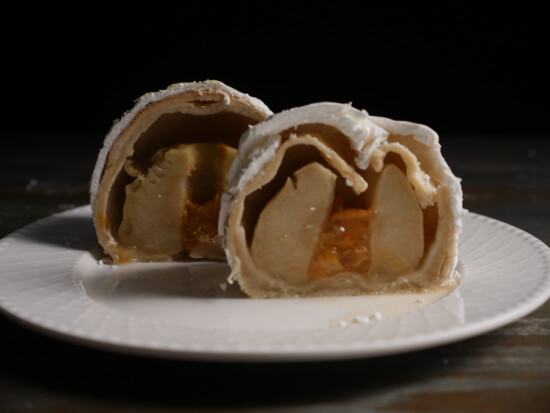 Recipe Source: A treatise on confectionary in all its branches – with practical notes and illusted with appropriate engravings, 1817, Joseph Bell
My Cookbook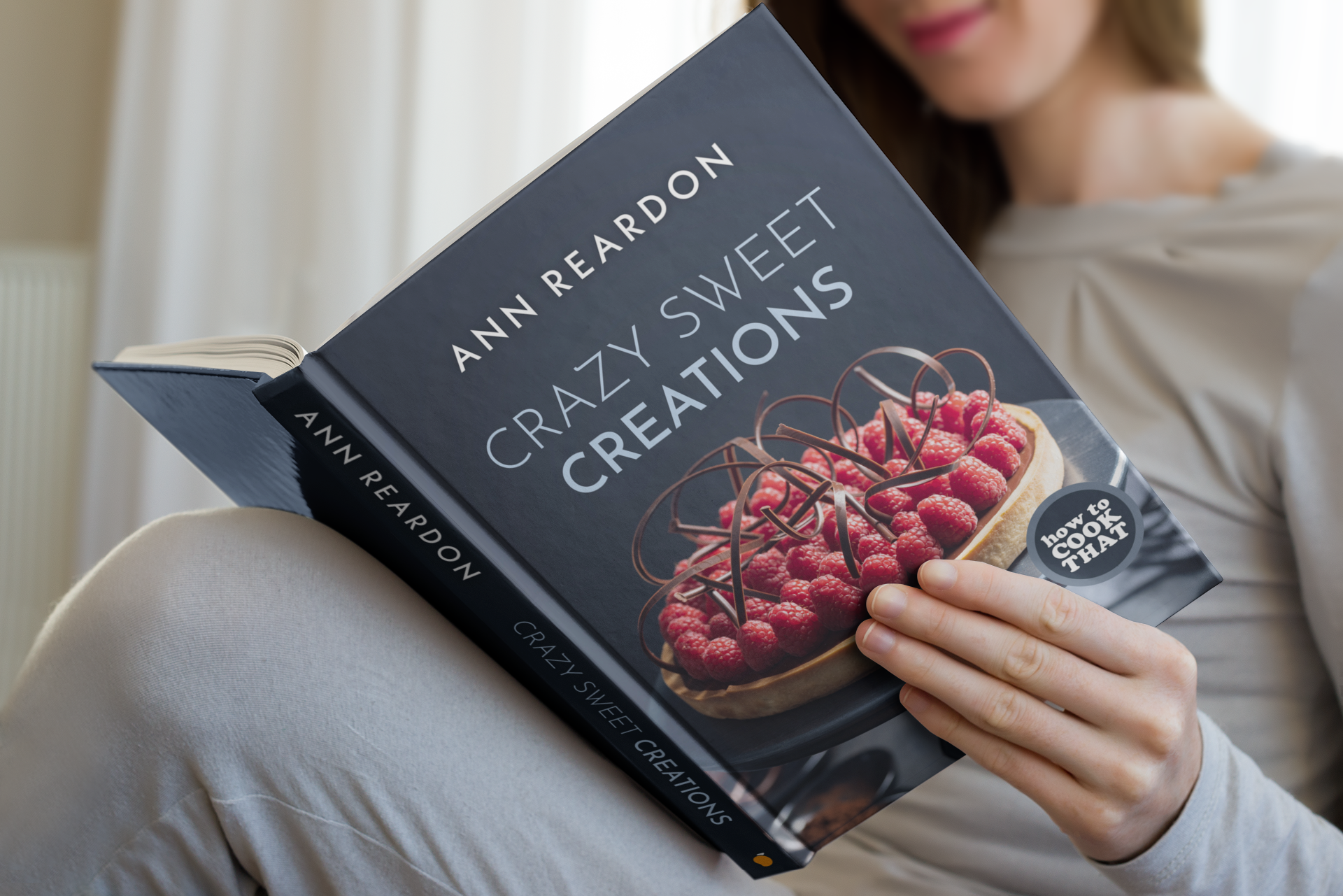 Stores that sell my book listed by country: http://bit.ly/ARcookbook All recipe quantities in the book are in grams, ounces and cups.