Hello Kitty Cake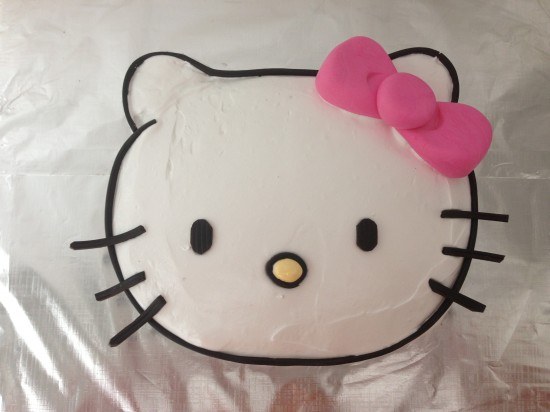 Without so much as a taste, we kissed Hello Kitty goodbye…
Sure, the cute cartoon cat is adored around the globe and frequently requested on my YouTube channel, but in our boy-filled home this lovely cake was never going to hold pride of place at an 11-year-old's birthday party! So instead, I put a notice up on Instagram offering a free kitty to a good home (it was snapped up within 3 minutes).  I later received a lovely video of a gorgeous little girl blowing out the candles on her treasured Hello Kitty cake.
You will need:
(serves 8-10)
one quantity of Italian Meringue Frosting (recipe video here)
2 x 20cm (7.87 inches) round cakes
1 roll of black licorice (or you could use black fondant)
yellow food colouring
140g (4.94 ounces) pink or red fondant for the bow
strawberry jam (optional)

This cake is fairly easy to make, I chose the italian meringue frosting because it is brilliant white, you will need a candy thermometer to make it.   If you do not mind if it is not white then you could use cream cheese frosting or butter cream or whipped white chocolate ganache instead.

Download the hello kitty cake cutting guide here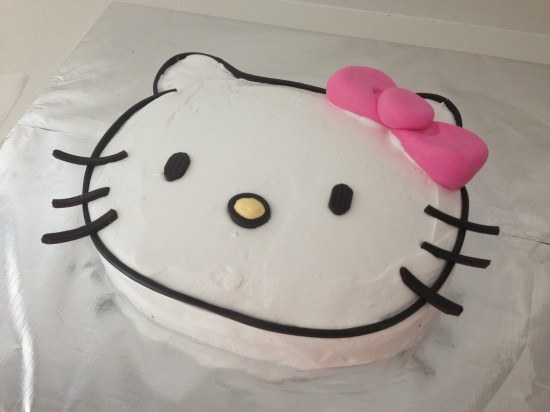 by Ann Reardon How To Cook That
BIG ANNOUNCEMENT
I have been busy over the last year planning, writing and overseeing the photography and layout for my first ever cookbook! There are heaps of my favourite dessert recipes in there with a chapter on pastries, ice-cream, yummy cakes, artistic desserts and of course chocolate desserts. Each chapter has its own intro explaining the food science that you'll need to know for success every time. Booksellers where you can purchase your very own copy: http://bit.ly/ARcookbook
All recipe quantities in the book are in grams, ounces and cups.