Lemon Meringue Pie Recipe
Pastry
140g (4.94 ounces) or 2/3 cup butter or margarine
225g (7.94 ounces) or 1 1/4 cups plain flour
50g (1.76 ounces) or 1/4 cup sugar
45g (1.59 ounces) or 3 tablespoons icing sugar
1 teaspoon lemon zest
Combine all the ingredient in a bowl. Rub the butter into he flour using your thumbs and infers. Pour the crumbly mixture into a pie tin and press down using a fork to cover the whole base an sides.
Bake at 160C (320 degrees Fahrenheit) for 35 minutes or until golden all over.
Lemon filling
310mL (10.48 fluid ounces) or 1 1/4 cups water
200g (7.05 ounces) or 1 cup sugar
1/4 cup cornflour or corn starch
6 egg yolks
1 tablespoon lemon zest
190mL (6.42 fluid ounces) or 3/4 cup lemon juice
2 tablespoons butter
Place the water, sugar, cornflour, egg yolks, lemon zest, lemon juice and butter into a pan. Whisk to combine. Place not eh stovetop and stir continuously until the mixture boils and thickens. Remove from the heat and set aside.
Meringue
6 egg whites
150g (5.29 ounces) or 3/4 cup sugar
Whip together the egg whites and sugar until stiff peaks form. Reheat the lemon filling until it is piping hot and pour into the prepared pastry case. Add the meringue on top and bake at 160C (320 degrees Fahrenheit) for 20 minutes. Allow to cool for 15 minutes before serving.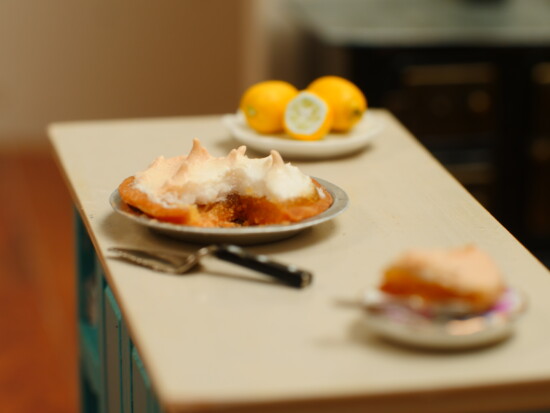 BIG ANNOUNCEMENT
I have been busy over the last year planning, writing and overseeing the photography and layout for my first ever cookbook! There are heaps of my favourite dessert recipes in there with a chapter on pastries, ice-cream, yummy cakes, artistic desserts and of course chocolate desserts. Each chapter has its own intro explaining the food science that you'll need to know for success every time. Booksellers where you can purchase your very own copy: http://bit.ly/ARcookbook
All recipe quantities in the book are in grams, ounces and cups.