How To Make Sugar Decorations

Caramel:
1 1/2 cups sugar
1/4 cup water
1 tablespoon glucose syrup or corn syrup
Place the sugar, water and glucose syrup into a pan. Stir over high heat until it is boiling and the sugar has dissolved. Wash down the sides of the pan using a wet pastry brush and leave to boil, unstirred over high heat until it is golden. Remove from the heat and use to make sugar decorations.
Sugar Spirals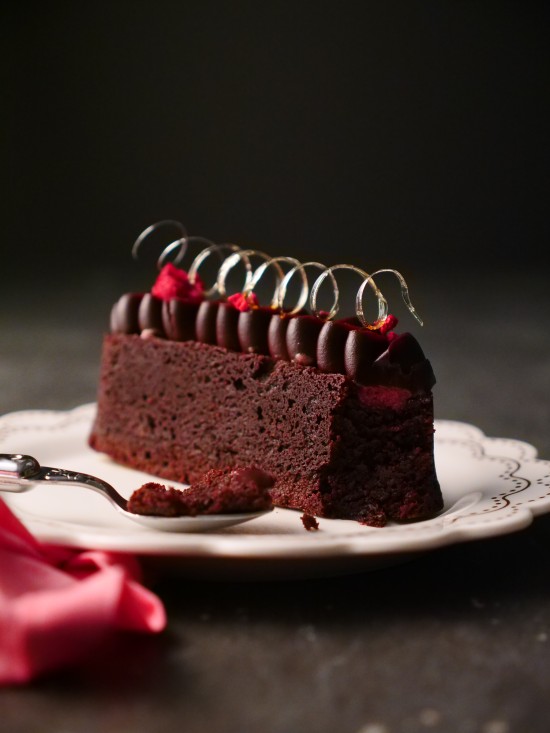 Oil the handle of a clean wooden spoon.
Allow the caramel to cool little and start to thicken. You will know it is cool enough when you can pull a spoon out of the pan and a long strand of sugar follows it, like mozzarella cheese on a pizza. Wrap the strand of sugar around the spoon to make a spiral – it will set and become fragile very quickly. Push off the spoon and place on top of your dessert. you can store these for a day or two in an airtight container on non-stick baking paper. Make sure they are not touching each other or you will not be able to get them apart.
Sugar Lace Decorations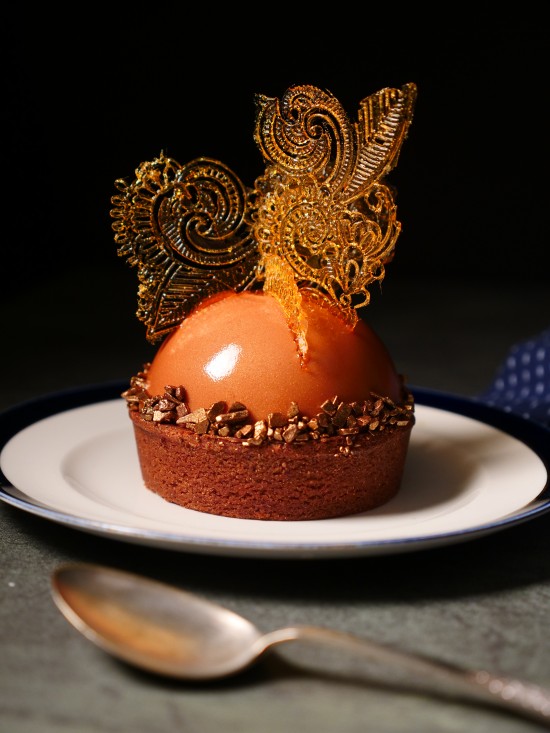 Silicone moulds are great for making sugar decorations because they are heat resistant. Use the caramel immediately so that it is hot, thin and runny. Pour a small amount onto the lace mold, press a spatula down on an angle on one side and run it across the top to take off all but the caramel that is in the lace crevices. Leave for about 10 minutes to cool and set, flip it over onto baking paper and peel back the mold. Use as one piece or break into multiple parts.
Candied Hazelnuts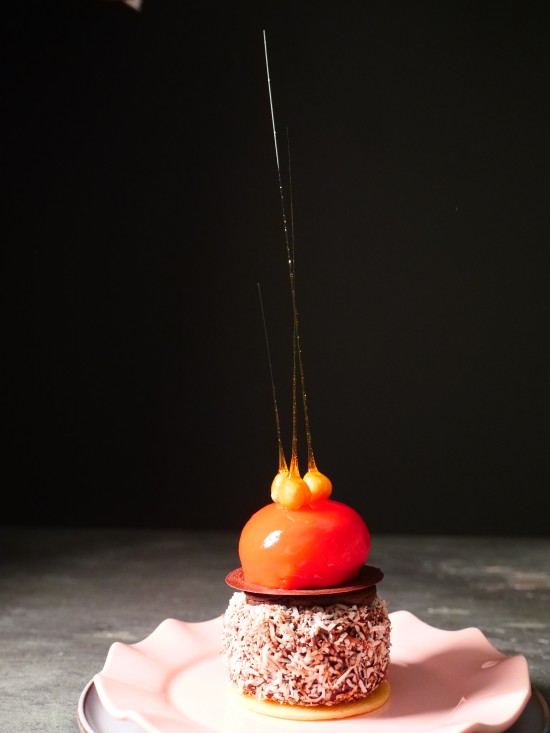 Stick a skewer into one side of a hazelnut or nut of your choice. Prepare an area where you can hang the skewers – I used clamps on the open door of an overhead cupboard. Put baking paper on the bench underneath so you don't get a sticky mess. Dip the nut into the slightly cooled caramel making sure it is covered all over. Hang the skewer up allowing the caramel to drip down. It will only take about 10 minutes to set, break the spikes off to the desired length, remove the skewer and place on top of your dessert.
Sugar Cellophane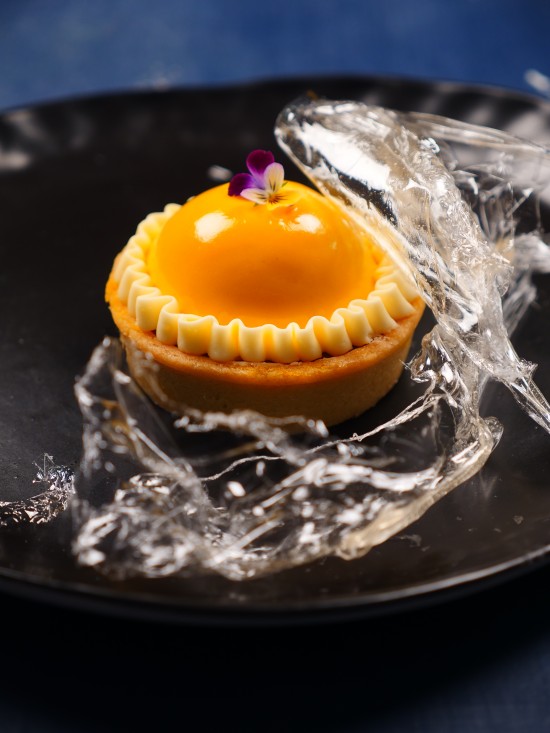 Cellophane made with Isomalt
Heat some isomalt chips in pan until they melt into liquid. Allow to cool slightly. Burn warning – it is still extremely hot so use caution. Place a round cookie cutter into the isomalt and lift, tilting to one side so you end up with a layer of isomalt on one side that looks like bubble mixture ready to be blown. Using a hairdryer on low speed at distance immediately blow the isomalt through the cookie cutter to make cellophane. Use immediately or it will go soft.
Cellophane made with Caramel
Allow the caramel to cool slightly, place a round cookie cutter into the caramel and leave for about 30 seconds. Lift it up and let the caramel drip down – if it drips off the edges only and doesn't come together in the middle it is too hot, put it back in the caramel and try again in another 10 seconds. Once it is dripping down and meeting itself in the centre lift higher allowing the bottom to cool a little, Using silicone gloves hold the bottom, turn the cutter on its side and pull the caramel away from the cookie cutter to make cellophane. See video for demonstration.
Blown Sugar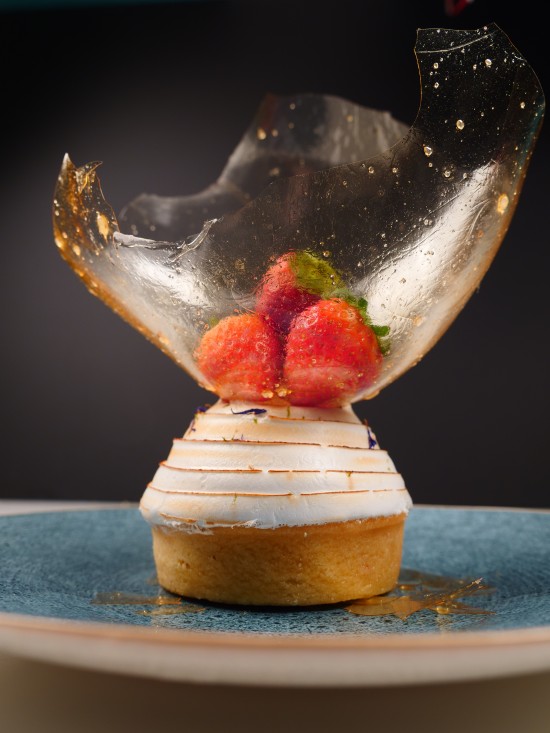 This one is new to me and I am definitely not an expert. I only tried it with caramel but from most accounts isomalt would have been better for this.
Tip some of the caramel (or isomalt) onto some non-stick baking paper or silpat if you have one. Wear silicone gloves to protect your hands. Fold the silpat in pushing the edges of the caramel into the centre, trying to keep an even heat. Once it is thick enough to lift off the silat begin to shape into ball. If you want it opaque stretching and fold if you want it clear skip this step.
Place the metal end of the pump into the sugar ball and squeeze to seal around the pipe. Pump it up. I found that letting it hang down from the pipe was best, use your hand to support any sides that are getting too thin forcing the air to the other side.
To get it off the metal tube you need to heat the tube up with a blowtorch – mine was out of gas so I broke the sugar trying to get it off, but it really is quite simple if you have the right tools – see 6:59 in (149.86 centimetres) the video below.

And if you don't have pump apparently it is possible to do it without one – for hygiene reasons you just need the person who is eating it to be the one who is blowing it up.
© All Rights Reserved Reardon Media PL 2019
My Cookbook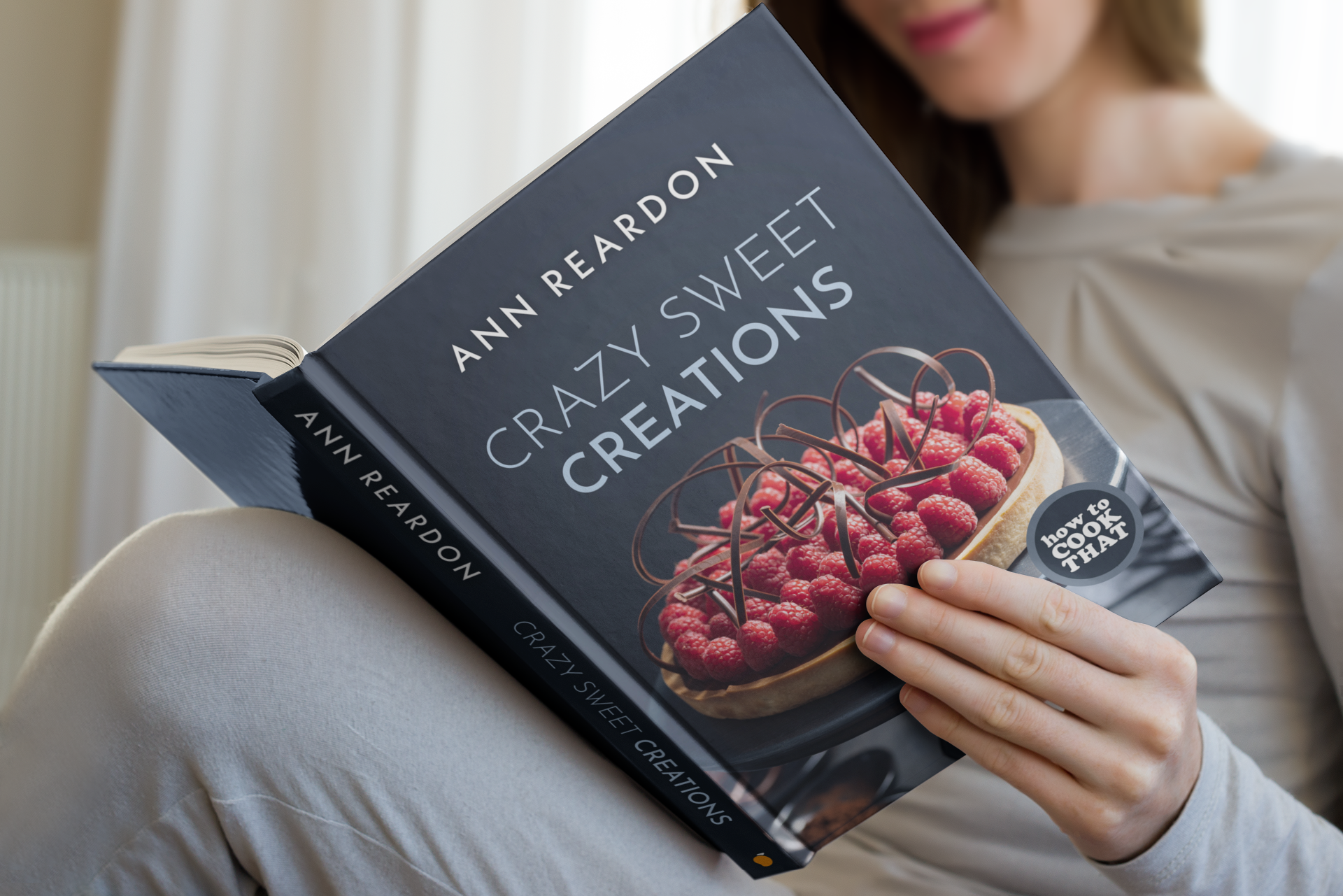 Stores that sell my book listed by country: http://bit.ly/ARcookbook All recipe quantities in the book are in grams, ounces and cups.