Mini Patisserie with mini food recipes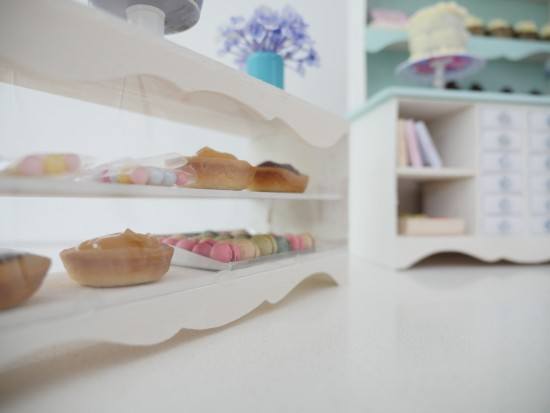 There is something about miniatures that fascinates me. I never had a dolls house as a kid. But that didn't stop me. I turned a bookshelf into a mini room and made a little bed, stitched a mini cross stitch pillow, and was delighted to find some of my grandmothers doll house furniture stashed away in storage.
The fun doesn't have to stop when you get older. Make a miniature world and watch the delight on young ones faces as they indulge, imagine and play. This project would be so much fun for a little one if, for whatever reason, you were not having a birthday party. Invite over one special friend to eat at the patisserie.

Mini Food Recipes
Mini Cupcakes Recipe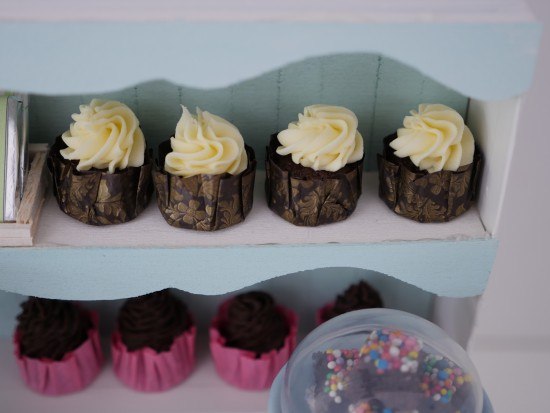 Mini Brownies Recipe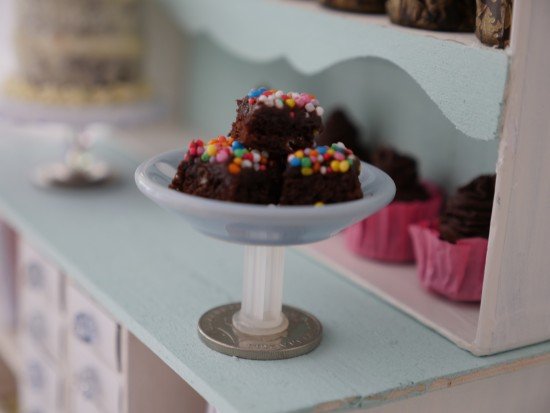 Use the leftover cupcake mixture and spread into a small brownie tin. Bake at 180C (356 degrees Fahrenheit) until firm.

Mini Macarons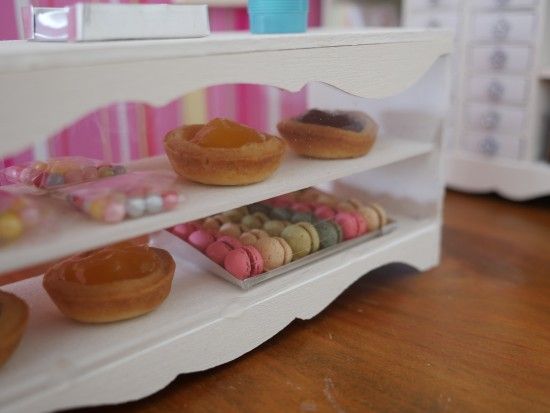 Use my macaron recipe
If you've never made macarons watch the macaron trouble shooting guide video first.

Mini Cakes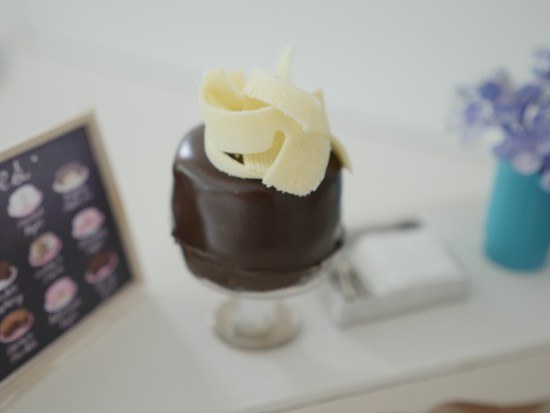 3 eggs
25g (0.88 ounces) or 2 Tbsp butter
20g (0.71 ounces) or 1 Tbsp plus 1 tsp milk (4% fat)
10g (0.35 ounces) or 1 Tbsp plus 1 tsp cocoa powder
80g (2.82 ounces) or 1/3 cup plus 2 tsp sugar
10g (0.35 ounces) or 1½ tsp glucose syrup
1/2 tsp vanilla
50g (1.76 ounces) or 1/3 cup plain or all purpose flour
1/8 tsp baking powder
Add the butter and the milk to the cocoa powder and melt it.
Whip together the eggs, sugar, glucose syrup and vanilla until they are thick then add some of that egg mixture to the cocoa mixture to make it thinner & easier to combine.
Fold all of the cocoa mixture through the eggs until it is fairly well combined. Then sift the flour and baking powder on top. And fold that through too making sure you can't see any more flour.
Using a plastic bag with the corner cut off pipe some mixture into each of the cupcake cases (see the video from instructions on how to make the tiny cases). Bake at 180C (356 degrees Fahrenheit) for approximately 5 minutes.

Mini Fruit Tarts
Pastry
30g (1.06 ounces) or 2 Tbsp plus 1 tsp butter
75g (2.65 ounces) or 1/2 cup plain or all purpose flour
12g (0.42 ounces) or 1 Tbsp sugar
1/2 tsp water
Filling – fruit jams (jellys) or preserves of your choice.
Rub the butter into the flour until it resembles breadcrumbs. Mix through the sugar then add the water and knead to form a ball.
Roll out, cut circles and place into a greased mini muffin tin. Bake at 180C (356 degrees Fahrenheit) for approximately 5 minutes or until golden. Heat the fruit preserves until just bubbling then spoon into the pastry cases.
How to Make Bakery Furniture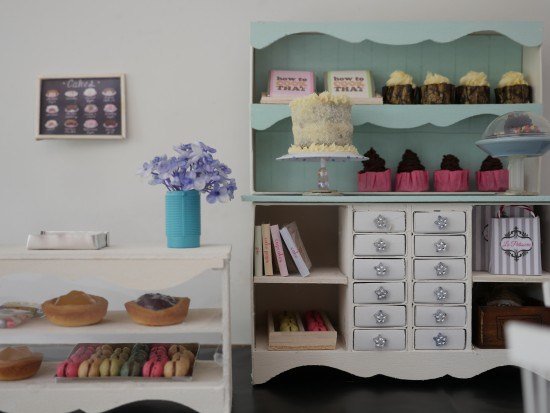 You will need
My template design for the miniature dollshouse bakery furniture

2 x Medium balsa wood 91.5cm (36.02 inches) x 10cm (3.94 inches) x 0.25cm (0.1 inches)
1 x Thin balsa wood 91.5cm (36.02 inches) x 10cm (3.94 inches) x 0.15cm (0.06 inches)
2 x balsa wood strips 0.25cm (0.1 inches) x 0.25cm (0.1 inches) x 91.5cm (36.02 inches)
White Paint
Teal paint
Hot glue gun and clear glue sticks
A cardboard box 12.7×21.7cm (8.54 inches)
12 empty matchboxes
12 pretty beads for the handles
Follow the instructions in the video to make the furniture.

DOLLS HOUSE PRINTABLES
Books
These cute little cookbooks were created by gingerslittlehouse
Just print out the covers and then hot glue in some blank pages to the spine.
Bags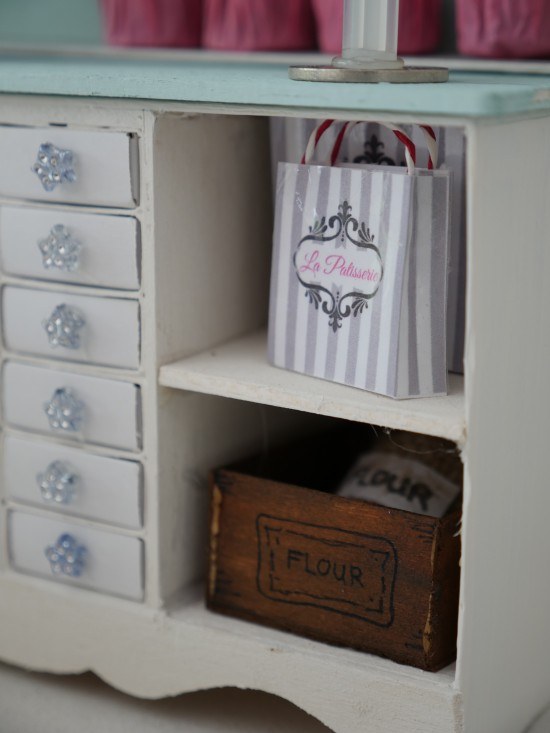 I printed the bakery bags from american girl ideas. And then covered it with wide clear tape to make it look glossy.
Miniature Cake Sign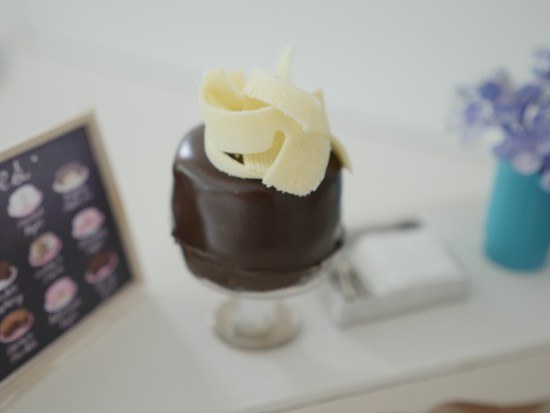 After much searching to find the original source for this one I finally found it. It is not a miniature at all but a beautiful larger hand painted artwork by the very talented every day is a holiday. The artwork I used is on their flikr here
Copyright 2016How To Cook That
BIG ANNOUNCEMENT
I have been busy over the last year planning, writing and overseeing the photography and layout for my first ever cookbook! There are heaps of my favourite dessert recipes in there with a chapter on pastries, ice-cream, yummy cakes, artistic desserts and of course chocolate desserts. Each chapter has its own intro explaining the food science that you'll need to know for success every time. Booksellers where you can purchase your very own copy: http://bit.ly/ARcookbook
All recipe quantities in the book are in grams, ounces and cups.