Napoleon Bonaparte's Wedding Cake
How do you get to be the famous pastry chef who makes Napoleon Bonaparte's wedding cake? Marie Antoine Careme was 10 years old when he was abandoned by his parents during the French revolution. To survive he worked essentially as a slave in a kitchen in exchange for food and a place to sleep. Four years later he was sent to apprentice under a pastry chef at an upmarket shop near the palace. His new boss encouraged him to learn how to read and write and taught him to create the elaborate centre pieces for the pattiserie window. His talent was obvious and six years later Careme opened his own shop. He did freelance work for many diplomats and eventually was employed to work for Napoleon Bonaparte at his estate. Creme also worked for Prince Regent, George IV, Tsar Alexander and James Rothschild.
I love this story because here is a boy who had so little given to him and yet he worked hard where ever he found himself. He became the pastry chef to the Kings.
It reminds me of somethings I read in a book this week "Slaves, obey your earthly masters in everything; and do it, not only when their eye is on you and to curry their favor, but with sincerity of heart and reverence for the Lord. Whatever you do, work at it with all your heart, as working for the Lord, not for human masters, since you know that you will receive an inheritance from the Lord as a reward. It is the Lord Christ you are serving. Anyone who does wrong will be repaid for their wrongs, and there is no favoritism." (bible Col 3:22).
Luckily for us he also wrote a cookbook "Le Pâtissier Royal". Making this creation was so fascinating because there were so many techniques and recipes that I had never seen before. I know that you are unlikely to make this massive creation but I do encourage you to at least try the 'Wafers with Pistachio', they are easy and taste divine.
I have put the original recipe pages in a pdf here for you 200 year old cookbook pages
Confectioners Paste (adjusted for actual quantities needed to make this centre piece)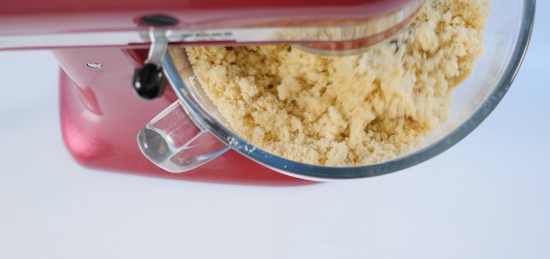 4.5 pounds (2.04 kilograms) sifted flour
15 eggs
9 yolks
3 pounds (1.36 kilograms) sugar
pinch of salt.
Mix with a dough hook using a stand mixer until it comes together to form a pastry.
Roll it out to a little more than one-sixth of an inch in thickness.
Cut a 15″ circle, 10″ circle, 6″ circle,
Make two 8″ hemispheres as shown in the video and cut a 1″ square opening at the top of the hemisphere before baking.
Roll the remaining dough into a snake 1.5″ in diameter and cut it into five columns of 3″ in length and five of 5″ in length
Bake in a moderate oven until they are a light golden brown.
Wafer with Pistachios
(Makes two trays)
450g (15.87 ounces) flaked almonds
230g (8.11 ounces) sugar
1 tablespoon flour
rind of 2 oranges
4 eggs plus 2 egg yolks
pinch of salt
112g (3.95 ounces) pistachios, roughly chopped
Preheat the oven to 180C (356 degrees Fahrenheit).
Stir the almonds, sugar, flour, oranges, egg and salt gently together. Pour onto tray lined with non-stick baking paper and using the back of a spoon spread out to make a thin rectangle. Sprinkle with pistachios and bake in the oven until just starting to go golden.
Cut into fifteen rectangles 1 1/4″ x 6″ and twenty five rectangles measuring 1 1/4″ x 5″. Separate them slightly and return to the oven to crisp up and go golden.
Cakes a la Duchesse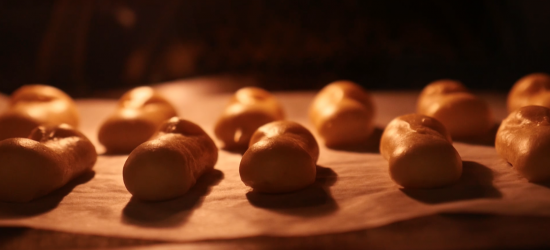 2 cups or 500mL (16.91 fluid ounces) water
2 oz (56.7 grams) of butter
170g (6 ounces) flour
4 eggs
pinch of salt
lemon zest
Preheat the oven to 200C (392 degrees Fahrenheit).
Heat the butter and water in a pan until melted. Pour in the flour and stir until thickens and forms a ball. Continue to stir over the heat for an additional 2 minutes. Remove from the heat and stir int eh eggs one at a time. Place into a piping bag and pipe 3″ long strips onto non-stick baking paper.
Bake until golden. Once cool fill with pastry cream, or the Careme's recipe fills with jam.
Croquignoles a la reine
These were really hard, too hard to bit into so if you're making this swap for macarons.
Meringue coating 1
6 egg whites
8 ounces (226.8 grams) of caster sugar
Pre-heat the oven to 150C (302 degrees Fahrenheit)
Whisk together the egg whites and sugar until you have stiff peaks. Put half of this mixture over each hemisphere and bake in the oven until dry.
Meringue coating 2
6 egg whites
8 ounces (226.8 grams) of caster sugar
300g (10.58 ounces) Pistachios
Pre-heat the oven to 150C (302 degrees Fahrenheit)
Whisk together the egg whites and sugar until you have stiff peaks. Pipe 30 small meringues 1′ wide and 1″ high. Sprinkle them with fine sugar and then with coarse sugar. Bake in the oven until dry.
Reserve about 1/2 a cup of this meringue mixture for later. Re-cover each hemisphere with meringue and place your pistachios with points upwards on one and downwards on the other. Make sure you leave 6 blank lines with no pistachios, this is where the meringues will go later. To get the spacing even fold a piece of baking paper in half, then into thirds. Unfold it and you should have 6 evenly spaced lines. If you put this under the hemisphere it will guide you where to leave blank spaces.
Put the hemispheres back in the oven until it dries out.
Once ready use your left over meringue mixture to attach your small meringues into the spaces. Place four in a line going down not he top half and three on the bottom half (leaving a gap at the very bottom so that it will sit flat).
Bake in the oven until it is evenly colored.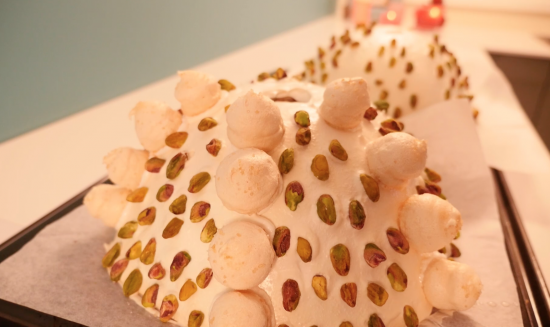 Sugar Boiled to the crack
(While one pan is probably enough keeping it warm enough to be liquid without it overcooking or crystalizing is tricky so you may need to make this more than once).
4oz (113.4 grams) sugar
1/4 cup water
Bring to the boil over the stovetop. Wash down he side of the pan using a wet pastry brush. Then leave unstirred until it starts to go golden. Turn the heat down to its lowest setting.
Dip the end of a 5″ wafer into the hot sugar and place it immediately near the edge of the 10″ circle Proceed with the remaining wafers in the same manner placing them upright close to each other so as to form a perfect circle.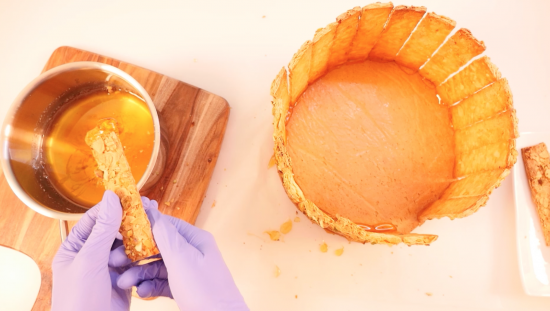 Using sugar put the 5″ columns in the centre for support.
Pouring some drops of sugar on the ends of the columns then flip the whole thing onto the 15″ circle. WARNING wear thick heavy duty silicone gloves while doing this so you don't get burned by the hot sugar.
Repeat that with the next layer attaching the almond wafers around the 6″ circle, add the central support columns then flip it onto the top of the other one.
Next glaze the small cakes a la duchesse with hot sugar and arrange them around the base.
Using hot sugar attach four macarons inside the bottom half of the hemisphere, let them stick up a little above the rim in order to steady the second half round.
Attach the rest of the macarons in a circle around edge of the middle layer.
Using hot sugar attach the bottom half of the hemisphere to the top of the small circle.
To Serve
600ml cream
vanilla essence
1 tablespoon icing sugar
500g (17.64 ounces) strawberries, washed and hulled
Just before serving fill the bottom with whipped cream flavoured with vanilla and a little icing sugar. Pile strawberries on top.
Place the second half round on top of the first.
Apparently you are supposed to fill that with more cream through the hole in the top but I like the way it looked when it was opened – if it was full it may of gone everywhere.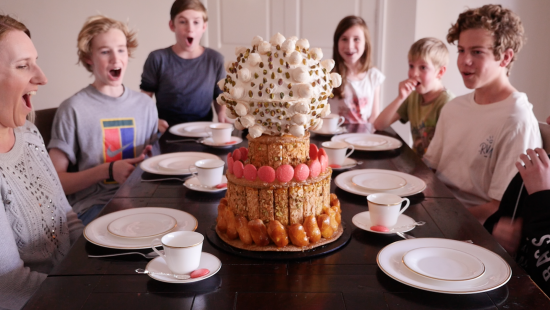 Copyright © 2017 Reardon Media Pty Ltd. All rights reserved. How To Cook That
My Cookbook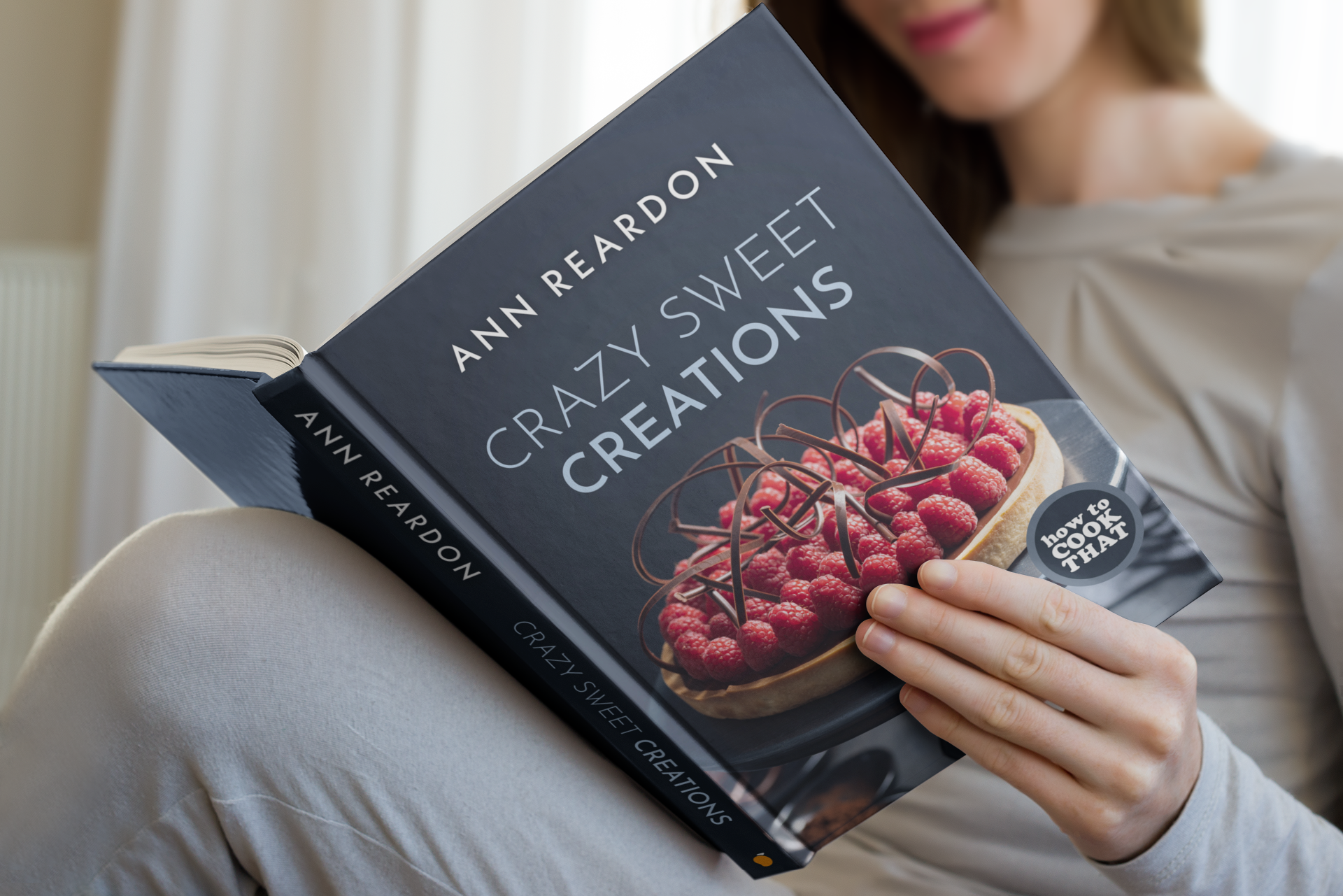 Stores that sell my book listed by country: http://bit.ly/ARcookbook All recipe quantities in the book are in grams, ounces and cups.