Pretty Purple Dessert
Happy New Year! Apologies for the lack of video last Friday. I decided that after 6 years of not missing a Friday blog post or video that I should actually take a few weeks off. I plan to spend one week over in Perth with Dave, my boys the rest of my family and friends over there. Then the next two weeks just relaxing around home with Dave & the kids doing fun stuff. I prepared this dessert for you before I started my break.
To make this pretty purple dessert you will need:
Choux pastry (makes 70 profiteroles)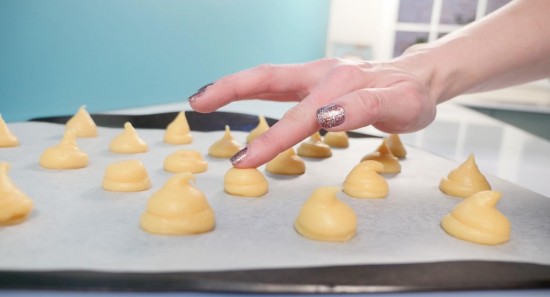 5 eggs or 250g (8.82 ounces)
160g (5.64 ounces) or 1 cup flour
10g (0.35 ounces) or 1 Tablespoon sugar
125mL (4.23 fluid ounces) or 1/2 cup water
125mL (4.23 fluid ounces) or 1/2 cup milk
100g (3.53 ounces) or or 1/2 cup butter
Preheat the oven to 200C (392 degrees Fahrenheit).
Place the sugar, water, milk and butter into a pan over high heat leaving it until the butter is melted. Add in the flour all at once whisking it in. Keep stirring it over the heat for at least a minute until you get a thick firm ball of dough.
Remove from the heat and add in the eggs one at a time whisking them through.
Place the pastry mixture into a piping bag fitted with a round tip and pipe small dollops onto a tray, allow room for spreading.
Using a wet finger gently press down any tops that are sticking up. Lightly spray them with cooking oil and then place that in the oven until they puff up and are golden.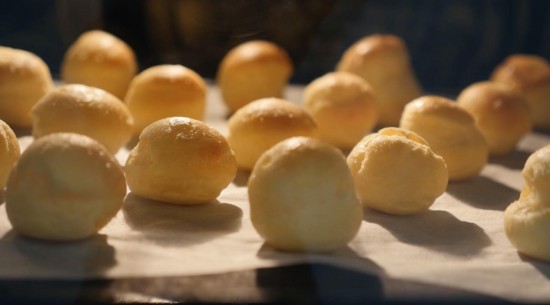 Leave to cool and then place in an airtight container.
Easy Strawberry Sauce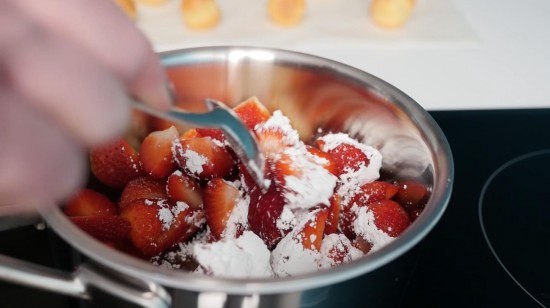 Makes enough to fill 25 pastries if only making 8 freeze the left over sauce to use on ice-cream
250g (8.82 ounces) fresh or frozen strawberries
40g (1.41 ounces) or 1/3 cup icing sugar
15mL (0.51 fluid ounces) or 1 Tablespoon marsala (optional – this is a sweet italian dessert wine)
Slice the strawberries and place them into the pan with the icing sugar and marsala. Heat that over high heat allowing it to come to a boil, then simmer for a few minutes until the strawberries are soft.
Mash it with a potato masher and leave to cool.
Jelly Squares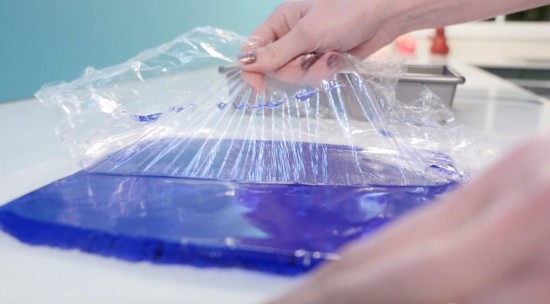 500mL (16.91 fluid ounces) or 2 cups water
190g (6.7 ounces) or 1 cup sugar
12 gelatine sheets
food coloring
flavoring (I used rose water)
1/4 tsp glycerin
Add the gelatin sheets to the water. After a minute the sheets will be soft, squeeze out some of the water and place them aside in a seperate bowl.
Add the sugar, flavoring, food colouring and glycerine into the water. Heat until it just starts to boil then remove from he heat, add in the softened gelatin sheets and stir until dissolved.
Pour into a tray lined with plastic wrap and leave in the fridge to set.
Yummy Vanilla Mousse
enough for 8 spheres
500mL (16.91 fluid ounces) or 2 cups milk
80g (2.82 ounces) or 1/3 cup sugar
6 egg yolks
50g (1.76 ounces) or 7 Tablespoons cornflour or cornstarch
3 tablespoons or 42g (1.48 ounces) gelatin
2 vanilla beans or vanilla essence
800mL (27.05 fluid ounces) or 3 1/4 cups cream
Cut your vanilla beans in half lengthwise and scrape out the seeds.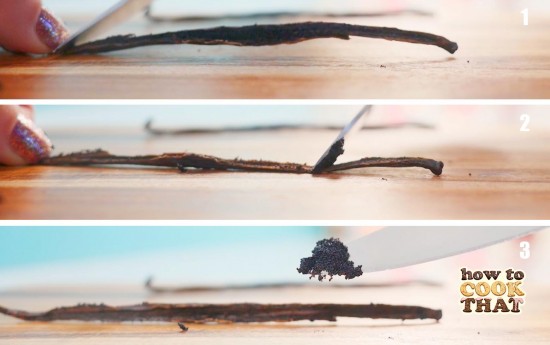 Pour some of the milk into the gelatin and stir well, then leave that to absorb the moisture.
Place the rest of the milk into a pan and add in the seeds from the vanilla bean.
Put the egg yolks in with the sugar and the cornflour and mix to combine.
Bring the milk mixture to the boil then pour a little into the eggs and stir to combine and thin down the egg yolks. Pour the egg yolk mixture into the rest of the milk in the pan and whisk together. Return to the heat and stir until it thickens and bubbles, keep stirring for another 30 seconds to cook all the cornstarch. Remove from the heat and add in the gelatin, keep stirring that until it is melted.
Place plastic wrap over the top and push it down so it touches the surface of the custard and leave to cool (do not refrigerate).
Once your custard has cooled to room temperature split it into two bowls. To one bowl add half of the cream and whip them together using an electric mixture until light and fluffy.
(repeat that withe the second half only when ready to use it, so if the gelatin is set you can warm the custard slightly first to remelt it).
Assembly
Fill each profiterole with strawberry sauce
Place some mousse into a hemisphere mold and add a profiterole into the centre of each one. Make sure the mousse comes to the top of the mold and then place in into the freezer.

Once they are frozen tip them out of the mold.
Make the other half of your mousse by adding the cream to the custard mixture (warm it slightly if it has set) and whipping them together. Pipe into he empty hemisphere molds then add the frozen halves on top to make a sphere. Return to the freezer.
Take your jelly out of the fridge, place a sheet of baking paper on top, flip it over and peel off the plastic wrap and cut small squares of jelly.
Take one of your desserts out of the mold and place it onto the serving plate.
Take a square of jelly and place it quickly onto a heated baking tray to let the bottom melt a little then add it onto the frozen dessert. The coldness of the dessert will set the jelly gluing it into place. Continue doing this until the entire dessert is covered.
Copyright © 2017 Reardon Media Pty Ltd. All rights reserved. How To Cook That
BIG ANNOUNCEMENT
I have been busy over the last year planning, writing and overseeing the photography and layout for my first ever cookbook! There are heaps of my favourite dessert recipes in there with a chapter on pastries, ice-cream, yummy cakes, artistic desserts and of course chocolate desserts. Each chapter has its own intro explaining the food science that you'll need to know for success every time. Booksellers where you can purchase your very own copy: http://bit.ly/ARcookbook
All recipe quantities in the book are in grams, ounces and cups.