Salted Caramel Macaron Recipe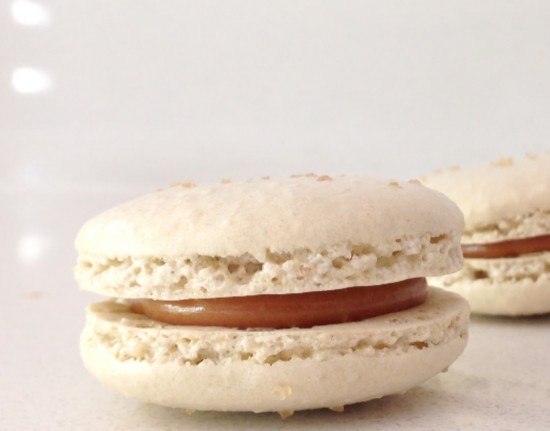 These salted caramel macarons are seriously addictive.  You will not be able to stop at one.   Make a batch of dulce de leche first so it has time to cool, you need that for the filling. Have fun making this salted caramel macaron recipe.
Macaron Shells:
(makes 40 macarons shells in size shown in video, more if making mini macarons)
220g (7.76 ounces) or 1 3/4 cup icing sugar (powdered sugar)
120g (4.23 ounces) or 1 cup almond meal
120g (4.23 ounces) or 4 egg whites
80g (2.82 ounces) or 1/3 cup caster sugar
10g (0.35 ounces) raw sugar (optional, for sprinkling on top)
Salted Caramel Filling:
2 Tbsp dulce de leche warmed
additional 1/2 cup dulce de leche
1/2 cup or 100g (3.53 ounces) butter
pinch of sea salt flakes
Preheat oven to 320F (160 degrees Celsius)
Sift together the icing sugar and almond meal using a coarse sieve (if you use a fine sieve the almond meal will not go through).  Discard any gritty bits of almond meal that do not go through.
Beat together the egg whites and caster sugar on high speed until they are stiff enough that you can turn the bowl upside down without them falling out.  Beat for an additional 2 minutes.  Add the almond icing sugar mixture and fold in using a rubber spatula.  Keep gently folding until the mixture looks like lava, it should have some movement but not be runny.  While you are folding periodically scrape down the sides of the bowl and the spatula to make sure everything is mixed uniformly.  If you over mix or under mix it effects you macaroons, please read the macaron troubleshooting and FAQ post if you are unsure about this.
Spoon into a piping bag and pipe small circles of mixture onto NON-STICK baking paper. Slide onto a baking tray and bang on the bench firmly several times on each side, sprinkle with raw sugar.
Place in the oven (you do not need to leave them to sit on the bench with this recipe) and bake until a foot has formed and the shells are crisp.  This takes roughly 20 minutes, watch the video to see what you're looking for.  Try not to open the oven during the cooking process as this will cause a drop in oven temp and may make your macarons hollow.
Cool and then gently peel off the baking paper and pair similar sized shells.
Warm two tablespoons of dulce de leche and spoon some into the centre of one half of the shells.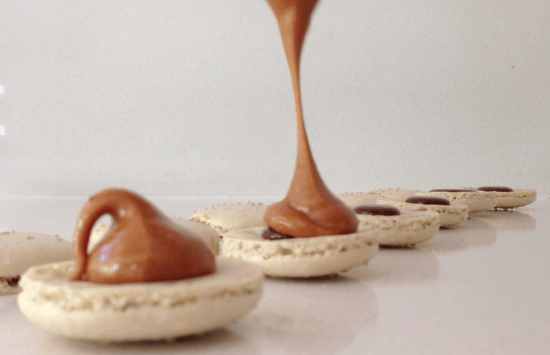 Combine the dulce de leche with butter and sea salt and beat until smooth. Becareful not to overmix the buttercream or you may find it will split. Pipe a dollop onto each macaron and add the lid.  Store in airtight container in the refrigerator.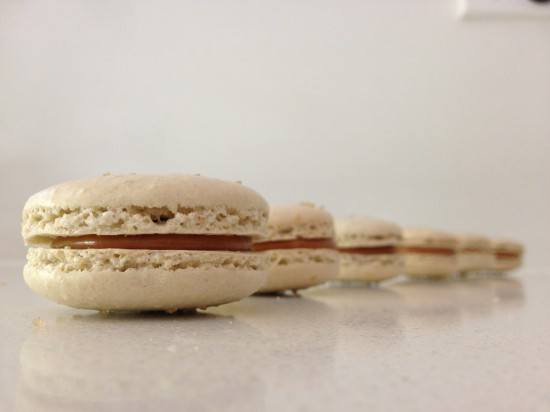 by Ann Reardon How To Cook That
My Cookbook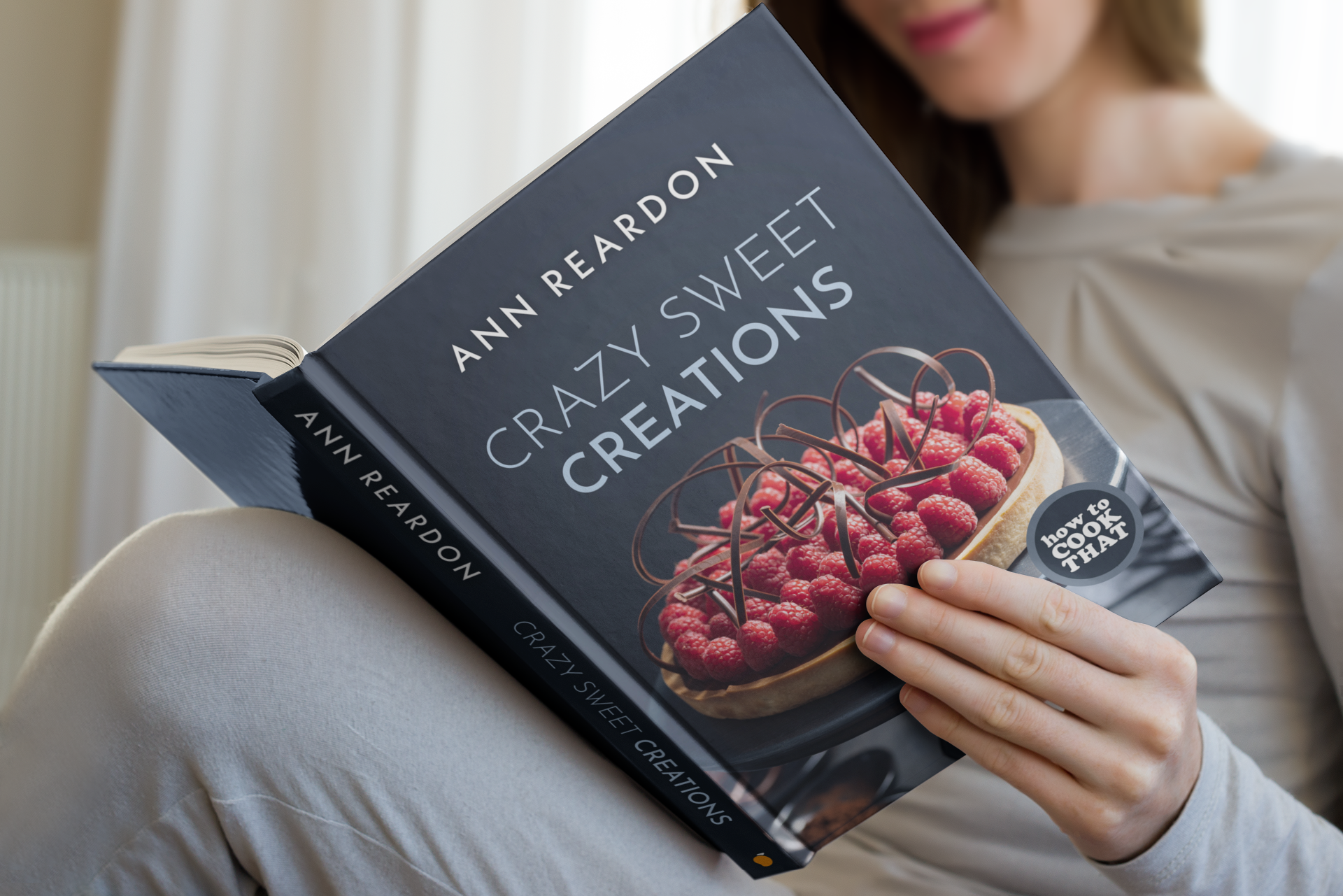 Stores that sell my book listed by country: http://bit.ly/ARcookbook All recipe quantities in the book are in grams, ounces and cups.