The Great Fondant Review – Which fondant is best?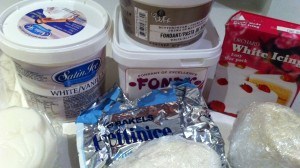 Which brand of fondant is the best? Which one is smoothest? Whitest? Holds it shape? Here we review and compare between satin ice, duff, fondx, home made, bakels pettinice, orchard, cake art and marshmallow fondant.
For this review the homemade fondant was made using this recipe and the marshmallow fondant recipe can be found here.
Which fondant is easiest to work with?
The usual way to cover a cake is to roll out the fondant then using a rolling pin transfer it to the cake. So for this test 450g (15.87 ounces) of each fondant was rolled to a set circle size on baking paper then transferred to a rolling pin, hung for a minute and a half then checked for tearing and stretching.
Some fondants were easier to roll out than others (see video above for details) but all passed the hang test. Obviously the bigger the cake, the more fondant is needed so it gets heavier and tearing may be more likely. It would be interesting to repeat this test with a larger amount of fondant.
Which fondant is the smoothest?
Any of the fondants will be fine for covering a cake, but if you need that cake to look perfect – wedding cakes – then check out the pics below and choose for yourself.
Generally the simpler the cake you are making the more important it is to have perfectly smooth fondant.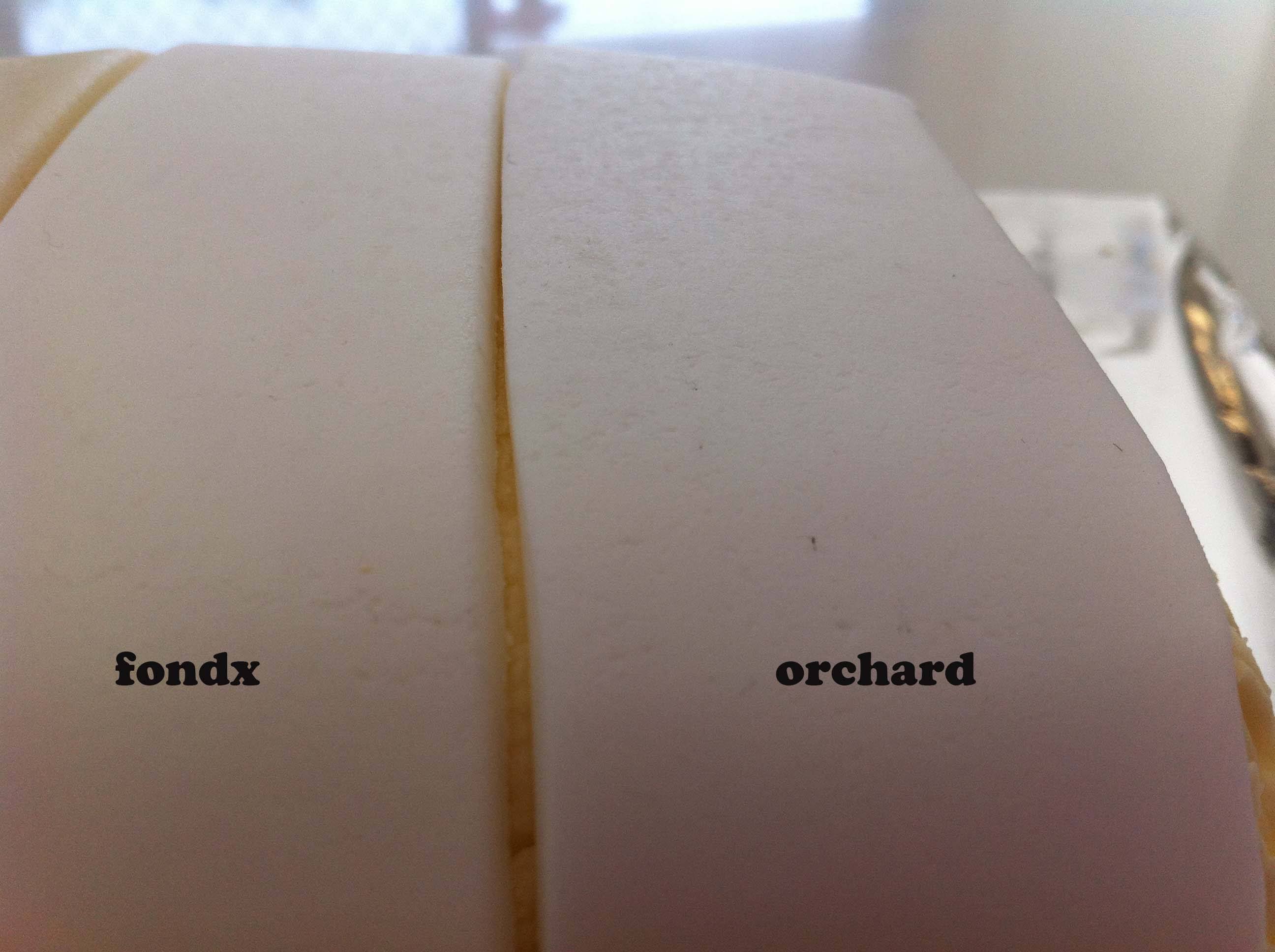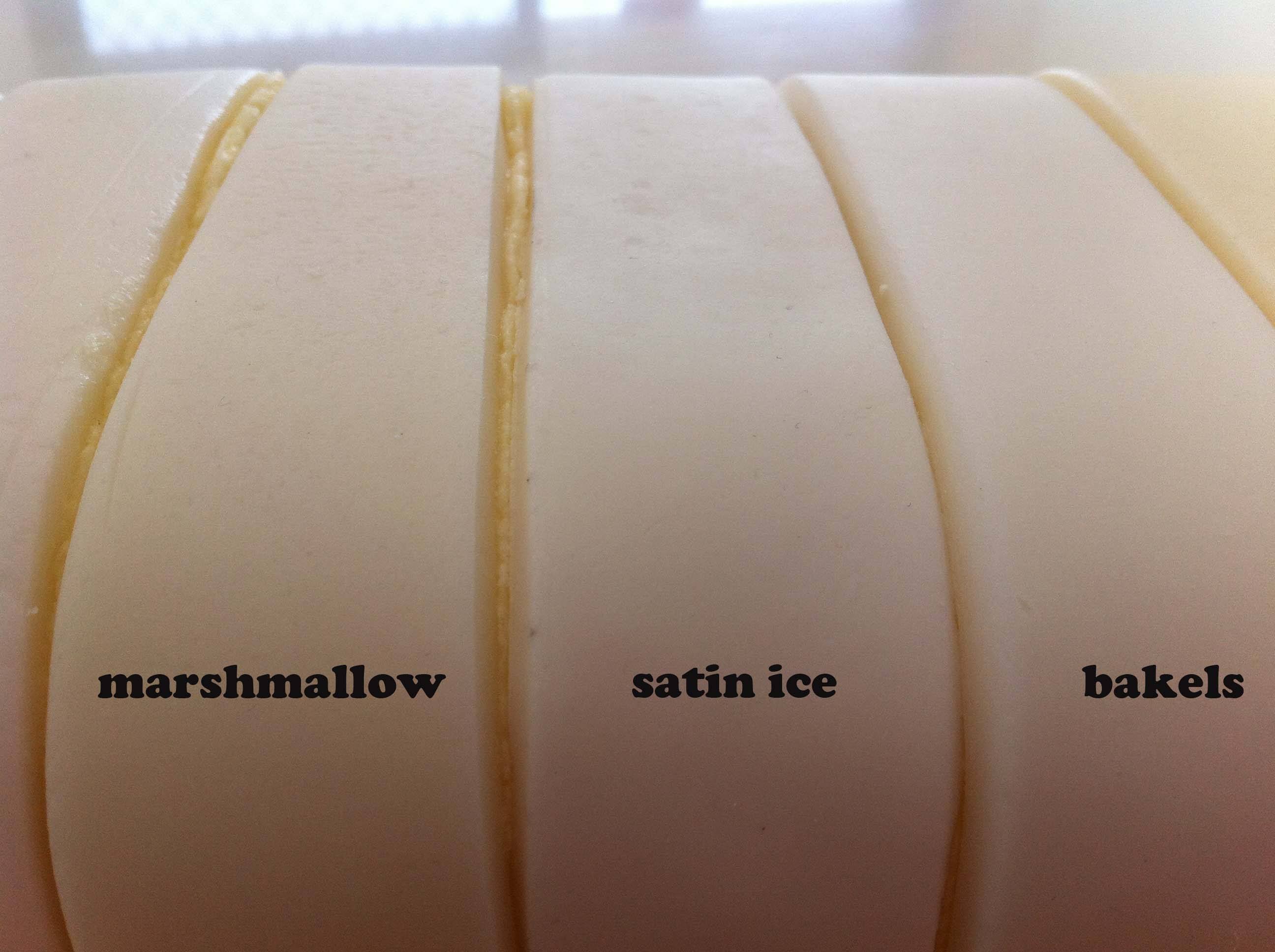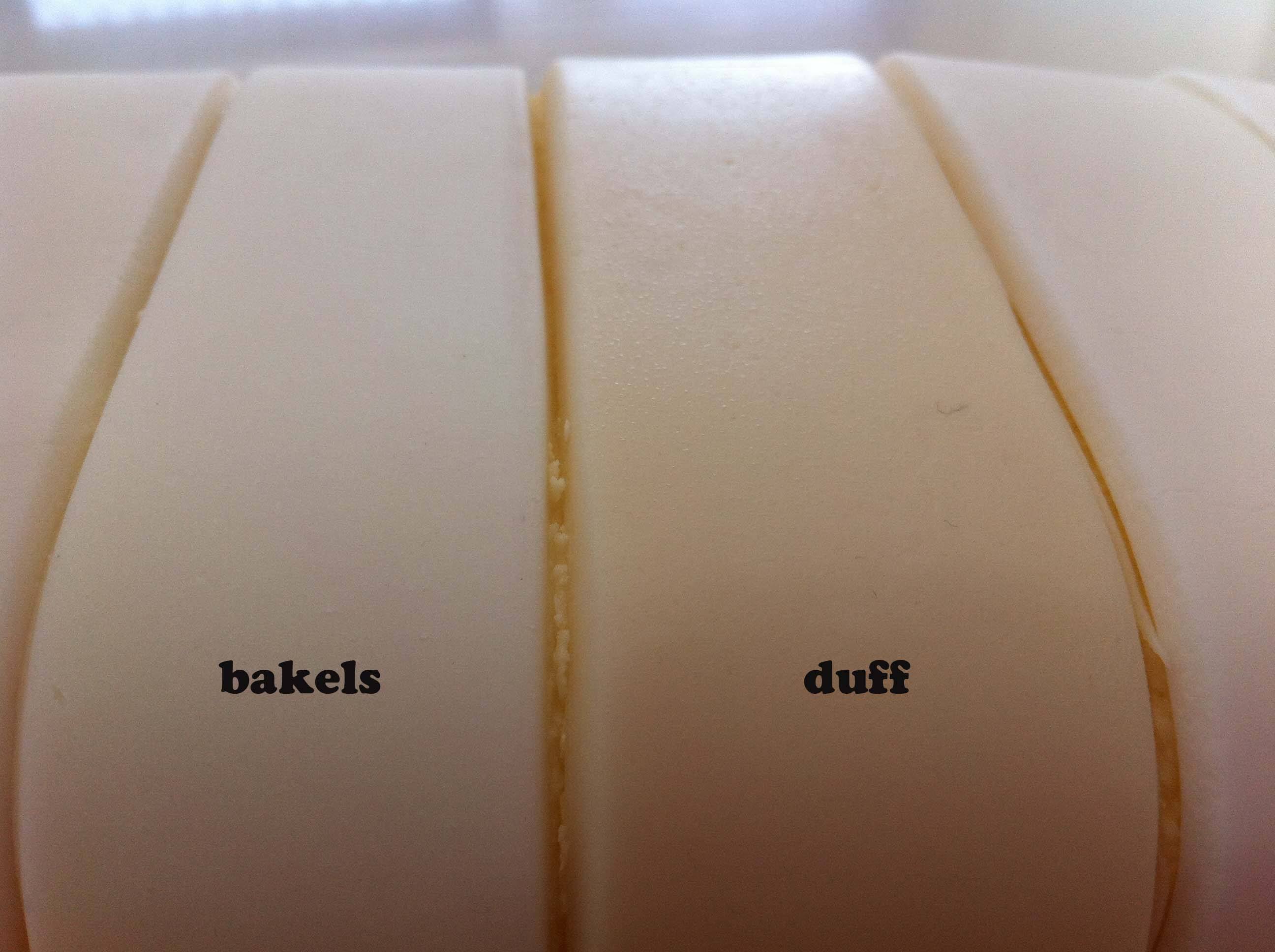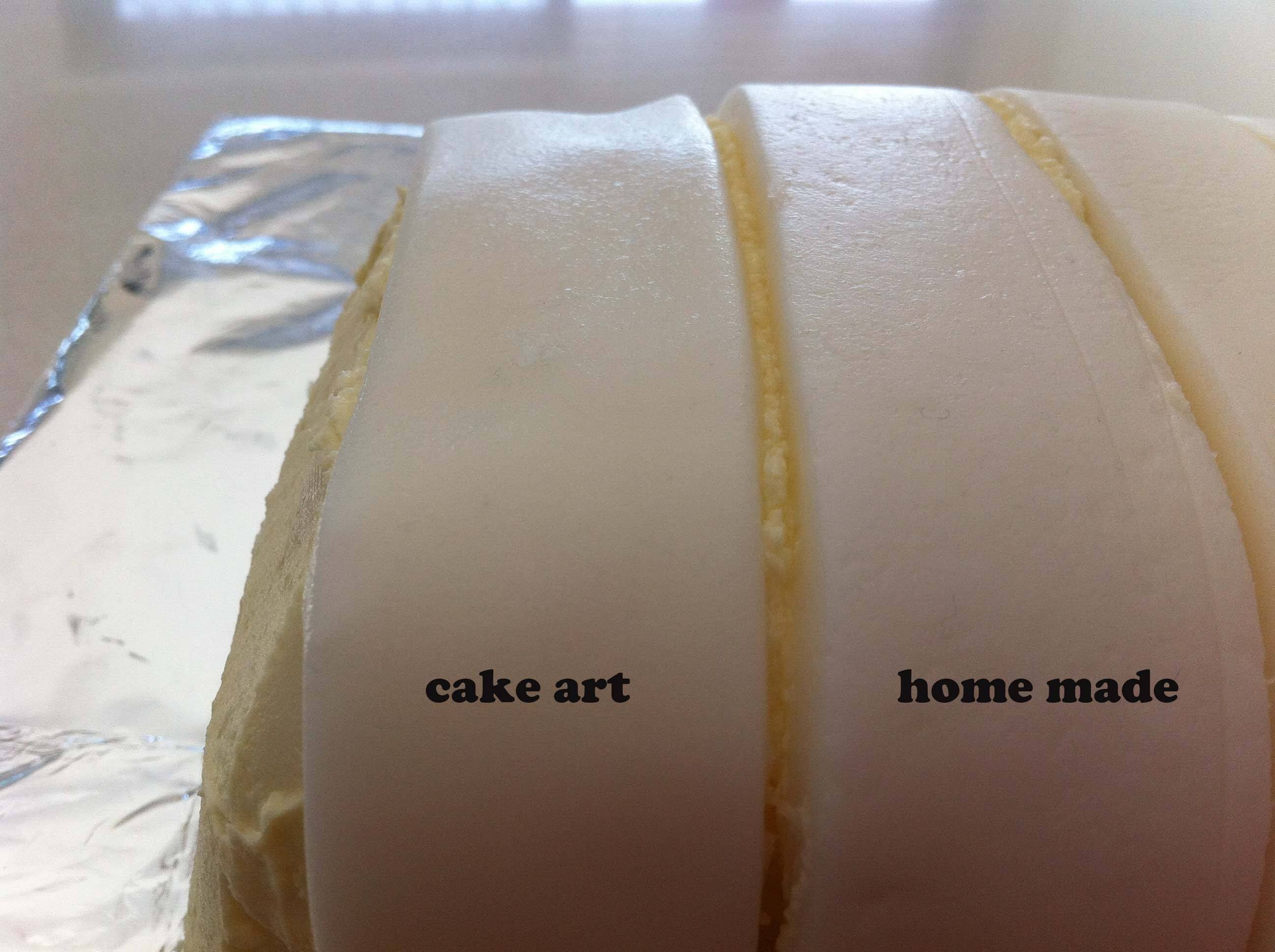 Fondant Sag Test
Whether you are using fondant for modeling or for covering a cake you want it to stay exactly where you put it. It is disappointing to make a fondant model only to have it sag out of shape. And if you cover a cake perfectly you don't want to later see it bulge at the base.
So here is the sag test – 30g (1.06 ounces) of each fondant was rolled to 10cm (3.94 inches) long and then made into a rainbow shape and placed at a set distance apart on a cake board. The fondant was checked 24hours later and for those of you using fondant for modeling – two weeks later.
As you can see from the image below most of the fondants held there shape well with one obvious exception. (This test was repeated three times with the same results).

Watch the video to see how they looked after two weeks and how well they set in that time.
Duff and Cake Art did not set hard which is an advantage for covering a cake as it means that it will not crack. But it is a disadvantage if you are wanting a model to set firm. It is important for fondant to dry out if you want to ship a model, are making an unusual shape that will not hold unless it sets or if you are making something like eyeballs that you want to press into place without them becoming misshapen. That being said, my kids loved 'remodelling' with the soft fondant that was on their cake.
Which fondant is best for lettering?
Which fondant is whitest
The following image shows all the fondants against a brown background so that you can see which one is the whitest when covering coloured buttercream or gnache. Duff was not included on this test as it was not white to start.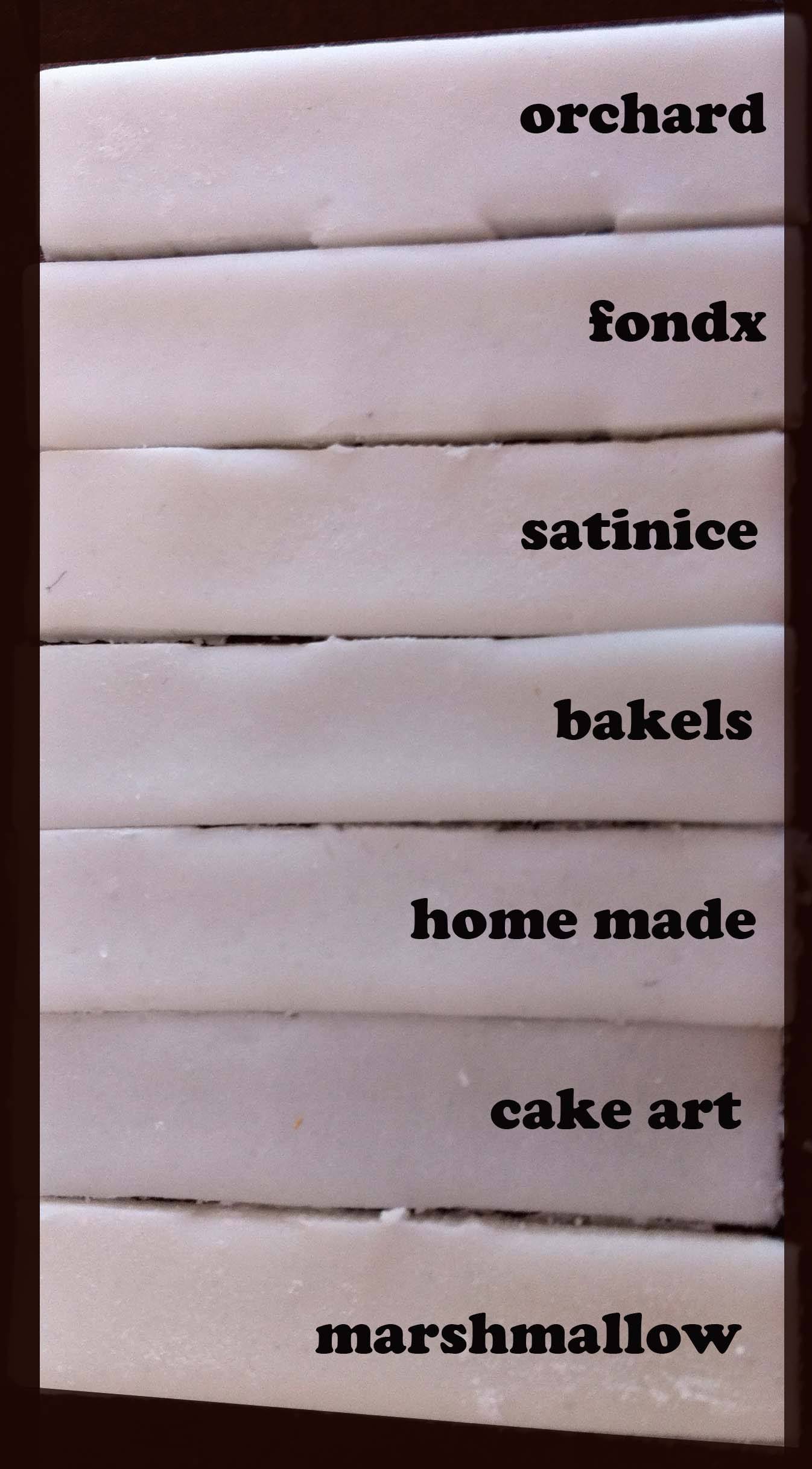 Which fondant is the Cheapest?
The following are price per kilo for white fondant in the US and Australia based on online prices excluding postage costs.
Brand
Price per kilo Australia
Price per kilo USA
Bakels Pettinice
$14.60
$13.66
Cake Art
$12.95
–
Duff
–
$13.78
Fondx
$18.88
$17.99
Home Made
$5.72
–
Marshmallow
$5.74
$9.29 if only use half packet to get white marshmallows
–
Orchard
$8.58
–
Satin Ice
$16.00
$9.87
Which fondants come pre-coloured?
If you are making a bright blue coloured thomas the tank, a red spiderman or anything black then it will save you a lot of time to but pre-coloured fondant. At the time of writing this article the following brands are available in different colours.
| | |
| --- | --- |
| Brand | Number of colours available |
| Bakels Pettinice | 8 |
| Cake Art | 11 |
| Duff | 10 |
| Fondx | 16 |
| Home Made | – |
| Marshmallow | – |
| Orchard | 3 |
| Satinice | 8 |
My Cookbook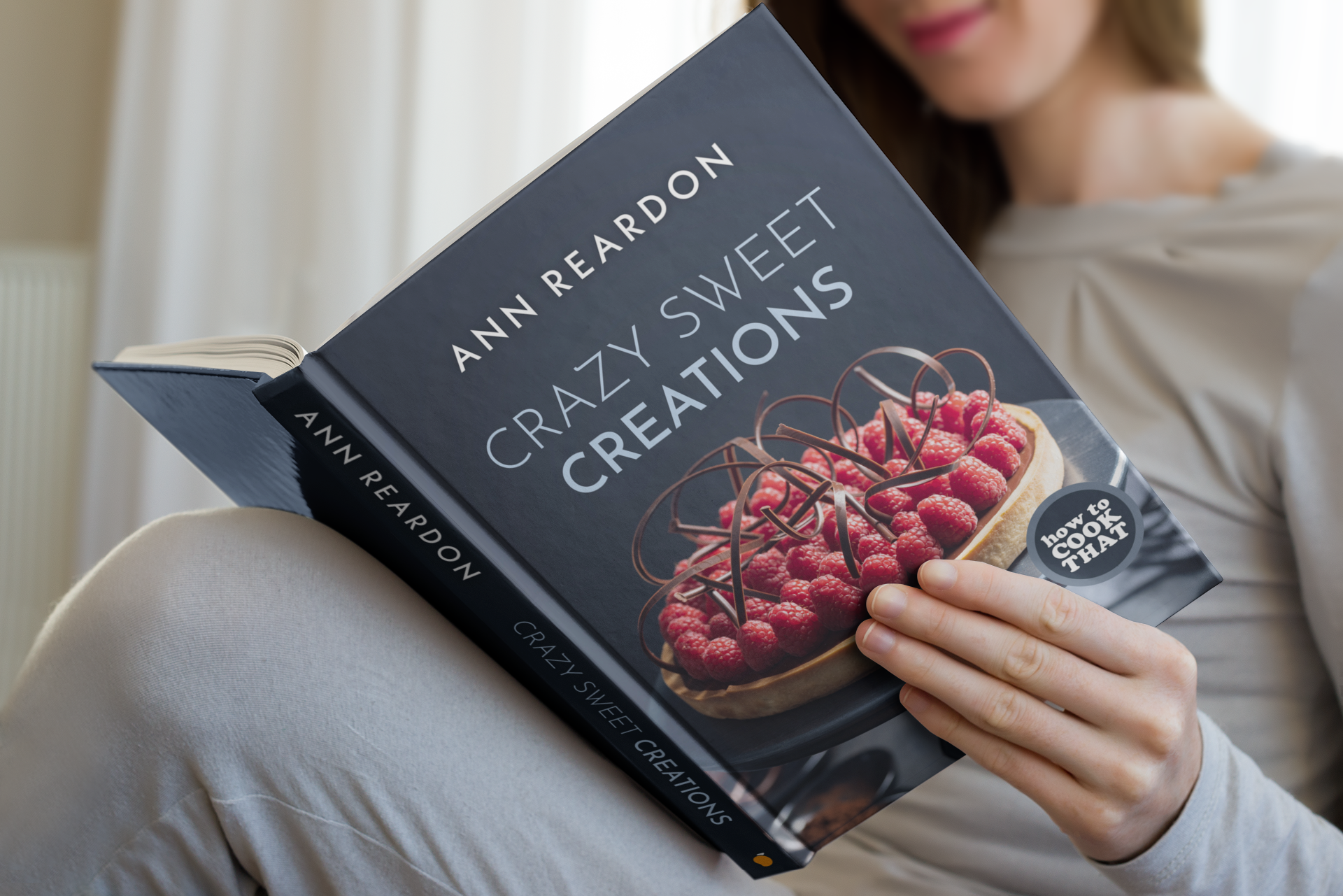 Stores that sell my book listed by country: http://bit.ly/ARcookbook All recipe quantities in the book are in grams, ounces and cups.